The Athabasca Glacier Trek was definitely a highlight of our trip into the Canadian Icefields! We're not much for tours, but we also know when we're in over our head! We don't know the first thing about navigating on a glacier, so we signed ourselves up for the guided trek up into the heart of the glacier.
The view in the above picture is the glacier from the parking lot of the visitor center. From there, you have 3 options:
1. There is a short trail up to the foot of the glacier – you can't see a lot, but it's worth doing if you're there.
2. You can take a bus up onto the glacier for a more in depth view.
3. The final option is a guided trek up into the glacier. It's very important not to venture onto the glacier by yourself because of all the crevases and holes that you can fall into without ever seeing what hit you so to speak (pictures later in the post).
The morning started off gray, cloudy, and cold. Luckily we had better weather as the day progressed!
Here is where we first stepped onto the glacier.
By this point in the pictures, you can see just how big the cracks are! After a fresh snow, some of these areas are completely covered and you could unwittingly step into thin air. Our guide told us that someone dies almost every year because they venture onto the glacier, fall into a hole, and usually end up dying from hypothermia before rescue can arrive.
Here's a pic of me taken with our ipad. The guide lets you lean a bit to see down some of the big crevasses, of course he holds on in case of slipping, or a spot of vertigo!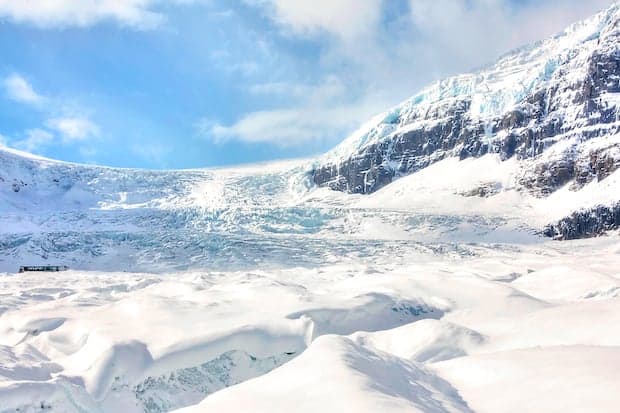 In this picture, you can see the tour bus off in the left hand corner, which tells you how good your view will be, even if you decide against the trek! I personally can't recommend the trek enough, but it's just our personal preference in the way we travel. The guide was really knowledgeable, and we had a great day. You'll learn all kinds of things about glaciers, meet people in your group from all over the world, and there's just something different about having to use your own steam to get somewhere.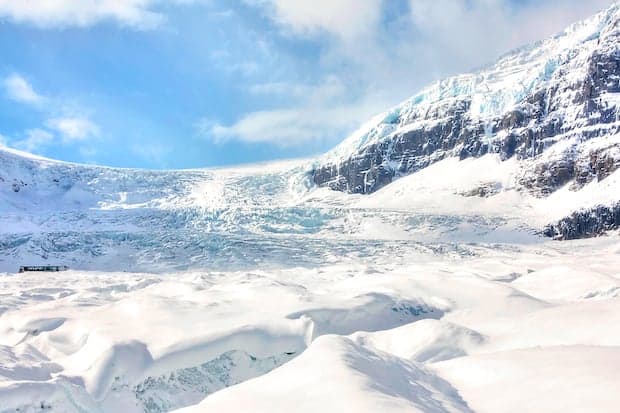 I'm going to end today with a short story about our trip to the glacier – skip it if you're squeamish!
Lots of people think we have a glamorous life with all the trips we take, and you know what, they're right we have a wonderful life! I just want to take a minute to breathe some reality into the 'glamor'.
The day we went on this trek started out with a bang, and not in the 'I can't wait to get out of bed way'. We both went to bed and woke up with slamming headaches – did I mention we were sleeping in a twin bed in the back of our car? Yes, you read that right – this trip was seriously minimalist! So… anyways, we're on the road before sunrise and I'm simultaneously filming out the front window while uploading pictures onto my laptop (no coffee – very crucial, and no breakfast)!
Two hours later we reach our destination, and make oatmeal on a jet boil stove in the parking lot, (I loathe oatmeal but it's all we had left). After choking down a few bites of breakfast, I set off in search of a bathroom. It turns out to be a pit toilet with howling glacial wind running through it – and to top it off, human feces smeared all over the walls with a few piles on the floor (as if it wasn't bad enough)! So… the next time you think traveling is glamorous, remember this story. We travel for the adventure, (and we like to go as often as possible) – 'glamorous' traveling requires spending a lot more money!
So… there you have it, the whole truth and nothing but the truth (not that you wanted to know)!