We had a truly stunning day when we hiked into Bow Glacier Falls & Iceberg Lake in Banff National Park. We had everything from blizzard weather to beautiful sunshine for these stunning views. Bow Glacier Falls is a popular hike in Banff because it's a gorgeous set of falls. And the hike around Bow Lake to get there is exceptionally beautiful as well.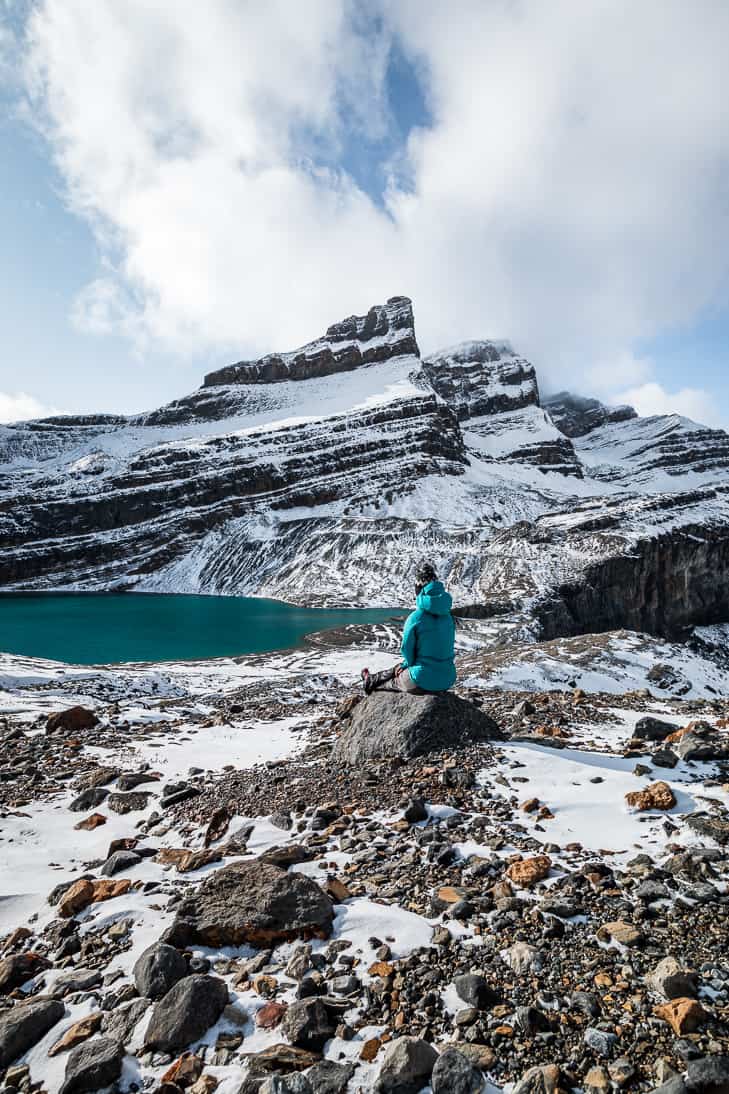 We hiked into Bow Glacier Falls, and then scrambled to Iceberg Lake above it on September 26th, (2019). We knew it was getting late in the season to reach this location, but we were there just after the first skiff of snow fell. It was lucky timing because the scenery was incredible. But just 2 days later it would have been near impossible to get in to this lake until the next season.
I feel like I can't give enough disclaimers about the day we went in. First it was blizzard-like conditions, then sun, then it was blizzard-like again. This can be incredibly dangerous weather to be out in. So just know we were very prepared and have a lot of experience in the outdoors, (and lots of experience with route finding).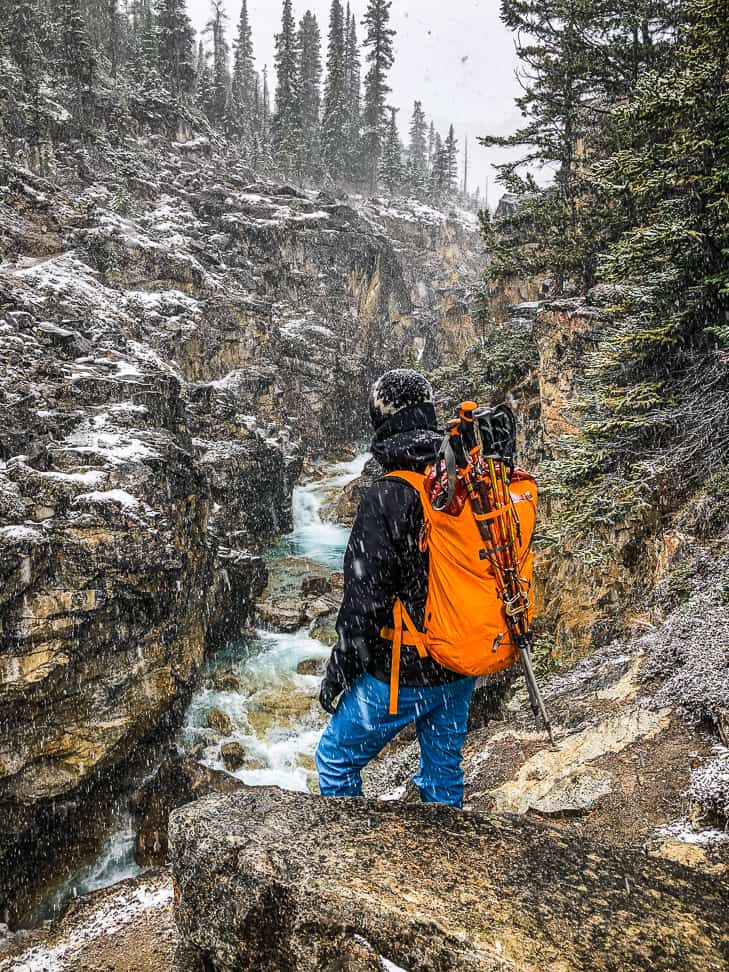 For a safer and family friendly adventure, (in good weather) try hiking just to Bow Glacier Falls. It's incredibly popular for a reason! This hike begins at the Num-Ti-Jah lodge located on Bow Lake in Banff National Park.
And it bears mentioning a couple of times, this is not the same hike as Bow Falls which is located in the town of Banff.
The hike continues around the lake, and up to the falls at the head of the lake. The views are stunning the whole way, but definitely be prepared for crowds during the mid-day.
We didn't get any photos of the mountains around the lake because we couldn't see them. But we've been in this area several times now, and it's incredible on a sunny day when you can see the mountains and glaciers!
Once you leave the lake behind, you follow the creek as the trail winds up to the base of the falls. The glacial color of the creek is stunning and definitely worth stopping for a few photos, (see above photo).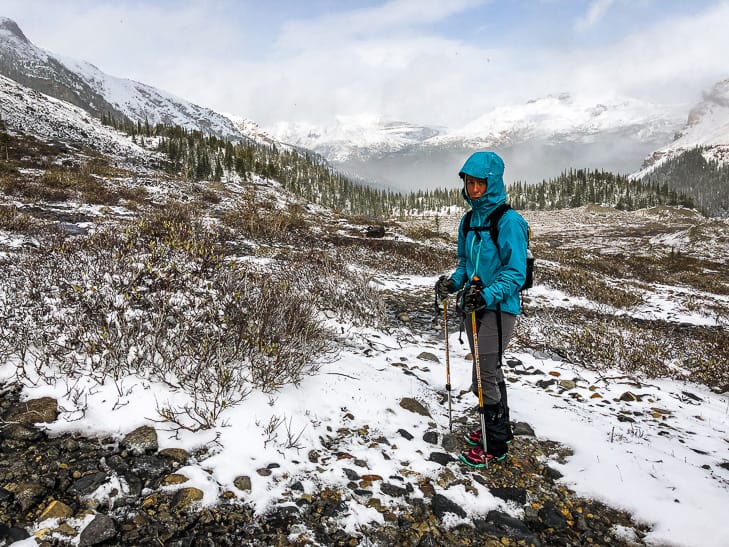 Everything you need to know about Bow Glacier Falls & Iceberg Lake in Banff National Park:
Elevation Gain: 1,200′ or 366 meters
Mileage: 5.8 miles or 9.3 km
Trailhead: is located at Num Ti Jah Lodge at Bow Lake along the Icefields Parkway leading from Banff to Jasper. (Note this isn't an official trail!)
Bathrooms: There are lots of options from the parking lot at the lodge.
Iceberg Lake: (7.5 miles & 1,889′ roundtrip not additional mileage)
Hiking Poles: These were super helpful making our way up the moraine just before the lake and were worth packing around Bow Lake down below where we didn't need them. Also we couldn't get across the natural bridge due to ice. The poles helped us cross the creek without getting wet, and I can say without a doubt we would've gotten wet without them!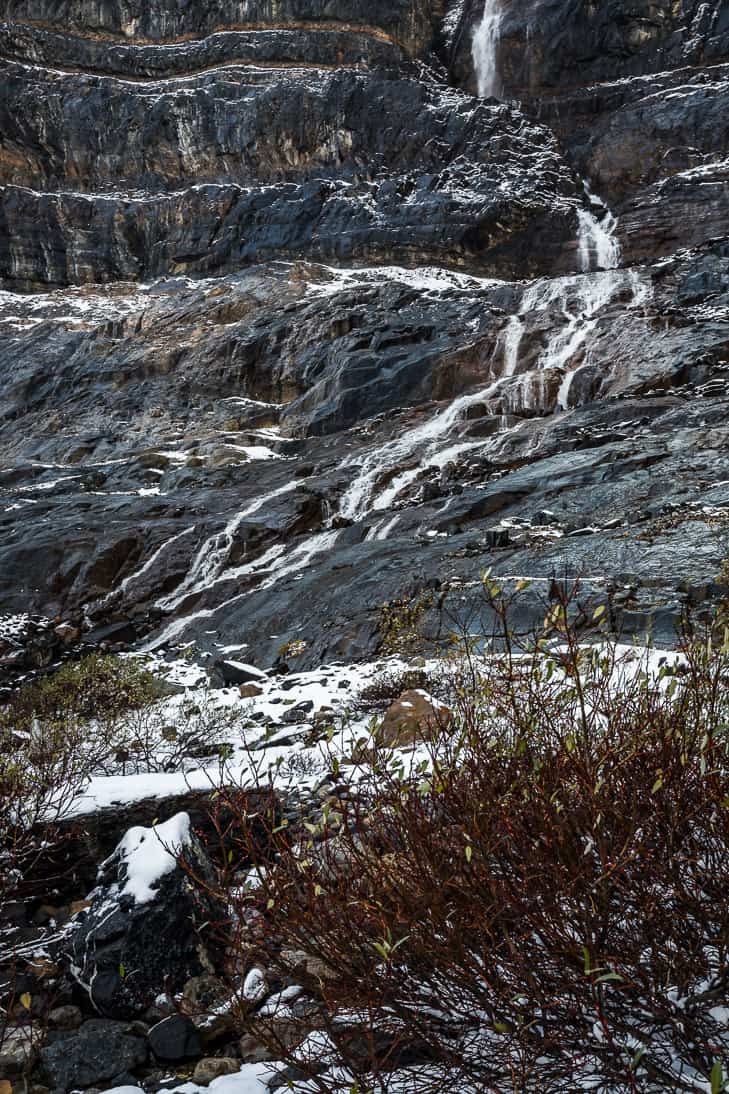 Alright… let's dive into story time for hiking Bow Falls & Iceberg Lake in Banff National Park!
We started off this day in the Athabasca Glacier region of the Icefields Parkway just outside Banff. We had hiked Mount Fairview the day before and had the most gorgeous day. Since we had a good cell phone signal at the Lake Louise area we checked the weather forecast for the next day.
There was some snow moving in overnight, and then late scattered showers until the next evening when it was going to get way more serious. With that in mind, we decided to see if we could still make it into Iceberg Lake. The weather being what it was, we went in knowing there was a good chance we'd have to turn around at some point.
The next morning was so beautiful as the sun came up with some fresh snow and some chilly temperatures. We spent the morning taking photos like crazy, then mid-morning we headed in to try and make it to Iceberg Lake. We figured we'd hit Bow Glacier Falls after if we had time.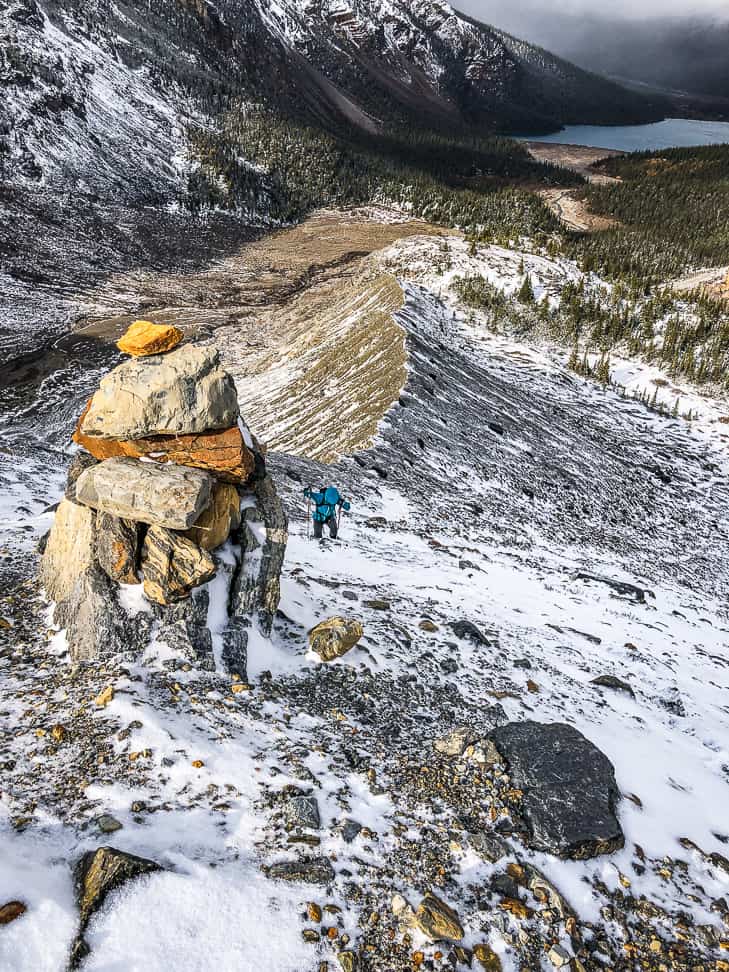 So off we went, and when we came to the natural bridge over the creek we hit our first obstacle. It's a few feet to pull yourself up onto the bridge and my shoes were slipping on the layer of thin ice like crazy. So with the drop off being what it is, we set off to find another way to cross the creek.
We ended up finding a great spot further down the trail, and continued on. But before we could spot the route up the right moraine to the ledge mentioned in the description we read, the snow moved in and it was a total white out.
Like I mentioned above, I can't state enough how dangerous these types of conditions can be. People have been lost and died in snow storms because you can't see in front of you, and your tracks are quickly covered. (So please use all caution, and don't go off trail if you're not prepared and skilled.)
So with that out of the way, let's continue on with the story. We knew we were in no danger of being lost because we could follow the creek and lake all the way back to the truck. However since we had no clue yet where the route was, we made the decision to turn around. So back across the creek we went, and headed up to Bow Glacier Falls.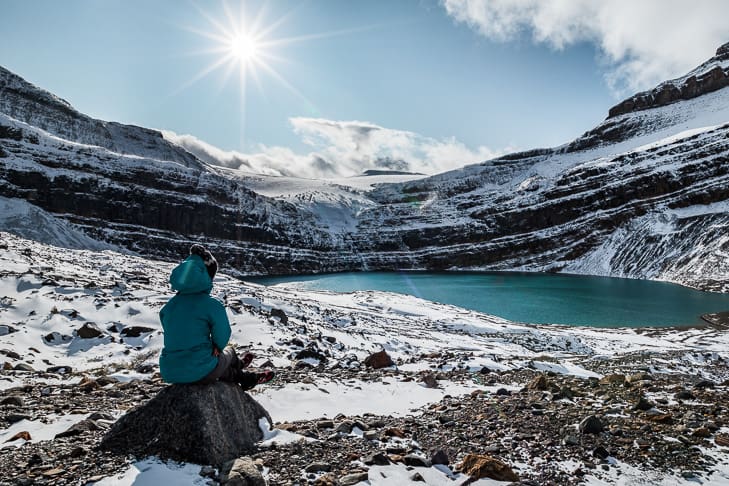 Just as we were reaching Bow Glacier Falls the snow squall passed through, and the weather turned sunny. We admired the views and watched the clouds to see what the weather would do next. Since it looked like we'd have a bit of a break in the snow, we decided to try a 2nd time to reach Iceberg Lake.
So back across the creek we went again! This time with the sunny weather it was easy to see where we needed to go to reach the lake. I was a little nervous about what we might run into with the ledge being covered in snow. But when we got there we discovered the ledge is pretty wide, (I don't think it ever got small than 2′) And since there was no ice under the snow, we felt safe to proceed.
Once we got above the class 2 and 3 section, the route said to avoid going out on the edge of the moraine to ascend to the lake because it was soft. However with the wintery conditions we had, we ended up over on the edge of the moraine because it was frozen and the firmest footing that wasn't covered in a foot of snow.
I can't even describe what it was like cresting the top of the moraine and getting my first sight of Iceberg Lake. But I hope the photos will do it some justice. I couldn't help but think about how nice it would be to come back in the summer months and spend a few hours here. I mean how great would it be to go for a swim in this incredible lake?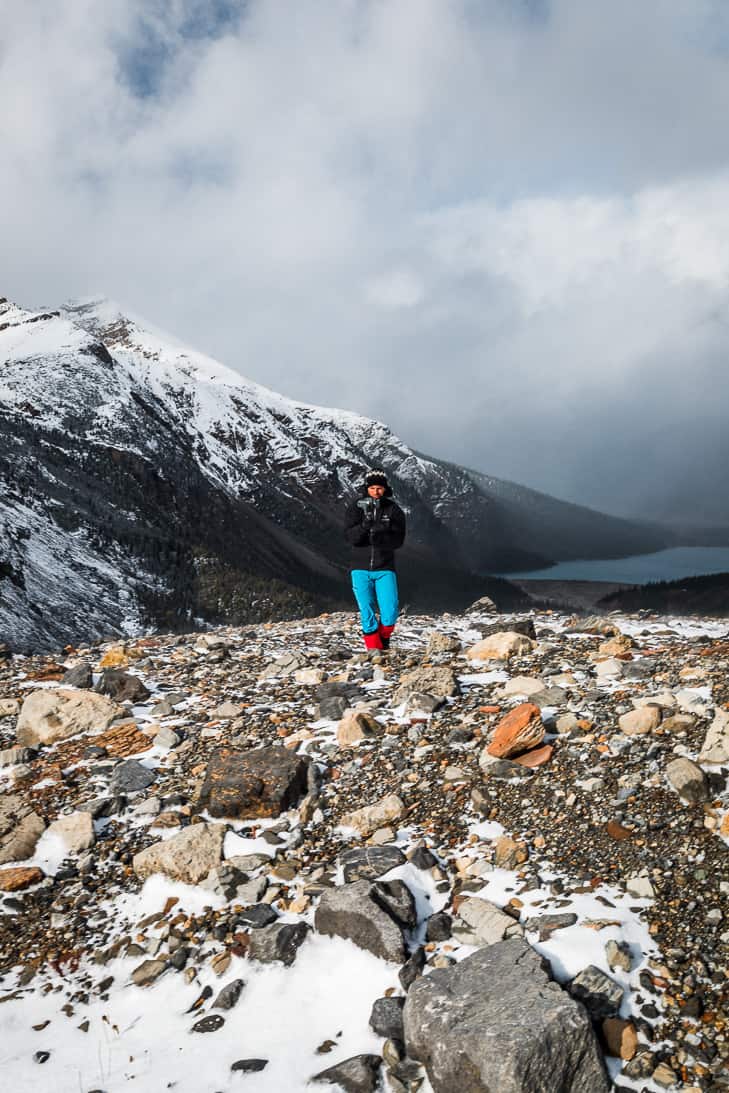 However in the conditions we had, we knew we had maybe 20 minutes before the next snow storm rolled in.
So we quickly put on all of our layers to combat the howling winds and cold. Then I got out the camera to get a few photos of this magical place. The wind was gusting so hard, it was everything I could do just to keep standing upright.
In just a matter of minutes, we could see the purple cast of the storm brewing over the horizon of the lake. And if you've spent some time in nature, you know things are about to get serious when you see something like that.
That combined with the severe winds told us we had to start back down right away. Our goal was to get back through the climbing section before the worst started in.
Sure enough we just made it through the ledge and the storm started dumping on us. All the way back to the parking lot the snow came down hard and fast. And we were just so elated we had actually been lucky enough to be at the right place at the right time where we could actually make it into the lake!
After reaching the truck we knew the 1st thing we needed to do is find a cell phone signal. So we headed back to Lake Louise to see if the storm was still coming. We checked all the weather forecasts and found out the weather was going to back off until the next day. Then a record breaking storm was going to hit bringing with it a predicted 2′ of snow!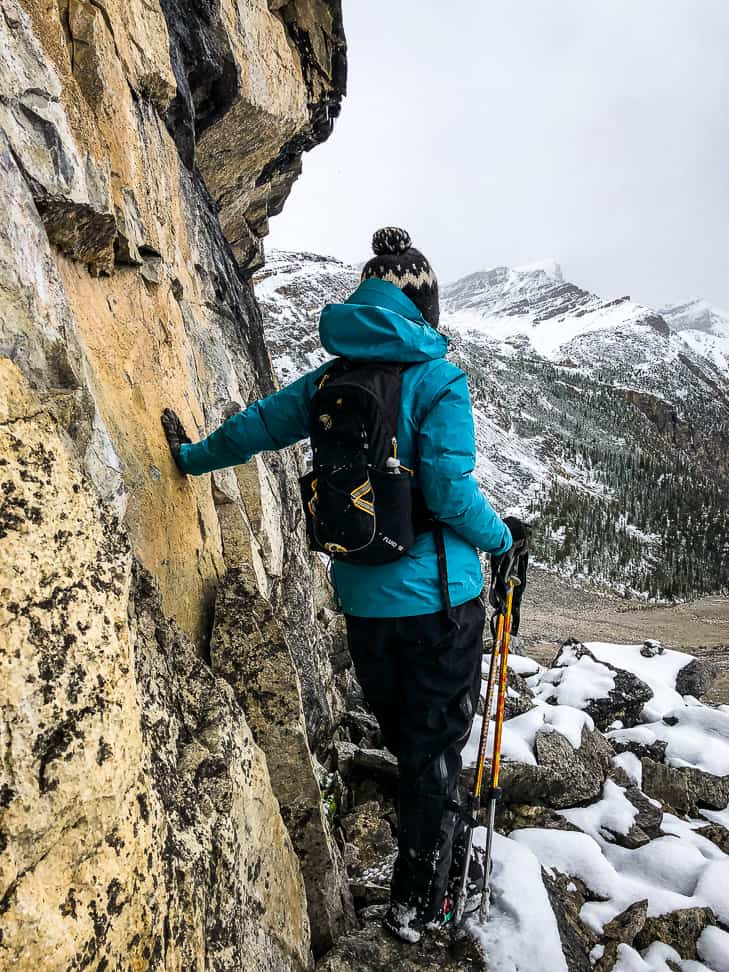 With a record breaking storm rolling in, we had a decision to make!
Since we had almost bald summer tires on our truck that were on their very last road trip, we knew we'd have to beat a hasty retreat as the cold front moved in. But since we still had a little time, we headed into Moraine Lake.
We wanted to see if we couldn't get some photos in the fresh snow. They were predicting a few hours of sun the next morning. And that would pretty much be a dream come true photo op for anyone.
So off we went to go get some night sky photos with nothing but snacks for dinner again. It was completely dark by the time we reached the parking lot at the lake. We loaded up out time lapse gear and headed out into the darkness.
Turns out we weren't alone up on the famous rock pile at Moraine Lake. Two other photographers were up there trying to get a time lapse too. It was quite bit easier passing the time in the frigid temperatures with people to talk to. Eventually they packed up and headed back to their campsite. But since we didn't have a campsite to go to, we kept time lapsing.
But since we decided to just stay all night, we headed back to the parking lot for some snacks.
After we had a bite to eat, we packed up the gear for morning. By then we only had 1 hour left before we needed to head back out.
So we decided to take a quick nap. Luckily we only had an hour to sleep because it was sleeting out. Within the hour we were sleeping our topper door froze shut. And I can tell you we had quite the time getting back out!
Groggy and tired we crawled back out into the cold temperatures and made a cup of coffee. From there our last day in the Banff area started.
We'll continue the story soon with Natural Bridge in Yoho National Park along with some hot springs adventures.
Canadian Road Trip Series:
Bow Glacier Falls and Iceberg Lake in Banff National Park