So far in our Iceland chronicles, (Days 1 & 2 Landmannalaugar and Day 3 Porsmork) the theme was non-stop sight seeing, and taking photos around the clock. Today with Day 4 Waterfalls Galore, the theme continues!
We left off on day 3 photographing the aurora and then Seljalandsfoss by night, and we're starting in the same place the next morning. Which let's just be honest, morning was really only a couple hours away anyways, so we decided to just stay put.
We rose before dawn again going into day 4 with only seven hours of sleep total for the last three nights. But don't worry, we're about to finally get some sleep coming up soon. By this time we were both joking that Iceland was going to kill us with all the spectacular things to see. It's definitely worth saying to pace yourself, because no matter how many hours you cram into the days, you'll still just scratch the surface of all the amazing places to go.
So far we'd spent all our time in Iceland way back in the highlands. But moving forward we knew we'd be hitting a lot of the main tourist attractions. It was probably a mistake to do the remote sight seeing first because it made it extremely overwhelming to move into the tourist areas. However, we wanted to see the highlands more than anything else, and they were first on our route.
If you've heard Iceland is remote, you'll be surprised and perhaps overwhelmed by the sheer amount of tourists. The crowds can be mind boggling, and we were there just after the peak tourist season. So if you're looking for remote, you're going to have to work hard to get it!
Even knowing there would be crowds going in, it was still an adjustment after seeing almost no people for the last few days. And since we'd be sleeping a couple hours in the parking lot of one of the biggest tourist attractions, we set our alarm for dawn to get up and have a few moments of relative peace.
Luckily we did get a few shots and some time admiring the beautiful Seljalandsfoss, (1st photo in the post) before things got crazy. Next we meandered over to the neighboring waterfall about 1/2 mile away by foot called Gljúfrabúi or 'dweller of the gorge' or 'the dark waterfall', (pictured above).
It's extremely difficult to get a photo in with the waterfall because you're constantly being soaked. I brought lots of lens cloths with me to constantly keep drying off my lens. We got a couple photos as fast as humanly possible and got out of there before I toasted my camera.
To get into the heart of the gorge you do have to pick your way along the rocks in the river. They're definitely slippery, so there's good chance at least one of your feet is going to land up in the river at some point. We spent most of our trip in Iceland with head to toe gortex on, from rain jackets with hoods, to full rain pants, and gortex footwear as well.
For the camera, I always carry those waterproof Sea to Summit bags which keeps it perfectly dry. And let me tell you, I got a lot of envious looks over that simple dry bag, everyone who saw it was really wishing they had one! Also Tyler's backpack is waterproof as well, so that made things much easier. We heard lots of people complaining about being constantly cold and wet, but with all that gortex we were warm and toasty for the entire trip.
After you've visited the dark waterfall from the bottom where you walk into the gorge, there's a second viewpoint to go to. You'll see a path leading upwards on the right hand side, but don't go up there unless you're very comfortable with heights and don't mind some climbing. You can see the view from this vantage point in the above photo.
Having seen both viewpoints, we headed back towards Seljalandsfoss. And by the time we got there, the parking lot was almost full. We put together some more Icelandic yogurt and my Maple Cinnamon Granola for breakfast, and hoped into the van to eat it with a cup of pour over coffee. Within the next 15 minutes, the parking lot was full, (around 8:30 am) and people were circling for a spot. The tour buses had also arrived, and hundreds of people were swarming up towards the waterfall.
As we were finishing our breakfast, someone swooped into the parking spot next to us. When he opened his door, the wind ripped it out of his hand and it banged into our vehicle. We both just looked at each other with that sinking feeling knowing we were going to have to deal with insurance, (always a real bummer).
However as we all assessed the damage, we found the paint from his vehicle scrubbed right off, and there somehow wasn't a dent – I can't even tell you how relieved both parties were! But it gives you the idea that the wind in Iceland is serious on certain days. And if you're in a small tight parking lot, you'll want to know which way it's blowing so you can park your vehicle accordingly. It's always easiest to open your door into the wind rather than having the wind rip it off it's hinges.
By now we were both getting overwhelmed with the amount of people, and decided to get out of there as soon as possible. So we headed down the road towards Skogafoss which is another super popular tourist attraction waterfall nearby. When we got there, it was predictably crowded, but we found a spot quickly.
Even though it was warming up and sunny out, we opted to keep our gortex on which was a good idea. As we headed towards the waterfall, the rainbow shining across it became brighter and brighter. There were a ton of people trying to get a shot, and even a few guys set up with extremely expensive gear doing takes for some kind of video.
We knew we wanted some photos of each of us actually right up next to the waterfall at the foot of the rainbow. No one was venturing anywhere near the rainbow though because the mist coming off the water soaks you within a minute.
However we weren't worried because we had our rain gear, so we took turns running into the edge of the waterfall and standing under the rainbow. We wanted to keep it quick since we were in everyone else's shot, but everyone else seemed to be excited to take a picture of the crazy people standing in the mist!
After you finish taking photos at the base of the waterfall, you can climb a set of metal stairs to the top. I heard there's around 550 stairs, and it sure felt accurate as I was going up, weighed down with camera gear and overheating in my gortex.
It can also be a little slow going up or down, since there's a lot of people, it's kind of one way traffic, and you can get stuck behind people who stop every 3-4 stairs for a rest. Not that there's anything wrong with going your own pace, I just mention it because it's not necessarily going to be a quick hop up the stairs to have a look. Luckily there's landings every so often where slower traffic moves over to yield to people who would like to climb faster.
The view is stunning from the top, so even though it took us a while to get there, I still thought it was worth it. From the top, you'll also see a trail heading off to the right which is called the Fimmvörðuháls trail, and it leads into Porsmork where we were on day 3.
We wanted to do some of those longer through hikes like that, but we didn't want to chance pushing my abilities too far early on in the trip. I did much better than I could've expected during our 2 weeks there, but I wasn't taking any chances I'd do something that would land me flat out on my back in bed with an immovable neck – not when there were so many things I wanted to do!
So we made our way back down the stairs to the parking lot. By this time we had both reached our people limit long ago and we needed a break. So we headed to a lesser known waterfall that I don't even know the name of. When we got to the parking lot, there were only 3 cars there, and we knew we were finally at the right place for us.
As we were walking in, everyone else was leaving, and we had the most magical couple of hours here without hardly seeing anyone at all. In fact, I sat right behind the waterfall where I took the above picture for over 30 minutes without seeing a single person – absolute bliss!
Eventually a couple of guys appeared around the corner and seemed hesitant to come any closer. So I got up and went to them to say they could have the prime spot behind the waterfall. They told me they didn't want to disturb me, (so nice!) because I looked so peaceful sitting in there by myself. But I told them the were welcome to my spot, as I'd already had it far longer than I ever expected!
By this time, it was late in the day and we were closing in on sunset. We were hoping to visit the popular plane wreck in this area around sunset. But when were got to the parking lot, it was absolutely jammed, so we decided to come back later.
So we headed towards our last stop of the day. We back tracked up the road looking for a hot pot/hot spring called Seljavallalaug pool. After going so hard for the last 4 days, we were looking forward to a nice hot soak. I had the coordinates for the hot pot, but not really any other information – (hint: always do your research). So we headed out, and luckily I had good directions written down because we found the parking lot easily. Then we hiked in about 20 minutes up into the valley where the pool is located.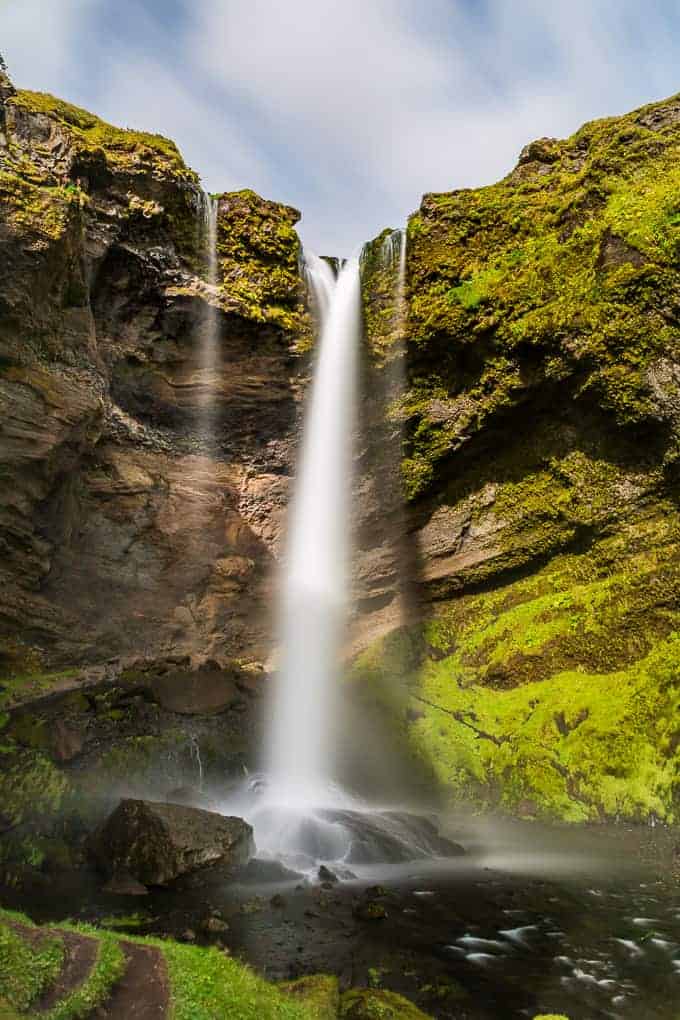 Tip: Definitely put your swimming attire on before you get there as the changing house is filthy. We had to change out of our suits after swimming and that was bad enough.
I should also mention it was pretty cold out, so we couldn't wait to sink in to the hot water. However, I dipped my toe in only to find it was a heated pool temperature – not even remotely hot. We weren't the only ones to be disappointed by this, so I thought it was worth mentioning, since no one else there knew it was only a picturesque swimming pool. But since we were already there, we swam anyways. Then we changed and took some pictures before getting out the drone for a flight back down the valley towards the van.
It was getting dark as we arrived back at the van, so we decided to head back towards the Skogafoss waterfall area for the night since we had seen all sorts of camping vehicles there. When we got there, we found a quiet spot and paid for the night. There's all the camping facilities you'll need there along with showers and a dishwashing station.
It's also a great place to be overnight if you happen to be expecting an aurora to come out. But luckily or unluckily for us (depending on how you look at it) it was clouding up and the first rain storm of our trip was heading in.
We cooked a red Thai curry based off my Easiest Veggie Thai Curry, but we added some ground beef to the pan as well. Then we ate it with rice vermicelli which are your biggest asset when cooking outdoors because they're done in just 3 minutes! Also just another camp cooking tip while we're on the subject: buying ground meat is a life saver because you don't have to cut up raw meat. This is especially crucial when you're 8 hours away from any kind of sink or easy way to disinfect your cutting board.
(Seljavallalaug pool)
So even though we had a dishwashing station that particular night, I still like things to be easy. So local Icelandic ground beef it was! And on that note, their beef tastes different than beef in the States or Canada. It's hard to describe, but it's almost buttery with rich flavor, and I find myself missing it now that we're home.
By the time this day had concluded we'd been awake for 4 days with only 7 hours of sleep sprinkled in there. So while we were uploading all our photos to a hard drive, we looked up the weather to try and find a reason to justify sleeping in. Since serious rain was predicted, we went to bed without and alarm set and drifted off into one of the deepest sound sleeps of my life!