Glacier National Park during the holidays is a winter wonderland filled with magical snow and ice. There's still a few things to see and do at Glacier National Park at Christmas Time, but be prepared for cold northern winter conditions.
Glacier in the winter has always been my favorite. You're much more limited with what you can do, but the scenery is nothing short of magical. And if you happen to be here during the holdiays, Glacier at Christmas Time looks like something you'd see on a postcard.
That's not to say there's going to be a few challenges to enjoy Glacier in December. To properly enjoy the outdoors this far north you definitely need really good quality clothing, and layer up! As a funny side story, we ran into a group from Texas one Christmas holiday and they were freezing, barely able to get out of their car for a few minutes.
We talked to them a bit and they were stunned by how cold it was but wanting to come back in the summer. They told us they booked their trip one hot summer day when Texas was over 100ºF because snow sounded nice.
But when they got here to Glacier, the reality was way more than they bargained for. They were wondering how were were so comfortable out in the below zero temperatures. And we told them the 'secret' to cold weather. 'There's no bad weather, just bad clothing.'
So if you don't own proper clothing, your Christmas adventures in Glacier National Park may be limited to less then 5 minutes outside of your vehicle. While snow and ice might have some appeal, the reality is quite different! The temperatures here range from -20ºF all the way up to around 40ºF in the winters.
But enough about the realities of cold weather, if you're prepared there's some fun to be had.
Let's jump in with 5 things to do in Glacier National Park at Christmas Time!
Take a walk up Going to the Sun Road
Snowshoe at any of the locations open, (check for avalanche conditions)
Cross-country skiing
Sunset at Lake McDonald
Drive to each scenic location open and take a photo
Bonus activity: When the 'stars align' sometimes the smaller lakes will freeze over in November and once in a while you can ice skate. There is significant danger in backcountry ice skating and is entered into at your own risk. If you were to fall through the ice, it's a long ways back out and hypothermia and frostbite could occur quickly.
I hate to drone on about safety. But there are so many ways winter in the wilderness can be dangerous if you're not prepared. Also you'll find all sorts of activities to do in Glacier on the internet like 'ski into Grinnell Glacier'. This is a far fetched idea to say the least.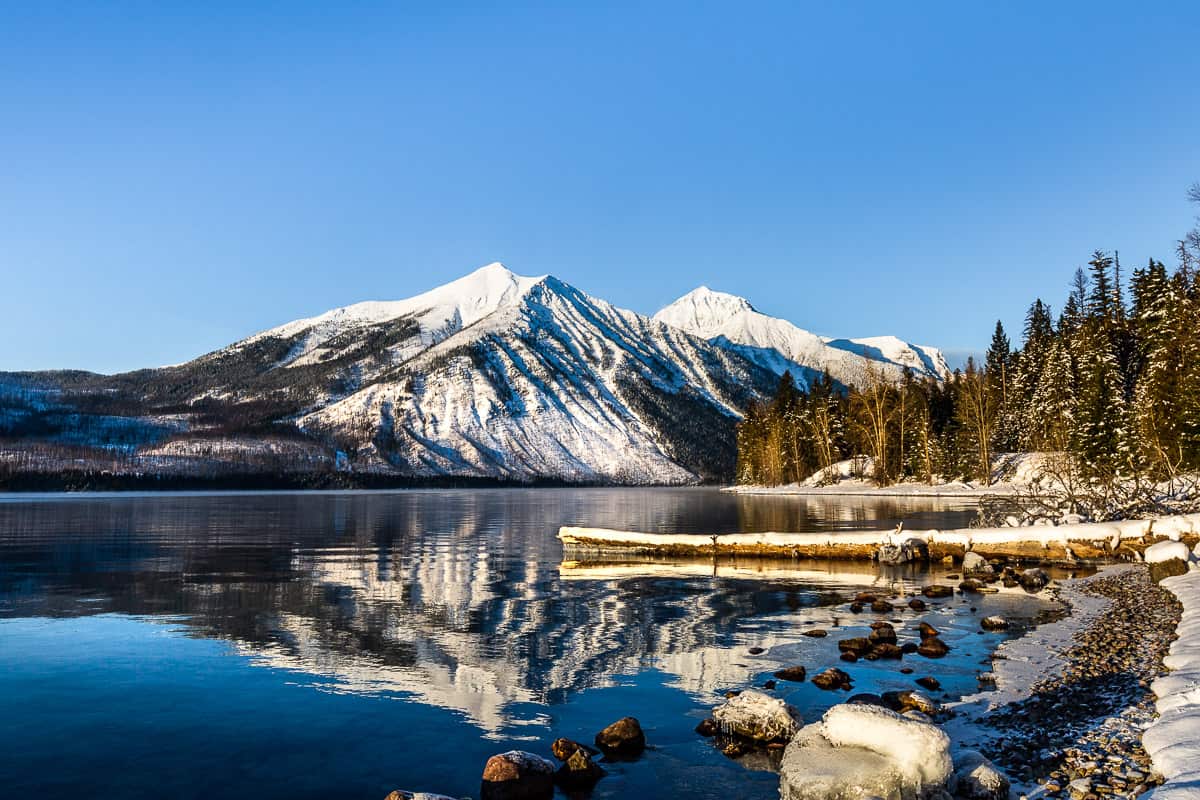 So what you'll find here are things that are actually 'doable'. Skiing into Grinnell Glacier involves a significant drive on winter roads. Then it's around 32 miles of backcountry skiing/snowshoeing where you'll need to carry winter backpacking and survival gear.
There's really almost no one that visits that has that kind of gear and backcountry knowledge. That's why I'm just keeping this to what is actually reasonable to do here in during the holidays. With plenty of precaution you can have a lovely Christmas enjoying the snowy vistas!
Main areas to see in Glacier National Park at Christmas Time!
Lake McDonald on the Apgar Village side. Sunset/sunrise photos from the dock are beautiful.
Lake McDonald from the end where the road is blocked at the Lake McDonald Lodge end. This is a completely different perspective and you can see the iconic lodge as well. Also this is a perfect place to ski/snow shoe/walk up the Going to the Sun Road where it's gated for the winter.
Stop for a view just after the bridge with the Glacier National Park entrance sign. There's gorgeous views of the river and mountains here.
Walk/ski the walking trails from Apgar Village.
What you need to know about Glacier in the winter.
Bathrooms – there are flush toilets at the Apgar Visitor Center. There's a pit toilet at the Apgar picnic area near the lake. Then there is a pit toilet located at the end of the lake in the parking lot outside the Lake McDonald Lodge right where the road is gated.
Road closures – be sure to check the current conditions with the park service website. Sometimes the road around the lake closes briefly after large winter storms.
Safety – Be sure to check the weather forecasts and be aware of the avalanche danger as well. If you don't live in a cold climate, do your best to understand the realities of cold weather. When our temperatures drop and the wind picks up, frostbite can occur in just minutes. Also it can be easy to get dehydrated when you spend time outside in the cold. There's so much to say here, but just be safe!Wildlife – bears do hibernate but can be around early winter and late winter as well as an occasional pop-out here and there. Besides bears there are also all sorts of wildcats including mountain lions etc. here so be away and come prepared.
That's it for Glacier National Park at Christmas Time! And if you ever get a chance to visit in the winter months, I sure hope you'll enjoy the frosty views.