You'll find everything you need to know in this Going to the Sun Road Guide to have a wonderful trip. I'll walk you through the reservation system for Glacier National Park, plus additional tips for what to do if you don't get a reservation to drive the road. You'll also find a list of all the best hikes to do along this 51-mile section of the park. And most important, there are all the best 'must-see' stops for photos along the entire Going to the Sun Road, as well as tips for driving it.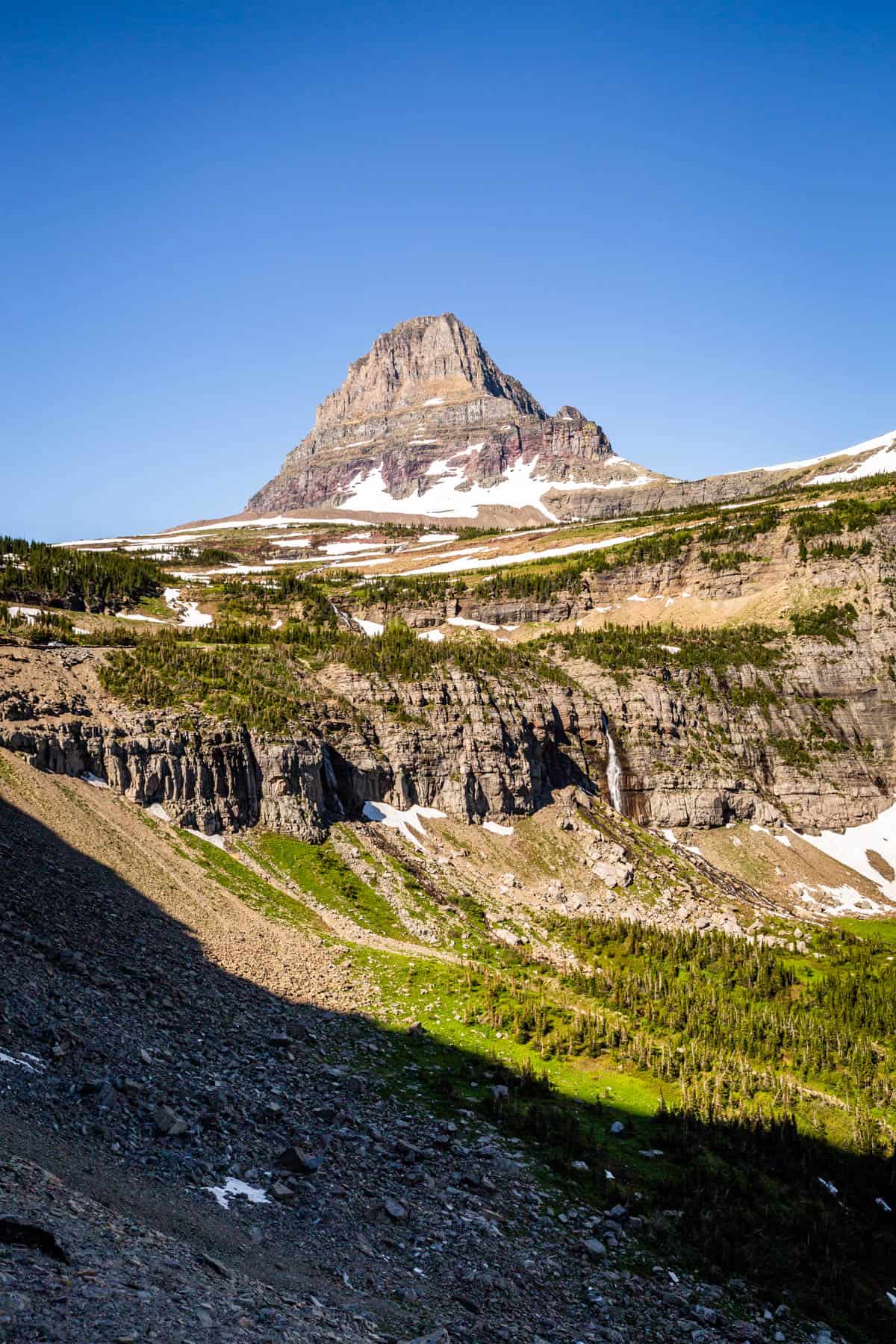 Driving Going to the Sun Road is a major highlight of any trip to Glacier National Park. You'll see countless stunning vistas along the way, and may even be lucky enough to photograph wildlife right from your car.
However, all this majesty does come with some complications. Just check out the reviews on Trip Advisor and see all the unhappy people who have visited this area. I've lived here my whole life, so I can easily say the traffic has truly gotten insane.
So today I'm going to give you all the information you need to have the best trip possible. But also to give a realistic outlook of what it's really like to visit Glacier National Park. #bringyourpatience
Love it or hate it, Glacier now has a reservation system to drive Going to the Sun Road. So from 6 am – 4 pm, you need to have purchased a ticket online. This has kept the traffic way down from what I've seen in past years, but it is still very busy and parking is still crowded.
With all this in mind, let's just dive in and get started with what you need to know!
Going to the Sun Road History
Going to the Sun Road is considered one of the most scenic drives in the USA. It takes you right through the heart of Glacier National Park, and the views are truly stunning. They completed this incredible road in 1933 after 2 decades of planning and construction. It wasn't fully paved until 1952!
This scenic drive is very narrow at a few points with sheer drop-offs just on the other side of the guardrails. It's definitely a challenge if you have a fear of heights, but it's a beautiful and quite enjoyable drive for most. And if you'd prefer not to drive, you can always take the iconic red bus tours. They're called the 'reds' and date back to the 1930s but have gone through a complete restoration in 2001.
The road was named after Going to the Sun Mountain which you can see from the end of the parking lot from Logan's Pass. (You'll also find a photo below.) This incredible drive has a short season every year because this area of the park can receive as much as 80 feet of snow! It normally opens in the beginning weeks of July and can close as early as mid-September.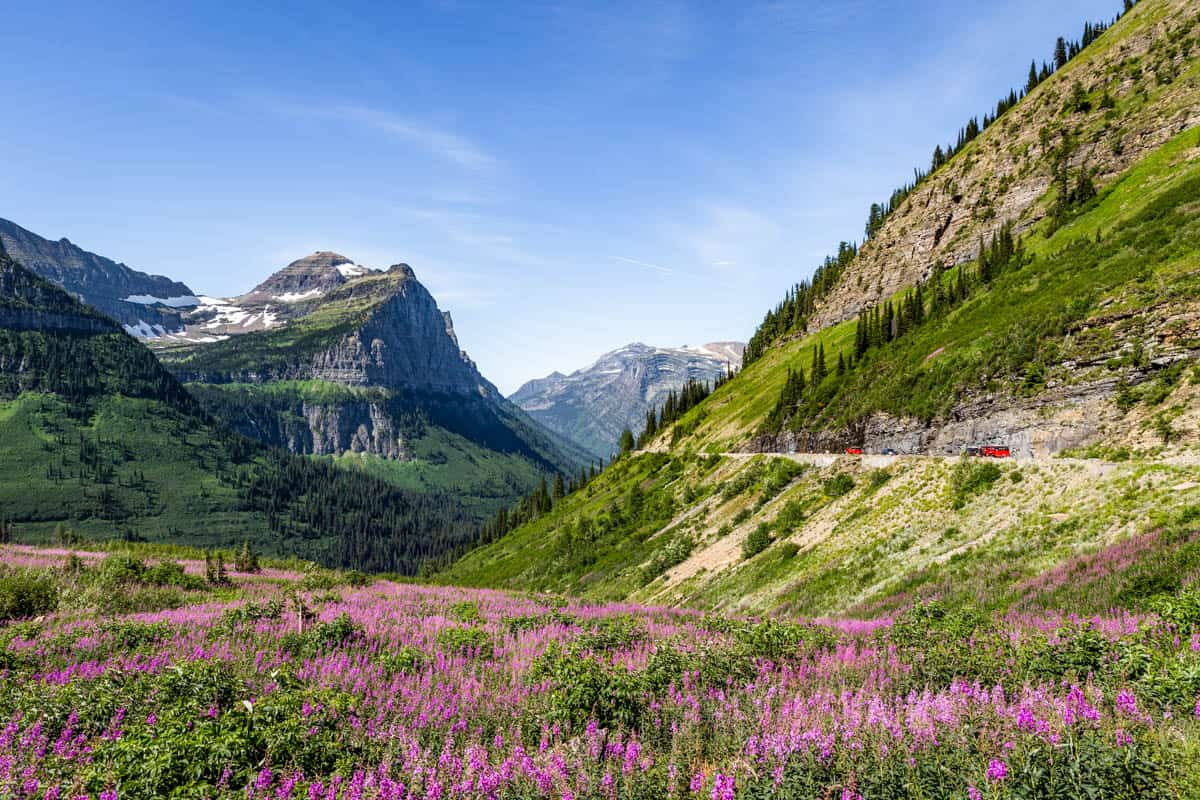 New information for 2022
Going to the Sun Road won't open before July 13th, 2022, they're still working through plowing the higher elevations. We received a lot of snow last winter and they're estimating sometime in the middle of July this year. You can still visit some of the West Glacier area, East Glacier, Two Medicine, Many Glacier, & the North Fork. Check AllTrails for the latest up-to-date trail information or at the ranger stations.
There is a construction project on the west side that shuts down Going to the Sun Road nightly from 10 pm to 6 am along Lake McDonald. This means even if you land yourself a ticket to get in, you can't start up the road before 6 am. From my past experience with Glacier, I would guess this is going to lead to a race to the top for parking at Logan's Pass once it opens.
Going to the Sun Road Guide for 'must-see' stops
Lake McDonald and the Apgar Village area (Bathrooms available.)
Lake Mc Donald Lodge (Pit toilets available.)
Waterfalls along McDonald Creek – both pull-offs are great, but Sacred Dancing Cascade is extra pretty with a footbridge that runs across the creek for great views.
Avalanche Creek & the Trail of the Cedars with the add-on to Avalanche Lake (5 miles roundtrip) (Pit toilets available.)
Westside Tunnel just before Heaven's Peak
Heaven's Peak – is located at what they call 'the loop' a hairpin switchback. (After this point the road begins to narrow.) (Pit toilets available.)
Bird Woman Falls – at about mile 27 there are several pull-outs to view this falls at a very great distance. If you have a map, it's to the right of Oberlin Mountain and to the left of Cannon.
Haystack Creek Falls – it heads under the road in a culvert along the area of some of the arches.
Weeping Wall – you'll know it when you drive by in the early season because the water comes down so hard you might want to roll up your window! Later in the season, it's more of a trickle depending on rainfall.
Big Bend – this is located just below Haystack Butte and has a very large pull-off with plenty of parking. This is an iconic view from the road, and you can see an image above with the red buses driving through.
Triple Arches – you can take a pull-off to see some of the engineering feats of this road where they built 3 stone arches to create a bridge to cover the gap.
Assorted pull-offs – there are a few just under the Highline Trail which is also called the Garden Wall near the pass where you'll often find snow into the middle weeks of July. And there's one more pull-off with a good amount of parking just below Logan's Pass that's a great place to see mountain goats and sheep. The second photo in this post with the Big Horn Sheep was taken from that pull-out right from the car!
Logan's Pass – is of course a 'must see' stop but parking can be tricky. This is also where the Hidden Lake Trail and Highline Trail begin. At the end of the parking lot, you can see the iconic Going to the Sun Mountain. Parking normally fills by 7 am, but last year it was filling around 6 am on the weekends. This year will be different because of the west side closures that keep the road shut until 6 am each morning. However there will be a percentage of people making their way to the top from the St. Mary's side, so it's anyone's guess how it will go this year. (Pit toilets available.) Also be aware that whenever the parking lot gets too full, rangers will close Logan's Pass and you'll be turned away until traffic quiets down again. Don't worry though you can always catch it on your way back through.
The 'big drift' – where upwards of 80′ of snow can accumulate through the winter months.
Lunch Creek – a perfect spot to get out and stretch your legs and even have some lunch. It's an aptly named spot where the creek comes pouring down at the base of Pollock Mountain. There's a small unofficial trail leading up the creek for a few feet and some good views to be had. A very narrow climbers' trail continues on from there and shouldn't be attempted unless you have wilderness and climbing skills. We've helped 5 groups now who were lost come back down out of this area when we've been climbing. This area is not Siyeh Bend! You'll know you're at the right trailhead because there will be an official park sign with mileage etc.
East side tunnel – another engineering feat of the Going to the Sun Road where those who were working on the road had to hand carry out all the rock they blasted to complete this tunnel!
Siyeh Bend – is like the loop on the other side where the road makes a long curve and heads in the other direction. This is a great place to stop for a break if desired. But sometimes there isn't parking because it's the trailhead for Siyeh Pass and the Piegan Pass hikes.
Jackson Glacier Overlook – the only place from the road to view a glacier. Many people are disappointed by how few glaciers there are left in Glacier National Park. You can hike to a few including Grinnell Glacier, but this is the only one you can see from the road. (Pit toilets available.) If you're looking for giant glacier views right from the road, try the Icefields Parkway Drive that runs from Banff National Park to Jasper National Park in Alberta, Canada.
Sunrift Gorge – just a few steps from the parking area you can see the gorge and waterfall. There's also a network of trails that takes off here, the next pull-off for St. Mary's Falls and Sun Point that can take you to see 3 separate waterfalls. You can read all about that hike with my Sun Point Nature Trail post.
Sun Point – there's not much to see right from the car but there are pit toilets and picnic tables. Just a few minutes up a dirt trail, about 1/10 of a mile you'll come to the very scenic Sun Point. It's definitely worth the short walk if you can, and it's family-friendly as well.
Wild Goose Island – located on St. Mary's Lake you will see the signs and it's definitely worth a quick stop for a photo.
Rising Sun – on one side of the road you'll find a large parking lot next to the lake where boat tours depart. And on the other side, you'll find the campground, general store, picnic tables, and the trailhead for Otokomi Lake.
Two Dog Flats – just after you leave the shores of St. Mary's Lake behind you'll find yourself in a straight stretch of the road called Two Dog Flats. This area is known for wildlife sightings, especially bears in the early morning and late evening. Please be very careful to pull over, stay in your car and enjoy them from a distance!
St. Mary's Visitor Center & the St. Mary town – you'll find all sorts of information here as well as places to lodge and eat in the town. As you exit this portion of Going to the Sun Road you'll leave the park for a bit. To the left, you head towards Babb and the Many Glacier region, and to the right, you'll be heading towards Two Medicine and East Glacier. Or you can simply turn around and drive the 51 miles back to where you started. It's a great way to see anything you missed, and the views are quite different from the opposite direction.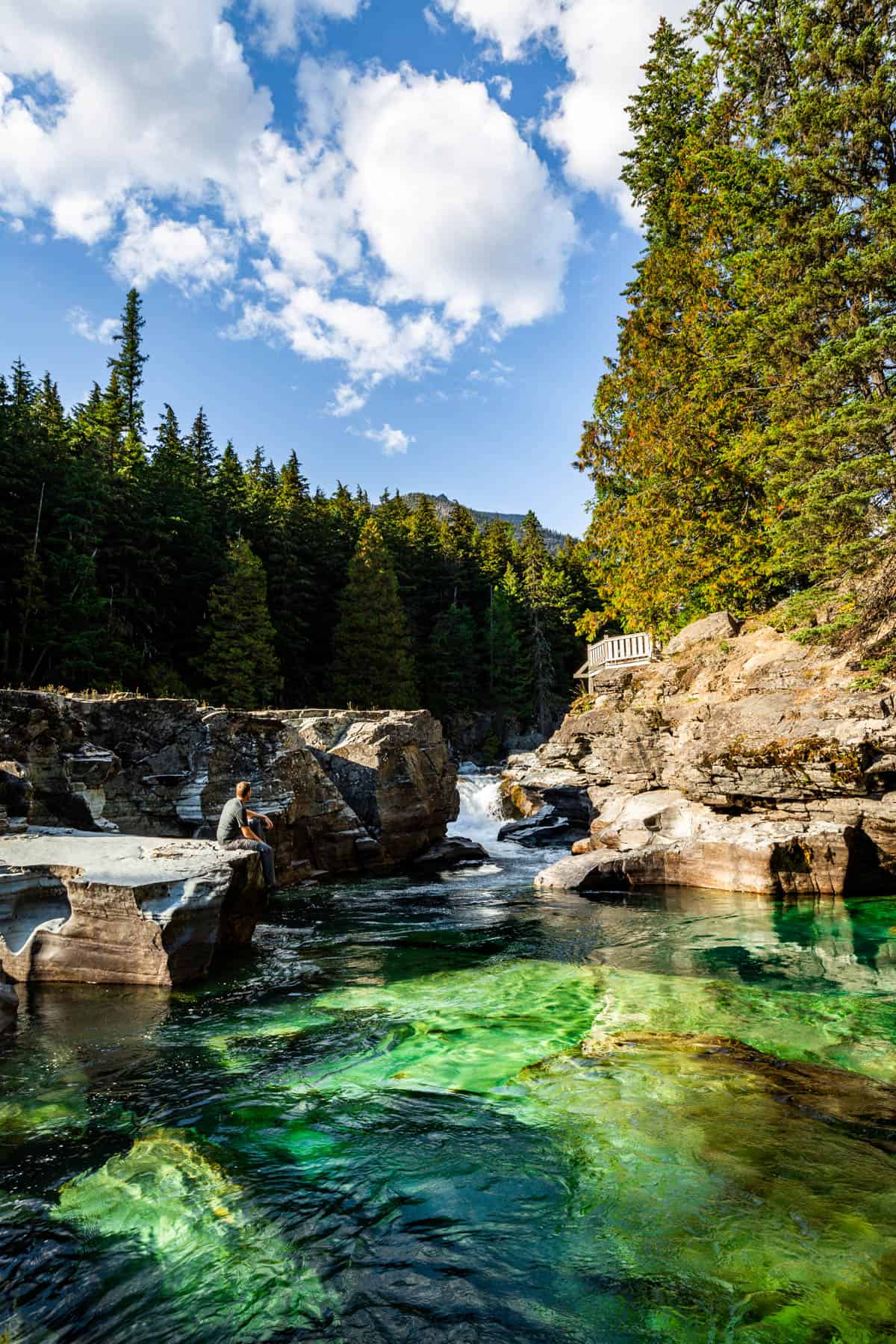 Driving Tips for Going to the Sun Road
Facilities –there are bathrooms and numerous stops along the road, but not much else. You can find fuel stations at West Glacier, St. Mary, and East Glacier, as well as any towns on your route. There isn't anywhere to get gas between West Glacier and St. Mary's as you drive Going to the Sun Road.
Food – there are a few options as you come into West Glacier, then again at the Lake McDonald Lodge. But after you leave the shores of Lake McDonald there aren't any more options for food until St. Mary. There are numerous picnic areas along the way including, Apgar, Sprague Creek, Avalanche, Sun Point, & Rising Sun. These all have picnic tables available, but you can stop anywhere for a scenic snack in any number of pull-offs along the way.
Time – it takes 2 hours to drive the whole 51 miles without stopping or unforeseen traffic. You'll probably need double that and then some to have an enjoyable drive with lots of stops for photos. I would give yourself at least 4 hours, or even more to truly enjoy the drive. Also bring all your patience, even with the ticket system it's very busy. There are lots of pull-offs for views, but some will be unavailable as you come through. Pick what's available and skip the rest if there isn't any parking. You can always drive back through the other way later in the day.
Don't stop on the road for photos! – this is a huge problem that holds up traffic and makes for a lot of grumpy people. Continue driving at the speed limit when possible, and only take photos only from the designated pull-offs. The road really is quite narrow and you may find there might be occasion to come to a complete stop, or slow way down if you're passing with a larger vehicle in the oncoming lane. The narrowest parts of the road barely fit a truck. And so it's sometimes needed to go very slowly so both lanes can continue on without an accident. People have lost their bumpers, mirror, etc. by trying to squeeze by someone else in the oncoming lane too quickly.
Vehicle restrictions – any vehicle 21′ or longer, 10′ in height, or 8'+ in width aren't allowed on the portion of Going to the Sun Road that begins after Avalanche Creek. The road is much too narrow for larger vehicles, and if you have a large truck, be prepared to drive very slowly in some sections. I've been up Going to the Sun Road in a 1 ton dually truck a few times and it's never fun. The back tires will go over the line into the other lane at the narrowest points. And you may have to come to a complete stop to allow the oncoming traffic to pass before you can continue. Suffice it to say you'll have the best time in a car with plenty of space! Also if you're in any size of truck, including half tons, consider folding in your mirrors. As you drive from the east to the west, you'll be hugging the rock cliffs and one wrong move will sheer off your mirrors, better to just fold them in!
Red tape – unfortunately Glacier is so popular that there is quite a bit of red tape now. You still need a park pass to enter Glacier which you can buy at the entrance. You can purchase what you'll need to visit Glacier for $35 per week, or an interagency pass to visit any national park. There is now a ticket system in place to reserve the right to enter between 6 am – 4 pm. You can also make campground reservations which gives you access to the Going to the Sun Road as well. As mentioned above, there's a construction project which means the west side of the road is closed until 6 am, so there's no going in early unless you're staying on the east side. You can still visit Many Glacier, Two Medicine, and East Glacier without reservations but it's a long drive if you can't go through the Logan's Pass portion of Going to the Sun Road. If you're based in Whitefish, expect to spend at least 2 hours to get to Two Medicine and upwards of 3 to get to Many Glacier.
Reservation System for Glacier and the North Fork 2022
Reservations are required to drive the portion of Going to the Sun Road that begins in West Glacier runs through Logan's Pass and exits in St. Mary.
From May 27 – September 11th between 6 am and 4 pm you'll need to book a reservation.
You can book your reservation at Reservation.gov. Be sure to have a screenshot offline version on your phone before visiting, cell service is unreliable at best.
You need to have a national park pass + a reservation to drive. You can purchase a pass at the entrance station or ahead of time online. It's $35 for a week in Glacier or $80 for the Interagency pass which allows entrance to every national park in the United States.
The reservations for Going to the Sun Road are good for 3 days and you only need 1 reservation per vehicle. You can read more about their ticketed entry system on the national park website, it's well laid out and easy to read.
North Fork reservations are only good for 1 day, and you need just 1 reservation per vehicle.
You do not need a reservation to visit East Glacier, Two Medicine, and Many Glacier regions of Glacier National Park.
How to make a reservation
Book 120 days out. The bulk of the reservations are released on March 2 at 8 AM MDT and you can reserve yours at recreation.gov.
Book the day before. The remaining reservations are released one day in advance starting May 26 at 8 AM MDT at recreation.gov.
Tips for getting a reservation
Create your account ahead of time – once the remaining reservations are released at 8 am there's a rush to get one, and you want to be fully ready to go!
Be flexible with the dates you select, remember your reservation is good for 3 days.
Download or screenshot your reservation for an offline version. Cell service is unreliable, to say the least, so have a 'hard copy' to avoid frustration.
If you book a tour or lodging, you will need proof of this in place of a reservation to get in.
Buy your pass ahead of time. We like to get the America the Beautiful which is an interagency pass that allows you into every national park in the United States for $80. But you can also buy a pass just for 1 week in Glacier National Park for $35.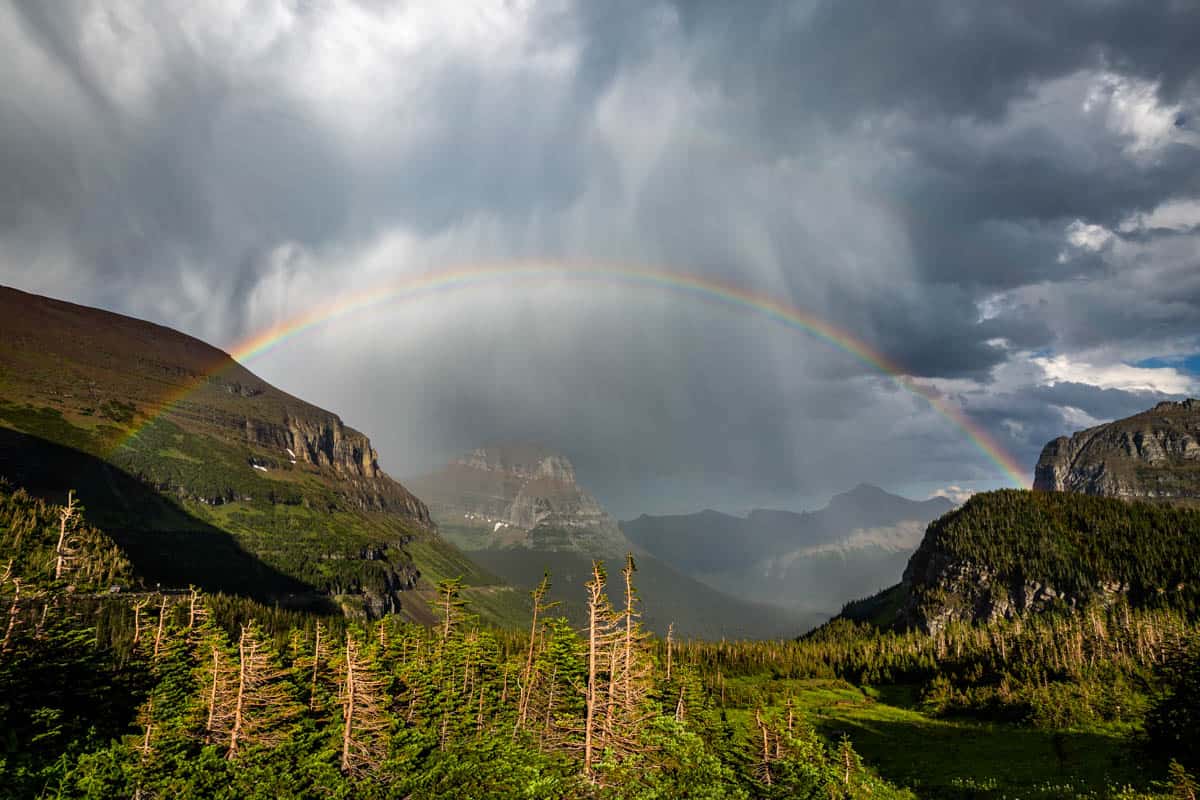 What to do if you don't have a reservation
Take a tour – the red buses, other tours, boat tours, or horseback rides will all give you access to Going to the Sun Road and you don't need to make an additional reservation outside of your tour. Make sure to have a copy of your booking to get in along with a park pass.
Take a drive after 4 pm, but be aware of the 10 pm closure around Lake McDonald.
Visit East Glacier, Two Medicine, or the Many Glacier regions of Glacier National Park. Google Maps will show you just how far these areas are from Kalispell or Whitefish where most people choose to stay. So if you're spending your time there, try and find lodging in those areas instead to save countless hours of driving.
Book lodging or camping in Glacier. If you are staying in the park, you don't need a reservation to drive Going to the Sun Road.
Visit after September 11th, but be aware that the weather can turn and the road may close early with the first snows of the season.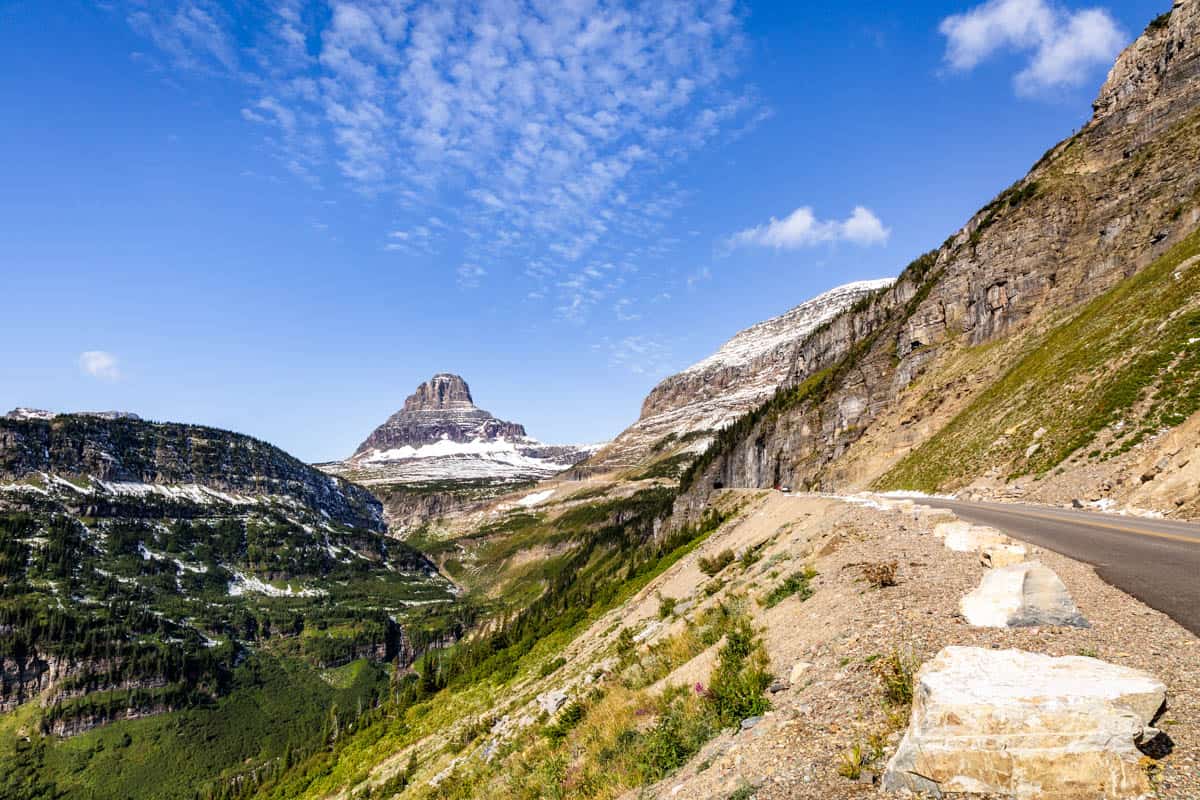 FAQ's
When does Going to the Sun Road open?
Usually the beginning of July, but sometimes as late as mid-July on years with a lot of snowpack. It can also open as early as the last week in June as well, but I wouldn't count on it!
Where does Going to the Sun Road start and end?
Going to the Sun Road starts in West Glacier, drives around Lake McDonald, then climbs steadily to Logan's Pass. From there you head down the other side to St. Mary.
How scary is Going to the Sun Road?
This depends entirely on whether or not you have a fear of heights. I know several people who haven't enjoyed their drive all that much because of a fear of heights, but most people love the road. There are barriers along the way where there are steep drop-offs and plenty of room to stay in your lane. If you really don't like the feeling of a drop-off, you can always drive Going to the Sun Road starting at St. Mary's and ending in West Glacier. That way you'll be hugging the rock cliff side all the way, the furthest away from the drop-offs.
Are there bathrooms on Going to the Sun Road and is it paved?
Yes, there are bathrooms and pit toilets all along the way through driving Going to the Sun Road and it is paved the whole way. I've listed out what's available at each stop above. Parking can be an issue at times, so if you're traveling with kids it's best to have someone that can stay in the vehicle if you need to double park to run to the bathroom. The times I've driven this road alone have been interesting when you can't find any parking at the bathrooms for up to 4 hours at a time! Please note I'm not recommending double parking by any means and always be considerate by not leaving your vehicle unattended. It's just one of the only solutions to use the bathrooms sometimes. Also, be aware you may be turned away at Logan's Pass if the parking lot is too crowded.
Can I get into Glacier National Park without a reservation?
Yes, there is a lot to see if you don't have a reservation and the full details are in this post. For a short version, you can visit East Glacier, Two Medicine, and Many Glacier without reservation. You can also book a tour from the red buses to a boat ride or horseback riding that will give you access to Going to the Sun Road without a reservation. Or finally, you can also drive the road after 4 pm being mindful that the road closes at 10 pm in 2022 due to construction around Lake McDonald.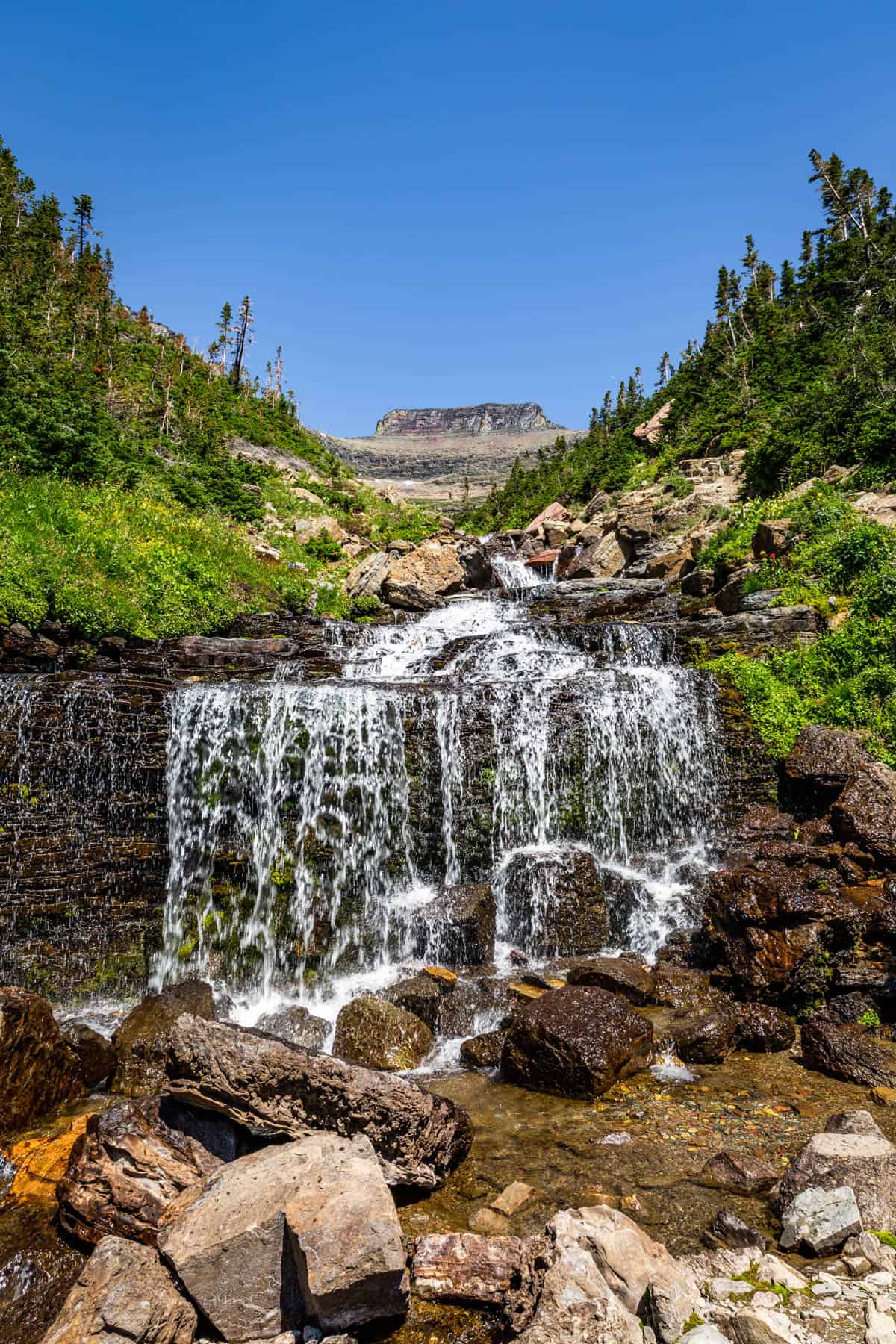 What to do in Glacier National Park besides driving
Aside from driving this incredibly scenic road, there's still plenty more to do in Glacier
Boat Ride or rent a paddleboard/canoe at Lake McDonald
Horseback rides
Hiking, hiking, and more hiking!
Climbing – (Glacier has its own classification system because of the fragile rock)
Stop in the surrounding businesses and find a souvenir or something to eat.
Visit the neighboring towns like Whitefish and Columbia Falls for a break from sightseeing, (lots of restaurants, shopping, ziplining, rafting, fishing, etc. available).
Take a break from driving to have lunch or a picnic from any of the scenic pull-outs.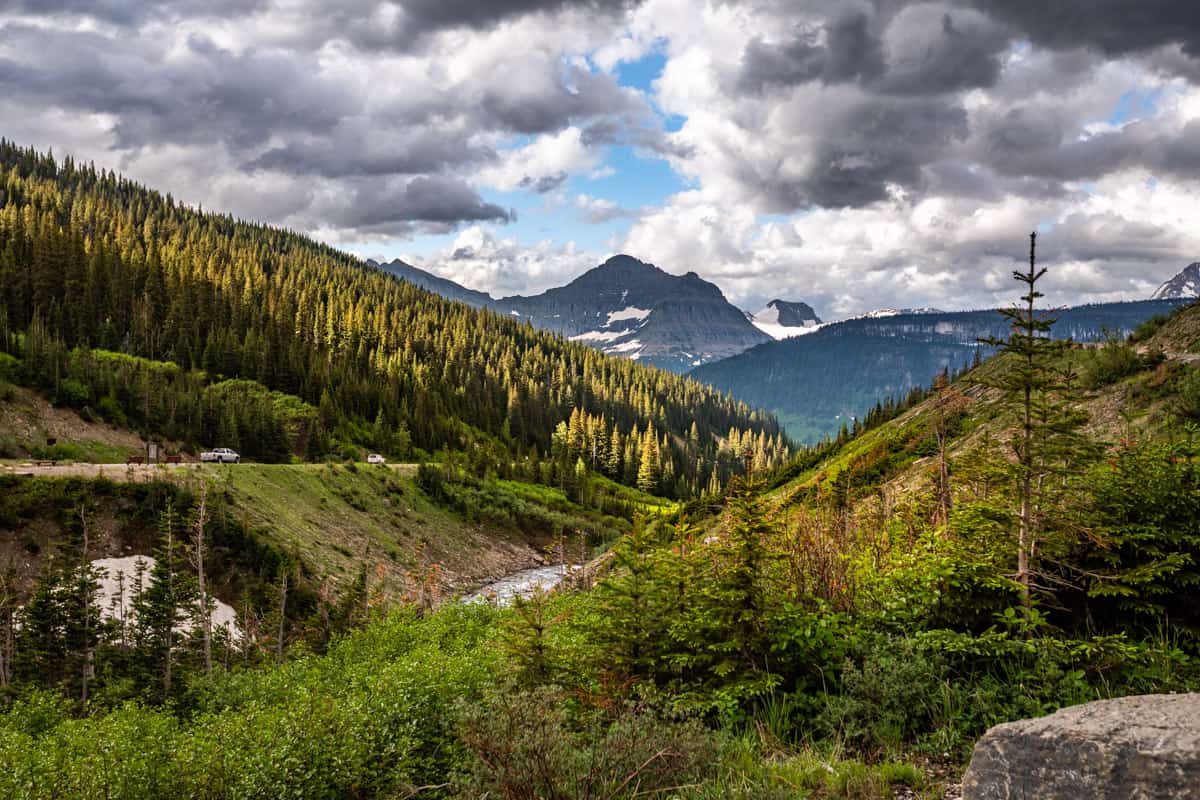 10 Best Hikes Beginning from Going to the Sun Road (West to East)
Sperry Chalet or Mount Brown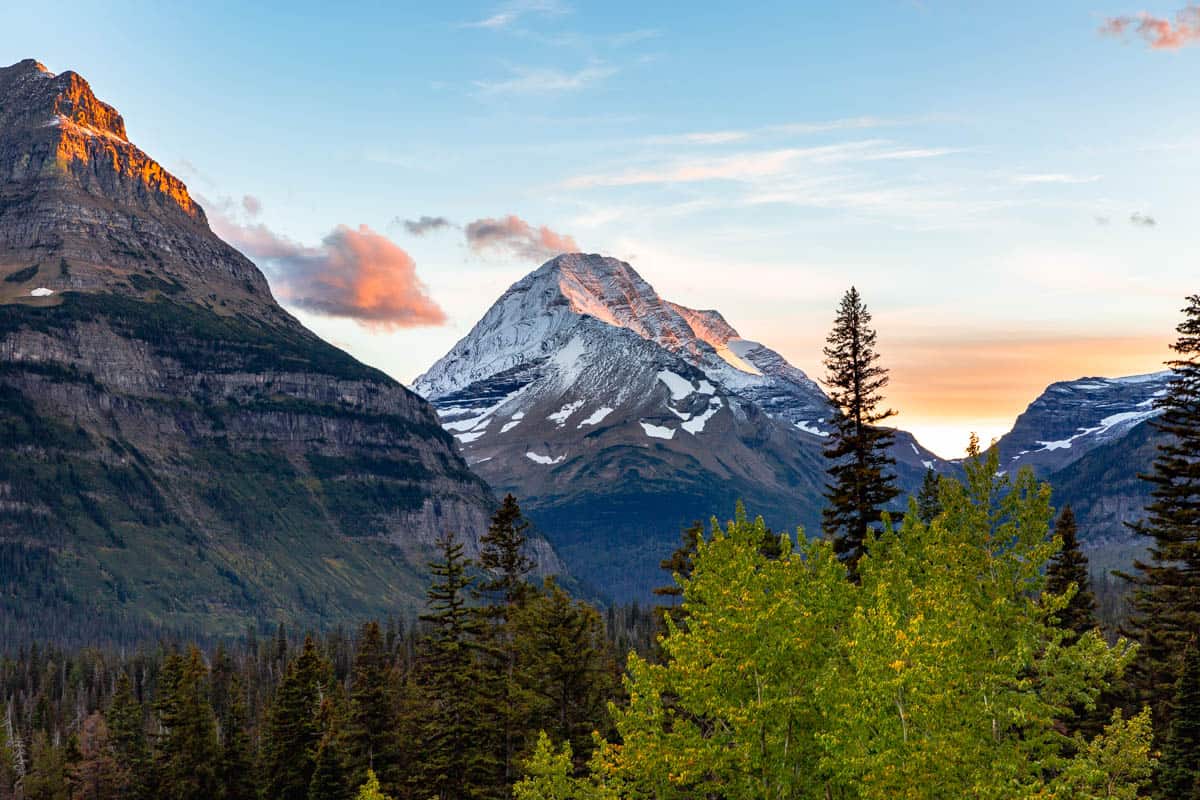 As I mentioned at the start we both have extensive experience enjoying Glacier National Park for decades. That being said, it's very easy for us to see how much it's changed in the last 10 years. You can expect crowds even with the reservation system and you'll need to bring your patience.
However, you can always find solitude even in the busiest of times if you look for it. The best way to enjoy the beauty of this park is to pick a hike and get further away from the main areas. The short trails are busy but not too crowded for the most part.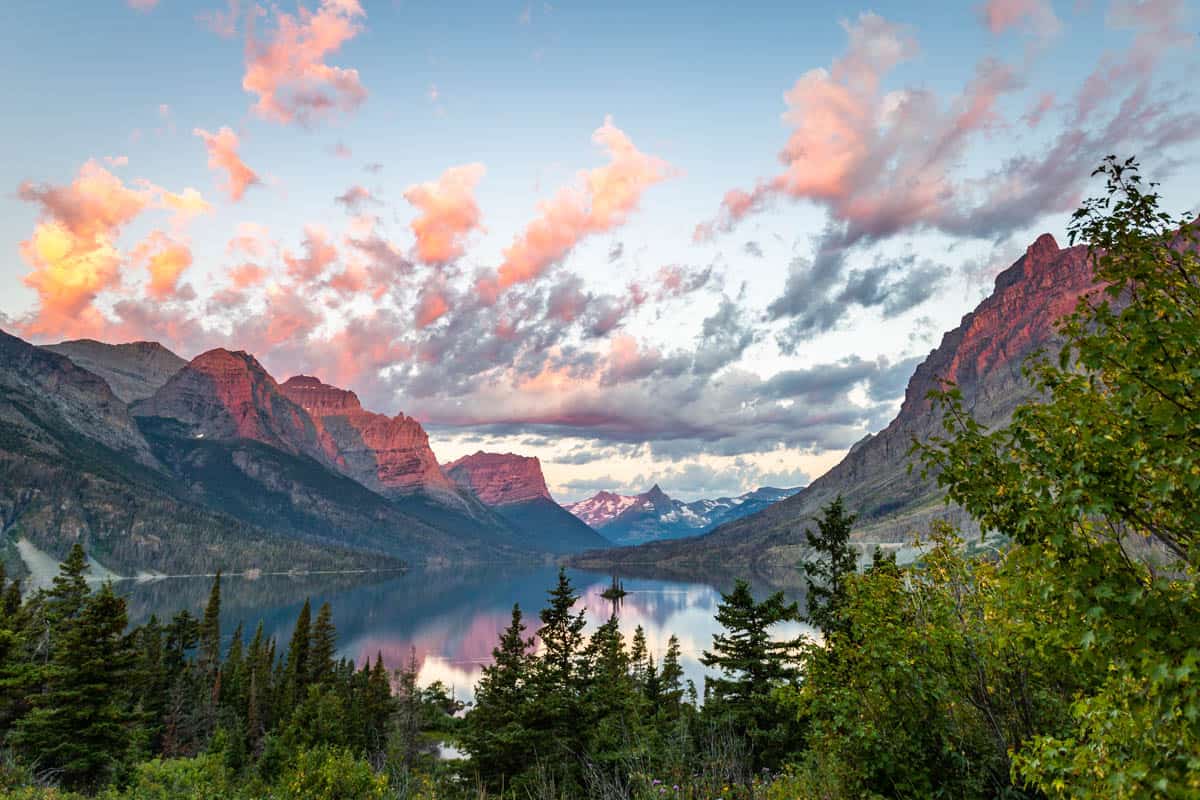 Glacier has a ton of longer trails that are 10+ miles, and this really does help to keep the crowds down. Of course, this does make for some longer days if you want to hike. But you can also find my Top 3 Short Hikes in Glacier National Park as well.
Weekends are typically more crowded than weekdays, but not by much. Traffic in Glacier seems to be pretty steady all the time. So our favorite pass time is climbing the mountains with climbing routes. There's much less traffic of course, but it is a completely different skill set with plenty of risk involved due to the crumbling rock.
Our favorite times to enjoy this scenic drive are during the evening hours when the crowds die down a bit. The above photo was taken around 6 pm at St. Mary's Lake last year. We found a large pull-out and had a picnic right in the truck overlooking the incredible views.
2022 will be a bit more complicated with the 10 pm closure. But you can find lots of ways to work around this by staying in the different regions of the park. For instance, if you start your drive for Going to the Sun in West Glacier, you might just plan to stay in the town of St. Mary's on the other side, or in the park campgrounds.
From there, you're free to explore Many Glacier or head east to Two Medicine and East Glacier. You can see how it becomes easier to navigate the crowds if you stay put in the different regions of the park. I would never recommend driving back and forth every day of your trip if you don't need to.
And finally, if the main purpose of your trip to Glacier National Park is to drive the incredible Going to the Sun Road, just make sure you give yourself plenty of time.
As mentioned above, drive up and over, then come back for all the spots you missed. Or start in West Glacier drive up and over Logan's Pass take your time and maybe even choose one of the hikes listed above. Then stay on the St. Mary's side for the night, and take your time enjoying the drive all the way back to West Glacier the next day. This really takes the intensity out of trying to see 'everything' on your first pass-through!
Finally if you choose to visit in the quieter winter months, Going to the Sun Road is only open around Lake McDonald to the Lake McDonald Lodge. There are still a few things to do and see even with most of the park closed down. You'll find all my best tips for the colder months with my guide to Winter in Glacier National Park.
I sure hope this has been helpful and that you have the best possible trip to Glacier National Park. You can find everything I've written about all the hikes in my Glacier National Park section. And for some tips for your trip, check out my Top 10 Tips for Glacier National Park.
Also, you can check out my Top 25 Hikes in Glacier National Park. They're listed out by the region they're in as well as a quick look at mileage and elevation so you can easily plan out your trip.