We started the day off for this hike completely in the fog, with absolutely no views. However we started anyways because you just never know. And as it would happen, we totally lucked out!
The Olympic National Park is much different than our normal stomping ground of Glacier National Park. But one thing you should know is it hold it's own peculiar charms, and will have you hooked in no time. There's just something so different about a climate that receives more rain. It's just so lush and green, and the trees are enormous in certain areas.
The wildflowers were in full bloom which was another added bonus. It really made the landscape even more picturesque.
We still missed part of the views due to the flog, but what we did see made the hike more than worth it.
This hike is relatively easy with a 3.2 mile roundtrip, and only 650′ of elevation gain. This also makes it a great 'rest day' hike in between longer hikes if you're like us, and have a hard time slowing down on vacation!
I can't be sure, but if there wasn't fog on one side of us, the ocean may be in view for this hike as well.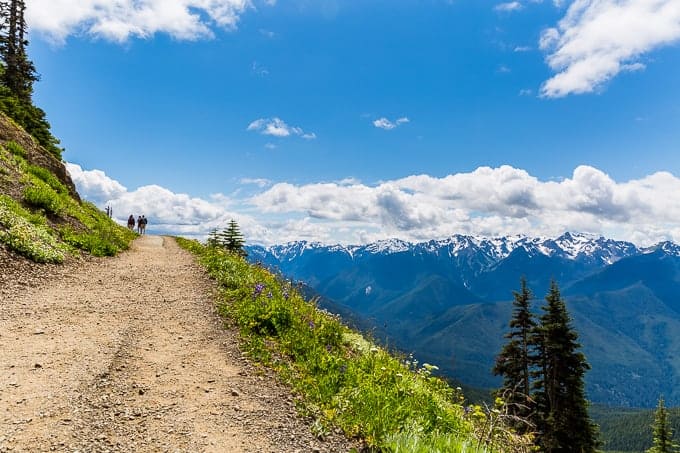 Since this is an easier hike, it's definitely popular, so the best time to go is early to avoid the crowds. We ended up getting on the trail around 9 am which isn't exactly early and we still didn't run into crowds.
This was an incredibly gorgeous hike that we both loved. And even thought we've been to Olympic National Park twice now, we're both hoping to get back to this gem of a park for a few more adventures some day!