Location: Glacier National Park – Montana, U.S.A.
Destination: Dragon's Tail Summit Off Mount Reynolds
Distance: About 8.1 miles round-trip from Logan's Pass Visitor Center
Difficulty: Moderate Hike / Scramble | Class 1 and 2 – Lots of exposure after you pass the Southwest corner of Mount Reynolds. Route finding can be difficult at points. Class 3 climbing with exposure to gain the ridge of the Dragon's Tail. Climbing gear is not required but I would strongly recommend it.
Click here for an overview map of the trail.
This week we did the Dragon's Tail leading from the backside of Mount Reynolds, or…most of it. We ran out of time and didn't quite make it to the top. As much as it pains me to turn around, we're trying to abide by some common sense rules and not come out in the dark. It can be really dangerous to get too far into the mountains late in the day. We started early in the morning, but we weren't expecting several hours of construction delays coupled with no place to park. We ended up having to hike a mile up the road even to get to the trail head!
Luckily, we got almost all of the views anyways (and aren't they spectacular?)!
Above, is a photo from the backside of Hidden Lake. I've been to Hidden Lake many times over the years, but I've never seen it from this perspective before.
This mountain is called Bear's Hat Mountain, and it made the list when we found out that you can see both Hidden Lake and Avalanche Lake from the top. By the road, it's many miles between the two lakes, so seeing both at the same time is highly appealing.
Above, are some photos from the grassy ledge that you cross before the chute to the top. As you can see in the bottom left corner of the left hand photo, the trail is little more that a goat path of rubble that slides away from you. And…don't look down, the right hand photo is the thousands of feet dropping away right next to the trail.
I wouldn't attempt this if you're not an experienced climber or scrambler, and definitely not if you're scared of heights! However, you can still do about half of the route leading up until the saddle on Mount Reynolds. It affords you spectacular views of the valley below on the other side making it well worth the trip alone! Little lakes dot the landscape and both Jackson and Sperry glaciers are in view. You also get great views of Twin Lakes and Mount Fusilade.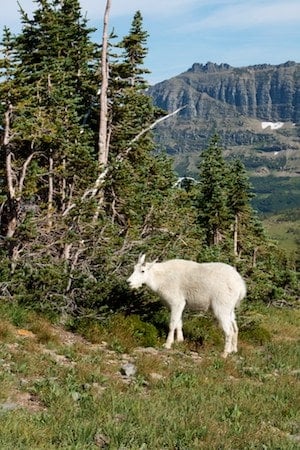 The mountain goats were really out for this trip – we must have seen at least 10 of them near the trail throughout the day.
Hope you have a great weekend!