Today I've broken down our experience to give you the Pros and Cons of Visiting the Golden Circle in Iceland!
I'm just going to start off with my main point which is this, if you're considering whether or not to visit the Iceland's famous Golden Circle, just go! We went back and forth about whether or not to go, but in the end we were worried we'd regret it if we didn't.
Of course what ended up happening is we kind of regretted going and spending one of our days in this highly touristed area. But I say 'kind of regretted' only because it was a tough day, but we did enjoy the sight seeing. There's definitely pro's and con's to everything, so what it all boils down to is knowing yourself and what you enjoy. (Skip straight to the end for the quick breakdown.) The challenge of course is trying to decide what to do with your limited vacation time.
We're both small town people, so we worried we might not enjoy the Golden Circle with it's reputation to be packed with people. And in the end we weren't wrong to be concerned because it took our combined efforts and a hefty determination to have a decent day for sure. There's also many factors to take into account as well that might help you choose for yourself when planning your next vacation and which touristed sights to see.
First of all we really wanted to see this gorgeous waterfall we'd heard of called Bruarfoss, (which is pictured above). Bruarfoss is located along the Golden Circle and it definitely did not disappoint as you can see, it's absolutely stunning.
However it was also one of our most challenging moments in Iceland because not only was it incredibly hard to find, but we just had the worst experience there. I'd provide details for how to get there because the directions I found online were vague at best, but they're right in the middle of putting in signs and a trail so anything I'd say would be outdated.
Once we navigated the trail complete with mud 6″ deep we finally made it to the waterfall. It was cloudy when we got there and the glacial color of the water really doesn't show itself to the best effect unless the sun is shining. So we got out gear set up, and waited for the sun to keep popping in and out of the clouds.
Everything was going well, and we were both starting to think we made the right decision to visit the Golden Circle. But then one photographer decided it would be a good idea to wade out into the middle of the river for some up close shots. Everyone including myself was patient at first thinking he'd be 10-15 minutes or so.
But over an hour later everyone was really starting to loose it with the utter rudeness. By this time there was probably 45+ photographers lined up trying to get the shot they came for, only to find this one man just wouldn't budge out of the way. We finally lost all patience, and just left because we wanted to see something else besides just Bruarfoss. We were also already almost halfway through the day with the getting lost and waiting around.
Needless to say, both Tyler and I were at our wits end by the time we had seen just 1 sight along the Golden Circle. And we knew it we knew it was only set to get more crowded for the rest of the day. After all Bruarfoss was off the beaten path with no real instructions/signs for how to get there, so what would the rest of the day be like?
Well… actually the rest of the day wasn't too bad, but I can't say it was great either compared to the rest of our trip. Each sight we stopped to see after Bruarfoss was definitely crowded and packed to the max. If we thought we'd already had our patience tested by the Bruarfoss experience, it was really only beginning.
The Golden Circle is crazy busy, and if you're not used to intense crowds with people loosing their cool, and lines everywhere 30 minutes long, it's going to be a rough day. We knew going in it would be busy, and tried to go in with a 'anything goes mindset', but it was still a patience testing kind of day.
The next sight along the way that we visited was the Geyser. And while everyone there was really impressed with lots of oohing and aahing, we were kind of left with a feeling of 'that's it?'. But to explain myself more clearly the Geyser is neat if you've never seen one before, but compared to our trip through Yellowstone, it was definitely mild in comparison.
And when you combine that with the difficulty in parking and trying to squeeze in to see the Geyser erupt, it just didn't seem worth it to us. (Keep in mind of course this is just our opinion based off our travels and experiences, you might enjoy it more than we did.)
From there we headed to the top of the circle to visit Gullfoss, or the 'pie shaped' waterfall. It was starting to get later in the day by this time, and a lot of the tour buses had left this area which made for a much more relaxed experience. Combine that with the fact it was now raining, and we had a great time not having to swim through the crowds at this gorgeous site.
After Gullfoss, our original plan was to visit the Secret Lagoon for a nice long soak at the end of the day. But getting lost on the way to Bruarfoss and the time we spent on parking etc. at Geyser put us way to late in the day for the Secret Lagoon. We were both disappointed to miss out on that one, but we headed on to the Kerið Crater at dusk.
While most sights are free to see in Iceland, the Kerið Crater has a small fee which I think was around $8 US when we visited which is supposed to be for maintenance and such. I was really surprised by the outrage surrounding this small fee, but I guess so many people have been told everything is free to see in Iceland, which is increasingly not the case.
What we didn't know until we visited, is that many of these places are either National Parks or they're on private land. Some of the most popular sights in Iceland like the famous waterfall Seljalandsfoss are on private land. The landowners are just trying to deal with the sheer amount of traffic coming their way by charging a small fee, which helps to maintain bathrooms, parking, and general cleanup.
After walking around the crater we headed south to a campground for the night. The next and final day of our trip we were planning on hiking to the Reykjadalur Hot River, and wanted to be near the beginning of the trail to get a good start.
We also made dinner that night with a large pot of pasta with veggies and tomato sauce as well as a Thai curry with rice noodles to take hiking with us the next day. Then we crawled into bed and set the alarm to go off hours before dawn so we could get a good start on our last day in Iceland. Plus after our less than great experience driving through the Golden Circle we really wanted to end our trip on a high note!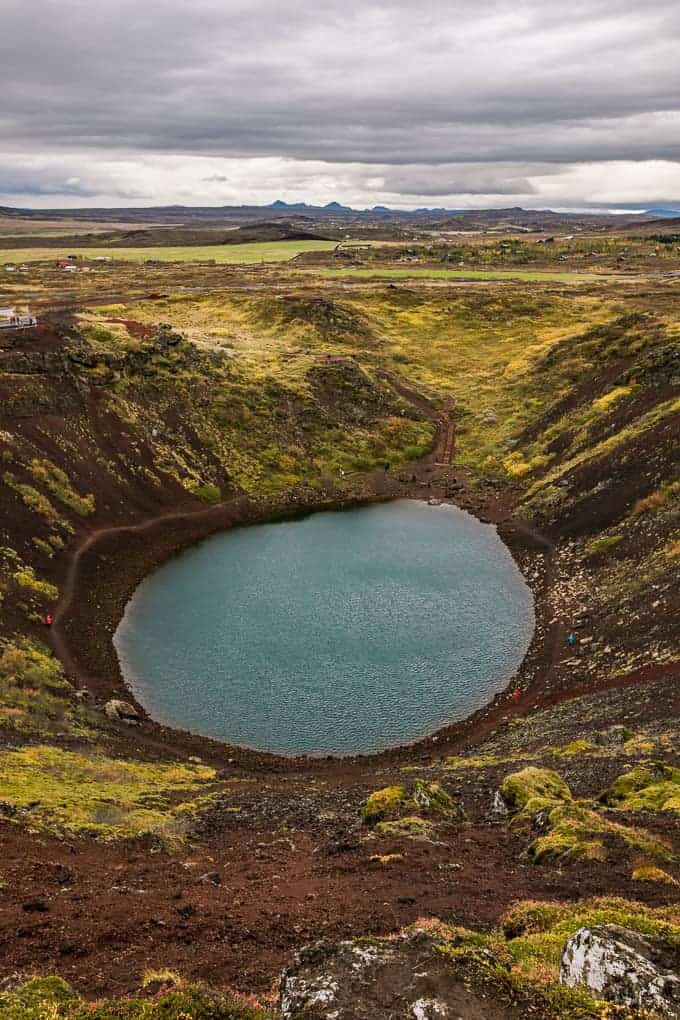 And finally the short version breakdown:
Pro's
The Golden Circle is famous for a reason, the sights are truly stunning. So it would be hard to say don't bother visiting since there's lots of amazing things to see and do.
If you don't have a ton of time on your Iceland trip, the Golden Circle is a great option because it's close to Reykjavik, and you can even take a tour bus if you're not renting a vehicle.
And of course there's always the fear of missing out, so if you choose not to go because of the crowds, you'll never know if you should've went. Also during the summer you can go in the off hours when everyone else has left for the day, since the sun is up around the clock.
Con's
The number one downside for us with the Golden Circle is of course the crowds. As I mentioned above, we're both small town people and have a low tolerance for crowded areas. (Seriously though, it's definitely a tolerance thing because when we lived in Calgary for a short time I started to get used to crowds.) By the end of the day we both agreed that we would've enjoyed spending the day pretty much anywhere besides the Golden Circle. But I would be the first one to say the we might be a little weird that way!
The Golden Circle is actually fairly long at 237km, or at least 3 1/2 hours of driving, so you'll have to pick and choose what you want to do, which is always hard when you want to see everything. Also it helps not to spend too much time in one spot like we did, and then miss out on other sights.
On that note I just wanted to end with things we wanted to do but missed:
Visit the Secret Lagoon for a nice relaxing soak.
Eat at the tomato restaurant called Friðheimar because I'm crazy about food and tomatoes so I was bummed to miss this, especially since you dine in the greenhouse the tomatoes are grown in.
Get ice cream at Efsti Dalur.
And this wasn't on our list, but one last really popular thing to do is snorkel the Silfra fissure in Thingvellir National Park, but maybe for another time if we ever get to visit again!
And now a question for you! How do you decide on whether or not to visit the most popular tourist attractions on the trips you take? We tend to err on the side of better visit so we don't regret it. Sometimes I really think it didn't end up being time well spent and other times we've loved it, so it's hard to say just based off our experience.
But increasingly we find ourselves avoiding some tourist attractions in favor of anything off the beaten path for some of our vacation days. And then just choosing a few things we really want to see no matter how crowed it is!