Shafer Trail in Canyonlands National Park is an off-roading experience and an incredible drive. It begins in Canyonlands and can be driven all the way through to Potash Road leading you back in the town of Moab. The views are stunning the whole drive, and it's a nice way to break up some of the sight seeing and hiking as well.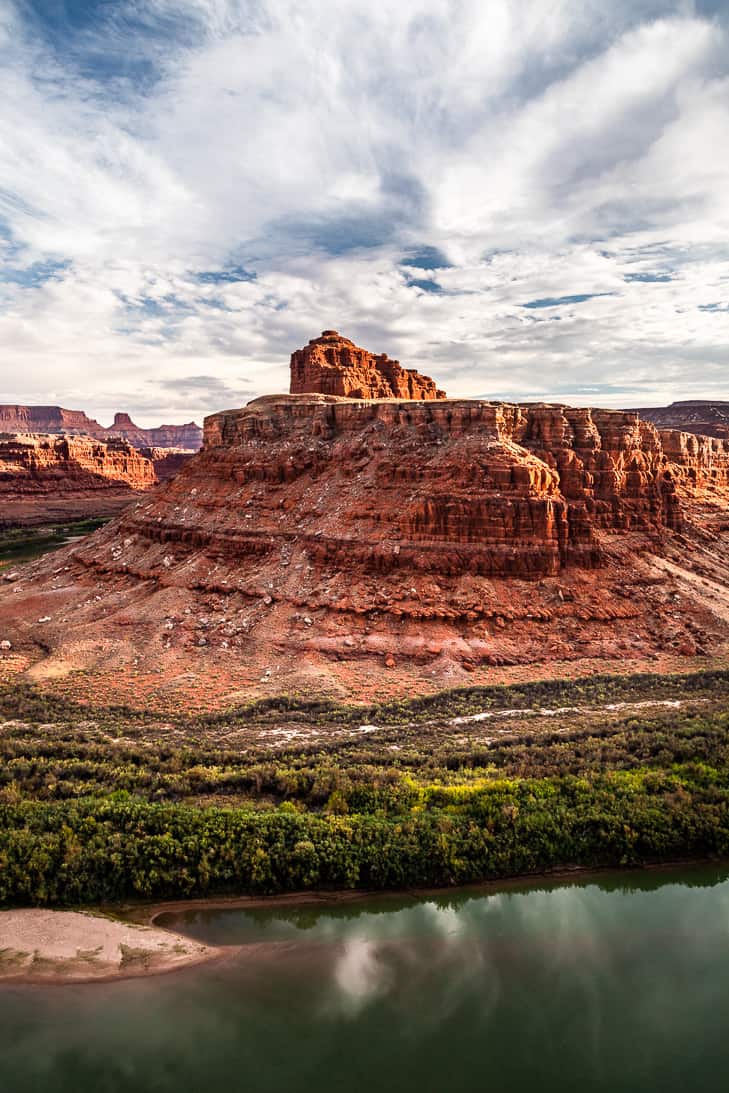 We ended up driving Shafer Trail just by happenstance, and it turned out to be one of our favorite experiences on our trip! Our day started with a hike to Funnel Arch and a stop by the 'birthing scene' petroglyphs on the way back out of Kane Creek Blvd. From there we headed into Moab to stock up on some groceries and have an 'ice cream break'.
Since we were pretty exhausted we decided to head to Dead Horse State Park. The fire smoke had cleared a little, and we were hoping to see the famous view. But after poking around at the main lookout, it ended up being a bit of a disappointment with the poor visibility making everything hazy.
However, while looking down we saw a 'trail' of sorts thousands of feet below. So of course we had to ask about it! And as it would happen the 'trail' we saw was Shafer Trail starting in Canyonlands National Park and running all the way back to Potash Road which leads into Moab.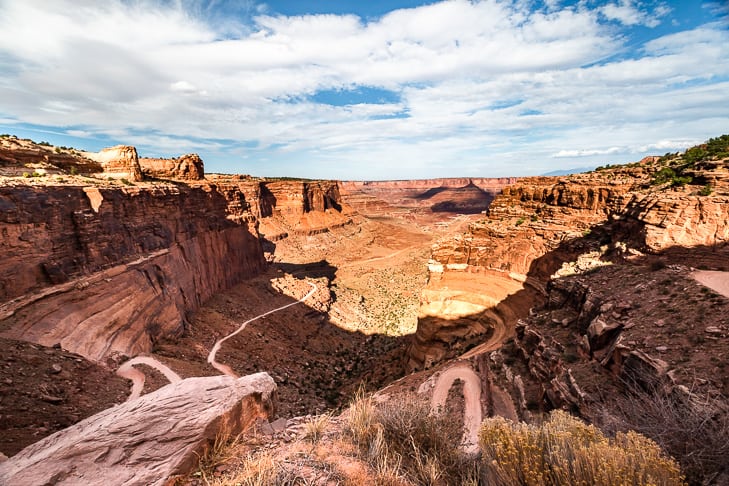 So we made a spur-of-the-moment decision that's what we wanted to do with the rest of the day. And as I mentioned, it ended up being a highlight of our trip. Also, I guess this is as good of a time as any to add some disclaimers as well!
Shafer trail is not to be taken lightly, it's an off-road experience and you should be super prepared. A 4WD with some clearance is recommended along with an experienced driver. Also, should you run into any vehicle problems, you should have lots of water and food along with basic survival gear!
The only reason we were able to go on a 'whim' is because we're already completely self-sufficient with our truck setup. We can even camp in our truck should the need arise and have everything we'd need to survive for days if we broke down! (Check out the story below after the tips.)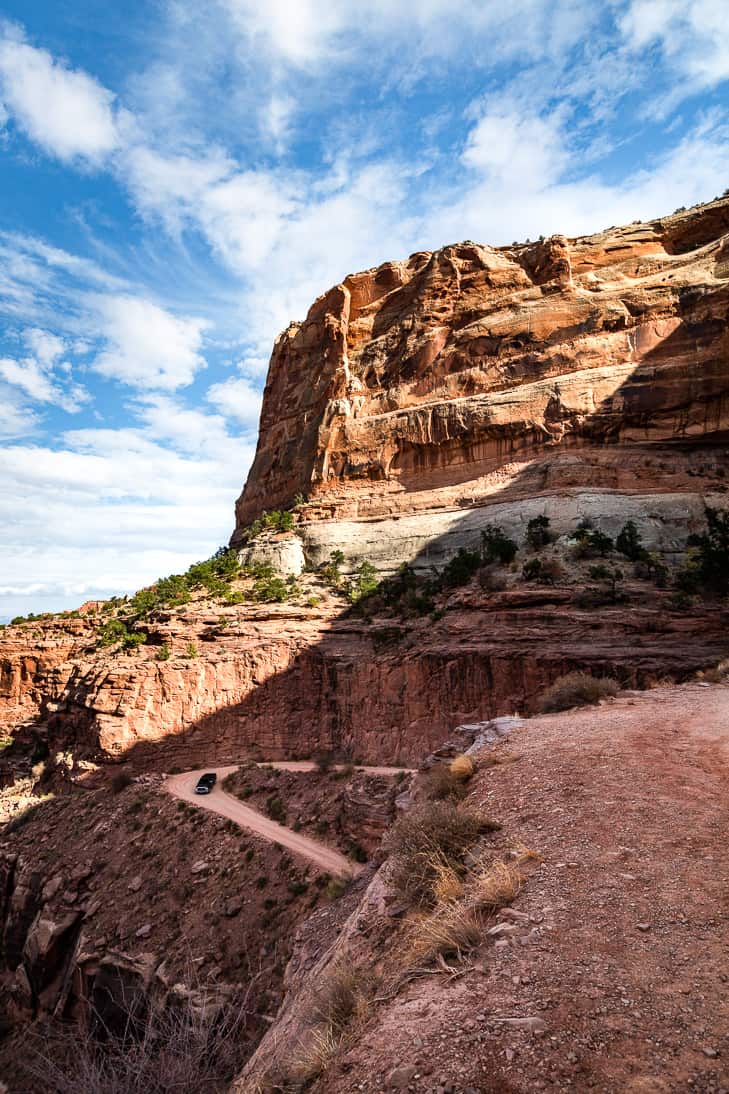 What you need to know about driving Shafer Trail in Canyonlands National Park
Distance: 19.6 miles or 39 miles total from the park back to Moab via Potash Road. Sources vary, but at least 17 miles of this trail is unpaved and varies in condition.
Time needed – The average person takes 2-3 hours to drive this road. We stopped a lot for photography and went slow with our truck since the bumps are extra rough with a longer wheelbase. It ended up taking 4 hours to drive the road all the way through to Potash Road. We started about 4 pm and drove the last bit out in the dark at around 8 pm. Again I'm just telling you what we did, I don't recommend coming out in the dark! We spend a lot of time in the backcountry and have a lot of experience with off-roading. Also, we knew that at any time we could find a spot to camp outside the park if we didn't feel comfortable continuing in the dark.
Fees – Canyonlands does charge an entrance fee, or you can use an America the Beautiful park pass.
Road condition – Varies greatly from what we've heard! The dramatic switchbacks are in the park and are well-maintained. But to be clear this is still considered a 'trail'. After you leave the park however you need some clearance for sure. There have been people who have made it all the way through in a sedan. But I would call that the exception, not the rule. You would need to have nerves of steel and be a really good driver to make it in a car. We saw 1 person in a car, but I would never attempt it because too much could easily go wrong! Also, the park service doesn't recommend it for all the obvious reasons. We saw mostly jeeps and then some ATVs on the Potash side which is the way to go for sure! (ATVs aren't allowed inside of the National Park.) Anyone who had a larger truck, as we did, was going really…. really… slow because it's rougher with the longer wheelbase. There were a few AWD SUVs that did well, but most of them turned around at Thelma and Louise Point. AWD vehicles tend to be ok but only when the road is dry!
Trail Conditions & Closures – The Canyonlands portion of this trail is closed during the winter. And as mentioned the trail conditions vary, so it's recommended to check with the park service for up-to-date conditions before traveling this way.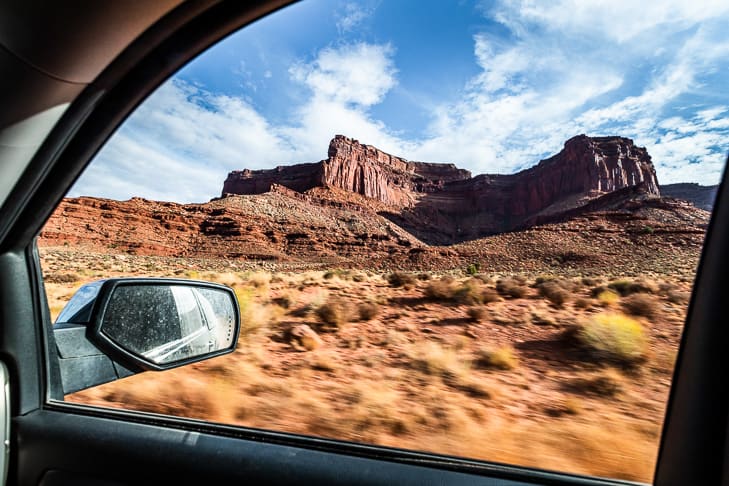 FAQ's
Do you really need 4WD
for driving Shafer Trail?
We used our 4-wheel low a couple of times just to be on the safe side. But we really didn't need it since the road was dry when we went. However, the road condition does vary. And they even recommend a set of chains if you're going in the winter months. We used our 4WD to go through a couple of rough areas because the truck crawls through more easily. Then we used it twice coming out in the dark. Once to cross a saltwater washout because we didn't know how soft it would be. And the second time we used it was right near the end when we came to a sandpit. Since it was pitch black and blowing sand sideways, we just put it into 4WD to make sure. There was no way to tell how deep the sand was. And we decided to be on the safer side rather than be stuck in a sand pit waiting for help.
How rough is Potash Road?
Very rough is the short answer! In fact, I would recommend not driving your own vehicle like we did. There were so many times we were driving 5 mph or less and the whole truck was rattling like crazy. Also if anything were to happen where you break down, I think the towing bill would probably cost your retirement, (just guessing!). We just went really slow and enjoyed our time. No rushing and everything went fine with our truck, but there's no doubt a Jeep or ATV would have been more fun with way less rattling! However ATVs aren't allowed on the park portion of the road, so maybe a rented Jeep would be the ultimate option. Also, most people recommend airing down your tires for a smoother ride as well.
How wide is
Shafer Trail?
It's mostly 1 lane with steep drop-offs. But there are plenty of pullouts to allow for passing. There wasn't a ton of traffic when we went because it was late in the season. But uphill traffic does have the right away! And you want to be looking way ahead when you're coming to a switchback to look for oncoming traffic. You'll need to be prepared to potentially back up to a pull-off, and not everyone would comfortable with 2 way traffic on a 1-way road with steep drop-offs. I hope through these tips you'll be able to know if this would be fun for you or completely terrible.
How scary is
Shafer Trail?
We had an absolute blast and didn't find it scary at all! However, check out the reviews (the bad ones) on All Trails if you're concerned. The reviews vary from 'awesome' to 'worst ever' and if you read between the lines you can get a feel for if you'd enjoy this trail. Also if you have a severe fear of heights this might not be a great experience for you. As long as the proper precautions are taken and you're prepared it's not dangerous and you'll have the time of your life! But if the thought of a 1,000′ drop off from the side of a narrow dirt road with no guardrails causes your heart to pound, I wouldn't recommend this for you.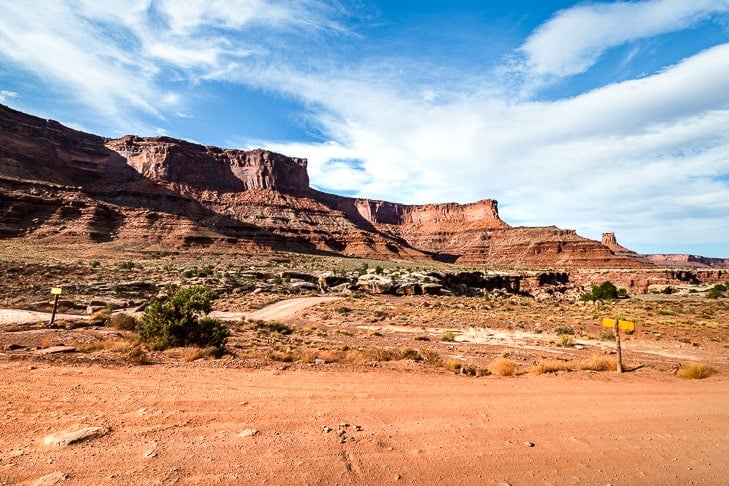 This is the junction where the White Rim Trail (you need a permit) takes off. The Shafer Trail road continues off to the left in the above photo. We were pulled over to the side of White Rim here just to let some cyclists by.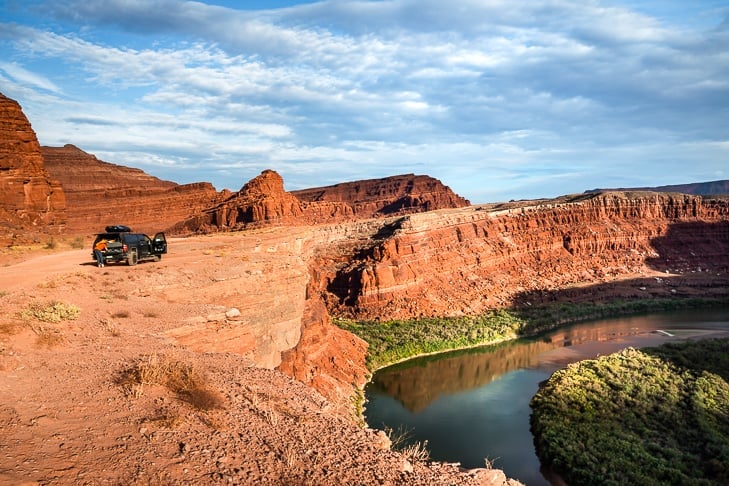 And now to continue story time from our day Driving Shafer Trail in Canyonlands National Park
As I mentioned above we were so tired from hiking non-stop all around Moab. So an afternoon driving after our ice cream break was just the thing we needed! We took things slow and got to the main lookout point just in time for the golden hour before sunset. As noted above, definitely don't get in over your head, and be sure to leave yourself time to drive out!
This overlook is referred to as Thelma and Louise Point from the famous scene where they drove their car off the cliff. It's incredibly stunning here and we spent some time taking photos before moving on down the road.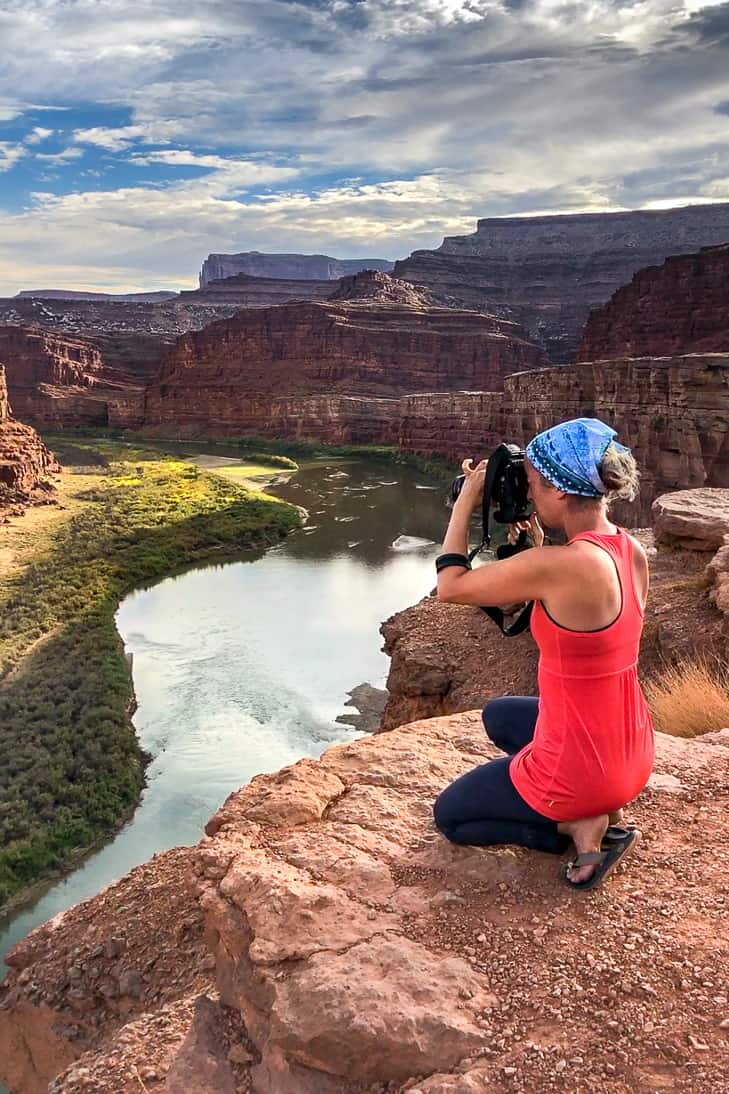 The photo below is as much as I could capture of Thelma and Louise Point with my 16-35mm lens on. You can see I still clipped off the edge on the left side. This landscape is so vast it's hard to do it justice with a photo!
From there we headed on and the road got even rougher. And by rougher I mean we were going through some of the worst patches at 2-3 miles per hour. Slow going to say the least! But just as we reached the next scenic lookout, (pictured 2 photos below) the sun was setting.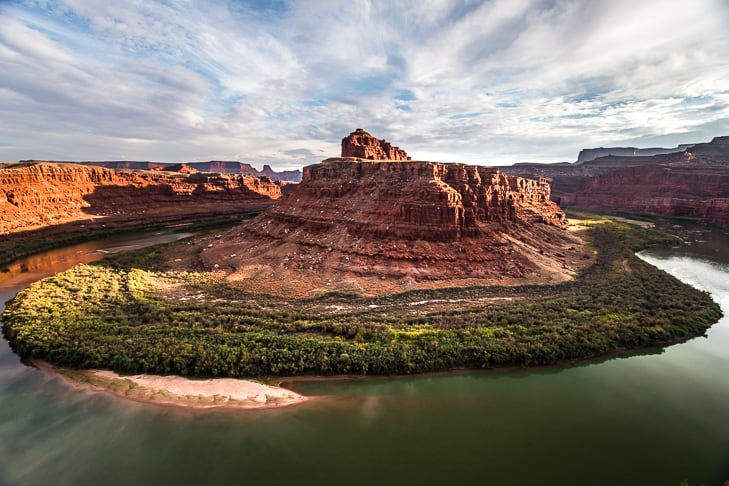 It was so incredibly stunning, we stopped again and set up a time-lapse. We knew this meant coming out in the dark, but we were prepared. There were times after it was pitch black out, we had to stop the truck and get out to inspect the road. There were saltwater washouts and times when you just had no idea where the road was.
When your vehicle is on an incline, your lights won't show you where the road is. So we'd just stop and get out with our headlamps and figure out where the road was to be on the safe side! All in all, it was no big deal, and really had nothing on river crossing at night in Iceland.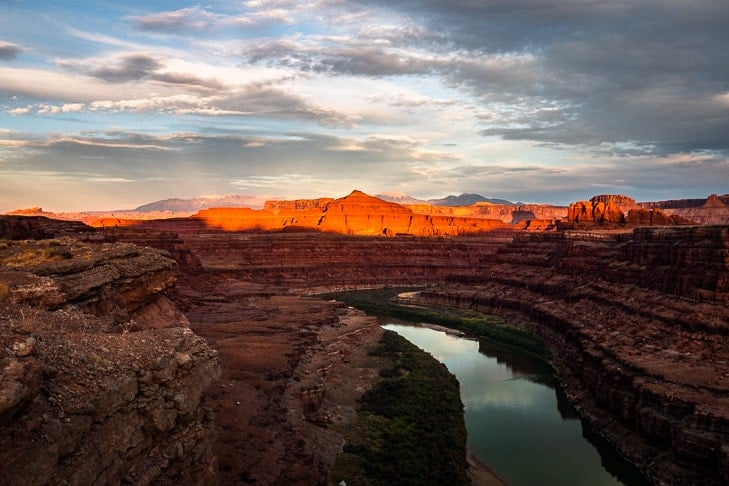 But I can't stress enough that it is 'no big deal' only in our personal experience. We always tell you our stories from these adventures, but I would never want to recommend doing as we did!
On this trip alone we saw numerous people get lost hiking on trails in the dark and search and rescue being called in. You don't want this to happen to you because being stranded in nature can be life-threatening.
I sure hope you enjoyed this peek into Shafer Trail! If you're looking for a video of the day, head over to Facebook or here for the shorter version on Instagram. And finally, if you start earlier in the day, you may have time to hike Corona Arch on your way back to Moab!