Hiking the Surprise and Amphitheater Lakes Trail is a 'must-do' in Grand Teton National Park. The trail climbs steadily up through the trees revealing views of the lakes and valley below. From there you get to visit 2 stunning alpine lakes with craggy peaks in the backdrop. And if you're up for a long day, you can add in the super popular Delta Lake as well to make for a triple lake day.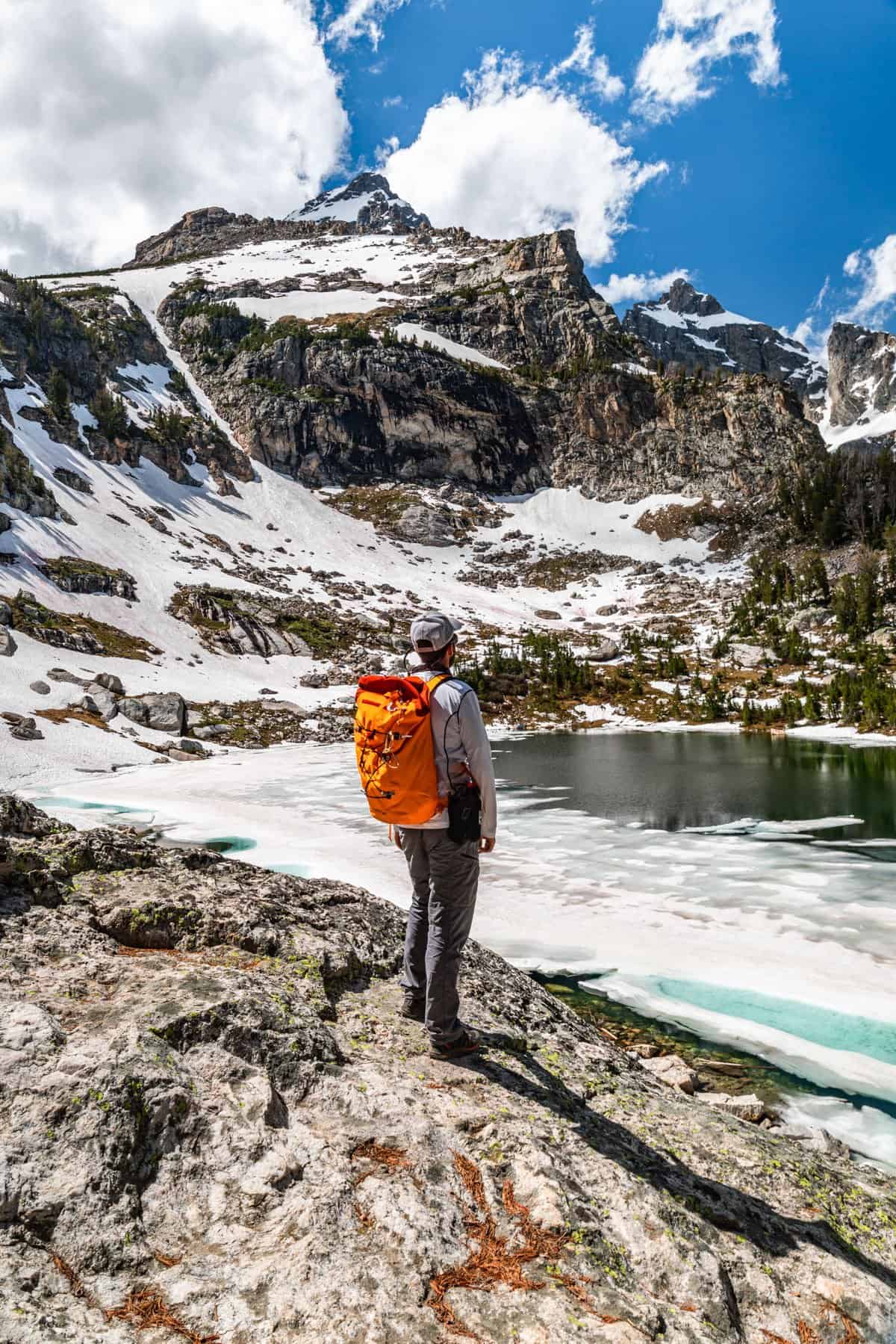 This hike to Surprise and Amphitheater Lakes is a Grand Teton National Park classic and for good reason. The lake sits just below 10,000′ with towering impressive peaks all around. And that's not to mention the stunning blue of the lake with glacial tones.
If you're lucky enough to visit with a dusting of snow on the mountains, you'll find yourself hard-pressed to leave your lunch spot by the lake. We had my ham and cheddar Homemade Lunchables at Amphitheater Lake basking in the sunlight. And only the thought of walking out in the dark with all those black bears got me back up and going again!
Everything you need to know to hike Surprise and Amphitheater Lakes Trail
Distance – 10.1 miles out and back.
Elevation gain – 3,070′
Rating – strenuous due to the elevation gain and high altitude of being at nearly 10,000′.
Trailhead – Lupine Meadows Trailhead
Trail – dirt with rocky and rubbly sections throughout and snow in early to mid-July nearing Amphitheater Lake.
Bathrooms – pit toilets located at the Lupine Meadows Trailhead.
When to hike – July – September, possibly early October if the weather permits.
FAQ's
How long is the Amphitheater Lake trail?
It's 10.1 miles or 9.8 according to the park service, plan on 10 miles of steady elevation gain in high altitude.
What is the elevation of Amphitheater Lake?
It sits at 9,698′ at its surface level with towering peaks all around it.
How hard is it to hike to Delta Lake?
It's moderate to strenuous if done on its own, it's very strenuous combined with Surprise and Amphitheater Lakes. It only adds around 1.5 miles and 1,000′ of elevation gain to the mix, but it's hard-won through a couple of boulder fields, so don't underestimate combining these 3 lakes!
Tips for hiking Surprise and Amphitheater Lakes Trail
Pay attention to the park signs! As you'll read in our story below, we almost missed seeing Amphitheater Lake because we missed the trail sign nearly buried in the snow. The signs are more or less obvious depending on the season and the snowpack. But if there isn't any snow, you'll be able to see them easily. Also, this trail has many other branches off to other destinations, so be sure to keep on track.
Don't go too early in the season. We went on the 4th of July on a normal snow-pack year and there was still quite a bit on the trail between Surprise and Amphitheater Lakes. Luckily it was still hike-able!
Get to the parking lot early! The parking lot for the Lupine Meadows Trailhead is the start of several hikes, including the famous Delta Lake. Climbers also use this parking lot for several routes, so it fills early in the peak summer season.
Be bear aware, make noise, and be prepared. We saw at least 6 bears over the course of the day and ended up hiking with another couple to form a group. They weren't aggressive, but they seemed very comfortable crossing the trail a mere 10 yards away from us!
This hike is on the harder side for most due to the high altitude, don't underestimate it! If you're feeling some of the symptoms like dizziness, loss of appetite, headache, shortness of breath, etc. you'll want to head back down and acclimate. Altitude sickness can be very serious and always seek a doctor's opinion on your symptoms. We live at 3,000′ and are routinely between 7,000-10,000′ and we still get mild cases early in the season. There's never any shame in turning around if you're not feeling right!
Bring plenty of water, food, electrolytes, or a filter to refill as you go. This hike is long and the Tetons are deceptively hot in the prime summer months.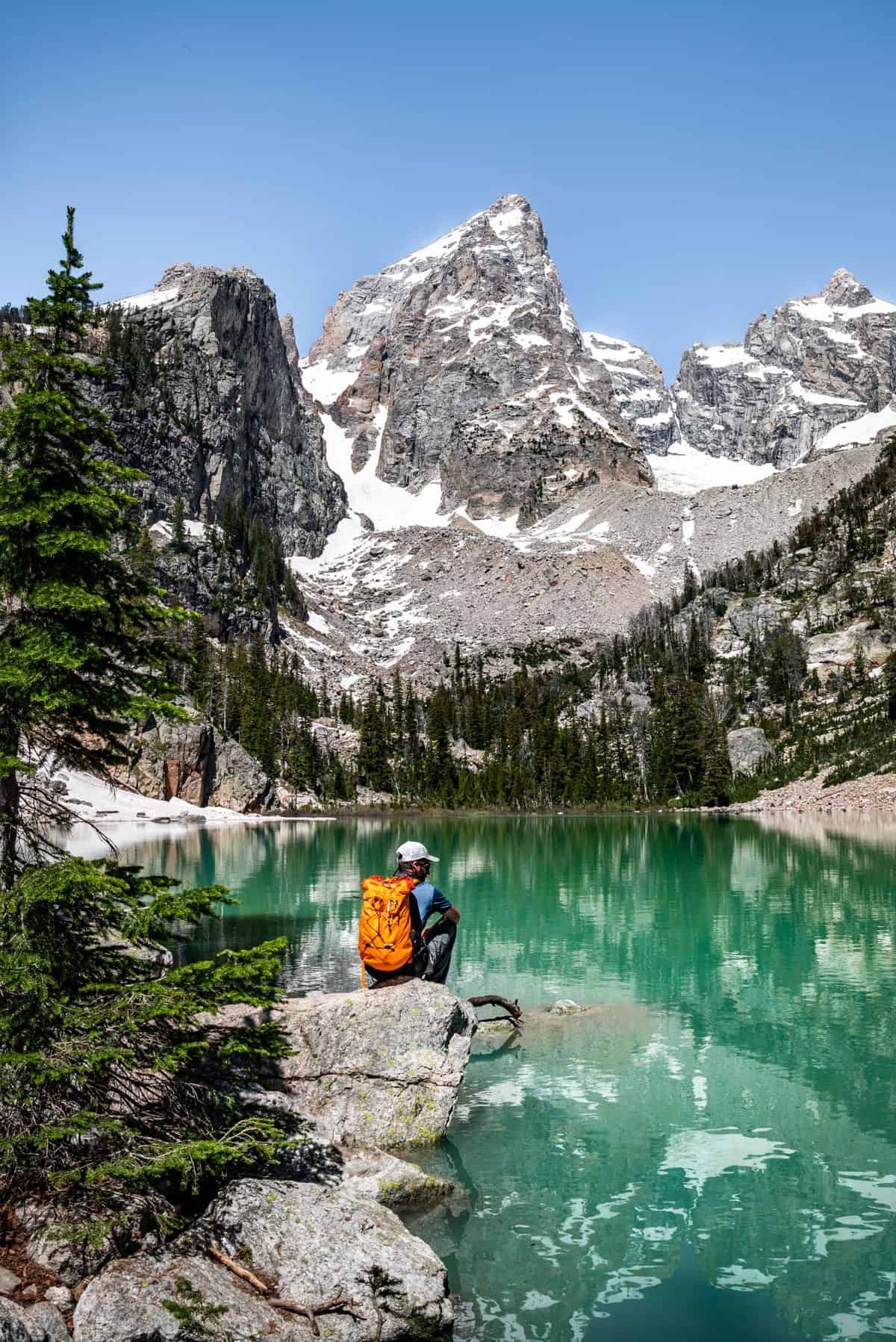 Combine Delta Lake, Surprise, & Amphitheater Lakes
Distance – 11.5 miles roundtrip
Elevation Gain – 3,800′
Difficulty Rating – Strenuous, a long day if you take time to enjoy each place, but doable if you're in excellent shape!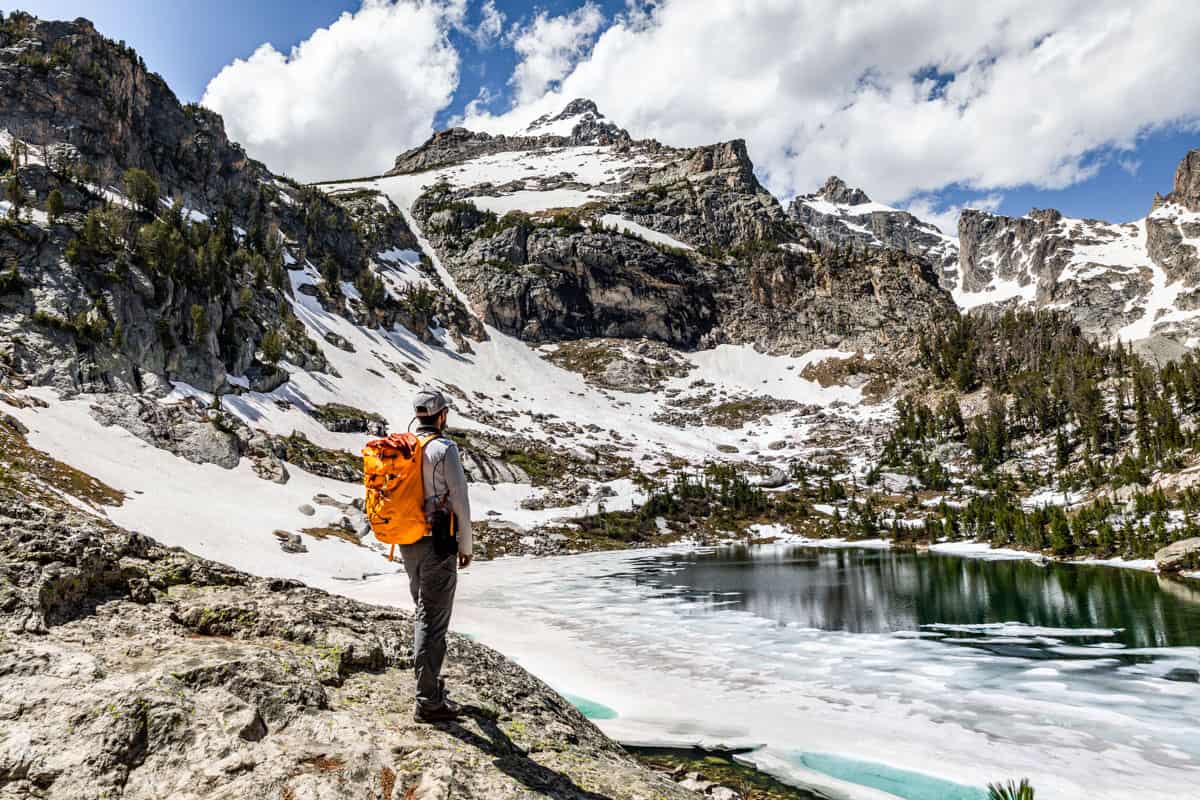 How to hike to Delta Lake, Surprise, and Amphitheater Lakes step by step
Start at the Lupine Meadows Trailhead and hike just past the turnoff for Garnet Canyon at about 3 miles.
Take a right off the next switchback, (left on the actual trail heads towards Amphitheater) down a short steep stretch with logs across it. This is unmarked and there isn't any kind of sign.
Follow the narrow dirt 'trail' as it heads up towards the boulder fields, climbing over the downfall.
At the first boulder field, head across it to find another dirt path leading to the 2nd boulder field.
At the 2nd boulder field, you will see a steep path heading straight up the left side most likely with lots of people following it. This is the WRONG! trail! Head for the trees across from the 2nd boulder field where you will find a very steep dirt path to the lake. You go straight across on the safest footing to the trees, do not hike uphill here.
From there it's just a super steep climb to the lake. Footing can be tricky just because it's steep so hiking poles are nice for sure, but not strictly necessary.
After visiting the lake, simply retrace the route back to the main trail and continue hiking to Surprise and Amphitheater Lakes.
Story of our day hiking Surprise and Amphitheater Lakes Trail
We hiked 3 lakes total and started out the morning photographing Mormon Row for a very long day! I definitely don't recommend cramming so much in. But we have no regrets because we ended up having to go home sooner than we thought. With just 1 day in Grand Teton National Park, we really enjoyed it.
If you're in good shape, you may want to consider hiking Delta Lake on your way to Surprise and Amphitheater Lakes. They share the beginning portion of the trail, but there's no doubt doing all 3 is a long day.
And with our tips here you won't make the mistake we did and stop at Surprise Lake. We hadn't researched this hike at all and figured we'd just follow the signs. Normally this is fine in a national park. But since it was early in the season, we missed the sign pointing up the trail to Amphitheater Lake.
Lucky for us a stranger at Surprise Lake came up to us and asked if we'd been to Amphitheater already. We replied 'Isn't this is?'. And he set us straight telling us it was the next one up. He had come up the day before and made the same mistake as us only to go back down and find out later he never made it to the right destination.
So we're forever in debt to his kindness to come up and set us back on the right trail! We slogged on in the snow and reached Amphitheater Lake which is quite a bit more scenic than Surprise Lake. So you definitely wouldn't want to miss it.
We ended up hiking across the log dam at the inlet and up the rocky left side to enjoy lunch overlooking the lake. And I really do think it's worth the extra bit of effort to look down on the deep blue color of the lake. We had ham, cheddar, and crackers this particular day. You can check out all our Homemade Lunchables which are our favorite easy hiking lunch.
From there we booked it down the trail to get out before dark, seeing over 6 bears total that day! We ended up grouping together with another couple after we both kept running into black bears at close quarters. They seem to be overly comfortable getting close to you on the trail. So it was nice to hike as a group.
And to finish off this super long day we ended up driving all the way north of Yellowstone to get home, and back to work!