Tofino will take your breath away and steal your heart! Really… it's inevitable that you will fall in love with this beautiful place, and want to stay way longer than your vacation days allow.
There is a certain indefinable quality about life in a coastal town that's perfect for slowing down, and enjoying the simple things in life again. We most certainly loved our time there, and we're already scheming ways to work Tofino into our future travel plans.
Our vacation time actually started out in the Canadian Rockies, and while mountain time definitely gets you away from all the hustle and bustle, I have a hard time slowing down. In fact both of us get a little crazy when we get in the mountains, often pulling 22 hour days. We'll get a couple hours of sleep between photographing stars till 3:00 am, and then we're up again just before 5:00 am for sunrise, and another mountain to summit. (Needless to say, we were in need of some time by the ocean.)
Luckily for us, we got an extra week of vacation that we weren't expecting at all. And all of a sudden the possibilities were wide open, and we had no idea what we wanted to do. We contemplated for all of 2 seconds spending another week burning the candle at both ends, before deciding to head further into British Columbia, and on to the ocean.
Best. decision. ever!
And while we loved every single minute of our amazing road trip, Tofino holds a special place in both our hearts. It has a perfectly laid back atmosphere, the culture is all 'fun in the sun', but there's also great restaurants, and so much to do outdoors you could easily spend a summer there.
And speaking of things to do while you're there, you definitely need to hit up Chocolate Tofino for some handmade chocolates, or scoops of your favorite ice cream in a waffle cone bowl.
There's everything from sea kayaking to whale watching tours to do, as well as surfing lessons – like I said more than enough to keep you busy. We went on a sea kayaking tour, (more on this to come, but for now this link takes you to the Meares Island tour we did) and I can't recommend it enough. There's a lot to know about rip tides, currents, and harbor traffic, so it's really not safe to go out there without a guide, unless you're extremely experienced and well versed in the area.
There's also some fun hikes to do, including Schooner's Cove and the Tonquin Beach trail. They lead you along through magical looking rainforests, and out onto some gorgeous beaches. There's even more hiking to do in Ucluelet which is a small town about 20 minutes away. We did both the Lighthouse Loop and the Wild Pacific Trail in Ucluelet, and I'll be sure to have more details on those to come.
We actually cooked most of our own food on this trip, but in the spirit of ultimate relaxation, we went out 2 nights in a row when were in Tofino. We'd heard the restaurant Wolf in the Fog was fantastic, and it did not disappoint! In fact it was so good we decided not to take any chances, and went there both nights. The menu is varied and so good, everything from more fine dining to burgers and fries, (which is one of my all time favorite meals after a long day hiking).
You can't quite see in the photo, but my fries came in a vintage Campbell Soup cup one night. They have a hodge podge of vintage dishes that they use. And since I love antiques, it was fun to see what they'd come out with next. I don't think I've ever been to a restaurant where they had actual antiques in service. The first night my water glass was a Pepsi – Cola glass, and I asked the waitress where they had them replicated. She told me that they were genuine antiques, which I think really adds a cool touch.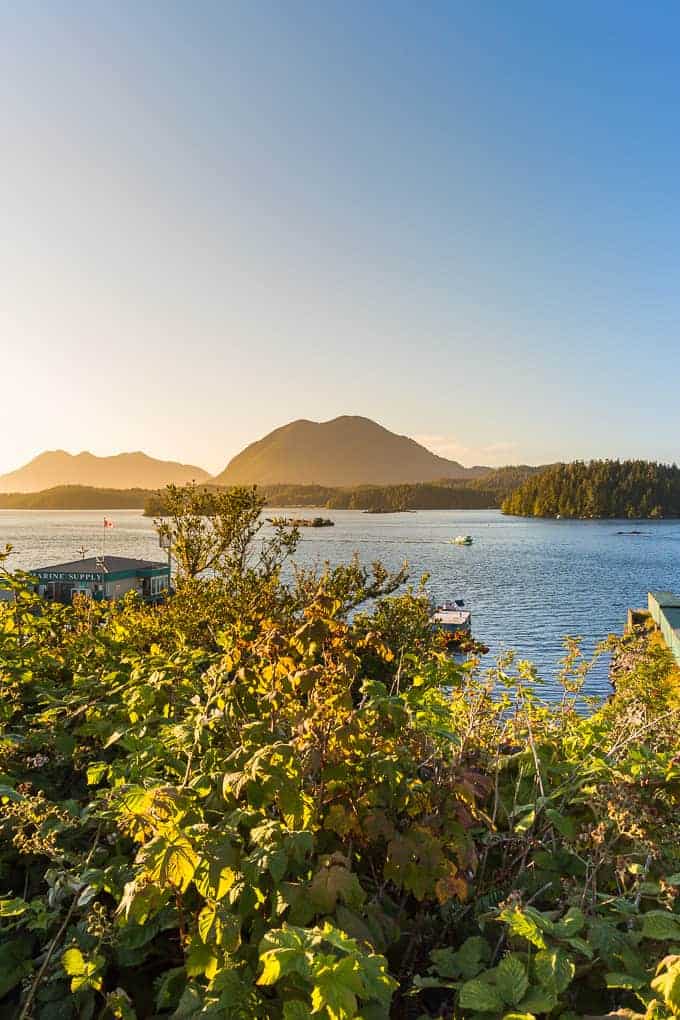 I'd also make sure you plan for at least one evening to simply walk the beach.
The views are stunning, and there's nothing like walking in the sand to wash your cares away, (even if you need a down coat to ward off the frigid temperatures).
Long Beach, (the last 3 pictures) is a great place to walk at sunset. It's much more crowded during the day, because it's a great place for sunbathing and surfing. If you want a quieter beach during the day, I'd recommend Schooner's Cove. Since you have to hike in around a mile or so, it really cuts down on the traffic.
And finally if you have a good amount of time on your hands, I'd plan to stay for a week or two to really get into the swing of full relaxation mode!