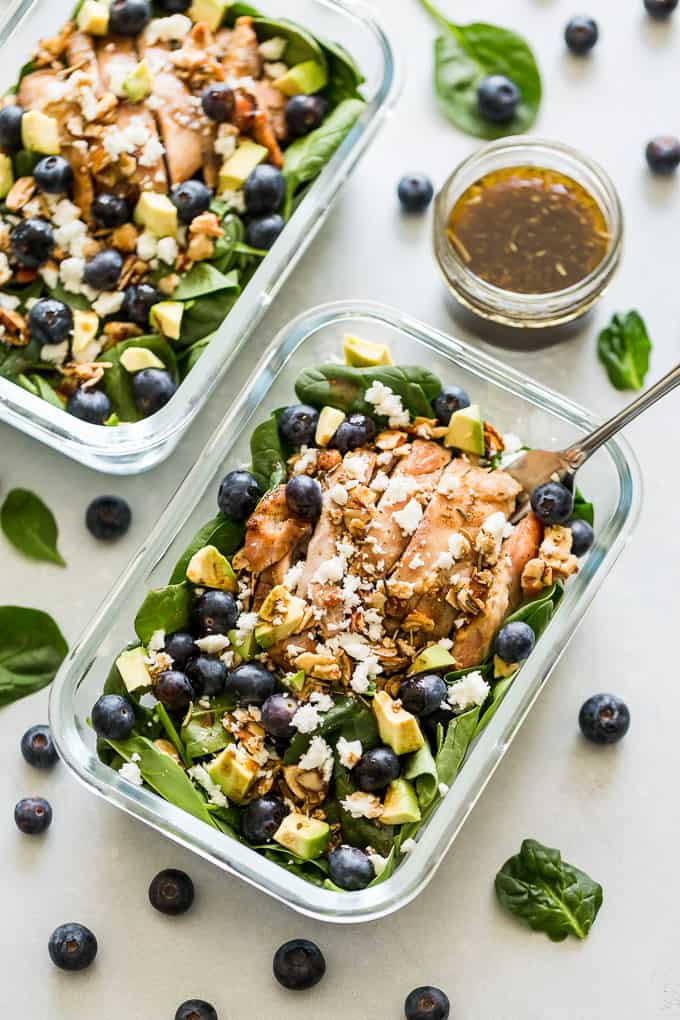 If you would've talked to me about meal prepping a few years back, I would've said no way, and no thank you! I love to cook, and I find it's the perfect way to unwind after work. I'm also big on variety, so meal prepping in the way I understood it didn't sound appealing at all. (You know the kind… where every meal is laid out for the entire week.)
However… fast forward to now where I'm pretty fanatical about meal prepping regularly. As it would happen, I used to meal prep in my own way even before I knew about the term 'meal prep'. I didn't tend to make full meals ahead, but I always prepped basics to have around to make quick easy meals.
After all that's the way people have cooked from scratch for years. You don't just make 1 cup of chicken stock for 1 recipe, you make a huge batch to freeze for months to come. When you apply that same principle to everyday meals, meal prepping becomes essential in some form or another.
These days, I do prep some meals ahead because it's necessary for us with our schedule. Most often I prep our lunches ahead, which is the hardest meal for me to eat healthy. For years I solved the lunch problem by simply not eating, which of course solves nothing at all. But with the help of a little meal prep, I eat healthy lunches most days now, and it really helps me keep my energy up.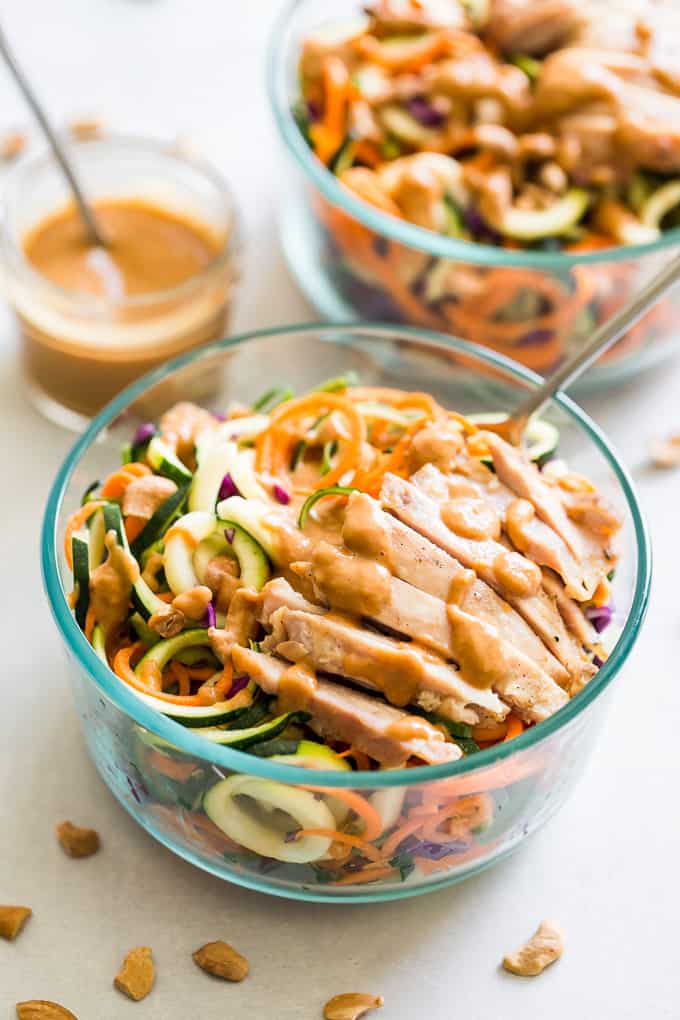 Today we're talking all about how to meal prep on the grill because it's too hot to cook anyways! I meal prep all sorts of things on the grill including mini breakfast sausages sometimes for a mid-morning protein boost after I've had my green smoothie.
But these 3 recipes are a sample of my favorites I've been making for our lunches. I often buy a protein in bulk, and in this case it's 3 pounds of chicken thighs. From there I grill it all at once rather than freeze some. Then I make my weekly lunches, and any leftover grilled chicken is cubed and frozen for a quick and easy Chicken Caesar Salad on the weekend.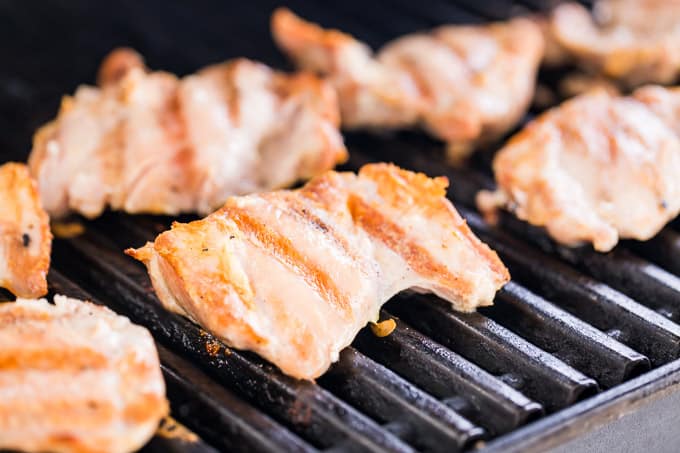 You can cook as much or as little as you'd like, but the chicken thighs I buy come in 3 pound packages. There's usually about 12 chicken thighs total, which is perfect for 2 servings of each of these 3 recipes, with 1 pound leftover for Caesar Salad.
I like to make 2 servings of each recipe, which means we each get a different meal for lunch Monday-Wednesday. Then for Thursday we have leftovers from dinners I've made throughout the week. (We work 4-10 hour days.) But you can make as many lunches as you'll need!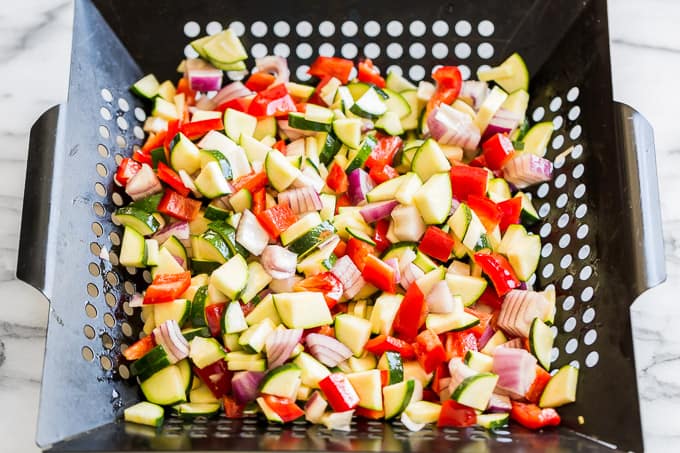 If you don't have a grill basket, you can grill the veggies in pieces large enough not to fall through, then chop them afterwards. But if you grill regularly, you'll love a grill pan because it makes veggies so easy!
And now to talk about the actual recipes – first up I have grilled mixed veggies with some grilled potato slices, topped with chicken and chipotle aioli.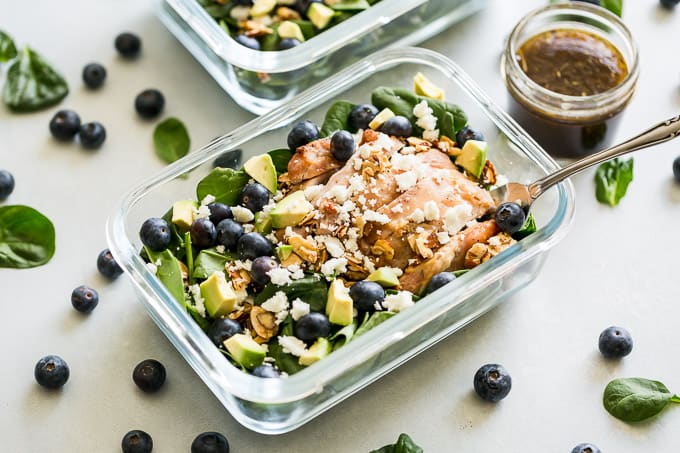 Next up I've been doing spinach salads with whichever berry I pick up, along with avocado, toasted sliced almonds, grilled chicken, optional feta cheese, and an Herbs de Provence Balsamic Dressing.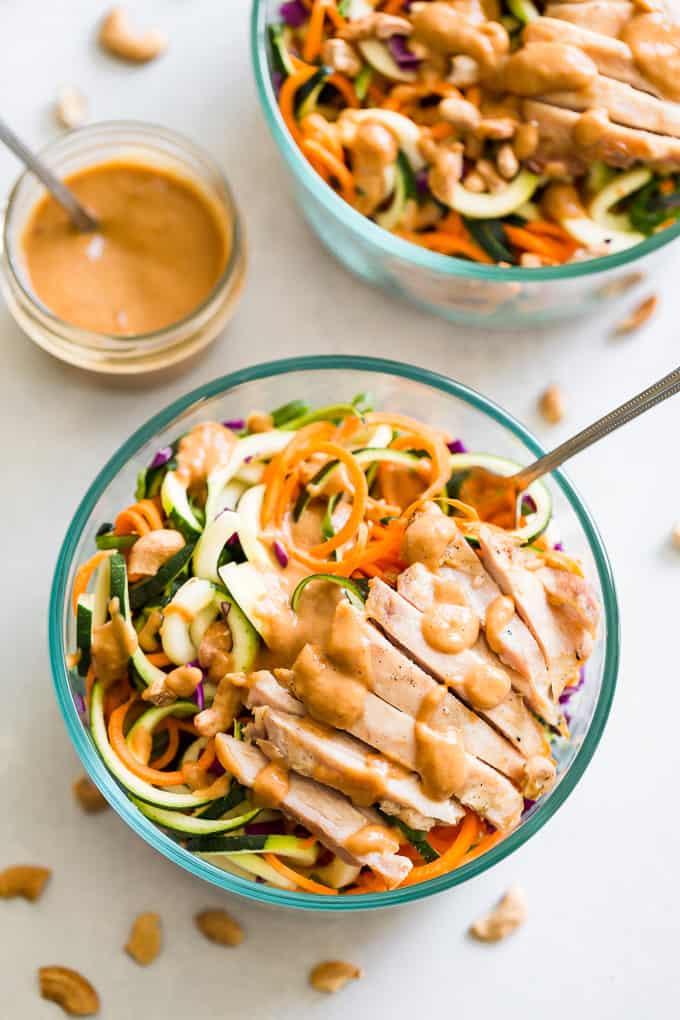 And the 3rd recipe is spiralized zucchini, carrots, and purple cabbage topped with grilled chicken and a quick homemade 'peanut' sauce dressing. These 3 recipes have a broad range of different flavors, and since I only eat each option once, I definitely don't get bored. Although funnily enough, I'd eat any of these for 4 days straight!
From here you can change it up as much as you'd like! For instance you can sub out the chipotle aioli for my Creamy Cilantro Chimichurri to make a completely different flavor profile. The spiralized zucchini noodle salad pictured above tastes great with any salad dressing you like. And for the spinach salad, I love subbing in my Italian Dressing from my Pizza Salad recipe!
Print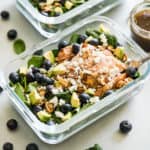 3 Recipes for Meal Prepping on the Grill
---
Author:

Kari

Total Time:

1 hour

Yield:

6

servings

1

x
Description
Meal prepping with variety is nice and easy on the grill, and then you have healthy lunches to come for the workweek!
---
3 pounds boneless skinless chicken thighs, about 12 thighs – 2 pounds for the recipes and 1 pound for the freezer
Spinach Salads:
2 grilled chicken thighs
6 cups baby spinach
2/3 cup blueberries
1/4 cup crumbled feta cheese, optional
2 Tablespoons almonds, packed separately
1/2 ripe avocado, added in when you're ready to eat the salad
3 Tablespoons balsamic vinegar
1 Tablespoon maple syrup
1 Teaspoon Dijon mustard
sea salt and pepper to taste
1/2 Teaspoon Herbs de Provence
1/4 cup olive oil
Zucchini Noodle Salads:
2 grilled chicken thighs
1 cup chopped purple cabbage
2 zucchini, 1 pound, spiralized
2 carrots, 1/2 pound, spiralized
1/4 cup thinly sliced green onions
1/4 cup toasted cashews, packed separately from the salad
4 Tablespoons cashew butter, (or nut/seed butter of your choice)
1 Teaspoon toasted sesame oil
1/4 cup coconut aminos, or gluten free soy sauce/tamari
2 Tablespoons rice vinegar, or freshly squeezed lime juice
1 Teaspoon red pepper flakes
Chicken and Veggie Bowls:
4 grilled chicken thighs
1/2 pound zucchini, 1 regular sized, quartered and thinly sliced
1 cup diced red onions
1 small red bell pepper, diced, 1 cup
2 Yukon gold potatoes, sliced 1/2″ thick, 12 ounces
2 Tablespoons olive oil
sea salt to taste
1/4 cup avocado oil mayonaise
1 small clove garlic, minced
1 Tablespoon minced chipotle in adobo, or 1 Teaspoon chipotle powder, (add to your taste)
2 Teaspoons freshly squeezed lime juice
---
Instructions
Start by preheating the grill over medium-high heat until you reach a temperature between 350º-400ºF. Place the chicken on the grill, then lower the heat to medium to maintain the same temperature. Cook 6-8 minutes per side, or until the chicken is done in the middle and no longer pink. Cooking time will vary depending on the size of your chicken thighs.
While the chicken is cooking, prepare the veggies for the Chicken and Veggie Bowls, and place them in a grill basket. Place the sliced potatoes into a bowl, then add 1 Tablespoon of olive oil to the potatoes, sprinkle with sea salt, and toss to combine.
When the chicken is done, scrape and clean the grill before adding the veggies. Place the grill basket filled with veggies on the grill. Then add the remaining tablespoon of olive oil, sprinkle with salt, and toss to combine. Lay the lightly oiled potato slices across the surface of the grill around the grill basket. Continue to grill over medium heat for about 10-15 minutes, turning the potatoes over halfway through the cooking time, and stirring the veggies 2-3 times.
When the veggies are done, remove them from the grill and let them cool slightly while you begin to assemble all of the meal prep bowls.
To make the Spinach Salads, divide the spinach between 2 containers. Top with the blueberries and optional feta cheese. Pack the almonds separately so they remain crunchy, and add the avocado, sliced or cubed the day you eat the salad. For the dressing, whisk together the balsamic vinegar, maple syrup, Dijon mustard, salt and pepper to taste, Herbs de Provence, and olive oil. Pour the dressing into 2 small containers. Top each salad with 1 grilled chicken thigh, (cubed or sliced to your preference). Then refrigerate the salads with the dressing.
For the Zucchini Noodle Salads, place the cabbage, spiralized zucchini, carrots, and green onions into 2 bowls. Pack the cashews separately. Then for the dressing, whisk together the cashew butter, toasted sesame oil, coconut aminos, vinegar, and red pepper flakes until smooth and creamy. Portion the dressing into 2 containers. Top each salad with 1 sliced or cubed grilled chicken thigh, then refrigerate the salads with the dressing.
For the Chicken and Veggie Bowls, portion the grilled veggies and potato slices into 2 containers. Then add 2 grilled chicken thighs each. This makes for a more substantial meal, but feel free to add just one and freeze any leftovers. For the chipotle aioli, stir together the mayonnaise, garlic, chipotle, and lime juice until combined. Portion the aioli into 2 containers and refrigerate with the chicken and veggie bowls.
Cube or slice the remaining pound of chicken, and freeze it for up to 3 weeks to use as you'd like.
All meal prep will keep 3-4 days in the refrigerator.
Prep Time:

30

Cook Time:

30

Category:

Meal Prep

Method:

Grilling

Cuisine:

Mixed