Jump into Spring with these 30 Recipes to Make for April! You'll find lots of easy dinners with a few dinner salads featuring asparagus, berries, and more. You'll also find some yummy breakfasts to make, along with a few fresh tasting desserts, with a bit of chocolate as well.
We're officially into the spring season now, and it's so exciting to be moving into more fresh produce. We both love asparagus, and so from April on we eat as much of it as we can. So you'll find some of our favorite recipes for asparagus below. There's also lots of super easy dinner this month featuring extra fresh ingredients.
I don't know about you, but after a long winter I'm just craving all the fresh things. Whether it's the cozy Mango Chicken Curry or the Thai Turkey Lettuce Wraps you'll find something for all sorts of weather. The spring season can be quite cold where we live, so we love cozy recipes that still taste fresh like the Mango Chicken Curry.
But then the weather turns on a dime and it's time for lettuce wraps and grilling. It's something along the lines of 3″ of snow one day, and 60ºF and sunny the next. So I hope you'll find all the inspiration you'll need for lots of yummy spring days ahead.
Let's begin these 30 Recipes to Make for April with some easy dinner recipes!
And a few more dinners…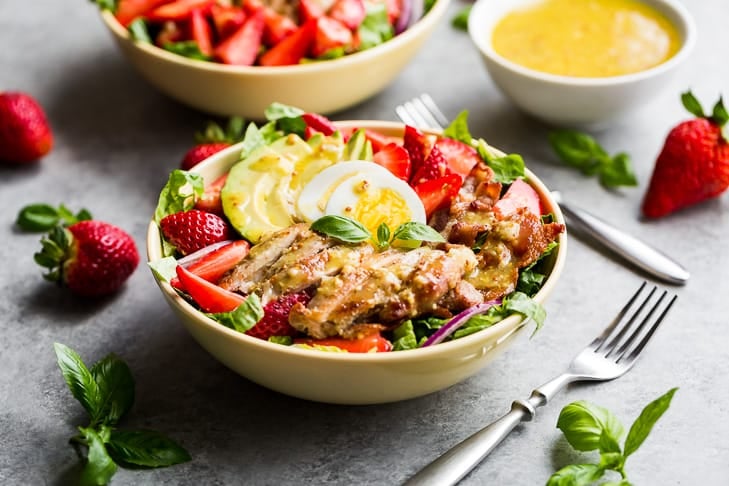 Moving on to some yummy breakfast recipes.
And finally some bright and springy desserts to finish up these 30 Recipes to Make for April!
I hope you find some new favorites here! And if you get a chance to make a recipe from the list, I hope you'll leave me a comment, I love hearing from you here! Also you can find all my seasonal posts in the recipe index, along with all my spring recipes as well for even more inspiration.