These 5 Easy Kombucha Mocktails are just the beginning of all the fun combos you can come up with! They're easy to make, & the perfect addition to any meal. Start with your favorite flavor of kombucha, then pair it together with your favorite sparkling water, or fresh fruit juice, and some fun garnishes. From there the sky is the limit for how many mocktails you can come up with. We love all the combos in this recipe, but I'm especially fond of number 5 with the guava and passionfruit combo.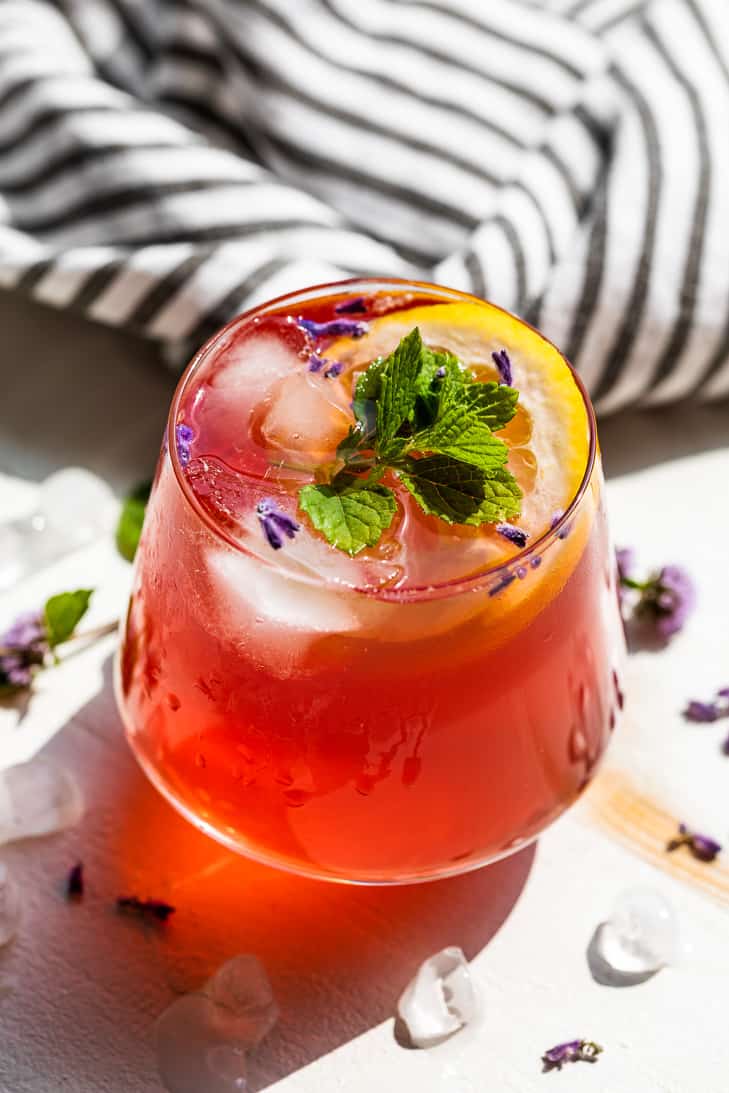 We've been having way too much fun making kombucha mocktails lately! It just seems like there's an endless amount of flavor combinations to be made.
And while mocktails are the official name that everyone is using, I kind of like 'kombucha concoctions' better. It just has a better ring to it, however, I just went with the official term. Whatever you want to call these, they're delicious. And they're the perfect way to cool down in the summer heat at the end of the day.
This whole kombucha habit started around Mother's Day when we mixed the Gingerberry flavor from GT's kombucha with freshly squeezed orange juice. Since it was really, really good, we just started experimenting with other combinations after that.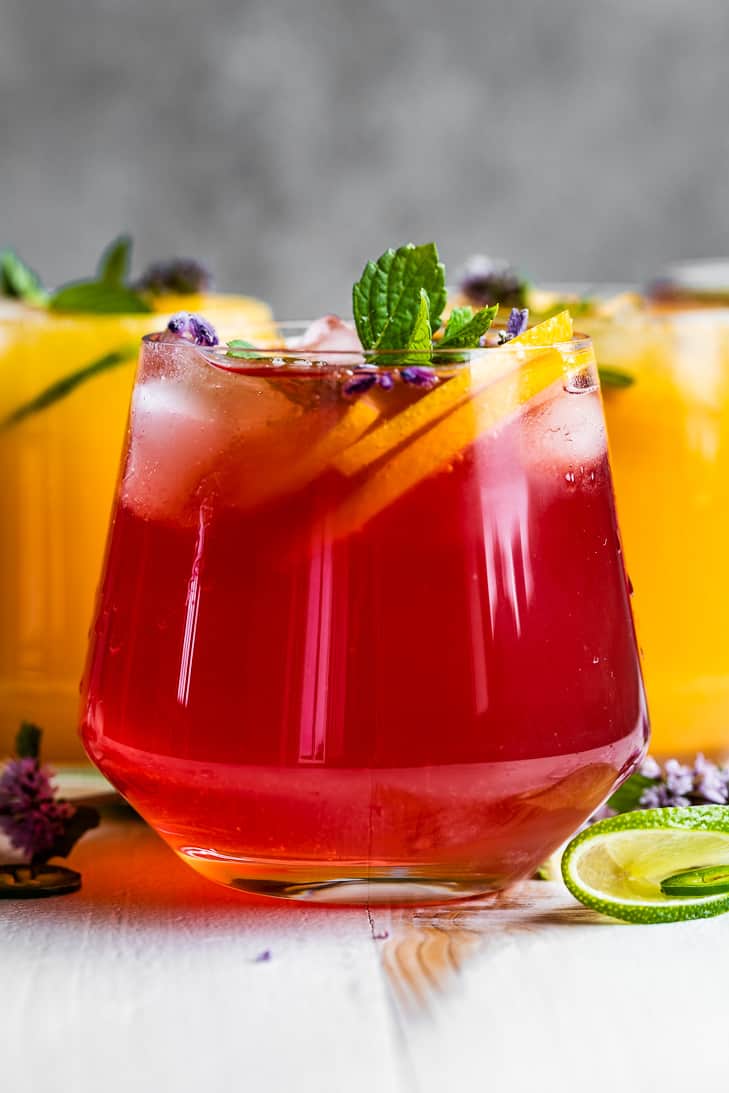 It's also helped me branch out and try other flavors of kombucha. It's all too easy just to reach for my favorite flavor, but I even bought the Lavender Love to try it out. Lavender in kombucha sounded equal parts intriguing and kind of yucky at the same time. But as it would happen, I ended up loving it!
You can use any brand of kombucha you'd like to make your own combos. I recommend GT's brand because I love their flavors, (this isn't sponsored or anything). The other thing I like about their kombucha is there isn't any added sugar. That way you can add sweetener if you'd like to your mocktails.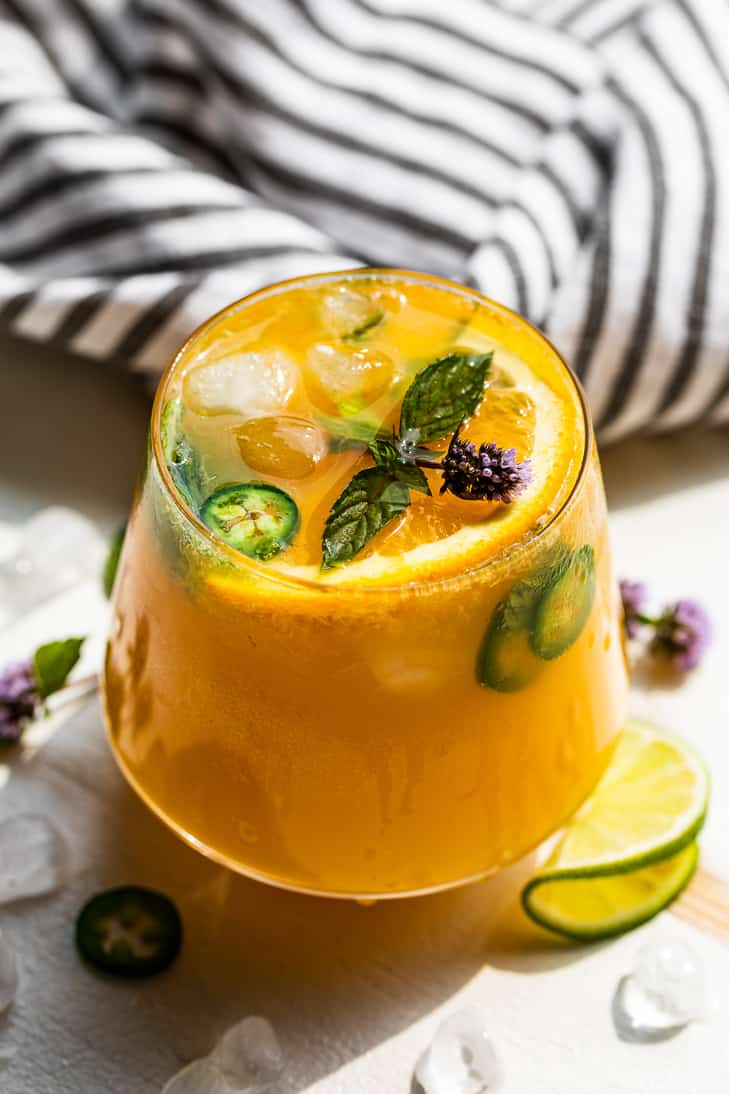 How to make a kombucha mocktail
Choose your favorite flavor of kombucha.
Pick a 2nd flavor of kombucha, sparkling flavored water, or fresh juice to compliment.
Add a touch of sweetener if desired and garnish!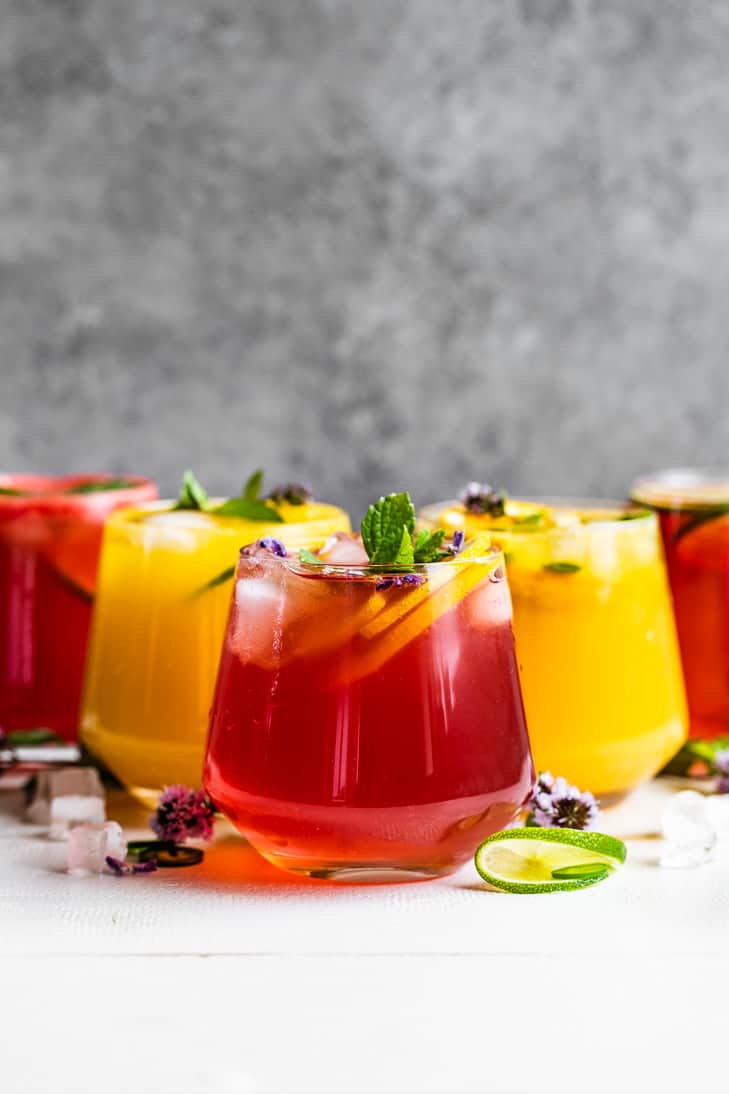 Ingredients for these 5 Easy Kombucha Mocktails
Kombucha – Choose any kombucha you love the flavor of first and foremost! I love to use GT's kombucha because there's no added sugar like you find in some brands. That way I can add a touch of sweetener if I want. If you use a sweetened kombucha you might find it to be too sweet to pair with fresh juices. But it should still work fine to pair with sparkling water.
Sparkling Flavored Water – We now use Spindrift because they're the tastiest flavored sparkling water and there are no 'natural flavors' added. We used to use some popular brands of sparkling water with natural flavors because that was all that was available. But now that there are lots of better options, we try and avoid natural flavors!
Fruit Juice – of all flavors combines really well with kombucha and makes for the perfect way to sweeten your mocktail as well. You'll find my gingerberry and orange juice combo below, but the sky is the limit! Mango juice is really great with mango kombucha for an extra mango flavored mocktail. Or mix it up by combining mango juice with guava kombucha. Grapefruit juice with ginger kombucha is another favorite of mine as well.
Sweetener – You want to use something that will dissolve immediately into your mocktail. If you have simple syrup around that works. And I like to use Grade A amber maple syrup because it's a natural sweetener and there's just a light maple flavor that doesn't interfere with the flavors.
Garnishes – Again you just want to think about complimentary flavors along with what you have on hand. A squeeze of lemon, lime, or other citrus adds the perfect note to so many combos. Then if you have fresh herbs on hand, mint, basil, and lemon balm all combine well with lots of flavors. And finally, one of my favorites is sliced jalapeno for a touch of spices. It's especially good with mango, watermelon, lime, and orange flavors. But it's also tasty with anything on the sweetener side like guava, or any mocktail you add fruit juice to.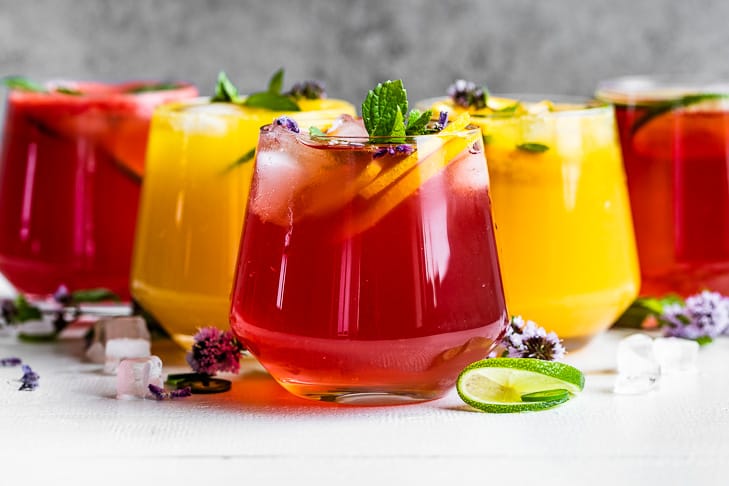 Recipe notes
For the 'recipes' I've just given our favorite combos so far with measurements. Normally I like to be precise with recipes, but there's really no need to measure here. And you can mix it all together to your taste. I sometimes add more of less of the different ingredients called for. It just depends on my mood, and what I have on hand.
Kombucha Mocktail FAQ's
What can I mix kombucha with?
Kombucha is perfect mixed with fresh fruit juices that complement the kombucha flavor. It's also super tasty paired with sparkling water or with other kombucha flavors like pairing guava kombucha with passionberry – super tasty!
Can I mix kombucha with sparkling water?
Yes! And mixing sparkling water with kombucha is pretty much our favorite way to make kombucha mocktails. Sparkling water, especially a flavored one like Spindrift adds way more fizz to your finished drink. Try combos like a lime Spindrift with a mango kombucha.
What brand of kombucha is the best?
I recommend looking for a brand without added sugar like GT's kombucha. That way you're in control of how much sweetener you're consuming. Kombucha is always fermented with some amount of sugar/sweetener. However, a lot of brands will add even more during the bottling process and it ends up being like soda with lots of sugar!
How long can you drink kombucha after opening?
If you know you're not going to finish the bottle, the first step is to pour it out into the glass and don't drink straight from the bottle. That way you can keep your leftover kombucha for up to 1 week refrigerated. It may lose a bit of its fizz over time. This is especially helpful if you want to make small mocktails or for 1-2 people where you might not use the whole bottle at once.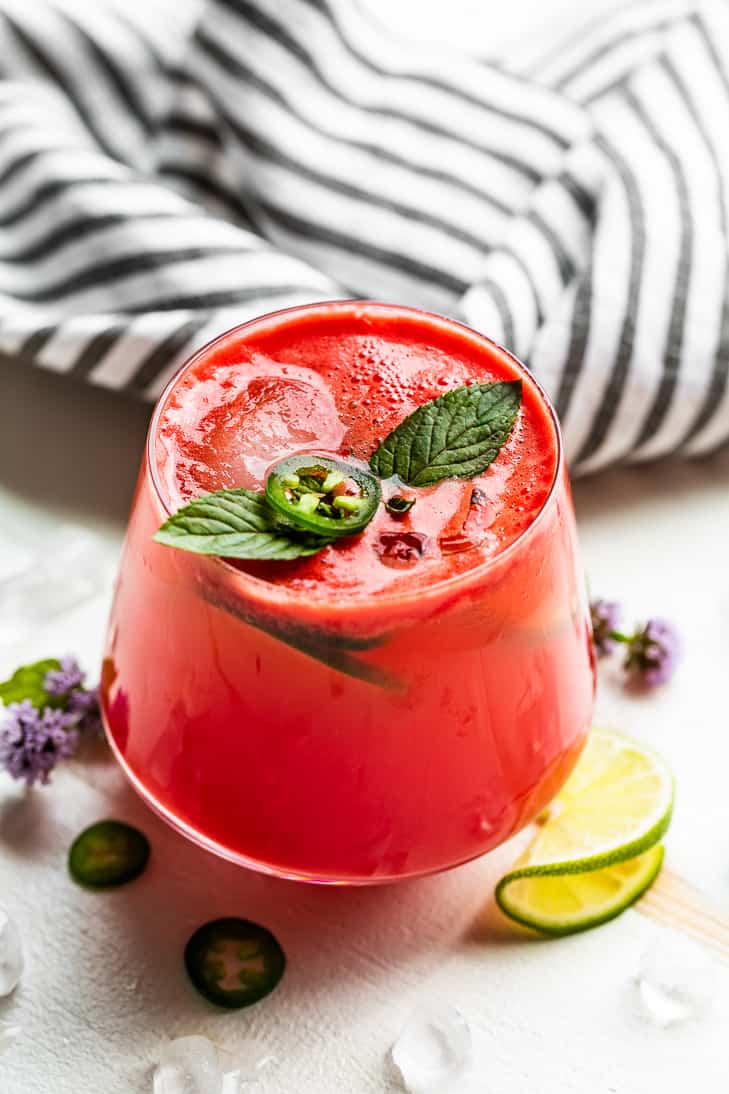 I really hope you enjoy these mocktails, and be sure and let me know in the comments what flavors you try out in your kitchen! And for more recipe inspiration, check out my Summer Strawberry Kombucha Mocktail. Or you might enjoy my Mango Blackberry Kombucha Mocktail.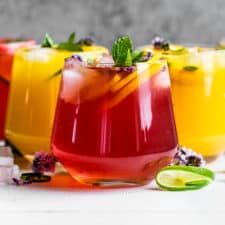 5 Easy Kombucha Mocktails
---
INGREDIENTS
Mocktail #1:
16

ounce

bottle Lavender Love kombucha

1

can

Lemon or Pink Lemonade Spindrift

6

leaves

lemon balm

-

crushed

Sweetener to taste if desired

-

see notes
Mocktail #2:
16

ounce

bottle Mango kombucha

1

Lime Spindrift

-

or 1 cup fresh orange juice

Optional: add 2 Tablespoons pureed mango if you have mangos on hand

6

mint leaves

-

crushed

2-6

slices

jalapeno

-

add to your taste
Mocktail #3:
16

ounce

bottle Gingerberry kombucha

1

cup

freshly squeezed orange or grapefruit juice

-

add more or less to taste

Garnish with orange slices and mint leaves
Mocktail #4:
2

cups

blended watermelon

-

or 1 – 16 ounce bottle Watermelon Wonder kombucha

1

can

Lime Spindrift

1

lime

-

juiced

8-10

mint leaves

-

crushed

Sweetener if desired
Mocktail #5:
16

ounce

bottle Guava Goddess kombucha

16

ounce

bottle Passionberry or strawberry kombucha

Add any of the following: jalapeno slices

-

mint, lemon balm, or fresh passion fruit if you can find it
INSTRUCTIONS
For any of the combinations, pour the ingredients together into glasses with the herbs/garnishes called for. Add as much ice as you'd like and enjoy right away!

Recipes number 1,2, and 5 makes 2 – 16 ounce glasses after you add ice and garnishes. It can also serve up to 4 people in smaller glasses. Recipes 3 and 4 make 2 – 12 ounce mocktails.
Bonus Step
If you made this recipe, please leave a rating/comment. Ratings really help us continue to bring you high-quality free recipes. Rate This Recipe!
NOTES
All the different flavors of kombucha called for are the GT's brand. And for Whole30 mocktails make sure there's no added sugar to your choice of kombucha and use sparkling water to combine with it.
We like all of these mocktails without sweetener, but feel free to add some in to any of the combinations.
To make the watermelon juice, place 3 cups cubed watermelon into a blender. Blend until smooth, then strain through a fine mesh sieve. You should have around 2 cups watermelon juice.
Update: In the last couple of years, we've switched completely over to Spindrift because their sparkling water doesn't have any natural flavors added!
This post was originally published in 2018 and has been updated with new information, photos, and tips.