These easy Baked Turkey Meatballs are all-purpose and great for freezer meal prepping because they go with just about any sauce you can think of from Italian to Indian-inspired cuisine! They're naturally gluten-free, dairy-free, and made with almond flour. They come together quickly and are perfect for spaghetti and meatballs. But we also love adding these turkey meatballs to stroganoff sauce, butter chicken sauce, or my Garlic Parmesan Cream Sauce.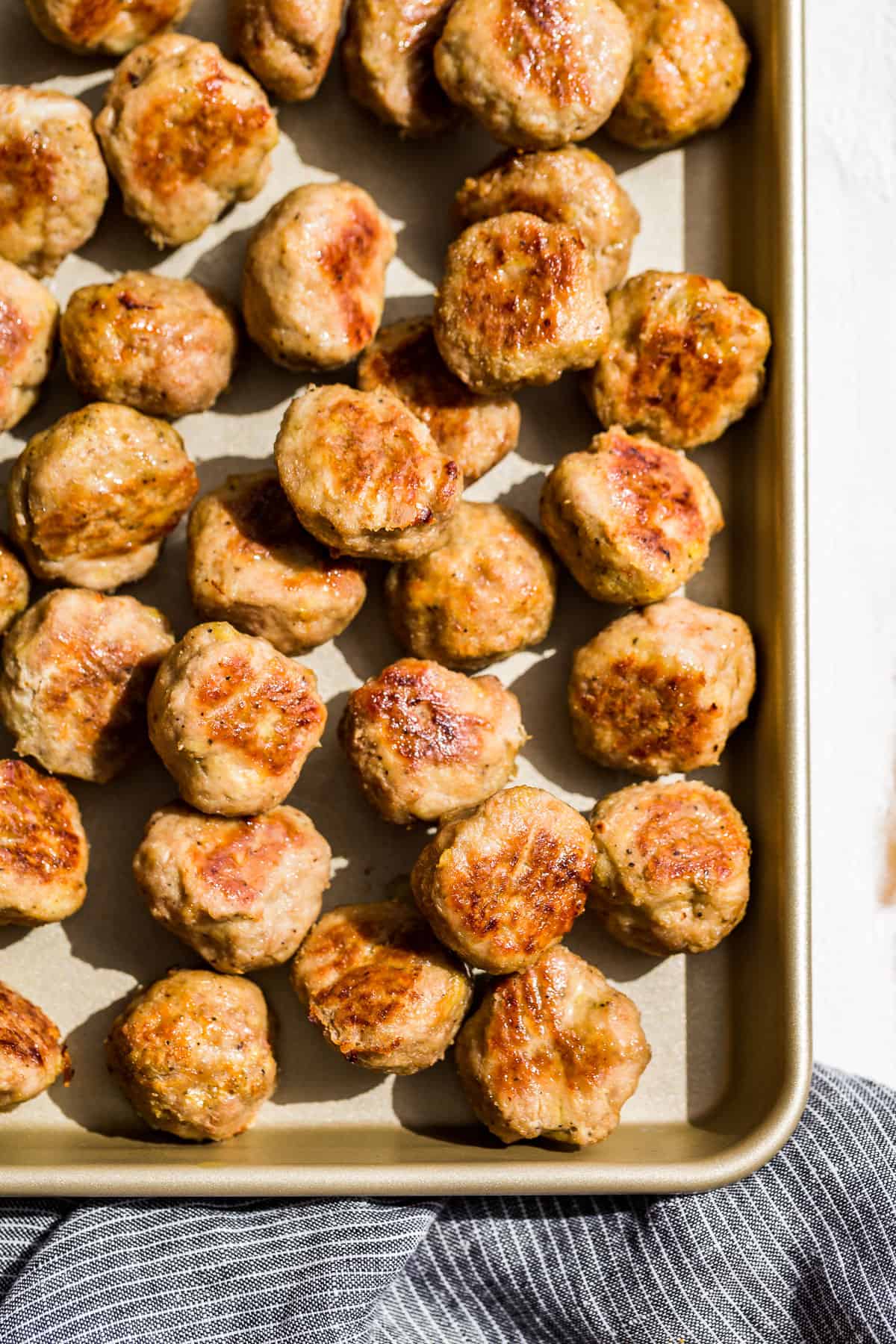 The inspiration for this recipe came to me years ago when my sister-in-law pulled a bag of pre-made meatballs out of the freezer for a quick meal. I instantly fell in love with the convenience of it and knew I wanted to create a homemade gluten-free version.
I mean… how nice would it be to have 'all-purpose' meatballs just ready to go in the freezer? The kind of meatballs you can put in everything from your classic Marinara Sauce to Butter Chicken, to these Sweet Potato Meatball Subs.
These are also good in a stroganoff sauce, in chicken soup, or dipped into a myriad of sauces like a chicken nugget. And I can attest they're great in BBQ sauce, my Dairy Free Ranch, Honey Mustard Sauce, or even ketchup!
This recipe is definitely my kind of freezer-friendly meal prep. I love anything that is 2 for 1, and making a double batch to have another one ready to go for the future, is the kind of convenience I think we all need!
Ingredients & Substitutions
Ground turkey – ground chicken, or ground pork, or a 50/50 mixture of ground pork and ground beef all work for this meatball recipe.
Almond flour – takes the place of the usual breadcrumbs keeping these meatballs nice and soft and tender while still moist.
Egg yolks – also keep these meatballs soft and act as a binder to keep them together as well.
Granulated garlic & onion – both unsalted. Granulated garlic and granulated onion are similar to garlic powder, but you can see in the photo they have a bit more texture. They also both have a nicer 'toasty' flavor in comparison to the powdered version. You can use unsalted garlic powder, but granulated garlic is definitely worth having in your spice drawer instead.
Olive oil – keeps these meatballs moist as they bake and also makes the meat mixture easier to roll into nicely shaped meatballs. You can omit it, but it really does add to the texture because ground turkey is so lean. I would leave it out if you use ground pork.
How to make these Baked Turkey Meatballs recipe step by step
Step 1: Start by adding the ground turkey, almond flour, egg yolk, granulated garlic & onion, plus the sea salt and pepper to a large mixing bowl.
Step 2: Next mix the ingredients into the ground turkey until evenly combined.
A sturdy spatula or spoon will work well.
Step 3: Next up use a cookie scoop or spoon to portion out the meatballs, you should have around 36.
But you can also make these any size you'd like, just adjust your baking time.
Step 4: You can either bake them as is or roll them into a better-rounded shape with your hands. Ground turkey can be quite sticky, so I recommend using oil on your hands to make this easy. Bake until golden browned and just done in the centers.
FAQ's
Is it better to cook meatballs in the sauce or in the oven?
The best flavor will come from searing the meatballs on the stovetop or baked in the oven and then simmering them in the sauce for a few minutes.
How do you keep meatballs from drying out in the oven?
The secret to perfectly moist baked meatballs is to bake them at a high oven temperature and make sure they're not overcooked. The high oven temperature ensures browning and flavor, and use an instant-read thermometer to make sure they're not overcooked. Overcooking is the main culprit with dry meatballs.
How do you tell if meatballs are done?
These meatballs are done when the bottoms are browned and an instant-read thermometer reads 165ºF internal temperature. If you don't have an instant-read thermometer, break a meatball in half to see if it's cooked in the center.
Storing leftovers
To store – place any leftover meatballs into an airtight container and store them in the refrigerator for 3-4 days.
Make ahead – these keep well in the fridge for a couple of days and can be reheated in your choice of sauce. And better yet they freeze well which is the best option listed below.
Reheating – pan fry or microwave to reheat the meatballs plain. Or simmer them for a few minutes to heat through with your choice of sauce.
To freeze – freeze the baked turkey meatballs in an airtight container for up to 3 months. Defrost the frozen meatballs in the fridge overnight before reheating.
Tips & Tricks
You can multiply this recipe for as many pounds of ground turkey as you'd like to have leftovers to place in your freezer. I tend to do 2-pound batches as written in the recipe. But since they disappear quickly, I really want to do larger batches from here on out. I like to think of it like baking cookies, but instead, you're getting sheet pans full of meatballs for dinner!
You definitely want to freeze these already cooked. Turkey is quite soft and while I'm sure you could freeze these raw, then transfer them to a storage container, I think their shape wouldn't be great when you thaw them. Also, you'd need to thaw them in the fridge before baking. So overall it's much simpler to cook than freeze them.
I really hope you enjoy these Baked Turkey Meatballs! If you do get a chance to make this recipe, I'd love to hear from you in the comments.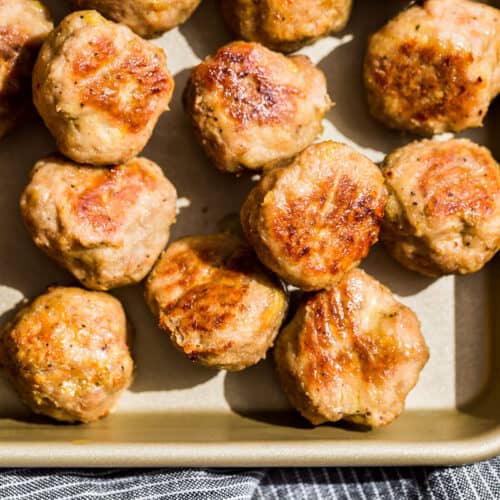 Baked Turkey Meatballs
---
Yield:
8
servings or 36 meatballs
INGREDIENTS
2

pounds

ground turkey

2

egg yolks

2/3

cup

almond flour

2

tbsp

olive oil

1

tsp

granulated garlic

-

or 2 cloves minced

1

tsp

granulated onion

1

tsp

sea salt

-

more or less to taste

1/2

tsp

ground black pepper
INSTRUCTIONS
Preheat the oven to 450ºF and line a large baking sheet with parchment paper.

In a medium sized mixing bowl, add the ground turkey, egg yolks, and olive oil. In a small bowl, whisk together the almond flour, granulated garlic and onion, sea salt, and pepper. Add the almond mixture to the ground turkey, and mix just to combine.

Using a spoon or a small cookie scoop, (I use a #40 scoop) portion out half the meat mixture or 18 meatballs onto the prepared cookie sheet. Lightly oil your hands and roll the meatballs into a rounder shape. 

Then bake until just done in the centers, 10-12 minutes. Repeat with the remaining half of the meat mixture and bake again until done.

Let the meatballs cool to room temperature before freezing in an airtight container for 1 month.

You can also use half of this batch of meatballs right away in any recipe/sauce to serve 4.
Bonus Step
If you made this recipe, please leave a rating/comment. Ratings really help us continue to bring you high-quality free recipes. Rate This Recipe!
NOTES
You definitely want to freeze these already cooked. Turkey is quite soft and while I'm sure you could freeze these raw, then transfer them to a storage container, I think their shape wouldn't be great when you thaw them. Also, you'd need to thaw them in the fridge before baking. So overall it's much simpler to cook than freeze them.
nutrition facts
Calories:
228
kcal
|
Carbohydrates:
3
g
|
Protein:
30
g
|
Fat:
12
g
|
Saturated Fat:
2
g
|
Polyunsaturated Fat:
1
g
|
Monounsaturated Fat:
4
g
|
Trans Fat:
0.02
g
|
Cholesterol:
111
mg
|
Sodium:
351
mg
|
Potassium:
348
mg
|
Fiber:
1
g
|
Sugar:
0.4
g
|
Vitamin A:
94
IU
|
Vitamin C:
0.1
mg
|
Calcium:
31
mg
|
Iron:
1
mg
This recipe was originally published in 2020 but has been updated in 2023 with new tips and information.