We like to make many variations of guacamole, but Bacon Guacamole is definitely our favorite! I maintain that there's pretty much nothing that bacon can't improve. While that might be a slight over exaggeration, the flavors of bacon seems to match my every craving. There's nothing quite like that sweet-salty flavor. I love the smokiness of bacon paired with the buttery flavor of avocado, and it's all rounded out with the zesty lime juice and fresh cilantro.
Let's start by deveining and deseeding the jalapenos. Deveining just means to cut out the white part. It's the white part and the seeds that hold the heat, so you can leave them in if you like extra heat. Next, slice into thin strips, and then slice crosswise into small bits.
You can use a mild onion, such as Walla Walla sweet, shallots, or red onions. I usually use the white part of green onions for guacamole, and the green part of the onion for scrambled eggs. Start by cutting off the bottoms and slicing the white part into quarters. Then, slice across into small pieces.
Slice the cherry tomatoes into quarters and set aside.
Process the first 7 ingredients until mostly smooth. Then, add the tomatoes and bacon and pulse until just combined. Guacamole will keep for one day and sometimes two. Place plastic wrap directly on the surface of the guacamole, or pour a thin layer of olive oil over the top. The main idea is not to allow any air to touch the surface because it causes browning or, oxidization.
We made a simple dinner out of this recipe by placing it over Roasted Sweet Potatoes, but we also like to use it as a replacement for regular guacamole. It's particularly good with fajitas and tacos. If you have any leftovers, (doubtful but…) it's really good in a lettuce wrap for lunch the next day.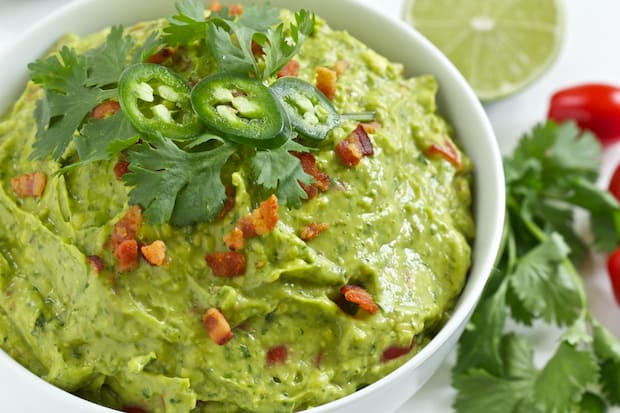 Print
Bacon Guacamole
---
2

avocados, pitted and peeled

2 Tablespoon

cilantro, chopped

1

garlic clove, minced

1 Tablespoon

jalapeno, minced

1 Tablespoon

green onion, minced – white part only

1 Teaspoon

lime juice, freshly squeezed

1 1/2 Teaspoons

sea salt

1/2 cup

tomatoes, chopped

3

strips bacon, cut into bits and fried
---
Instructions
Place the avocados, cilantro, garlic, jalapeno, onion, lime juice, and sea salt into a food processor fitted with a chopping blade.
Process until smooth with some chunks remaining. Add the tomatoes and bacon bits and pulse a couple of times until combined.
Serve immediately.
Guacamole will keep a day or two if you place plastic wrap on the surface or pour a thin layer of olive oil on it.
Notes
I like to add 1 Tablespoon of bacon fat to add to the delicious bacon flavor. This recipe served 2 as an entrée when served over Roasted Sweet Potatoes.