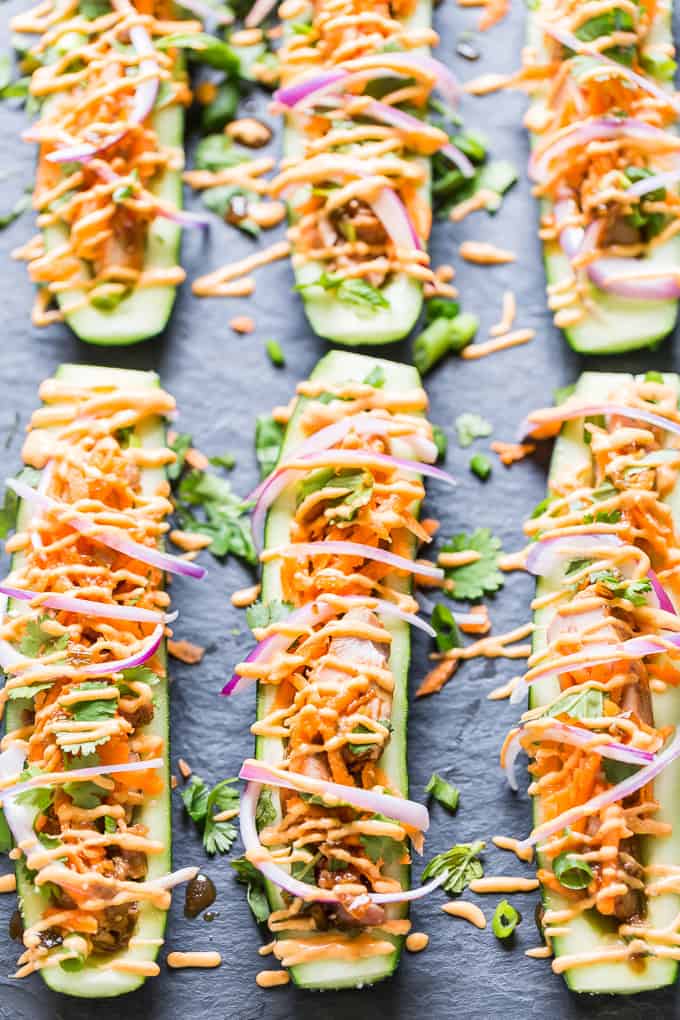 If there's one food I could eat everyday, it would be a Vietnamese Banh Mi sandwich. They're so good, they even supersede pizza for me, which is really saying a lot! Once I start talking about them, it would seem I can't stop.
I even got sidetracked when I was trying to talk about last week's Vietnamese Caramel Chicken, and went off on a tangent about Banh Mi. Although that's partly because I just started using Caramel Chicken in my Banh Mi creations to change it up a bit from my standard favorite of Saté Chicken.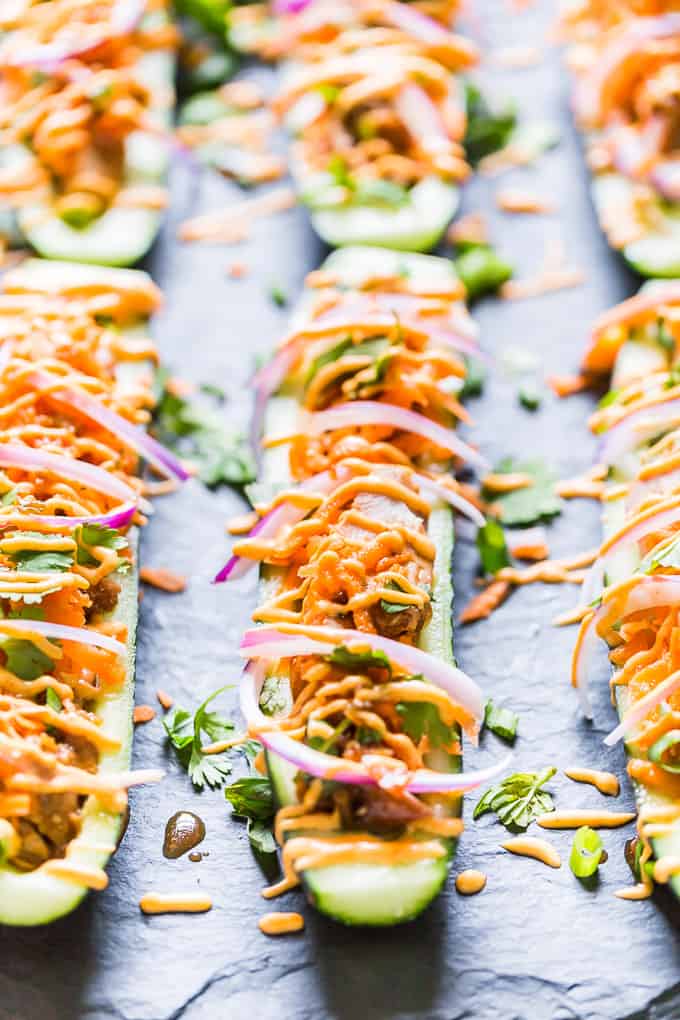 I think it's the incredible flavor combinations in Banh Mi that keep me coming back for more.
You've got everything going on in this sandwich:
A savory meat of your choice redolent with Vietnmese flavors like garlic, lemongrass (seriously Lemongrass Chicken would make another great filling), and chili just to name a few options.
Fresh herbs of basil, cilantro, and green onions pile on with so much fresh flavor.
Pickled carrots add just the right amount of sour to the mix that perks up every other ingredient.
The crunch of red onions sets off the savory characteristics of the meat.
And finally as if that wasn't all enough, you've got sriracha mayo squeezed over the top creating all sorts of creamy/spicyness magic!
I like to prep all the ingredients into individual bowls if you're serving them 'family style'. But it's also fun to assemble all the cucumber subs on a board, (stone, marble, or wooden boards all work great) and serve them 'tapas style'.
Budget Tip:
Fresh herbs can be pricy depending on the time of year, so if fresh herbs aren't plentiful, I would go with just cilantro for the biggest flavor, and most cost effective option.
To prepare your cucumber 'subs', slice both ends off each cucumber, and cut them in half lengthwise. Then using a spoon, scrape out the seeds and reserve them for another use, (I put mine in this Minty Pineapple Green Smoothie).
For these sandwiches, I used 1 recipe of my Vietnamese Caramel Chicken, but you can also use a recipe of Saté Chicken from my Rainbow Thai Salad.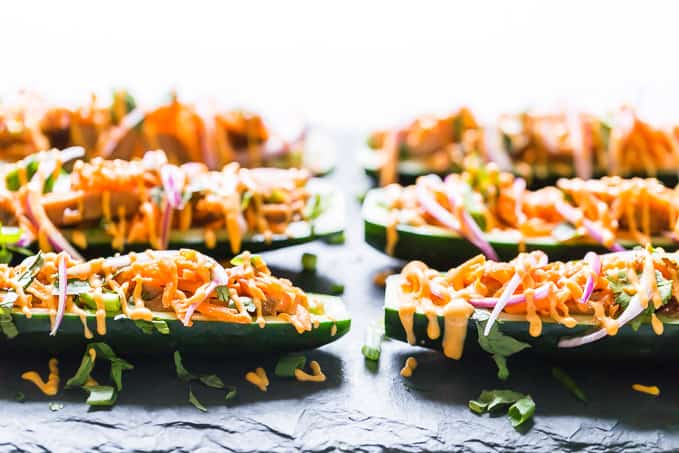 You may have noticed the gaping absence of bread in this 'sandwich' but I promise you that you're not going to miss it with all the flavor packed elements to these subs!
Print
Banh Mi Cucumber Subs
---
1

recipe of Caramel Chicken or Saté Chicken

4

large cucumbers, 10 ounces each

1 1/2 cups

grated carrots, from 1 bunch

1 Tablespoon

fresh lime juice, or rice vinegar

1/4 cup

chopped cilantro

1/4 cup

chopped basil

1/4 cup

chopped green onions

1/2

small red onion, finely slivered
Sriracha Mayo:
1

farm fresh egg, at room temperature

1 teaspoon

freshly squeezed lime juice or rice vinegar

1/4 Teaspoon

sea salt

3/4 cup

avocado oil

1

–

2

Tablespoons of sriracha, to your taste
---
Instructions
Prepare your choice of chicken, and let it cool to room temperature while you prepare the cucumber subs.
Slice the ends off the cucumbers, and cut them in half lengthwise. Using a spoon, scoop out the seeds and set them aside for another use like a green smoothie. Set the cucumbers on a serving platter, wooden board, or a marble or stone slab.
Mix the grated carrots with the lime juice or rice vinegar, and set them aside to 'pickle' for a bit.
Prepare the sriracha mayo by placing the egg, lime juice or rice vinegar, and sea salt. Secure the lid and start blending on low speed. Add the avocado oil in a slow steady stream, increasing the speed as you go until all the avocado oil is added, and the mayo has become thick, (you should be at about speed 4-5 on a Vitamix). Add sriracha to your taste, and place the mayo in a squeeze bottle if you want nice lines across your sandwiches.
Cut up the room temperature chicken into bite sized pieces.
Serve all the ingredients separate so that everyone can assemble their own sandwich. Or you can fill the cucumbers with chicken, then top with the carrots, chopped fresh herbs, red onion slivers, and finally squeeze the sriracha mayo over the top of each cucumber sub.
Notes
You will have leftover sriracha mayo because there's no way to make a smaller batch. You can either put it on everything because it's so delicious, or use a pre-made mayo and mix in sriracha to taste so you won't have as much leftover.
Prep Time:

30 mins

Cook Time:

15 mins