These Banh Mi Lettuce Wraps (Whole30) satisfy all those sandwich craving, but packed with veggies and there's no added sugar!
I might be a little on the extreme side, but I could eat Banh Mi sandwiches every single day of the week, and still not be tired of them! The obsession started at a tiny little shop in downtown Chinatown, Calgary.
Imagine for a second… life before yelp/facebook/etc. where we all exchange restaurant reviews at the speed of light. Although that might be hard to picture right now, 10 years ago that wasn't such an odd thought. So rather than reading up on reviews online like we do now, we actually found this little spot strictly by word of mouth.
One bite into their absolutely blissful sandwiches, and you'll see what all the fuss is about. While you stand in line, you can look at the wall of 'fame' of all the famous people who have come to their little shop. (And just in case you're in Calgary, it's called Thi Thi Subs, and it's not allergy friendly in the least.)
So anyways, before we changed out diet, we used to go to this shop to pick up 2 sandwiches. Then we'd walk across the road, and eat them sitting on the rocks watching the Bow River flow by.
I have so many fond memories of this, that of course I started creating Banh Mi inspired recipes at home. Even if we hadn't changed our diet, we couldn't find a good Banh Mi where we live in Montana even if we wanted to!
So today's recipe is all those wonderful Banh Mi flavors made into a lettuce wrap. It's also very allergy friendly being gluten and dairy free, as well as paleo and Whole30. But I promise it won't be a let down just because it's healthy. These wraps are absolutely packed with flavor, and so good you can't eat just one.
Tips: Try doubling or even tripling this recipe and placing it all in the fridge to make Banh Mi Wraps all week long in just minutes. I love meal prepping this recipe and making wraps for myself at lunchtime. But when I make it for Tyler's lunch, I just pile everything into a container as a salad. It's much easier for him to eat a salad at work than lettuce wraps!
Also it's worth tracking down a squeeze bottle for the mayo because it just makes it so much easier to quickly squeeze it over the top of your lettuce wraps. I found mine at the local restaurant supply store, (you don't need to be in the restaurant business to go into most of these types of stores).

Whole30 Tips: it's difficult to find a Whole30 compliant sriracha. So you have a couple of options if you can't find it. First up you can make your own, just Google 'Whole30 sriracha recipe'. Or if this seems like a lot, which it does to me, try out this chili garlic sauce instead.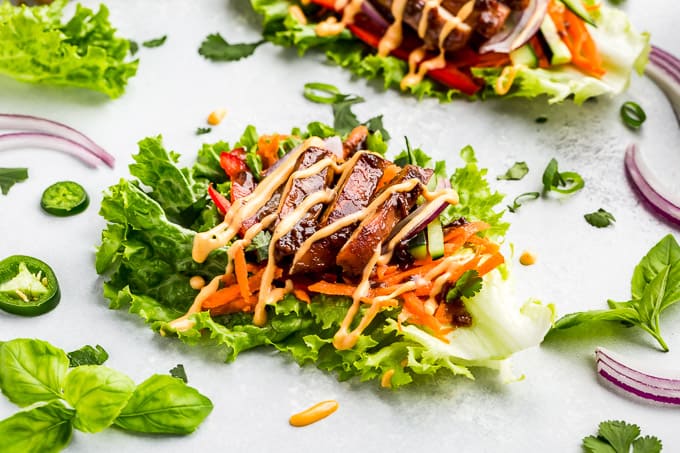 How to make these Banh Mi Lettuce Wraps (Whole30):
Start off by marinading the chicken. I like to marinate mine the night before I'm actually cooking it for more flavor.
Prep all the veggies. If you're meal prepping this, go ahead and separate them into individual containers for the refrigerator. If you're serving it right away, try piling everything onto a platter for a fun presentation.
Finally, make the sriracha mayo, or you can do this up to 1 day ahead of time.
Other Banh Mi inspired recipes:
Print
Banh Mi Lettuce Wraps (Whole30)
---
Author:

Kari

Total Time:

40 minutes

Yield:

4

servings

1

x
Description
These veggie packed Banh Mi Wraps are perfect for weekday meals and can be meal prepped ahead!
---
Chicken:
1 pkg (1 1/2 lbs) boneless skinless chicken thighs
2 cloves garlic, minced
1/4 cup coconut aminos
1/2 Teaspoon red pepper flakes
Quick Pickled Carrots:
1 1/2 cups grated carrots
1 Tablespoon freshly squeezed lime juice
pinch of sea salt
Veggies:
1 large head green leaf lettuce, leaves separated, washed and dried
1 cucumber, cut in half and thinly sliced, 2 cups
8 oz red bell pepper, stem and seed removed and thinly sliced, 1 cup from 1 small pepper
1 cup thinly sliced red onions, from 1 small, 8 ounces
Freshly chopped cilantro and basil, about 1/2 cup, see notes
Sriracha Mayo:
1 egg, at room temperature, see notes
1 Teaspoon freshly squeezed lime juice
1/4 Teaspoon sea salt
3/4 cup avocado oil
1–2 Tablespoons sriracha, or to taste, see notes for Whole30
---
Instructions
Combine all the ingredients for the chicken in an airtight container, (I like to use a glass Pyrex) and refrigerate for at least 1 hour, but 1 day is best.
When you're ready to make the Banh Mi Wraps, make the quick pickled carrots by tossing together the grated carrots, lime juice, and sea salt to combine. Set them aside while you prepare the rest of the recipe, (these can also be made a day ahead of time).
Prep the rest of the veggies and place them into separate containers for storage, or arrange them on a platter if you're serving this right away.
For the sriracha mayo, add the room temperature egg into the blender along with the lime juice and sea salt. Blend on low to combine, then begin to add the avocado oil in a thin steady stream increasing the speed of the blender as you go. Start by adding the smallest amount of oil possible and increasing as you go for the best emulsion. I always start on low speed on my Vitamix, then by the end it's running at speeds 6-7. When the oil is added and the mayo is thick, add the sriracha and blend/stir to combine. Place the sriracha mayo into a container of your choice, I like a squeeze bottle.
For the chicken either preheat a grill over medium high heat or a large skillet (10-12″) over medium heat. To grill the chicken place it on a the preheated grill and turn it over after about 8 minutes, then cook an additional 6-8 minutes or until done in the center, timing varies depending on the size of the chicken thighs. For the stove top, add a touch of oil to the preheated pan, and carefully lay the chicken thighs into the pan. Cook partially covered for about 6 minutes. Then remove the lid, and cook another 2 minutes or so until they're caramelized. Then turn the chicken thighs and cook until just done in the middle, about 6 minutes.
Remove the chicken thighs from the pan, and when they're cool enough to handle thinly slice them for the wraps. 
Serve the chicken along with all the veggies and mayo, and let each person assemble their wraps according to taste.
Notes
For the herbs go ahead and use them abundantly when you have them available, (like the height of summer) but in the colder months, try using just one like the more affordable cilantro.
Consuming raw eggs is always at your own risk, you can also sub in 1 cup of your favorite good quality mayo and add sriracha to taste.
It can be very difficult to find a Whole30 compliant sriracha short of making your own, so try using this chili garlic sauce instead when you're doing a Whole30.
Prep Time:

30

Cook Time:

10
Keywords: Whole30, Paleo, Gluten Free, Dairy Free, Grain Free, Banh Mi, Lettuce Wraps