These Pan Fried Rosemary Potatoes are crispy little nuggets that make an appearance so often at our table for everything from dinners to breakfast. They're easy to make with just 4 ingredients and suit almost every diet as well. They're always a huge hit, and steal attention away from any main dish you serve with them!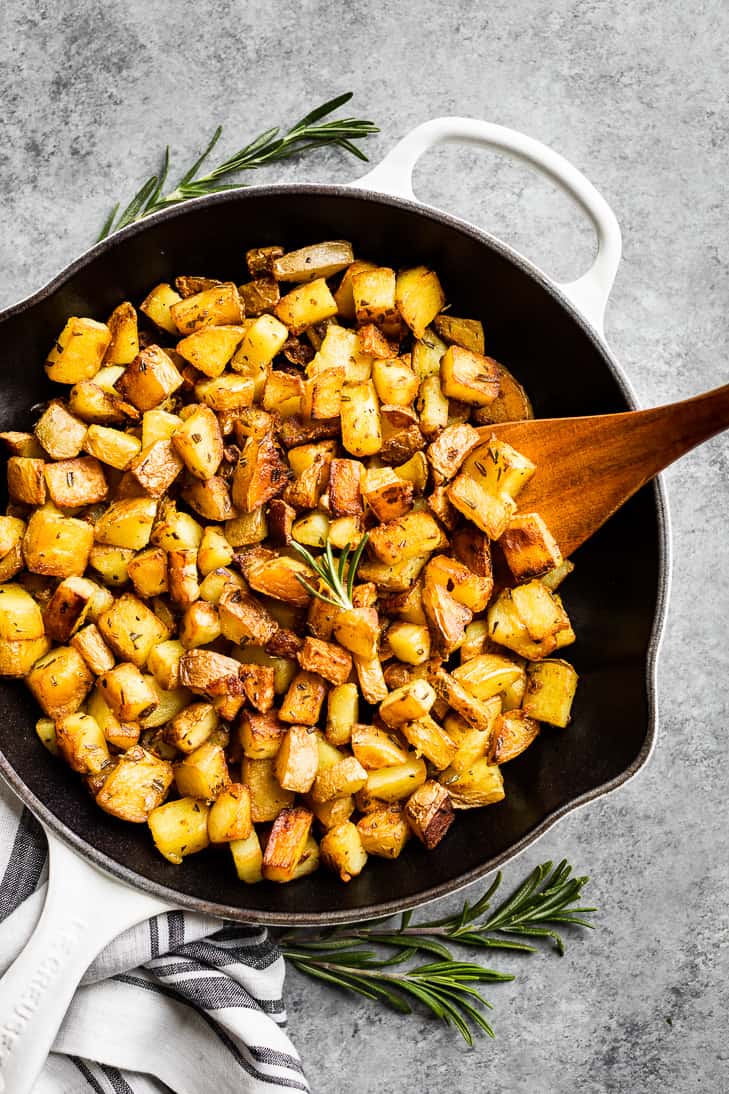 It all started with an Italian restaurant. I feel like quite a few of my recipe stories begin with that line. It's my version of 'once upon a time' I suppose! But from the first time I tasted these crispy potatoes scented with rosemary, I knew they had to be a permanent fixture in my life.
I've been making them for over 15 years now, and everyone loves them! In fact, you may want to print off the recipe because someone always asks for it. I've made a few slight changes over the years, but the texture and flavor are still the same.
The main thing I changed in the recipe was a special sea salt I was using. There were problems with people struggling to find it, then subbing in regular table salt and it not turning out. So below the new amounts are for regular sea salt from any store added to your taste.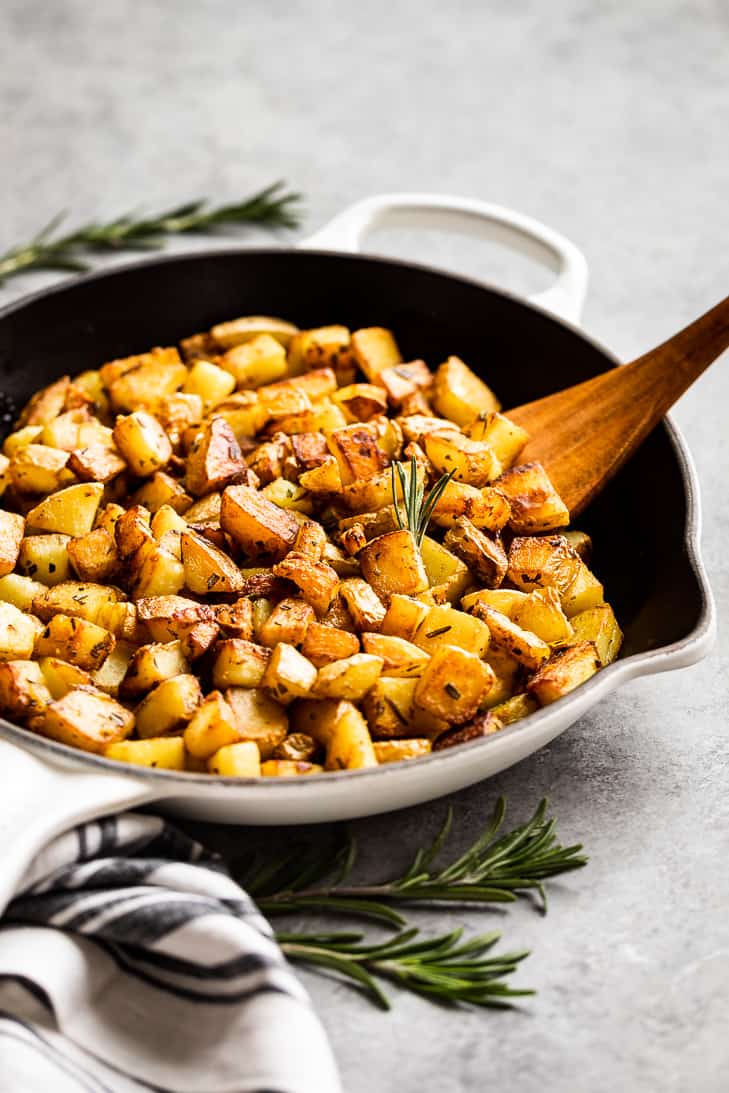 Fun Fact: My mom made these Rosemary Potatoes for Tyler & I's engagement dinner along with my Life Changing Rosemary Mushroom Cream Sauce and prime rib. So if you need inspiration for any kind of special occasion, I can't recommend these 2 recipes enough!
how to double this recipe for more than 6 servings
Double the recipe and use two skillets.
Or roast them in the oven for a 'hands-free' option – which is nice if you're entertaining. They're not quite as crispy, but still delicious. I usually roast them at 425ºF for about 25-30 minutes. You'll need 2 cookie sheets, and lining them with parchment paper will make cleanup much easier.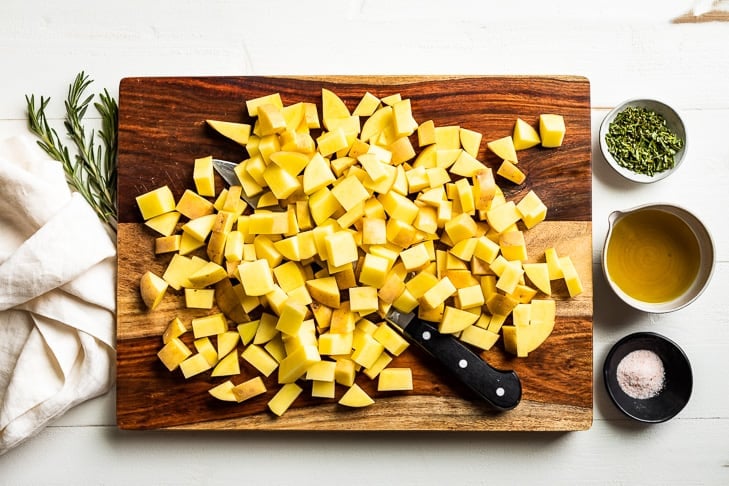 Ingredients for The Best Rosemary Potatoes
Potatoes – Yukon golds are my favorite here. But if you ever see a potato called 'Huckleberry Golds', snatch them right up! They have a purple skin and aren't the prettiest in this dish. But the yellow centers cook up somewhere between a Yukon gold and the fluffiness of a Russet potatoes. Speaking of Russets, they will work here as well, but I find them a bit dry compared to Yukons. And finally, if you have red potatoes, they will do in a pinch, but they definitely won't be as crispy.
Olive oil – A good quality olive oil here really makes these potatoes taste amazing. And if you're worried about the heat getting too high for olive oil, you can sub in avocado oil instead.
Rosemary – is my favorite herb here, but we have been known to switch it up with a little thyme once in a while!
Sea salt – I have provided a measurement for the sea salt. But just season to taste for what you like.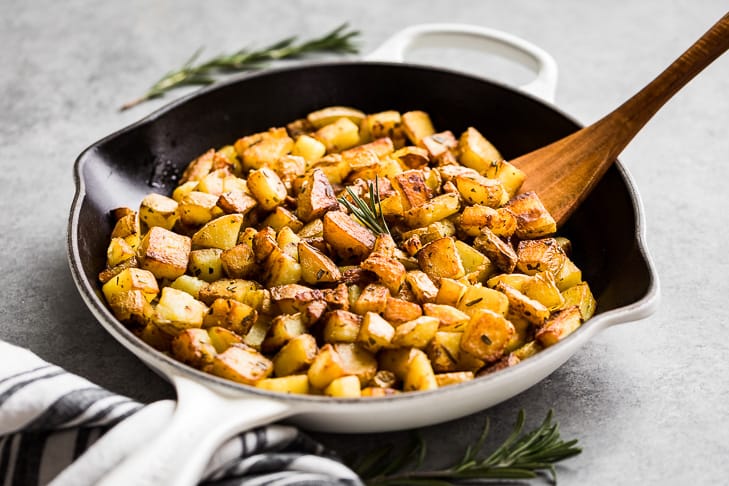 Flavor Tip: I like to add half the rosemary at the beginning of the cooking time, and the other half after 15 minutes of cooking for the best flavor.
FAQ's
Is it necessary to boil potatoes before pan-frying?
No, it is not necessary in this recipe to boil your potatoes before pan-frying. If you want to pan-fry boiled potatoes, try my Crispy Instant Pot Potatoes instead.
Why aren't my pan-fried potatoes crispy?
The most common reason pan-fried potatoes aren't crispy or even soggy is overcrowding the pan. It's better to cook them in 2 pans rather than overcrowding them. Also, don't stir the potatoes until they've browned, and maintain a temperature that browns well without being so hot the pan smokes and they burn.
What are the benefits of boiling potatoes before frying them?
The main benefit to boiling potatoes before you fry them is they will cook much faster and generally they don't need as much oil to crisp up. However, their texture is different than pan-fried potatoes that are cooked starting with raw potatoes. I'd encourage you to try both methods because they're both tasty, just different. We make crispy potatoes both ways!
Tips & Tricks
Use a regular cast iron skillet, not an enameled cast iron skillet. These potatoes tend to stick sometimes in an enameled cast iron skillet, and metal utensils can't be used in that type of skillet.
Use a metal spatula along with your regular cast iron skillet. These 2 tools together make for the easiest crispiest potatoes. Between a well-seasoned cast iron skillet and a metal spatula to scrape up any potato bit that might be sticking, you should have no problems.
Monitor the heat! If the heat is too low, the potatoes will steam and not crisp up properly. If the heat is too high, the oil will smoke and the potatoes can burn around the edges before they're cooked in the centers. A medium to medium-high heat works well here.
'Calorically' speaking this recipe serves 6. However, I just wanted to let you know that in my experience, no one ever eats '1 serving' of these potatoes, especially at special occasion dinners. If you have big eaters at your table, it's probably safer to figure it serves around 4.
More Side Dish Recipe Inspiration
I really hope you enjoy these pan-fried potatoes with rosemary as much as we do! There's rarely a family dinner, holiday, birthday, or breakfast for that matter that doesn't include these potatoes. If you do get a chance to make them, I hope you'll leave me a comment/rating below, I really love hearing from you!
Pan Fried Rosemary Potatoes
---
INGREDIENTS
2

pounds

Yukon Gold potatoes

-

cut into 1/2′" cubes

1/4

cup

extra virgin olive oil

1

tsp

sea salt

-

or to taste

1

tbsp

coarsely chopped fresh rosemary
INSTRUCTIONS
Preheat a 10-12" cast iron large skillet over medium-high heat.

When the pan is hot, add the olive oil and swirl to coat the bottom of the pan. Add the potatoes and half the chopped rosemary in the skillet. I add the sea salt in at this time, but you can season to taste at the end if you think you may use less.

Cook over medium-high heat for about 15 minutes. Use a metal spatula to mix in the rosemary and sea salt if you're adding it at this point. Then stir to flip the potatoes only when the bottom layer turns brown and crispy.

After about 15 minutes, turn the heat down to medium. If the pan starts to get too hot before the 15 minutes is up, turn the heat down sooner.

Add the rest of the rosemary and continue to cook over medium heat. Continue to turn over the potatoes when brown edges appear on the bottom layer.

Cook until the potatoes are tender with crispy brown edges, 10 more minutes.

Season to taste with sea salt and pepper if desired, and serve immediately.
Bonus Step
If you made this recipe, please leave a rating/comment. Ratings really help us continue to bring you high-quality free recipes. Rate This Recipe!
NOTES
Flavor Tip: I like to add half the rosemary at the beginning of the cooking time, and the other half after 15 minutes of cooking for the best flavor.
nutrition facts
Calories:
197
kcal
|
Carbohydrates:
27
g
|
Protein:
3
g
|
Fat:
9
g
|
Saturated Fat:
1
g
|
Polyunsaturated Fat:
1
g
|
Monounsaturated Fat:
7
g
|
Sodium:
397
mg
|
Potassium:
640
mg
|
Fiber:
3
g
|
Sugar:
1
g
|
Vitamin A:
13
IU
|
Vitamin C:
30
mg
|
Calcium:
23
mg
|
Iron:
1
mg
This recipe was published in 2014, but has been updated with more tips, nutritional information, and new photos in 2021!