Somedays it seems distractions abound. I'm just sitting at my desk trying to think of the right words to tell you about how good this smoothie is. But for some reason, the words are slow to come today. So then I thought having a piece of chocolate might provide some inspiration.
And it sort of worked because I started actually writing instead of staring at the screen. But then I got distracted again when a racoon came loping across the back pasture, then rambled around our back porch just a few feet from where I'm sitting right now.
So of course I picked up my phone and took a quick video of him, which then led to even more distraction. I mean… I've never had a great attention span, but I might want to work on this a little!
Anyways, distracting racoons not withstanding, let's talk about this super fun smoothie. I went with 2-toned colors mostly because it makes for great presentation. They're visually appealing to look at, so it's the type of recipe I like to make for brunches and bridal/baby showers.
Making a 2-toned smoothie is actually very easy, so no worries there. You simply blend the yellow layer, pour some out into glasses. Then you add the berries to the remaining smoothie and blend again – super simple.
This smoothie makes the best of the last good citrus, and the first berries of spring. I had some fresh mango, but not quite enough for the whole smoothie, so I added in frozen as well. Either way works great, and frozen mango definitely has the edge on convenience.
For the yellow layer, I added a small amount of turmeric just for extra benefits, but you can leave it out if you'd like.
After you blend the yellow layer, pour some into your choice of glasses or mason jars. Then you add the berries and blend again, creating the pink layer for the top.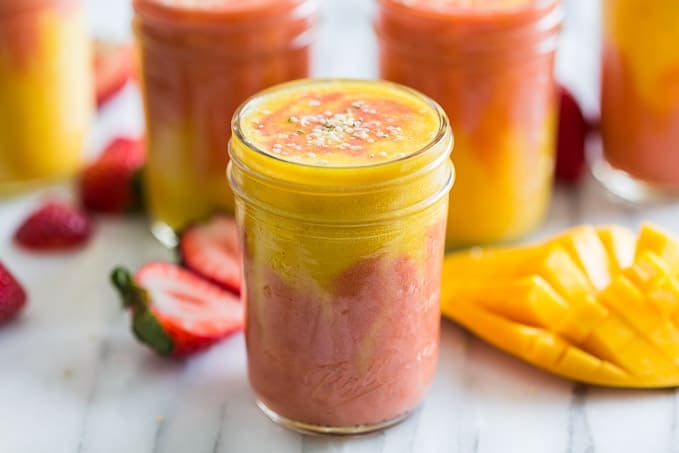 If you want to create some smoothies with pink on the bottom and yellow on the top, pour the yellow smoothie into a separate container. Then after blending the pink layer, you have 2 containers of smoothie to layer as you please.
Note about collagen: I love using collagen in my smoothies for a source of protein. It's also said to improve digestion, strengthen your hair, nails, and teeth, boost metabolism, and decrease joint pain – so sign me up for all of that please!
For a final added touch, I like to sprinkle on hemp seeds or bee pollen, and add a slice of strawberry on top.
Print
Blushing Mango Protein Breakfast Smoothie
---
Yellow Layer:
2

oranges, 1 pound, peeld and quatered

1 1/2 cups

frozen mango cubes, 10 ounces

1 cup

coconut water, or coconut milk for a richer flavor

1

ripe banana, peeled

2 Teaspoons

vanilla extract

2 Tablespoons

collagen powder
optional

1/4 Teaspoon

ground turmeric
Pink Layer:
2 1/2 cups

yellow layer

2 cups

frozen strawberries, 12 ounces, see notes
Optional: hemp seeds and/or bee pollen to sprinkle on top
---
Instructions
For the yellow layer of the smoothie, place all the ingredients called for into a high powered blender, and blend until smooth. You will have about 5 cups of smoothie. Pour out 2 1/2 cups of the yellow layer into 4-5 glasses of your choice.
Then with the remaining 2 1/2 cups of the yellow layer still in the blender, add the frozen strawberries. Blend again until smooth, you will have around 4 cups.
Then slowly pour/spoon the pink layer over the top of the yellow layer. If you pour too quickly the layers can sometimes mix together.
Sprinkle with hemp seeds/bee pollen if desired and serve.
Notes
A great variation on this smoothie is to use frozen raspberries in place of the strawberries. This is also perfect if you can't find flavorful frozen strawberries, as raspberries are more reliable for big flavor.