This easy-to-make Breakfast Salad is loaded with flavor thanks to the Everything Bagel Dressing. It's a great way to start the day filled with protein and a couple of servings of veggies.
Savory breakfasts don't come naturally to me, much less eating a full-blown salad first thing in the morning. I grew up like most people I know eating muffins, pancakes, waffles, and the like for breakfast, and always craving sweets.
But even before we changed our diet, I had started gravitating towards savory things more and more. Maybe that's just something that happens as we leave our childhood sweet tooths behind? In any case, I'm now the complete opposite when it comes to breakfast, and I'm always up for savory over the sweet stuff.
So when I first heard the concept of a 'breakfast salad' I was definitely intrigued. I mean how can you go wrong with loads of veggies paired with your morning eggs and sausage/bacon?
Today's recipe is my absolute favorite breakfast salad combo. You can definitely experiment and find your favorites, but don't miss this one while tomato season lasts!
At first when I started making breakfast salads, I was using either my 2-Ingredient Balsamic or my Homemade Italian Dressing. But both of those dressings seemed a bit to zippy to be paired with eggs.
However I had been sprinkling everything bagel seasoning over my morning veggie/egg scrambles, (another great breakfast concept we must talk about soon) and I had the idea to turn it into a salad dressing. And so everything bagel seasoning dressing was born, and it's been my go-to for breakfast salads ever since.
I've been using pre-washed mixed greens with some arugula thrown in that I've been getting from Farmer's Market. I've even used spinach on occasion which is also really good.
After you've chosen you greens, the prep work is pretty simple, just chopping up a few veggies. If you can find Sungold cherry tomatoes, definitely try them out because they're so good with this salad. But you can use whichever tomato you love and can find in your area.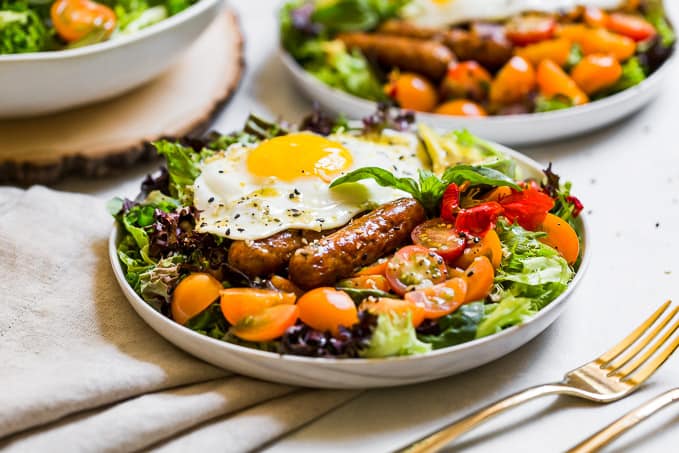 To meal prep some of this salad, I like to have the sausages pre-cooked, the veggies prepped, and the dressing made ahead. That way you can assemble a breakfast salad in just a few minutes, then add the sliced avocado fresh. I thinly slice and reheat the sausages in a skillet, then cook an over easy egg(s), and pile it all on top of the bed of greens and veggies. Then you just spoon out a little of the dressing you've already made, and you have a veggie packed breakfast in minutes!
Print
Breakfast Salad with Everything Bagel Seasoning Dressing
---
Author:

Kari

Total Time:

30 minutes

Yield:

2

salads

1

x
Description
This Breakfast Salad with Everything Bagel Seasoning Dressing has been my go-to breakfast for a while now, and I simply never get tired of it! It's paleo & gluten free and dairy free.
---
Everything Bagel Seasoning Dressing:
1/4 cup white wine vinegar, or freshly squeezed lemon juice
2 Teaspoons Dijon mustard
2 Tablespoons everything bagel seasoning, see notes
1/2 Teaspoon sea salt
1/4 Teaspoon black pepper
1 clove garlic, minced
1/2 cup olive oil
Breakfast Salad:
4 cups mixed greens, arugula, or baby spinach, 3-4 ounces
1/4 cup thinly sliced green onions
1/4 cup freshly chopped herbs, I've been using basil
15–20 Sungold cherry tomatoes, halved, 1 cup
1/2 ripe avocado, thinly sliced, see notes
4–6 small breakfast sausages, cooked, see notes
2–4 eggs, cooked over easy
Extra everything bagel seasoning to sprinkle over the top of each salad.
---
Instructions
Start by making the dressing, as it gets better the longer it sits. Add the vinegar/lemon juice to a 2 cup mason jar along with the mustard, everything bagel seasoning, sea salt, pepper, garlic, and olive oil. Secure a lid on the mason jar and shake vigorously to emulsify the dressing. If you can, make the dressing the night before you make the salad and refrigerate it, the flavors get better over time.
When you're ready to make the salads, divide the greens, green onions, chopped herbs, cherry tomatoes, and avocado between 2 plates.
Cook the sausage of your choice as well as 1-2 over easy eggs per person. When the sausage and eggs are done, place them on top of the salad.
Sprinkle with a little everything bagel seasoning, and drizzle as much of the dressing as you'd like over each salad. Serve immediately.
Notes
To make your own everything bagel seasoning combine: 1 Tablespoon poppy seeds, 1 Tablespoon sesame seeds, 1 Tablespoon black sesame seeds, 1 Tablespoon dried minced garlic, 2 Tablespoons dried minced onion, and 1 Teaspoon sea salt. This makes 1/3 cup which is around 5 Tablespoons.
Depending on your appetite you can use more avocado. If we have a super active day ahead we sometimes use a whole avocado for 2 salads.
I've been using chicken breakfast sausages, but you can use any breakfast sausage links or patties. I figure on 3-4 ounces per salad, but you can go with as little as 2 ounces since you're also adding eggs to the salad.
The dressing recipe makes 1 cup which is enough for at least 4 breakfast salads.
Prep Time:

20

Cook Time:

10
Keywords: breakfast salad, clean eating, paleo, gluten free, dairy free