These are simply the best Flourless Brownies I've ever made, and they're healthy too! I've been tinkering around with them for 8 years now and I know you're going to love these. They're deeply fudgy, super easy to make, and just over-the-top delicious with a touch of flaked sea salt. They're naturally gluten-free, dairy-free, and made with nut butter – no strange ingredients in this recipe.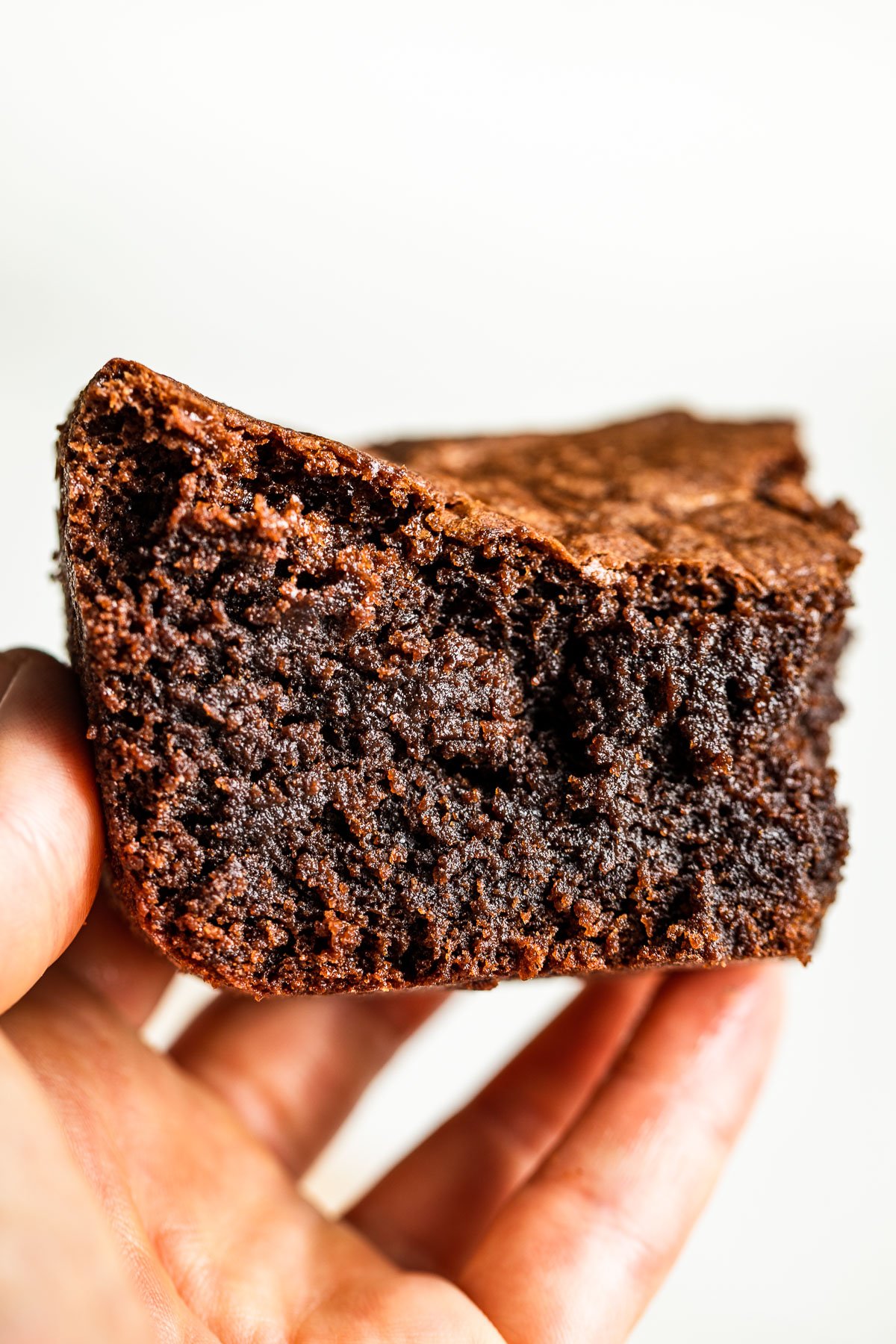 When I'm craving a brownie, what I'm after is a fudgy, ultra-chocolatey experience. A little bit of chewiness and a lightly crackling top are also necessary parts of the package. No fluffy or cakey brownies to be found here.
I found the perfect 'better than the box' recipe a few years ago. And I would make it from time to time for the occasional guilty indulgence. It was straight-up white sugar, white flour, and all the processed ingredients.
These days, I'm still wanting all that yumminess, but without the processed ingredients and loads of sugar. Now you might not think that would be possible, but I have the pictures to prove it most definitely is.
I originally saw the idea to use nut butter for baking from Elana's Pantry. And ever since I baked my first brownies with nut butter, I've been using it to make all sorts of things ever since!
Nut butter acts as a 'flour' of sorts in baked goods. And I've had good success with everything from muffins to brownies and cakes. They're all made with nut butter, and I've included them all below!
Ingredients & Substitutions
Nut butter – Each nut butter I've tried has produced a different texture in these brownies. But you will have success with whatever one you choose. I've even had reviews from those who have made these with sunflower butter to avoid nuts altogether and had great results. My favorite ever nut butter to use is raw cashew butter. It will give you the best crackly top, and it has a lighter flavor to let the chocolate really shine through. It tends to be a bit more expensive, so I stock up every time it comes on sale. These brownies also work really well with roasted cashew or roasted almond butter as well which is a bit more accessible. Peanut butter is my last choice for brownies because it has the most assertive flavor. But check out my brownie recipes below for the peanut butter cheesecake ones if you want a peanut butter cup experience! Be sure that any nut butter you're using is plain nut butter, (no sugar, oil, salt, etc. added).
Maple syrup – provides both a bit of liquid and acts as the sweetener.
Egg – binds both the nut butter and cocoa powder together to create the right chewy texture.
Avocado oil – is my choice to keep these dairy-free. And it also creates a great texture, especially with raw cashew butter. I've also used melted salted butter and melted ghee in this recipe as well. I've used melted coconut oil, but it does add a coconut flavor which is why it's my last choice here.
Baking soda – provides just a touch of leavening to keep these brownies fudgy, but not completely dense.
Cocoa powder – works together with the nut butter to provide structure. It works like 'flour' in this recipe. And of course, it's also responsible for the chocolate flavor here. It also means you get to make brownies without any refined sugar at all which is a nice bonus!
Vanilla – just a touch of vanilla always enhances chocolate, and is a must in brownies.
How to make this recipe step by step
Step 1: Preheat the oven and add all of the listed ingredients to a medium-sized mixing bowl.
Step 2: Next stir the brownie batter together until smooth with no nut butter lumps remaining.
Tip: room temperature nut butter mixes together much more easily.
Step 3: Finally spread the brownie batter evenly into a prepared pan. Then bake until puffed in the middle and just done about 20-25 minutes. A toothpick inserted into the center will come out with moist crumbs, not gooey batter.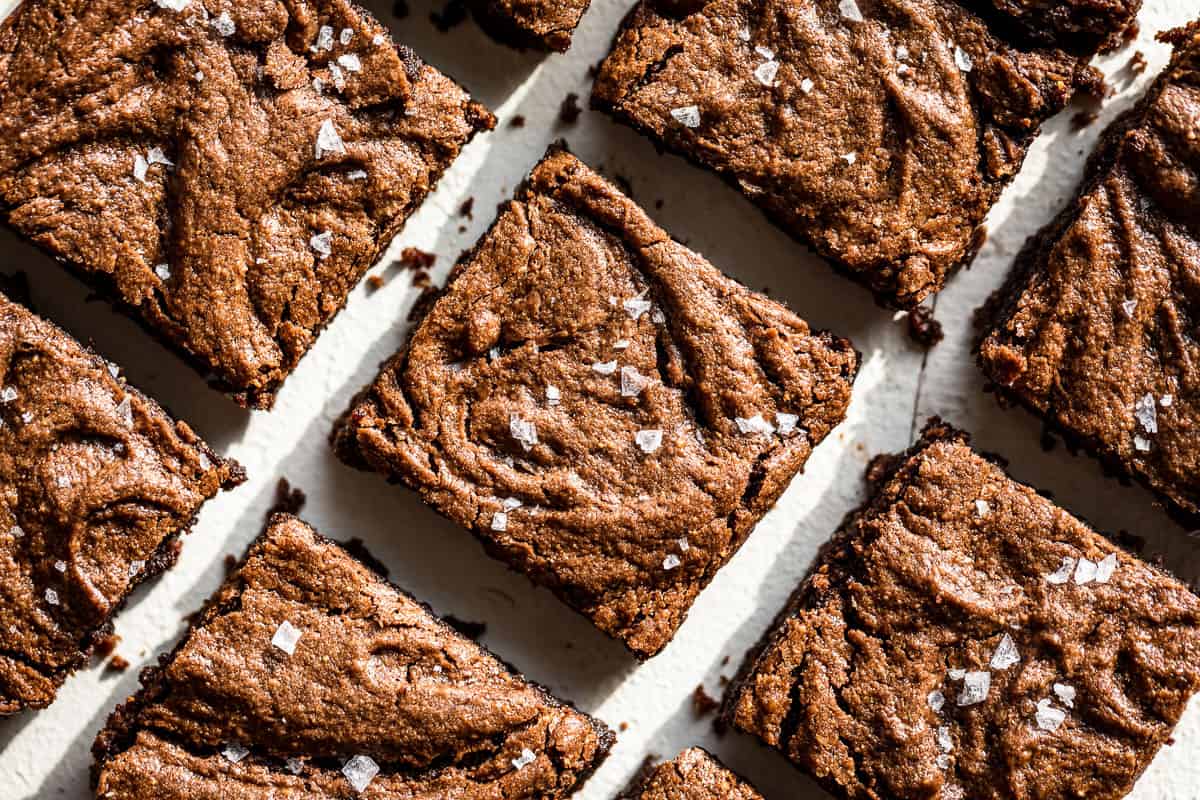 Step 4: Let cool completely before you slice and serve for the best-looking brownies.
Ways to serve this
FAQ's
What are flourless brownies made of?
Flourless brownies have other ingredients that give them structure. Cocoa powder provides quite a bit of structure to this recipe and I also use nut butter to create an incredible flourless brownie.
Why do you need flour in brownies?
Traditional brownie recipes need flour to give the brownies structure, it's what creates their texture. In my flourless brownies, the texture and structure come from cocoa powder and nut butter working together to create a fudgy brownie.
Are flourless brownies healthier than normal brownies?
These flourless brownies are a healthier choice than normal brownies because there are no refined ingredients, no refined sugar, and no refined flour. They are still a treat though!
Storing leftovers
To store – place any leftover brownies into an airtight container and refrigerate for up to 3 days.
Make ahead – these brownies are best the same day, but they store well in the fridge overnight before serving if desired. They are much softer without any crunchy edges after refrigeration.
To freeze – these brownies store the best in the freezer for optimal freshness. Place them into an airtight container and freezer for up to 1 month.
Tips & Tricks
To get deep-dish super thick brownies, make a double batch and bake them in an 11″x 7″ deep dish baking pan. It will take about double the cooking time, around 45 minutes. You'll end up with brownies that are about 3″ deep and oh-so fudgy!
If you want to be able to slice the brownies and put them on a serving plate, you'll need to line your baking dish. The ones you see pictured below are a single batch baked in an 8″ baking dish. Line the baking dish with 2 strips of parchment paper. Then after the brownies have baked, let them cool on a wire rack until they're firm enough that you can lift them out of the pan. Or turn the pan to a 45º angle and carefully slide them out with the parchment paper.
These freeze really well in an airtight container. If you want to stack them together in your container without them sticking, freeze them in a single layer first. Slice the cooled brownies, then set them apart on a parchment-lined baking sheet. Freeze them until solid, then transfer them to a container where they'll keep for at least a month.
More nut butter baking recipes
I hope you enjoy these best Flourless Brownies as much as we have! If you do make them, I hope you'll leave me a comment/rating below, I always love hearing from you here.
INGREDIENTS
1

cup

nut butter

-

see notes

1/2

cup

maple syrup

1

egg

2

tbsp

avocado oil

1/2

tsp

baking soda

1/4

tsp

sea salt

6

tbsp

cocoa powder

1

tsp

vanilla extract

Optional: flaked sea salt to sprinkle on top
INSTRUCTIONS
Preheat the oven to 325F.

Lightly grease a 8″ baking pan. Or cut 2 strips of parchment paper the width of the baking pan and place them into the pan crosswise if you want to be able to lift the brownies out of the pan.

Add all of the ingredients listed into a medium sized mixing bowl. Mix until completely combined, then spread it evenly into the prepared baking dish.

Bake until puffed in the center and just done but still fudgy, about 20-25 minutes. 

Let the brownies cool completely on a wire rack before attempting to carefully lift them out. Otherwise let cool as long as you'd like before slicing and diving right in!
Bonus Step
If you made this recipe, please leave a rating/comment. Ratings really help us continue to bring you high-quality free recipes. Rate This Recipe!
NOTES
Raw cashew butter makes for the best crackly top and best chocolate flavor too. But I've also used roasted cashew butter and almond butter, and both are great. Just be sure the nut butter you choose doesn't have anything added, (like salt, sugar, oils, etc.).
nutrition facts
Calories:
148
kcal
|
Carbohydrates:
12
g
|
Protein:
4
g
|
Fat:
11
g
|
Saturated Fat:
2
g
|
Polyunsaturated Fat:
2
g
|
Monounsaturated Fat:
6
g
|
Trans Fat:
0.001
g
|
Cholesterol:
10
mg
|
Sodium:
79
mg
|
Potassium:
145
mg
|
Fiber:
2
g
|
Sugar:
8
g
|
Vitamin A:
15
IU
|
Calcium:
23
mg
|
Iron:
1
mg
This recipe was originally published in 2013 but has been updated in 2023 to include more tips, new information, and brand new photos.