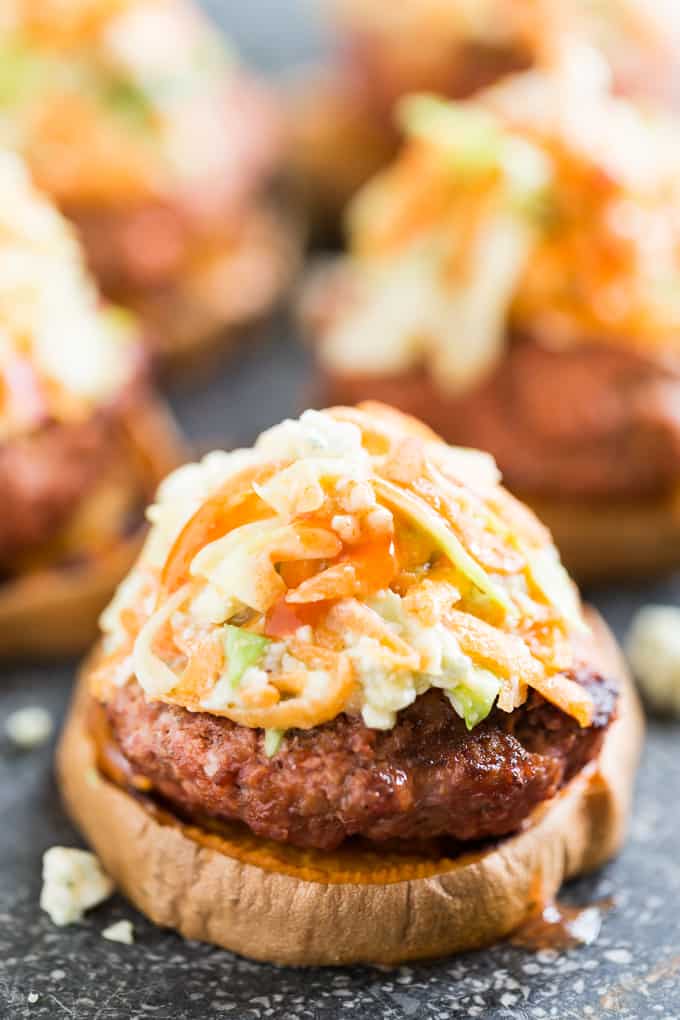 Hot, Sour, Salty, and Sweet – these are the 4 flavors that Asian cuisine is built around, and a fifth is sometimes added into the mix called umami. Each meal is carefully crafted around balancing the different flavors and textures so that the overall meal is satifying. I love this whole concept, and I try to work it into my recipes as often as I can.
Today, there's a little heat in the form of Frank's Red Hot Sauce in the burgers, a slight bit of tang in the slaw that plays off the sweetness of sweet potato, and it's all wrapped up with a touch of saltiness from the blue cheese crumbles. And… technically the blue cheese does double duty because it's also a little umami thrown it. Speaking of umami, the basic translation is a 'pleasing savory taste' and it's found in mushrooms, cheese, seaweed and several other foods. I prefer to think of it as the reason I'm addicted the cheese, but it's probably just because cheese makes everything taste amazing!
These burgers started with a craving for Buffalo wings and morphed into a new obsession. It's hard to get tired of classic combinations, and Frank's Red Hot paired with blue cheese always hits the spot. However, I know there's a few out there who really don't like blue cheese, so feel free to substitute feta cheese instead if you'd like. You could also leave the cheese out entirely because there's just so much flavor going on here.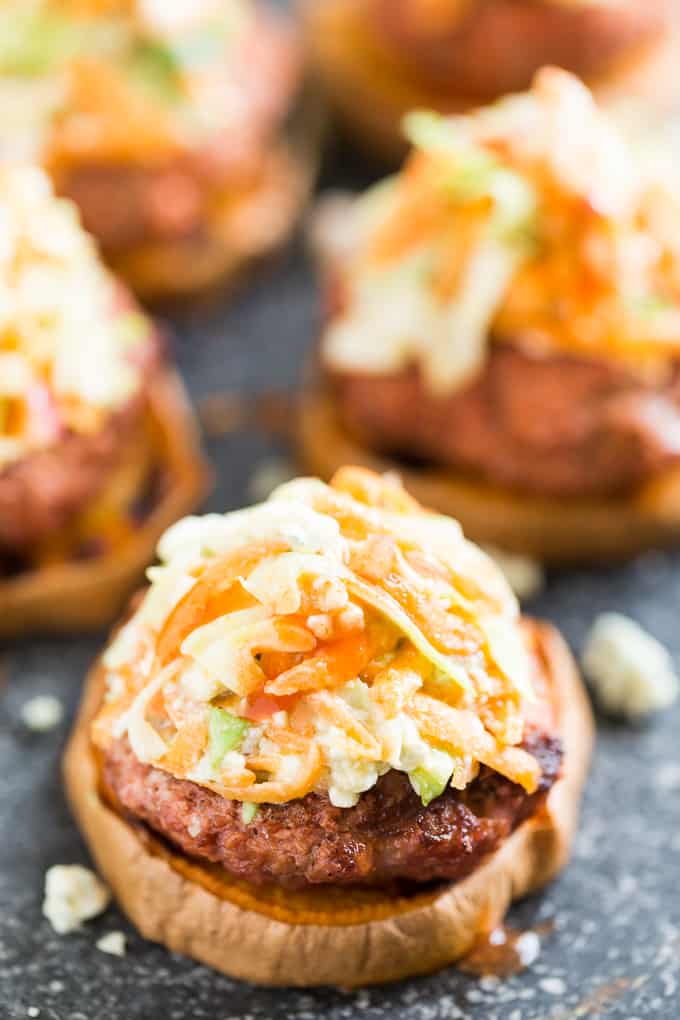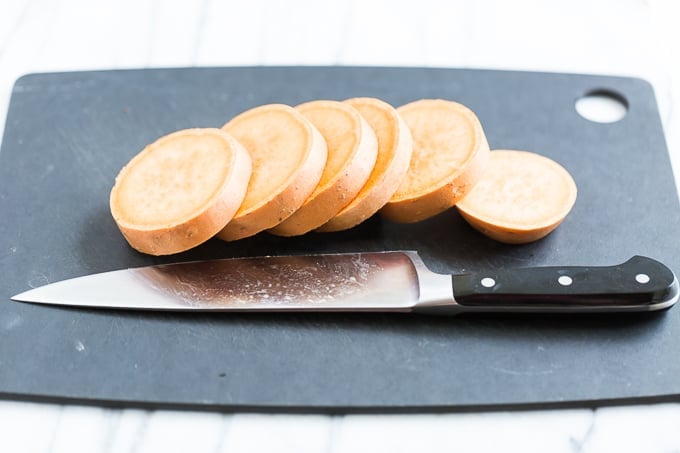 I was able to find some pretty big sweet potatoes which made it easier to use just 1-2 slices per burger. If your sweet potatoes are on the smaller side you might need to use 3 or more slices per burger, or make mini burgers.
I'm definitely a fan of the food processor for shredding things up at lightning speed, but if you're cutting it by hand, start by cutting the round part of the cabbage from either side of the core. Lay each half flat side down on the cutting board and cut it into about 6 slices.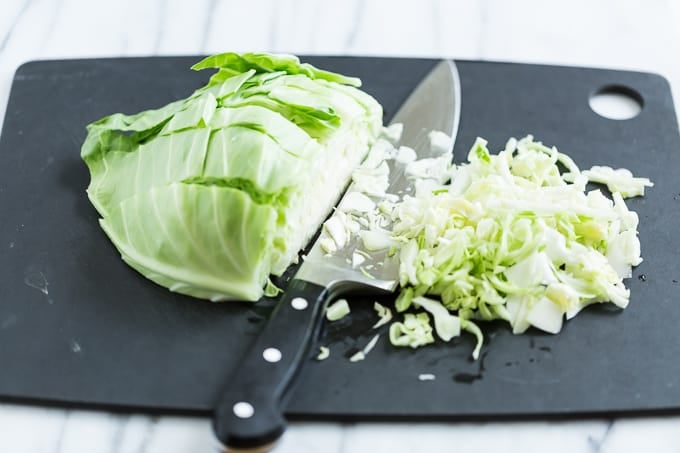 Finally, cut across the slices as thinly as possible to create a fine shred. And… for the easiest method of all – pre-done slaw mix!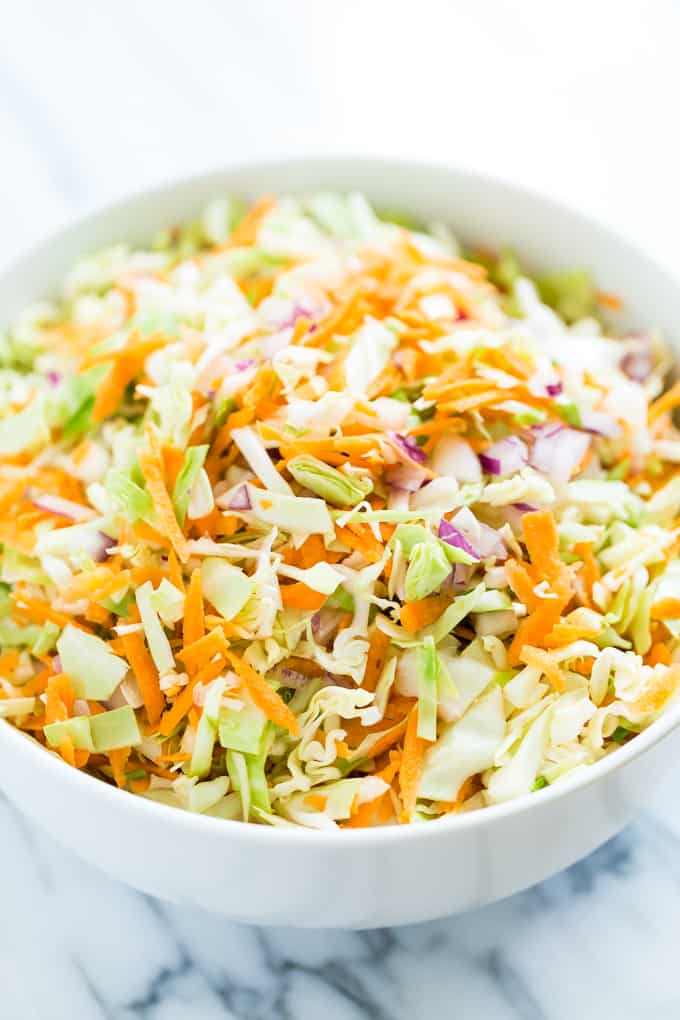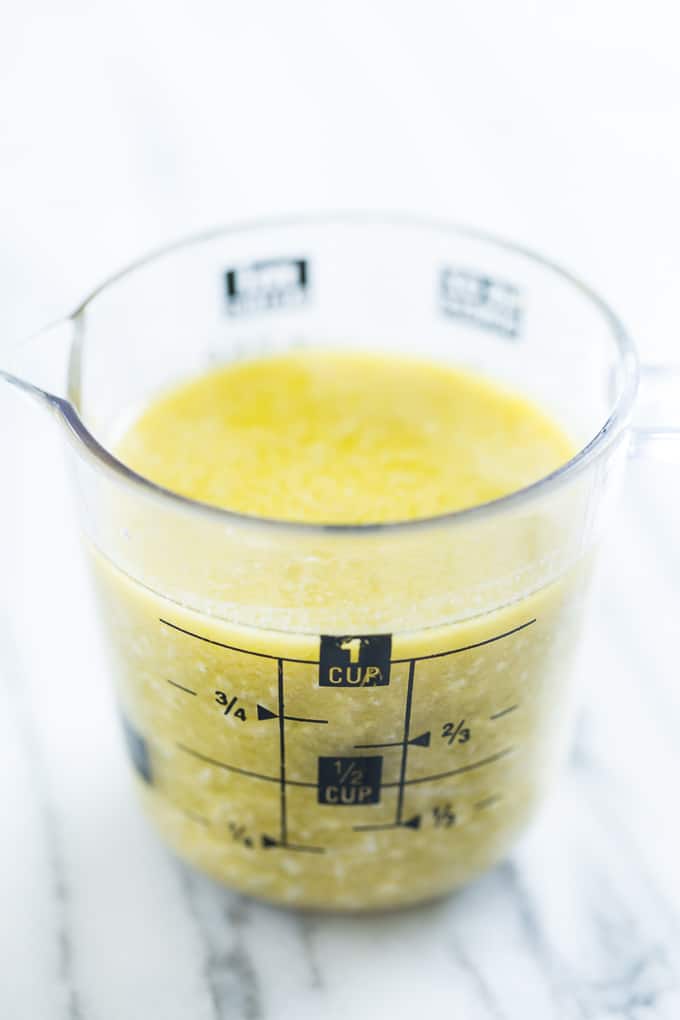 For the dressing, I like to make a vinaigrette of sorts with the blue cheese crumbles added in for pockets of extra flavor. Everyone has differing tastes on how much blue cheese tastes good to them. So I recommend starting with less than is called for. Then taste the dressing, and then add from there until it tastes good to you.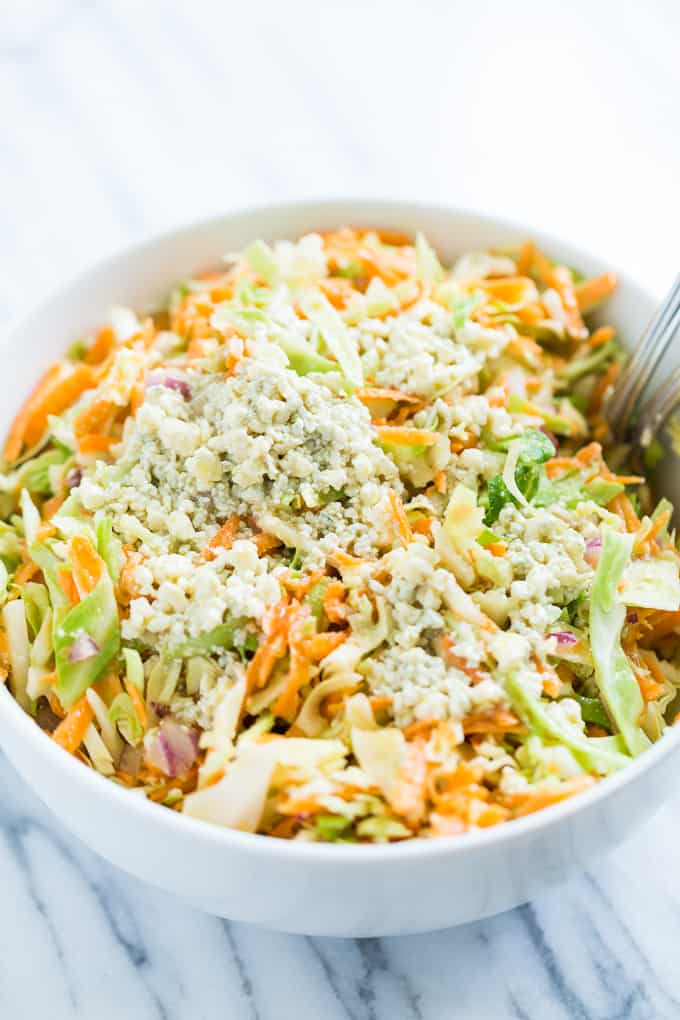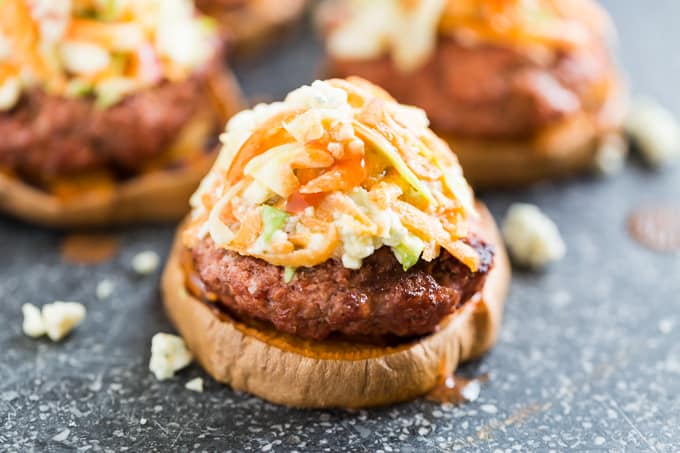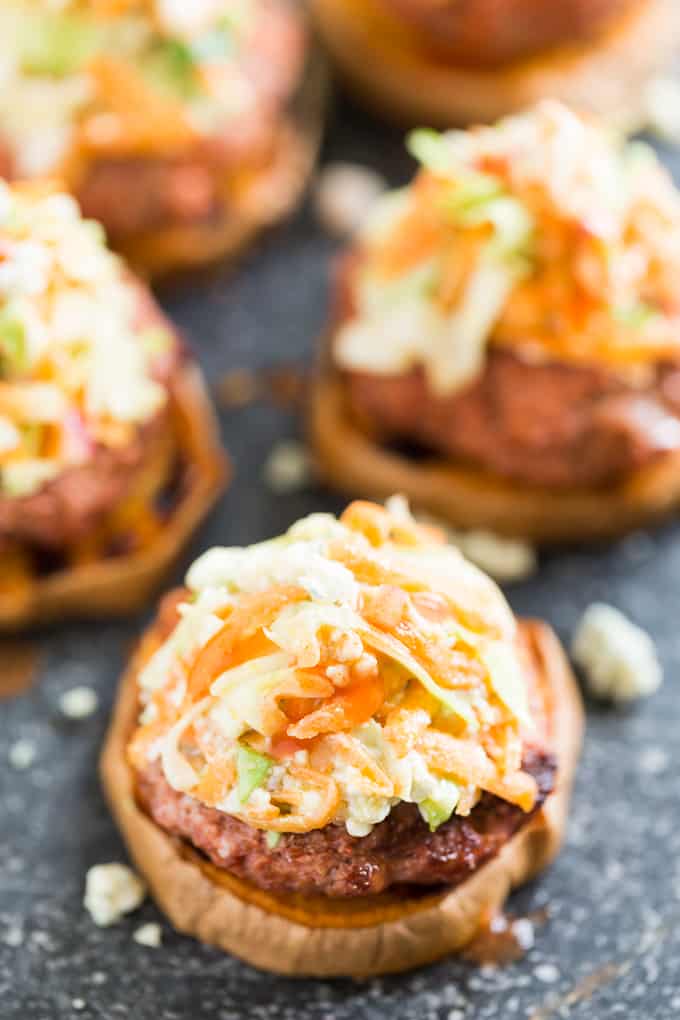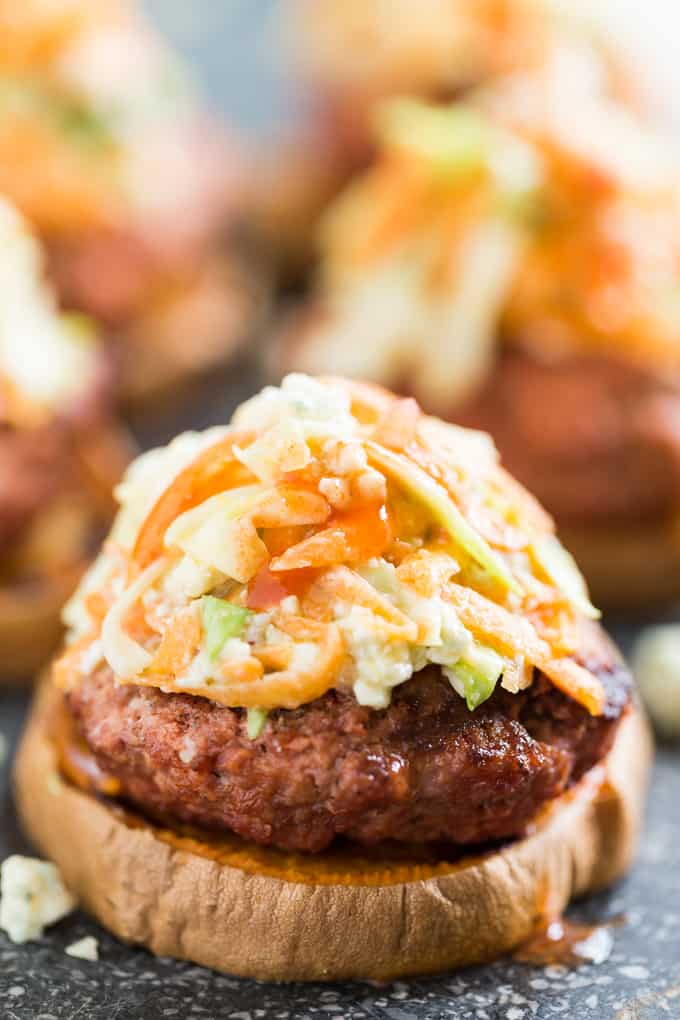 I made 6 burgers from 1 pound of ground turkey because that's what fit the size of my sweet potato rounds, but you can form the patties however you'd like. The only thing I'd caution is the bigger the patties are, the harder they are to turn over on the grill. Something about turkey burgers can be extra delicate compared to beef burgers. I'd be double sure the grill is clean and lightly greased before putting the burgers on. Or… if in doubt, use beef because that's a great flavor combination too, and they're easier to work with.
And 1 more final thing, the teensy amount of slaw you see piled on the burgers in the pictures is only for looks. The recipe is formulated so that you have a good sized amount of slaw with each burger. That way, it's a complete meal in just one recipe without having to make a side dish to get your veggies in!
Print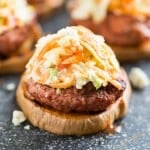 Buffalo Sweet Potato Burgers with Blue Cheese Slaw
---
Blue Cheese Slaw:
1

pound green cabbage, cored and finely shredded

5

small carrots, washed, peeled, and grated – 10 ounces

1/4 cup

minced red onion
Dressing for Slaw:
3 Tablespoon

white wine vinegar

1 Teaspoon

Dijon mustard

1 Teaspoon

sea salt, or to taste

1/2 cup

avocado oil or olive oil

1/2 cup

blue cheese crumbles, 2 ounces
Burgers:
1

pound ground turkey or beef

1/4 cup

Frank's Red Hot Sauce

1/2 Teaspoon

sea salt, or to taste

1 1/2

pounds sweet potatoes, washed and trimmed
---
Instructions
Start by prepping all the veggies for the slaw and placing them in a large serving bowl. Make the dressing by whisking or blending the white wine vinegar, Dijon mustard, sea salt, and avocado oil together into an emulsion. Add the blue cheese crumbles, and blend just to combine being sure to leave plenty of blue cheese chunks in the dressing. Keep the slaw and dressing separate and refrigerated until you're ready to serve.
Preheat the grill over hight heat.
Mix your choice of ground meat with the hot sauce and sea salt, and form into 4-6 burger patties.
Slice the sweet potatoes into 1/2″ thick rounds. Depending on the diameter of the sweet potatoes you'll end up with 1-4 slices per person. Brush the slices with a small amount of avocado or olive oil and place them on the grill.
Immediately lower the heat to medium, and cook for about 10 minutes, or until they're just beginning to soften and there are brown grill marks on the bottom.
When you turn the sweet potatoes over, it's time to put on the burger patties.
Cook the burgers for 6-8 minutes per side if your burgers are sized 6 burgers for 1 pound. The bigger the patties the more cooking time they will need, so feel free to put them on a bit earlier.
When the burgers are almost done, toss the slaw together with the dressing.
Check the sweet potatoes, and if they're tender, remove them from the grill and keep warm until the burgers finish.
Cook the burgers until they're no longer pink in the center, especially for the turkey burgers. Remove the burgers and the sweet potato slices from the grill and serve immediately with the blue cheese slaw.
Prep Time:

30 mins

Cook Time:

20 mins