I love comfort food with a twist, and butternut noodles are one of my favorites in the winter months. Zucchini noodles are great, but butternut noodles have my heart with their addictive flavor.
They also pair incredibly well with tomato sauces. So I decided to take my classic spaghetti recipe, and change it up with some chorizo and fresh thyme. It turned out to be out new go-to meal, with it's slight spiciness and rich tomato sauce, all over sweet butternut noodles.
One of my favorite shortcuts to get this on the table even faster, is to make huge batches of the sauce for the freezer. Then you just pull out a package of pre-made sauce, and heat it up while the butternut noodles roast. (And just to keep things real, I keep packages of regular spaghetti on hand too for those nights when you really need a shortcut, and there's nothing fresh in the house.)
To make the spaghetti sauce, dice the onion…
… and sauté it with the chorizo.
Then add the fresh thyme and fire roasted tomatoes. From there this sauce is pretty much hands off as it simmers away.
While the sauce simmers, prepare the butternut squash by cutting off the bulb shaped end. The bulb shaped end can't be spiralized, and I reserve it for Roasted Veggies.
Then peel the end without seeds, and cut off the stem at the top. Since butternut is quite hard, I like to cut the long section into 2-3 pieces to make it easier for the spiralizer to handle.
To cook butternut noodles, you can either cook them on the stove top, or roast them in the oven. I almost always roast mine because I love the flavor, and it's so much easier than stirring them on the stove top.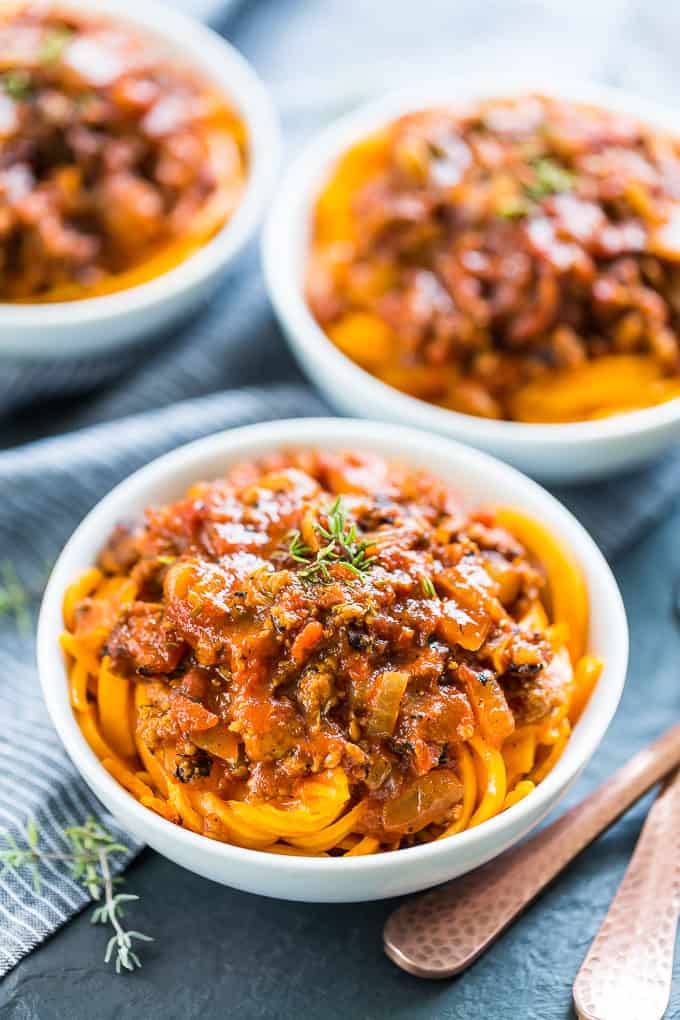 I added a little smoked paprika to the sauce which adds a nice depth of flavor, but if you can't find it I promise you'll still have a flavor packed sauce without it. It's definitely getting easier to find, and I have seen it in our local health food store, and the regular grocery store.
One of the things I love about foodie ingredients becoming more and more popular, is things are now more easily available. My first taste of smoked paprika was in San Francisco, more years ago that I care to remember.
It was definitely love at first taste, and I brought some home with me to Montana because I knew there was no way I'd find any there. (And of course internet shopping wasn't a thing yet… which seems so weird looking back, because I can hardly remember life without it)!
Print
Butternut Noodles with Chorizo Spaghetti Sauce
---
Chorizo Spaghetti Sauce:
1

pound bulk chorizo sausage, not the cured kind

1

large onion, diced 1/4″, 1 pound

2

cloves garlic, minced

2 Tablespoons

chopped fresh thyme

1 Tablespoon

smoked paprika

1

–

28

ounce can fire roasted tomatoes
sea salt to taste
freshly ground black pepper to taste
Optional: freshly grated parmesan
Butternut Noodles:
1

large butternut squash, 4 pounds

1 Tablespoon

olive oil
sea salt
---
Instructions
Preheat the oven to 450ºF.
Prepare the sauce by sautéing the chorizo in a medium sized saucepan over medium-high heat until the sausage is starting to brown, add the onion and garlic, and cook until the onion begins to soften, 3-4 minutes.
Before adding the tomatoes, place them in a blender and blend them until the texture is a chunky tomato sauce. If your tomatoes come already crushed instead of whole, you can skip this step.
Add the thyme, smoked paprika, and blended tomatoes to the chorizo/onion mixture, and bring it to a boil. Reduce the heat and simmer to let the flavors blend, about 15-20 minutes.
Prepare the butternut noodles by cutting off the bulb shaped end of the squash and setting it aside for another use. (The bulb shaped end with the seeds cannot be spiralized, but it makes great roasted veggies.)
Cut off the other end of the squash and peel away the skin. Next cut the squash into 2-3 pieces and spiralize it, I used the 3mm blade on the Paderno spiralizer. Place the butternut noodles onto a parchement lined baking sheet, and toss them with the olive oil and season with sea salt, I used 1/2 Teaspoon.
When the sauce is halfway through it's cooking time, place the prepared butternut noodles into the oven and roast until tender and starting to caramelize on the edges, 8-10 minutes.
When the sauce is finished cooking, season to taste with sea salt and pepper.
Serve the noodles with the sauce along with grated parmesan if desired.
Prep Time:

20 mins

Cook Time:

20 mins