We have a local Cajun restaurant here that has the most amazing shrimp and grits, it's the kind of meal that day dreams are made of! Every time we go, I try really hard to branch out and order something different, but I just can't do it. The shrimp and grits are so good that it's become my standing order.
Even so… I find myself craving it far more often than we go out to eat, so I figured it was time for a homemade version. I decided to create the 'grits' out of cauliflower for more veggies on the plate, but also because they come together in a fraction of the time it takes to make traditional grits. Cauliflower isn't a starchy veggie, so you wouldn't think you could create the proper texture, but I added a small amount of tapioca starch to make them incredibly similar.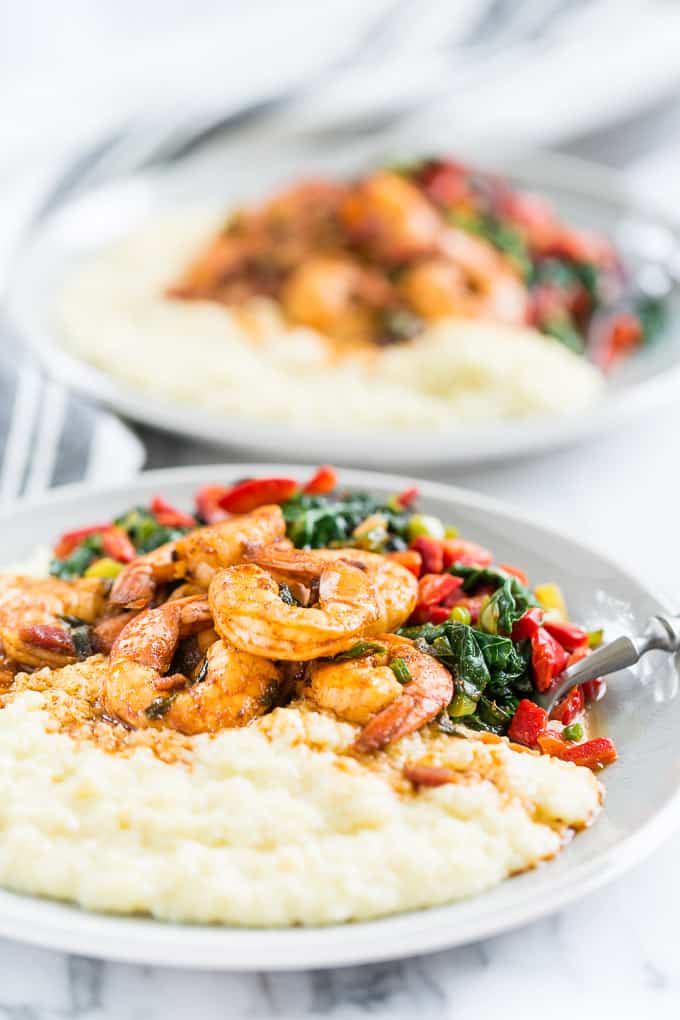 My sister taste tested this dish, and I could tell from the look on her face when I said the grits were made out of cauliflower, that she was more than a little skeptical. It only took a bite though before she said with a note of surprise in her voice, 'these are really good'.
So I hope if you're feeling a little skeptical too that you'll give these a try. Both Tyler and I aren't particularly fond of cauliflower. I mean it's alright but definitely nowhere near a favorite, and we're both crazy about these 'grits'. We're so crazy about them in fact, that I've made a few more batches of just the grits from this recipe, and served them for breakfast with over-easy eggs, (highly recommended).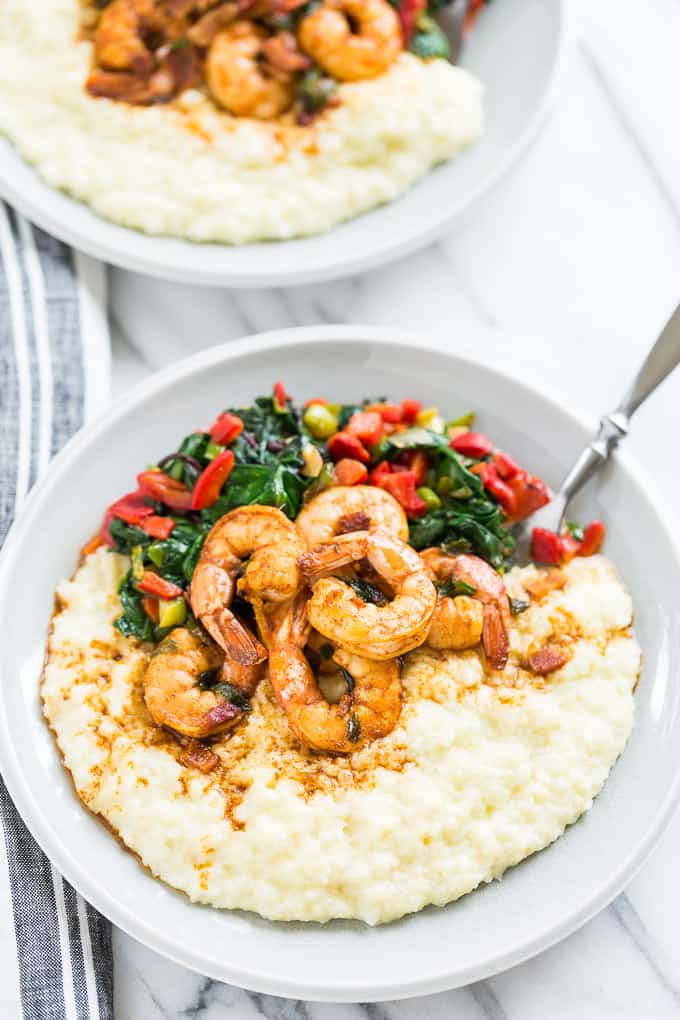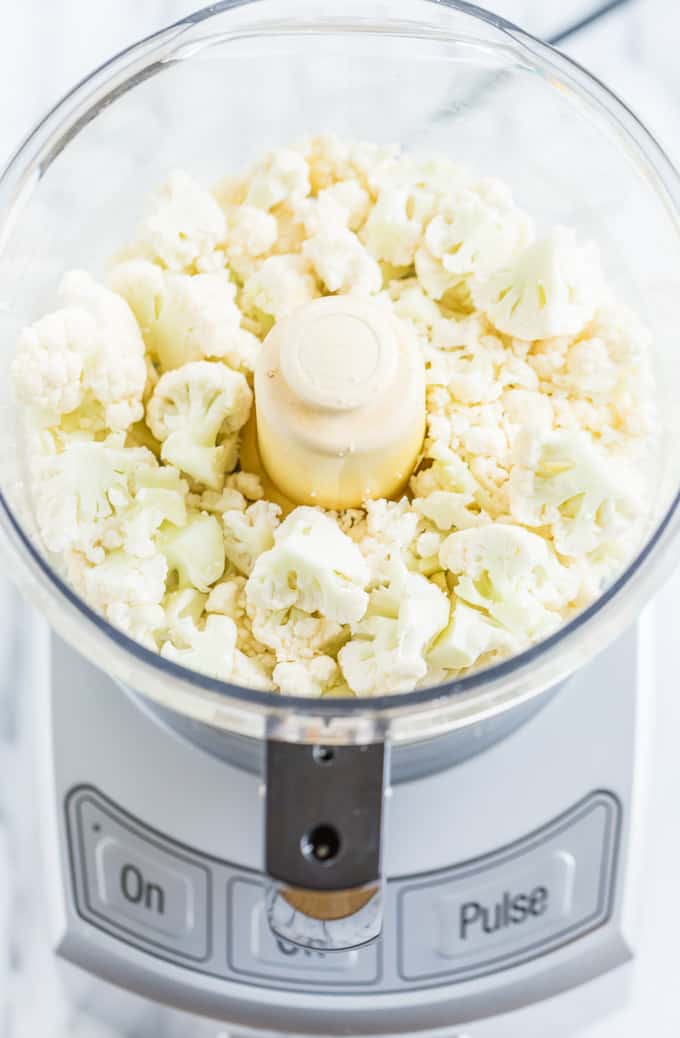 For the grits, I chopped the head of cauliflower into large chunks and put them in the food processor. You don't have to pre-chop them for a certain texture like you do for cauliflower rice, because you process them to a fairly fine texture for grits.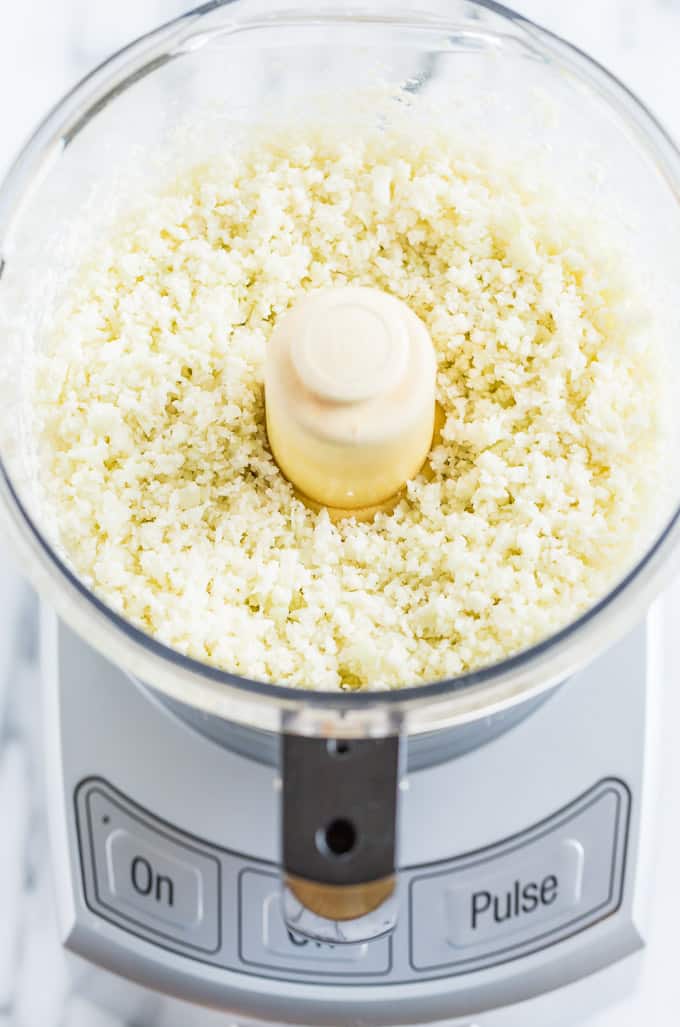 You can leave the cauliflower as chunky or smooth as you'd like, I prefer the texture to be smoother, so I process the cauliflower into very small bits.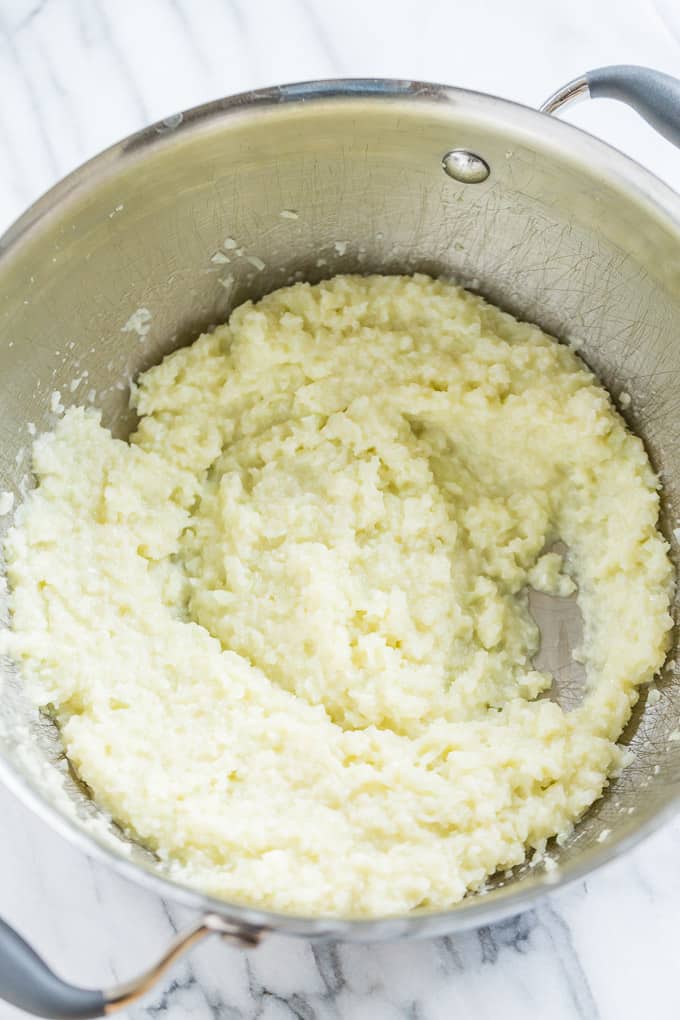 At the end of the cooking time, I add a small amount of tapioca starch to make that 'grit' like texture but you can leave it out if you'd like. Another addition that's really good is some grated aged cheddar. Although I did the first batch completely dairy free, and it was really good without any added cheese. I think where the cheddar flavor really shines, is when you serve the grits separate from the Cajun shrimp with something mildly flavored like eggs.
Another plus with these grits is that they can sit on a back burner over low heat while you make the greens and shrimp. I let mine sit on the burner an extra 10 minutes, stirring occasionally, and it doesn't change the texture at all.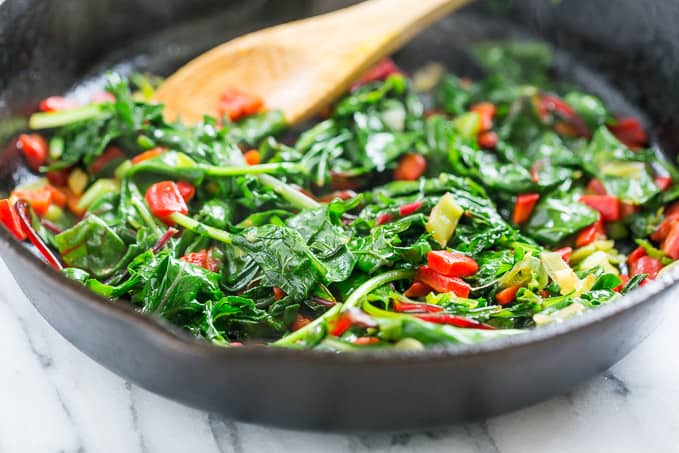 I sautéed the greens and the shrimp in the same pan but you can use 2 separate pans if you'd like. The greens only take a couple of minutes to cook, then I transferred them to a serving dish and kept them in a warm oven for the 3-4 minutes it takes to sauté the shrimp.
I wasn't sure when I started the process of making my own version of shrimp and grits at home, if it would be possible to remake my favorite without copious amounts of cheese and heavy cream, and still have it be satisfying.
I don't know where my preconceived notion comes from that healthy food won't be as tasty or satisfying, but it's definitely not true. I'm constantly having to challenge myself not to always reach for the cream and cheese when I want comfort food, because comfort food does exist even within the world of healthy!
Print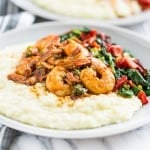 Cajun Shrimp and Cauliflower Grits with Greens
---
Cauliflower Grits:
1

head cauliflower, 1 1/2 pounds

2 Tablespoons

avocado oil

1 cup

coconut milk from the can

1/2 Teaspoon

sea salt, or to your taste

1 Tablespoon

tapioca starch, mixed together with 2 Tablespoons water
optional: 1/2 cup grated aged white cheddar
Sautéed Greens:
1 Tablespoon

avocado oil

4

green onions thinly sliced, reserve the top green part for the shrimp

4 cups

, 4 ounces mixed greens, I used Power Greens, a mix of beet greens, spinach, and baby kale

1

roasted red pepper, finely chopped (from the jar is perfect)
sea salt to taste
Cajun Shrimp:
2

strips bacon, thinly sliced into bacon bits
the reserved green part from the green onions in the sautéed greens

2 Teaspoons

Cajun seasoning, I used one without salt

1/2

pound peeled and deveined shrimp
sea salt to taste
---
Instructions
For the cauliflower grits, trim away the leaves and discard them. Cut the cauliflower florets away from the core, and place them into a 12-cup food processor. Process the cauliflower until it's finely textured with small bits.
Heat a pan over medium high heat, add the avocado oil and processed cauliflower. Sauté for 1-2 minutes, but don't brown the cauliflower. Lower the heat to low and add the coconut milk, cover the pan and simmer until the cauliflower is very soft, about 10 minutes.
While the cauliflower cooks, prep the ingredients for the rest of the recipe. When the cauliflower is done, season to taste with sea salt, and stir in the tapioca starch mixed with water. The grits will be creamy and thick at this point. Transfer them to a back burner and keep them over the lowest heat possible, stir them occasionally as you finish the recipe.
Heat a 9″ cast iron skillet over medium high heat, add the 1 tablespoon avocado oil and the white parts of the sliced green onions (the green tops are reserved for the shrimp). Sauté just until the onions soften, about 1 minute, and then add the greens and chopped red pepper. Cook just until the greens wilt and turn bright green, 2-3 minutes. Season the to taste with sea salt, and transfer them into a serving dish and keep them warm in the oven.
Return the skillet to the stove and add the sliced bacon, sauté until browned and crispy, 2-3 minutes. Then add the reserved green part of the green onions, Cajun Seasoning, and the shrimp. Sprinkle a small amount of sea salt over the shrimp, I used 1/4 teaspoon. If you have really lean bacon, you may need to add a teaspoon or so of oil to properly sauté the shrimp. Cook just until the the shrimp are done, this will depend on the size of shrimp you use. If you're unsure, just take one out of the pan and cut it in half to see if it's turned opaque in the center.
When the shrimp are done, you can add 1/4 cup water to the pan to create a bit of pan sauce if you'd like. Remove the shrimp from the pan immediately to keep them from overcooking and serve them with the cauliflower grits, and the sautéed greens.
Notes
The cooking time and prep time overlap making this a super comforting meal in 30 minutes or less!
Prep Time:

20 mins

Cook Time:

20 mins