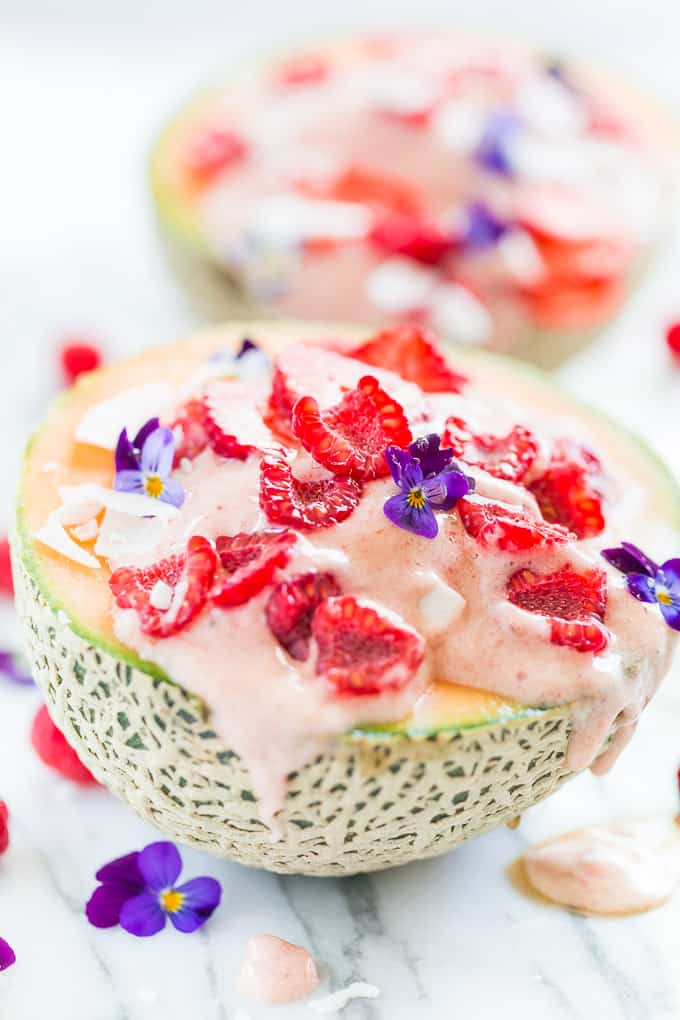 I was daydreaming about these Cantaloupe Bowls last week while walking on the beaches of Tofino, Vancouver Island. The sun was shining and there was sand beneath my toes for the first time in 4 years. The heat of the sun on my face had me wanting something frosty and refreshing, but since we were miles and miles from anywhere, daydreams had to suffice!
I don't know about you but I've been bitten by the summer bug, (the recent vacation only made it worse) and all plans of productivity have flown right out the window. Maybe that's not so bad because there's just so much living to do in during the summer months. I've been figuring the rest of life can wait until the long winter we'll most definitely be getting!
Along with those summer vibes, I always love simple summery recipes with easy prep, and lots of farm fresh produce. These Cantaloupe Bowls are super easy to make, and so refreshing that I find myself eating them for dinner sometimes when substantial food just seems like too much in the heat.
The term 'nice cream' is fairly new to me, but it just means a dairy free, egg free ice cream. It most often refers to a banana based 'ice cream' made in the food processor. Somewhere along the line, since it's not technically speaking 'ice cream' it was dubbed 'nice cream'.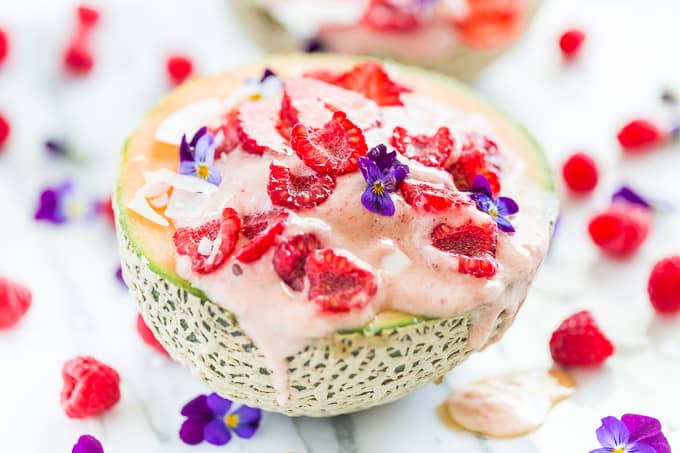 Nice creams are great because they satisfy my ice cream cravings without being overly heavy. They're completely made out of fruit which means no added sugar, which is always a bonus! In fact, out of the 32 recipes I put into my ice cream book, 5 of them are nice creams because we've gotten really hooked on them.
I like to slice up ripe bananas and freeze the slices on a lined cookie sheet before transferring them to a Ziplock bag. With pre-frozen banana slices, you're ready to go at a moments notice. In real life though when I'm overly busy and unorganized (read all too often); I tend to just peel my verging on over ripe bananas and place them straight into a bag, breaking them into chunks as I go. This method is definitely faster, but when you put bigger chunks into the food processor, it takes a few more times stopping the machine to break up the chunks.
Either way you'll have a gorgeous soft serve nice cream that you can eat on it's own, or like this inside a cantaloupe with extra toppings.
Print
Cantaloupe Nice Cream Bowls
---
1

cantaloupe, 3-4 pounds

2

ripe bananas, peeled, sliced and frozen, 8 ounces

1 cup

strawberries, hulled and quartered, fresh or frozen

1 Teaspoon

vanilla extract

1/4 Teaspoon

almond extract
Toppings:
2 cups

sliced fresh strawberries

1 cup

fresh raspberries

2

–

4

Tablespoons unsweetened shredded coconut
optional edible flowers for decoration
---
Instructions
Slice the cantaloupe in half, and scoop out the seeds. If you'd like smaller servings, slice the cantaloupe into quarters. Place each melon piece in a bowl and set aside.
Place the frozen banana slices into a food processor with the strawberries, vanilla extract, and almond extract. Process until the mixture gets stuck in the food processor. Stop the machine, scrape down the sides, and break up and big chunks. Continue processing and breaking up any chunks until the banana mixture turns creamy, and has the texture of soft serve.
Spoon the banana strawberry 'nice cream' into the cantaloupe halves or pieces, and add the toppings.
Serve immediately because nice cream melts quickly!
Notes
If you serve this as 2 servings, it pretty much makes a meal unless you can find super tiny melons and make half of the nice cream. 4 servings would be a pretty good sized snack or a large dessert portion.
You can also remove the melon from the rind and chop it into bite sized chunks. Then serve all the components of this recipe separately so that everyone can take as much as they'd like.