I've never been much of a snacker until recently. Even when I was a kid and had a voracious appetite I never really snacked, instead I ate meals in between my meals, (seriously I don't know how my parents were able to afford groceries for me)! These days with my appetite down to a tiny fraction of what it used to be, I find myself wanting just a 'little something' here an there to tide me through.
I've been seriously behind with the kale chip craze, but thanks to my mom's addiction to coconut chips, I might not be the last person on earth to try these out! From the start I was crazy about the flavor, and every pan I've made disappears before the next day, (on that note, you may want to hide some of these from your family after they come out of the oven if you want snacks for the future).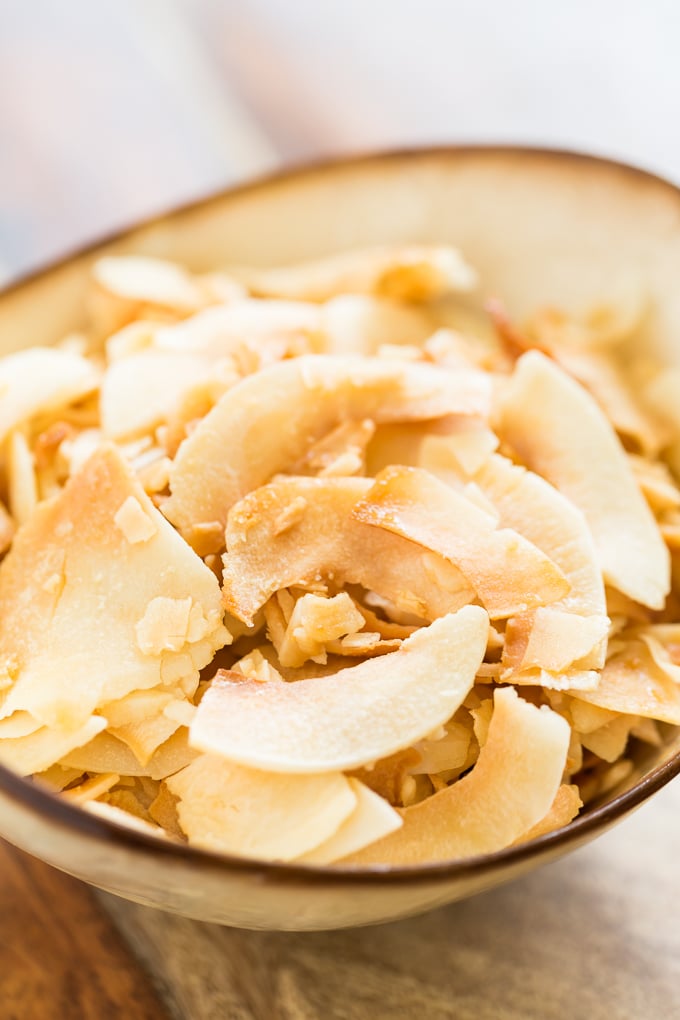 I use the 10 ounce packages of big flake coconut that I buy at Natural Grocers in the bulk section, but I've included the cup measurements as well in case you have another source.
This is definitely one of those recipes that's so simple it might not even be a recipe. The coconut gets a quick coat of maple syrup, vanilla, and sea salt – then it's baked, left in the oven to dry nice and crispy, and just like that you'll have a pan of addicting caramelized chips.
Since these have been such a hit in our house, I've been considering some other flavor options. My husband's favorite chip flavor is salt and pepper so that might work, but I was also thinking chili lime sounded really good as well! What's your favorite chip flavor?
Print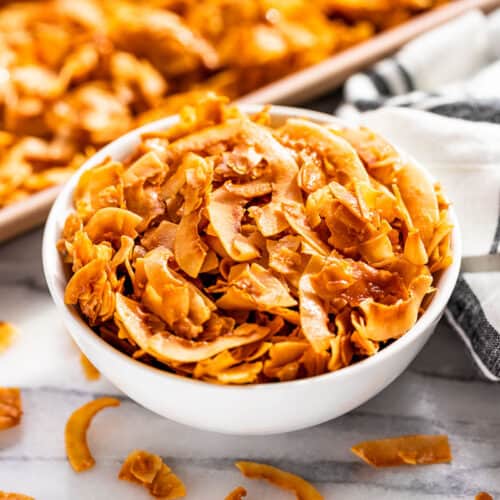 Caramelized Coconut Chips
---
1 – 10 ounce package big flake coconut, measuring

6

cups

1/3

cup

maple syrup, I used Grade A

1 Tablespoon

vanilla extract

1 Teaspoon

sea salt, or to taste
---
Instructions
Preheat the oven to 300ºF and line a baking sheet with parchment paper.
In a large bowl stir together the coconut, maple syrup, vanilla, and sea salt. Use a gentle hand while stirring so the coconut chips don't get broken.
Spread the coconut mixture in an even layer on the parchment lined baking sheet.
Place the baking sheet in the oven and bake for 15-20 minutes, stirring halfway through. When the coconut chips are starting to turn golden brown, between 15-20 minutes, turn the oven off and stir the coconut chips for the second time.
Shut the oven door after the second stirring and leave the coconut chips in the oven to cool down for 2 hours. This step really helps the chips get super crispy.
Remove the chips from the oven after the 2 hours is up, and let them cool completely on the counter before storing them in an airtight container.
Notes
I often make these right after dinner, and then just let them cool down with the oven overnight.
Prep Time:

5 mins

Cook Time:

20 mins