This recipe started with another impulse buy at the grocery store, I saw these beautifully plump figs just bursting at the seems, and I thought 'those are definitely coming home with me'! They caramelized so beautifully while roasting in the oven with the butternut that I almost put them on a bowl of Vanilla Bean Ice Cream, but I persevered with my original idea, and we ended up with a most comforting fall salad.
If you look closely at the edges of the figs in this salad, you'll see a lovely little ring of caramel around the edges which all happens naturally in the oven without any extra effort or added sugar. In fact, roasted figs are quickly becoming a thing around our house. Just add a small amount of vanilla or spices, and maybe a luscious spoonful of mascarpone cheese, and you've got a cheese course and incredible dessert in one!
I mean… really… how could you walk past these little beauties in the store, don't they just call to you?
The butternut in this recipe gets roasted for a few minutes before being pushed to the other end of the baking sheet to make room for the figs. You want to leave some space between each of the fig halves so they have space to caramelize. If you crowd them they will steam instead of caramelizing. You can also use 2 half sheet pans if you have them to keep things separate, but it really doesn't matter since it's all going in the same bowl after the roasting.
The dressing is my Creamy Pecan Vinaigrette from my Rosemary Chicken and Peach Salad. This dressing is unbelievable, it makes salad taste completely amazing, and I've even used it as a pasta sauce where I mixed it into cooked pasta with fresh veggies.
This dressing is super versatile, and you can swap out pecans for cashews, almonds, or macadamia nuts to change things up a bit.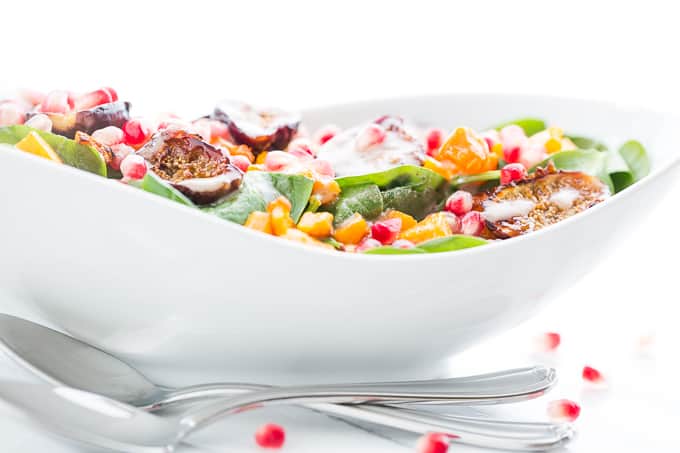 I know it's all things pumpkin right now, but I can't get enough of butternut squash, apples, and pomegranates. What's your favorite fall flavor that you'd like to see a recipe for?
This recipe is a great place to use up the bulb end that's leftover in a spiralizing recipe (see the 2 below). When you're making butternut noodles, you can only use the solid round end of the butternut. The leftover bulb end of the butternut is usually the perfect amount of squash for this salad.
Rosemary Chicken Ragu with Butternut Noodles
Roasted Butternut Noodles with Browned Butter, Prosciutto, and Sage
Print
Caramelized Roasted Fig Spinach Salad
---
1

pound of butternut squash, 1 really small one, or the bulb end leftover from spiralizing
avocado oil and sea salt

1 pint

or

16

ripe figs, 12 ounces, stems removed and cut in half

1 cup

pomegranate arils

12 ounces

spinach, 12 cups
Pecan Vinaigrette:
1/2 cup

toasted pecans

1/4 cup

apple cider vinegar

1

clove garlic, minced

1 Tablespoon

Dijon mustard

1 Tablespoon

maple syrup

1/2 Teaspoon

sea salt
freshly ground pepper, I used 1/4 Teaspoon

1 cup

avocado oil, or olive oil
---
Instructions
Preheat the oven to 475ºF and line a baking sheet with parchment paper.
Remove the ends from the squash and peel it. This is a great recipe to use up the bulb ends that are leftover from a spiralized butternut noodle recipe because they're often the perfect amount for a salad. Dice the squash up into 1/2″ cubes, and place them on the baking sheet. Drizzle with a small amount of avocado oil, (2-3 Teaspoons) and season with a sprinkling of sea salt.
Roast the squash for about 10 minutes or until it's beginning to soften. Remove the pan from the oven and push the squash to the end of the baking sheet to make room for the figs. Place the figs on the other half of the baking sheet flat side down, leaving a bit of space in between each fig.
Return the pan to the oven and roast until the figs are caramelized and softened, 10-15 minutes.
While everything is roasting prepare the dressing by placing everything but the avocado oil in the blender and blend until smooth. With the motor running on a low speed, slowly drizzle in the avocado oil increasing the speed to 4 or 5 on a Vitamix. When all the oil has been added, blend until the dressing is completely emulsified, and it's slightly thick and creamy.
Place the roasted butternut, caramelized figs, and pomegranate arils over the spinach in a serving bowl. Drizzle with some of the dressing and toss to combine, add dressing as needed until you have the right amount for your taste (there will be dressing leftover). Or you can serve the dressing on the side at the table.
Serve immediately.
Prep Time:

25 mins

Cook Time:

20 mins