This Chicken Salad is the best classic recipe made in the traditional way with grapes and toasted almonds. There's also a variation made with dried cranberries perfect for the winter months as well. It's naturally gluten-free, dairy-free, and paleo, and there are no mayo options available as well. It's a healthy chicken salad made with all real food ingredients, and perfect served over a bed of green for extra veggies!
Sweet juicy grapes, crunchy celery, and toasted almonds all combine together with the chicken and savory dressing to make the best chicken salad ever! I already have an Avocado Chicken Salad recipe on the blog which is super tasty. However the avocado doesn't keep as well, and so we definitely need the classic recipe here too.
It's one of those recipes that's super simple, and everyone loves it. It's elegant enough for things like bridal or baby showers. But it's also great packed along for work lunches or taken on a weekend picnic.
And it makes a wonderful light dinner that won't leave you hungry. We especially love this recipe in the heat of summer when you don't feel like eating anything hot!
Ingredients & Substitutions for the Best Classic Chicken Salad
Chicken – Chicken breasts are traditional, but we like using either chicken breasts or chicken thighs. I took a slight departure from the classic recipe and roasted the chicken which provides more flavor than the traditional way of poaching it. If you can find chicken breasts with bone and skin, they will be the best for this recipe. Roasting the chicken with the skin on keeps the breast meat perfectly moist. But no worries if you have boneless skinless, just keep an eye on them so they don't overcook, and you'll be fine.
Green onions – provide a lot of savory flavors here and the perfect amount of onion flavor without being overwhelming. I also love using chives when I have them in my herb garden for an even more subtle flavor.
Celery – provides both crunch and flavor along with being another veggie added to your meal.
Grapes – cut in half to make for a more bite-sized amount are the perfect sweet pairing to this savory dish. For the fall and winter months, we like to use fruit juice-sweetened cranberries when grapes aren't in season.
Avocado Mayonnaise – is my favorite here, and you'll find the link to my homemade version in the recipe. You can use any mayo you'd like here or you can substitute some or all of the mayo for Greek yogurt. Check out the substitutions below for the 'no mayo' options.
Dijon mustard – Combines with the mayo to make up the base of the dressing.
Lemon juice – adds a bright spot to the dressing and keeps it from tasting heavy or bland.
Fresh herbs – my favorites in order are basil, tarragon, and fresh dill. Basil has a tendency to turn brown after a day or two in the fridge, but tarragon and dill keep well. I really love all 3, but I just can't get enough of basil during the summer. Tarragon isn't always available, but it's phenomenal in chicken salad as is dill which is more readily available. And you can always use your extra dill from the bunch to make my Easy Blender Ranch Dressing.
Sliced almonds – toasted to a light golden brown add a nice flavor and lovely crunch to this salad. You can also use any toasted nut like pecans, walnuts, cashews, or even pumpkin seeds that you like here, I can't think of a bad pairing with this salad.
Now let's make this recipe step by step
Step 1: Start by roasting your chicken first so it has time to cool. You can see here I only had boneless skinless chicken breasts here and the meat was still perfectly juicy. It's just that chicken breasts with bone and skin are more forgiving and less prone to be dry.
Step 2: While the chicken is cooking, mix together all the ingredients for the dressing.
Step 3: Then finely dice the celery, halve the grapes, and thinly slice the green onions.
You can also use chopped dried cranberries in place of grapes when they're not in season.
Step 4:When the chicken is done and cool enough to handle, chop the chicken into small bite-sized pieces.
Step 5: Add the chicken to a medium-sized mixing bowl along with the dressing, celery, green onions, and fresh herbs.
Mix to combine. You can refrigerate the chicken salad at this point, then add the grapes right before serving for the best result. The grapes will shed their juices as they sit so I think this salad is at its best when the grapes are added close to serving.
Step 6: Finally, stir in the grapes and season to taste with sea salt and pepper.
Tip: Allow the chicken salad to set in the fridge for 20-30 minutes before serving if you can to allow the flavors to develop.
Ways to serve this
Our favorite way to eat this is over a pile of mixed greens, chopped up lettuce, and spinach and arugula are great too. You can also use full lettuce leaves to make lettuce wraps with this chicken salad.
It's also really tasty rolled into a wrap with mixed greens. A local coffee shop where I live serves a chicken salad wrap like I described above with blue cheese dressing in place of the mayo dressing and it's incredible as well!
Make it into a chicken salad sandwich with or without greens.
You can serve this as a snack like my 3 Quick and Easy Apple Slice Snacks. Slice the apple in circles, and use a small round cutter to remove the core, then pile on some of this chicken salad.
FAQ's
What can I use instead of mayonnaise in chicken salad?
1. Use your favorite Greek yogurt in place of some or all of the mayo. I find the best results are to replace just half of the mayo with yogurt so it's still perfectly creamy. However, this chicken salad is still super good, just a touch lighter with a yogurt-only dressing.
2. Use a vinaigrette dressing in place of the classic creamy one. Try my Lemon Vinaigrette, 2-Ingredient Balsamic, or Basil Vinaigrette. Any of these options will work perfectly here.
3. If you detest mayo, (I didn't used to be a huge fan) try making homemade mayo. Both Tyler and I weren't exactly crazy about mayo before I started making it from scratch. It takes just minutes in the blender and tastes amazing. You can follow my Sriracha Mayo recipe but be sure to leave out the sriracha to make plain mayo and you can omit the garlic as well!
Why is my chicken salad dry?
Overcooked chicken is the biggest problem with a dry chicken salad. This recipe has the perfect amount of dressing for a moist chicken salad that doesn't dry out in the fridge. But the dressing cannot overcome the problems of sawdust dry chicken.
If you struggle with cooking chicken breasts, I recommend trying bone-in and skin-on because it's more forgiving. Also, a meat thermometer can be a huge help so you know the chicken is done without the risk of overcooking it.
What if it's too hot to turn on the oven?
Grill the chicken! I never roast the chicken for this salad in the oven during July or August. Instead, I fire up the grill and avoid heating up the house. I think you'll find you love the flavor of grilled chicken in this classic recipe too.
Storing leftovers
To store – any leftovers into an airtight container and store in the refrigerator for 3-4 days.
Make ahead – this salad keeps well with the sliced almonds kept to the side. The grapes will also shed some juices as the salad sits so you can keep them out as well until you're ready to serve this chicken salad.
To freeze – Chicken salad doesn't freeze well. But one thing I like to do to prep chicken salad ahead is to cook and freeze the chicken. Then you're most of the way there to making a chicken salad at a moment's notice.
Tips & Tricks
To make this ahead for meal prep, I definitely recommend keeping the almonds separate and adding them as you eat the salad for the best crunch. If you're using basil, it's best to add it as you eat the salad too because it has a tendency to turn brown after 2 days. When I meal prep this, I like to use dill which keeps the best in my opinion.
Use leftover chopped rotisserie chicken if you have it on hand or leftover chicken from any recipe like my Roast Chicken and Vegetables.
Mix up the dressing by adding 50/50 Greek yogurt to the mayo. Or try this chicken salad with my Basil Vinaigrette or Lemon Vinaigrette for a lighter and fresher flavor.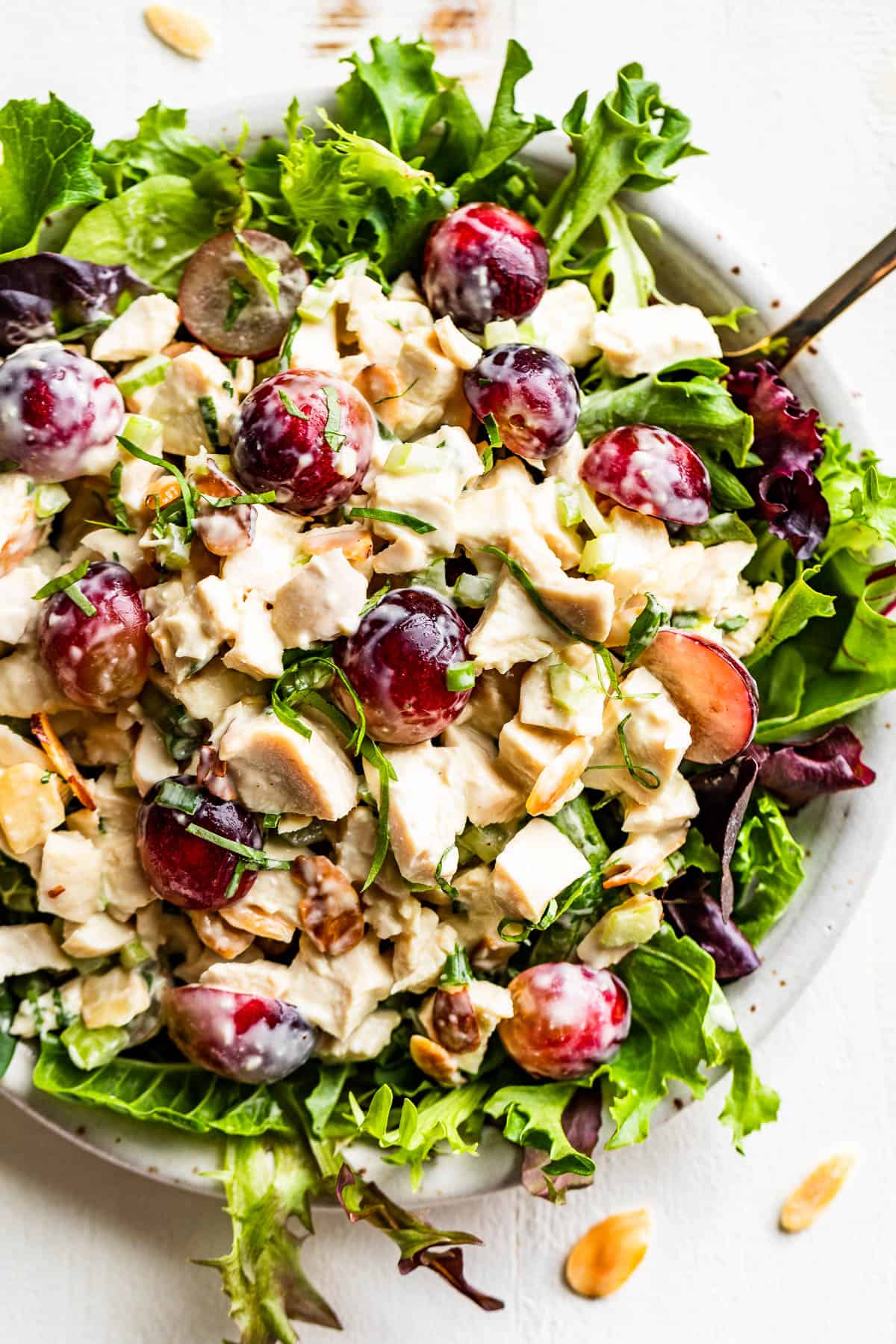 I really hope you enjoy this Best Classic Chicken Salad! And if you do get a chance to make it, I hope you'll leave me a comment/rating below. I always love hearing from you here! Also for lots more salad recipes, head over to the recipe index.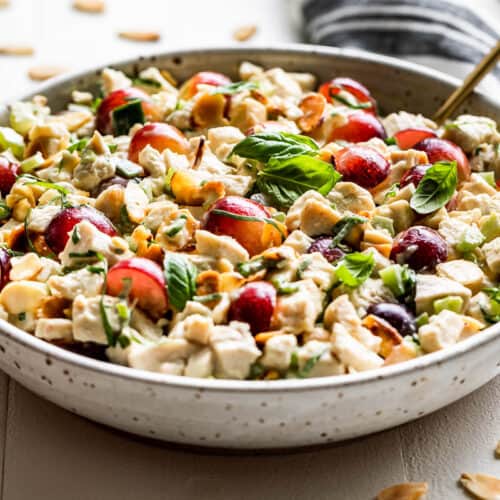 Best Classic Chicken Salad
---
INGREDIENTS
2

pounds

boneless skinless chicken breasts

-

or 4 bone in skin on chicken breasts, 4-5 cups chopped cooked chicken

1

cup

avocado oil mayonnaise

-

or mayo of your choice

2

tbsp

Dijon mustard

3

tbsp

freshly squeezed lemon juice

-

from 1 lemon

1/2

tsp

sea salt

-

add more or less to taste

1/4

tsp

black pepper

-

add more or less to taste

1

cup

finely diced celery

1/2

cup

thinly sliced green onions

2

tbsp

chopped fresh basil

-

tarragon, or dill

2

cups

halved red grapes

-

10 ounces, or 1/2 cup roughly chopped dried cranberries

1/3

cup

toasted sliced almonds

-

or other nuts of choice, see notes
INSTRUCTIONS
Preheat the oven to 350ºF and toast the sliced almonds 6-10 minutes or until golden brown. Increase the oven temperature to 400ºF.

Place the chicken on a parchment lined baking sheet and roast until the chicken is done in the center, or a thermometer reads 165ºF. Boneless skinless will take about 20-25 minutes, and bone in will take about 40 minutes.

When the chicken is done set it aside until it's cool enough to chop.

Meanwhile mix together the mayonnaise, Dijon mustard, and lemon juice. Add salt and pepper, and mix to combine. 

Chop the slightly cooled chicken into small bite sized pieces and place it into a medium sized mixing bowl. Add the celery, green onions, and herbs along with the dressing. Tossing the dressing with the warm chicken helps the flavors to develop and the whole salad is tastier.

Mix to combine, then season to taste with more salt and pepper if needed. Then stir in the grapes and toasted almonds if you're eating the whole salad right away. If you know you'll be storing part of the chicken salad, serve the almonds separately.

Allow the chicken salad to sit in the fridge for 20-30 minutes if you have time to allow the flavors to develop, then serve.
Bonus Step
If you made this recipe, please leave a rating/comment. Ratings really help us continue to bring you high-quality free recipes. Rate This Recipe!
NOTES
I like to toast my sliced almonds by placing them in a cast iron skillet in a thin single layer. Then toast them in a 350ºF oven until lightly golden brown, 6-10 minutes. You can also toast them over medium-low heat on the stove top, but you'll need to stir them often to toast evenly and not burn.
nutrition facts
Calories:
375
kcal
|
Carbohydrates:
9
g
|
Protein:
26
g
|
Fat:
26
g
|
Saturated Fat:
4
g
|
Polyunsaturated Fat:
14
g
|
Monounsaturated Fat:
7
g
|
Trans Fat:
0.1
g
|
Cholesterol:
84
mg
|
Sodium:
508
mg
|
Potassium:
589
mg
|
Fiber:
1
g
|
Sugar:
7
g
|
Vitamin A:
226
IU
|
Vitamin C:
6
mg
|
Calcium:
35
mg
|
Iron:
1
mg