These Chocolate Chunk Salted Caramel No Bake Cookies couldn't be easier to make, and everyone absolutely loves them! They're the perfect allergy friendly treat to make for pretty much every occasion. And even better, you can make them ahead, and freeze them as well!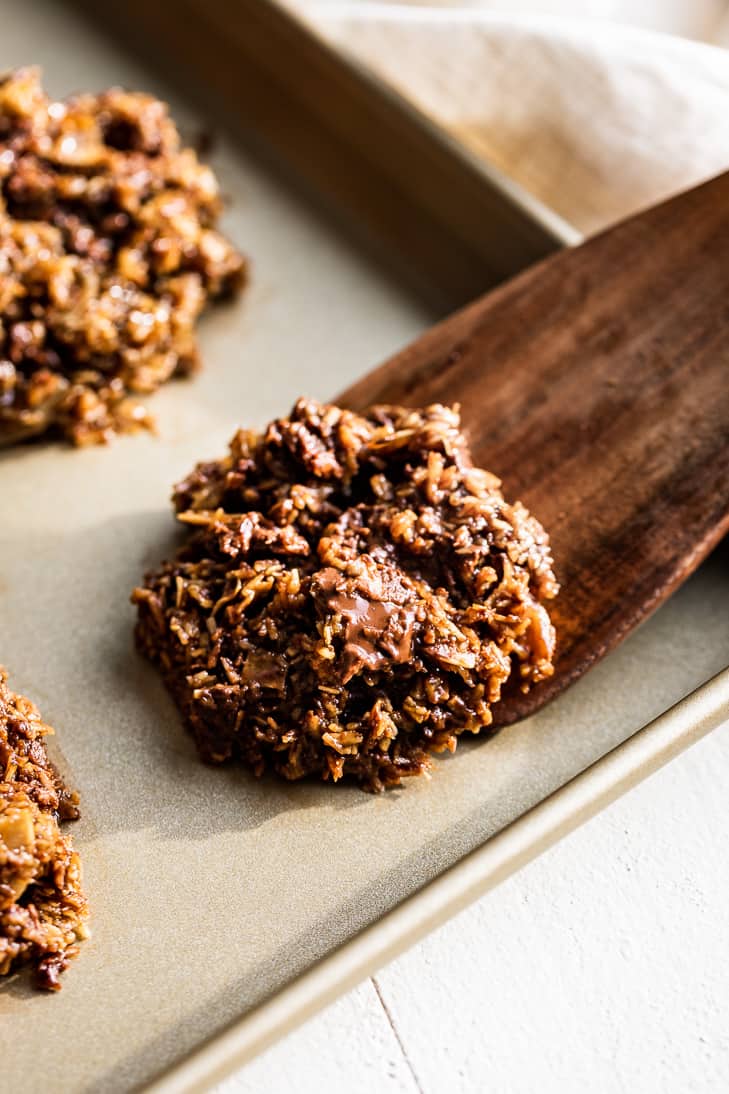 Oh wow! That was what I heard after a friend took her first bite of these cookies. So if find yourself in need of a 'go-to' dessert this is a good one. It's really allergy friendly, (since it's gluten free, dairy free, egg free, nut free, paleo & vegan).
But you're not going to feel like these are a 'health food dessert' if you know what I mean. In fact, fights have actually been know to break out over these cookies! Friendly fights of course, but nonetheless you've been warned, these will go fast. And everyone will probably beg you to make some more.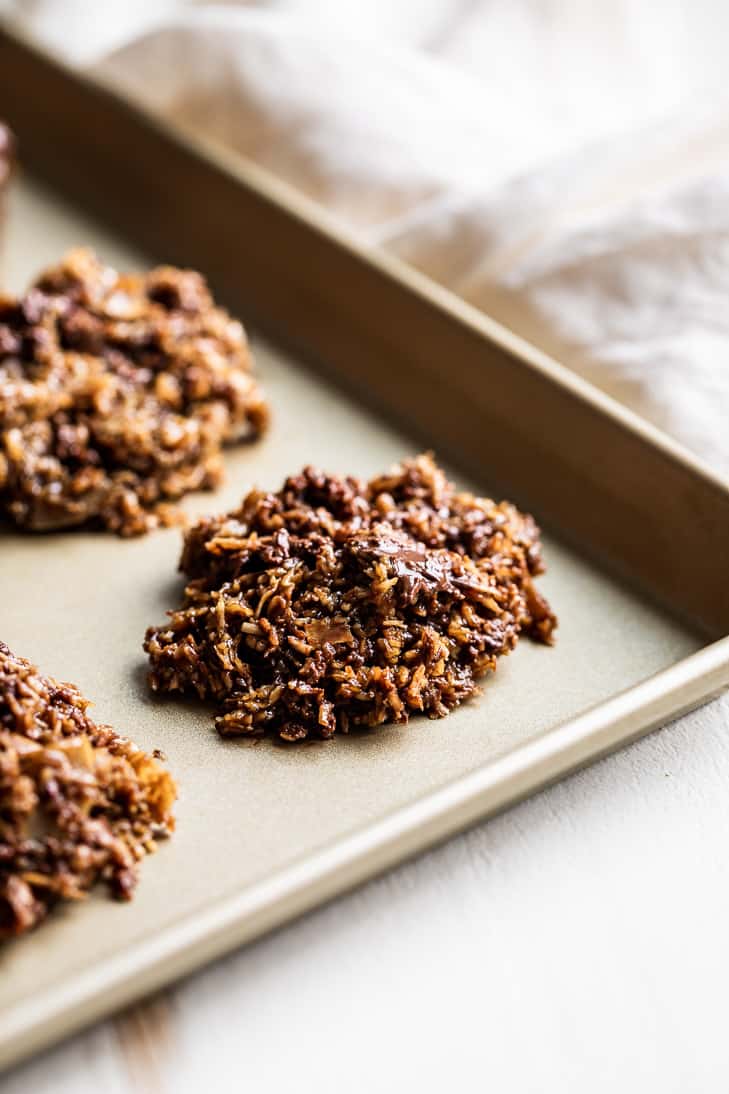 Recipe Inspiration: When I made my Healthier No-Bake Cookies, I wondered what would happened if I left out the cocoa powder and turned them to a caramel version. So… here we are with a caramel version! And (dare I say it?) are better than the originals because chocolate + caramel = better than just chocolate!
Ok… let's jump in and talk about the ingredients for these Chocolate Chunk Salted Caramel No Bake Cookies!
Coconut sugar – is the perfect natural sweetener for these cookies because it tastes like caramel when it's boiled together with the coconut oil and coconut milk.
Coconut oil – if my preferred dairy free substitute for the butter called for in the classic recipe. But you can definitely use butter as well, (see substitutions below).
Sea salt – Just a touch of sea salt is so important to the flavor of the caramel base of these cookies. And if you want to go one step further, try a sprinkling of flaked sea salt over the tops of these cookies!
Coconut milk – is my favorite milk to use in these cookies. I use coconut milk from the can for the richest flavor. But you can also use coconut milk or almond milk from the carton as well as regular milk.
Vanilla – just rounds out the caramel flavor and enhances the whole cookie!
Big flake coconut – Both coconuts used in this recipe are unsweetened. This is important since we're folding the coconut flakes into caramel. Sweetened coconut would be way too sweet! I use a bit of big flake coconut to add a nice texture to these cookies, but you can use just fine shred as well.
Fine shred coconut – unsweetened finely shredded coconut is what makes up the bulk of these cookies. It takes the place of oats from the classic recipe, and it's what makes these cookies grain free and paleo. However feel free to use the optional oats instead. Or you can use a mixture of both if you'd like!
Chocolate chunks – for the chocolate chunks you can roughly chop up a chocolate bar. Or I've been using the chocolate chunks from Enjoy Life and it's what you see pictured below. Be sure to check the labels on whatever you choose to use for chocolate if you have dietary concerns. Not all chocolate is dairy free, nut free, or vegan.
Nut butter or chopped nuts – These are entirely optional, and honestly most times I leave them out. But once in a while we really enjoy adding a few chopped roasted pecans, walnuts, or cashews. Also any kind of nut butter is delicious in these cookies, but my favorites are cashew butter followed by almond butter. I have tried peanut butter in these, but the flavor overwhelms the caramel in my opinion. That's why we choose to go nut free with these cookies most of the time – more caramel flavor!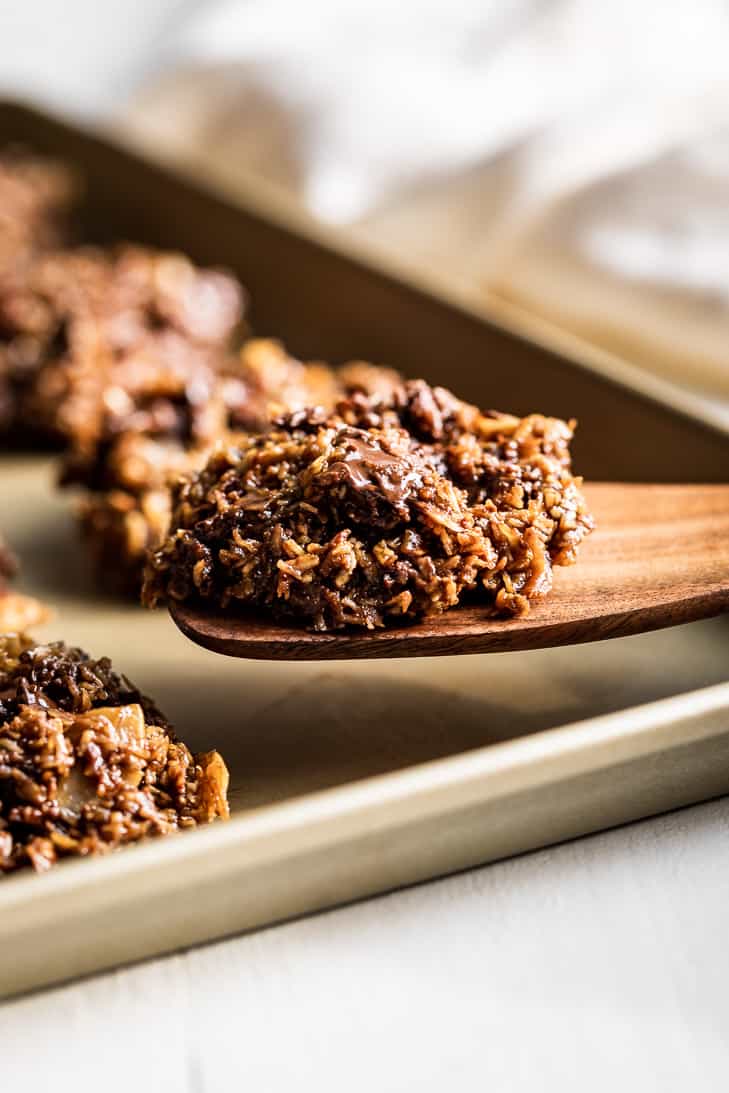 And some questions & substitutions!
What if I'm allergic to coconut? You can make this recipe just like a classic no bake cookie recipe using the milk of your choice, butter, and brown sugar. Then use the oats listed as an option in the recipe in place of the coconut flakes. That way there's no coconut at all!
Can I use a different kind of milk? Yes for sure, I know that regular milk and almond milk work.
What if I don't like coconut? I would follow the instructions for how to make this if you're allergic to coconut, (see above). But I would recommend using coconut sugar if you're not allergic because it gives the best caramel flavor to these cookies. These do taste like coconut as written. So if you're not a fan, I would recommend using the milk of your choice, coconut sugar, butter subbed in for the coconut oil, and oats in place of the coconut flakes.
Now let's make these Chocolate Chunk Salted Caramel Cookies step by step!
Steps 1 & 2:
We're going to start by measuring out all the ingredients.
Next we'll boil the sugar, coconut oil, and coconut milk together to form a caramel base.
Steps 3 & 4:
Once the caramel mixture has boiled for 2 minutes, add the coconut flakes or rolled oats. Mix to combine over low heat and allow the caramel to absorb.
Finally add the chocolate chunks and mix just to combine. You don't want to over mix or the chocolate chunks won't remain separate. Then portion the cookies out onto a cookie sheet and allow them to set up for 3-4 hours.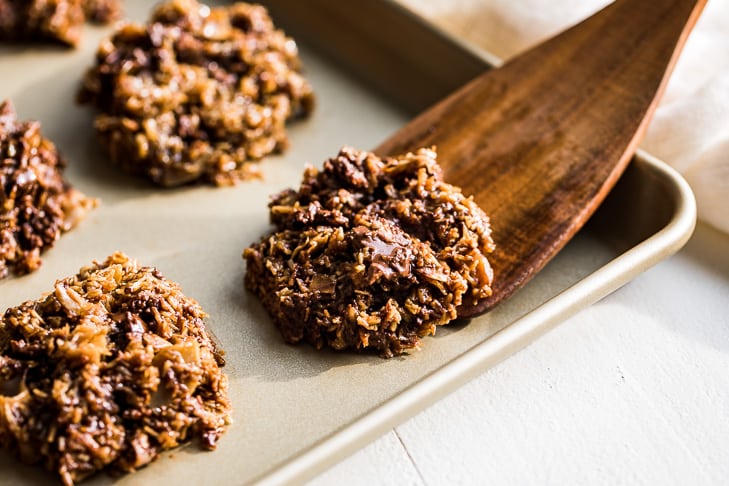 Tips: These cookies take longer to set up than the classic no bakes at around 3-4 hours. But you don't have to wait, dive right in while they're warm and gooey. Or you can even use the warm cookie mixture as an ice cream topping!
Finally some more cookie recipe inspiration!
And I sure hope you enjoy these Chocolate Chunk Salted Caramel No Bake Cookies. If you do get a chance to make them, I hope you'll leave me a comment/rating below. I always love hearing from you here!
Print
Chocolate Chunk Salted Caramel No-Bake Cookies
---
Description
The classic no bakes made caramel with gooey chunks of chocolate throughout!
---
1 1/2 cups coconut sugar
1/2 cup coconut oil
1/2 cup coconut milk, (from the can)
2 Teaspoons vanilla extract
1/4 Teaspoon sea salt
2 1/2 cups finely shredded coconut
1 cup big flake coconut
2/3 cup dark chocolate chunks
Optional: 1/2 cup almond or cashew butter
---
Instructions
In a large saucepan, combine the coconut sugar, coconut oil, and coconut milk. Bring the mixture to a boil, and boil for 2 minutes until the caramel thickens. Stirring occasionally to keep the mixture from sticking.
Remove the caramel from the heat and add the vanilla, sea salt, and coconut or oats. Stir to combine. If you're using the almond or cashew butter, mix it in thoroughly.
Finally, add the chocolate chunks and combine, stirring as little as possible to keep the chunks intact.
Portion the cookies on a parchment lined or non-stick baking sheet and let cool.
This version of no-bakes takes a full 3-4 hours to fully set up, but you don't have to wait that long because they're really good warm and gooey.
Notes
To keep this recipe 100% dairy free, vegan, and allergy friendly check the label on your choice of chocolate. 
Prep Time:

5 mins

Cook Time:

5 mins

Category:

Dessert

Method:

Stove Top

Cuisine:

American
Keywords: Caramel No Bake Cookies, No Bake Cookies Caramel, Coconut and Caramel No Bakes, Non Chocolate No Bake Cookies
This post was originally published on October 25, 2013 and was updated in 2021 with more information, nutritional facts, and new photos.