This recipe for Chocolate Raspberry Candy is simple, and can be made ahead of time as well. A creamy raspberry filling is sandwiched between two layers of semi-sweet chocolate with a sprinkling of freeze dried raspberries on top for an extra hit of flavor. It's definitely decadent, but it's also made healthier with whole food ingredients. It's gluten free, dairy free, vegan, and paleo friendly as well.
This recipe is inspired by my love of the classic peanut butter cups. There's just something about that combo, and the soft filling sandwiched between 2 layers of chocolate! Both Tyler and I love chocolate and raspberry together, so it only seemed natural to create a candy with that addictive combo.
As it turns out, the peanut butter cup shape works perfectly for all sorts of yummy creations like this chocolate raspberry one! These lovely little candies are made just like peanut butter cups, so they're pretty easy to make.
There's no candy thermometer or anything like that involved. Simply melt some chocolate to coat the bottom of muffin cup liners, add the filling, then top with more chocolate. From there it's all chocolate bliss!
These also make wonderful gifts because you can make them ahead and store them in either the fridge or the freezer. From a simple desserts for dinner parties right through holidays like Valentine's Day, these are sure to please!
Ingredients & Substitutions
Chocolate chips – I use semi-sweet chocolate chips here because they have the best texture. Dark chocolate can be tricky to work with, so I don't recommend it here. For allergy friendly chocolate chips, try Enjoy Life. They also taste amazing, and even the semi-sweet chips have a nice dark chocolate flavor.
Coconut oil – goes in with the chocolate chips to soften the chocolate. But it also goes in the filling to create the ultra silky smooth texture.
Frozen raspberries – work perfectly here because you're cooking them into a sauce. There's no need to pay for fresh berries in this case!
Tapioca starch – thickens the raspberry sauce and works with the coconut oil to make just the right texture.
Maple syrup – Grade A amber with it's light maple flavor makes the perfect natural sweetener for the filling.
Vanilla & almond extracts – just a touch of both really elevates the filling. The almond extract is very subtle, no obvious flavor. But if you really don't like it, you can leave it out. It's only there to enhance, not overpower the raspberries.
Freeze dried raspberries – are optional, but they look and taste great on top of these candies.
How to make this Chocolate Raspberry Candy recipe step by step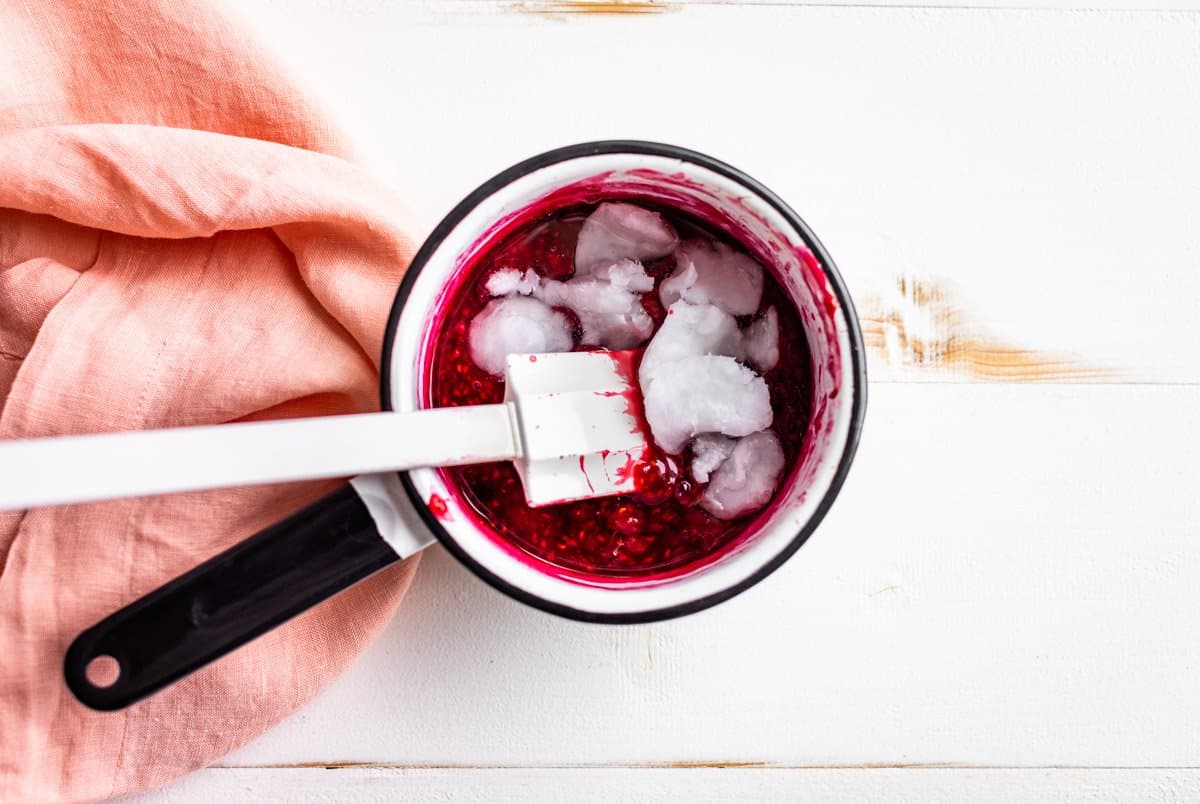 Step 1: Start by making the raspberry sauce, then add the coconut oil.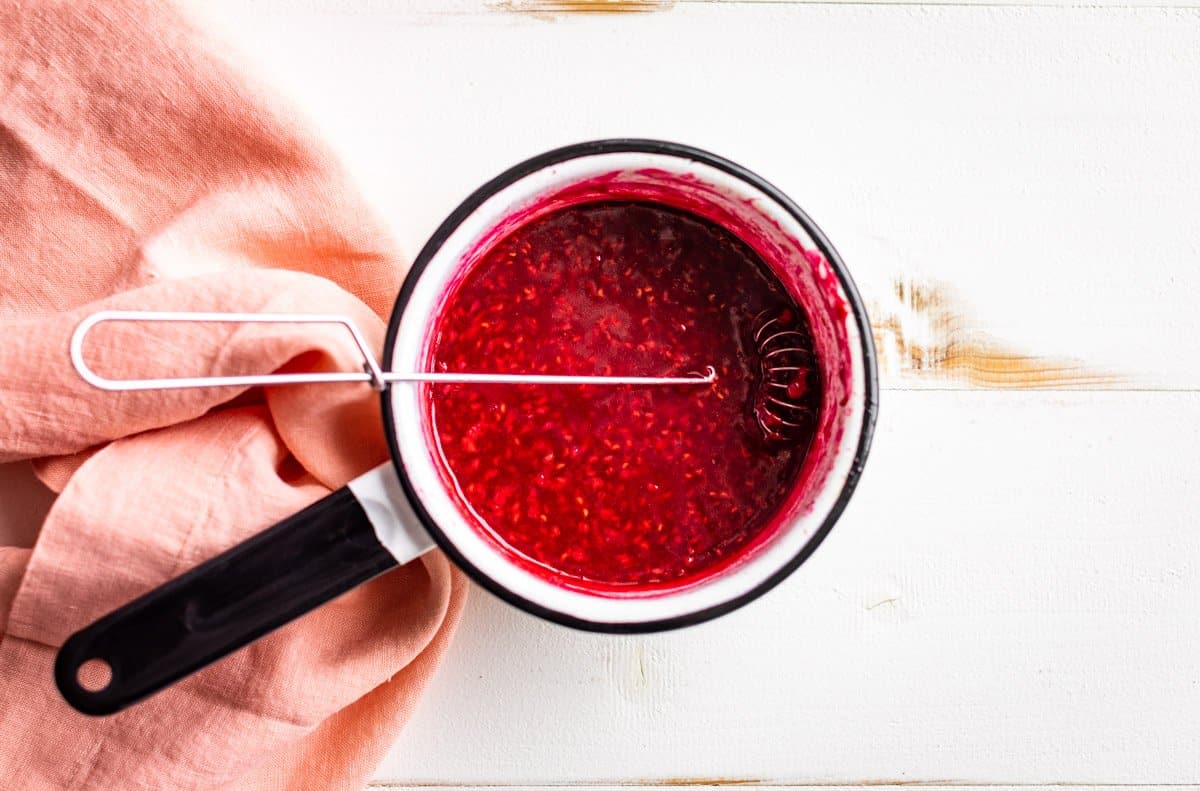 Step 2: Carefully whisk in the coconut oil until it's mostly combined, then strain the raspberry sauce through a fine mesh sieve to remove all raspberry seeds. Let the sauce cool to room temperature.
Important Note! The raspberry sauce will be very thick, and have an almost unpleasant tapioca texture. Don't worry this will disappear after blending! The super thick texture is needed to make sure the final filling sets up, so don't worry if it looks gloppy, the magic happens in the blender!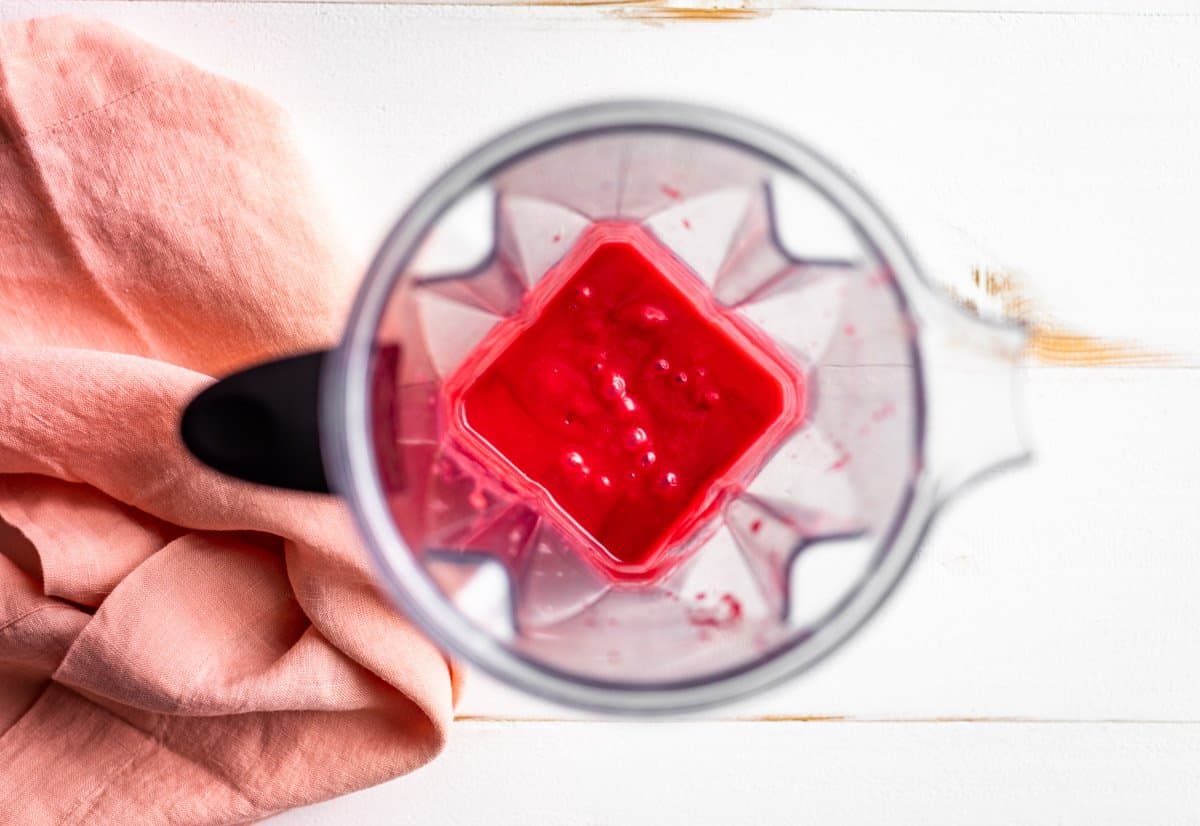 Step 3: Place the cooled and strained filling into a blender and blend until smooth. Then place in the refrigerator. This is where the magic happens in the filling. It goes from unpleasantly thick, to silky smooth, then ultra creamy once chilled.
Step 4: While the filling chills, melt the chocolate over low heat stirring constantly. You can also use a double boiler as called for in the recipe to make sure the chocolate doesn't get too hot. It's important to keep the heat low because chocolate becomes grainy when it's overheated.
Step 5: Next spoon a bit of the melted chocolate into a muffin cup liner. Then tilt the muffin cup liner to coat the bottom of the paper and about 1/2″ up the sides. Set each muffin cup into a muffin tin, then chill 10 minutes or so until set.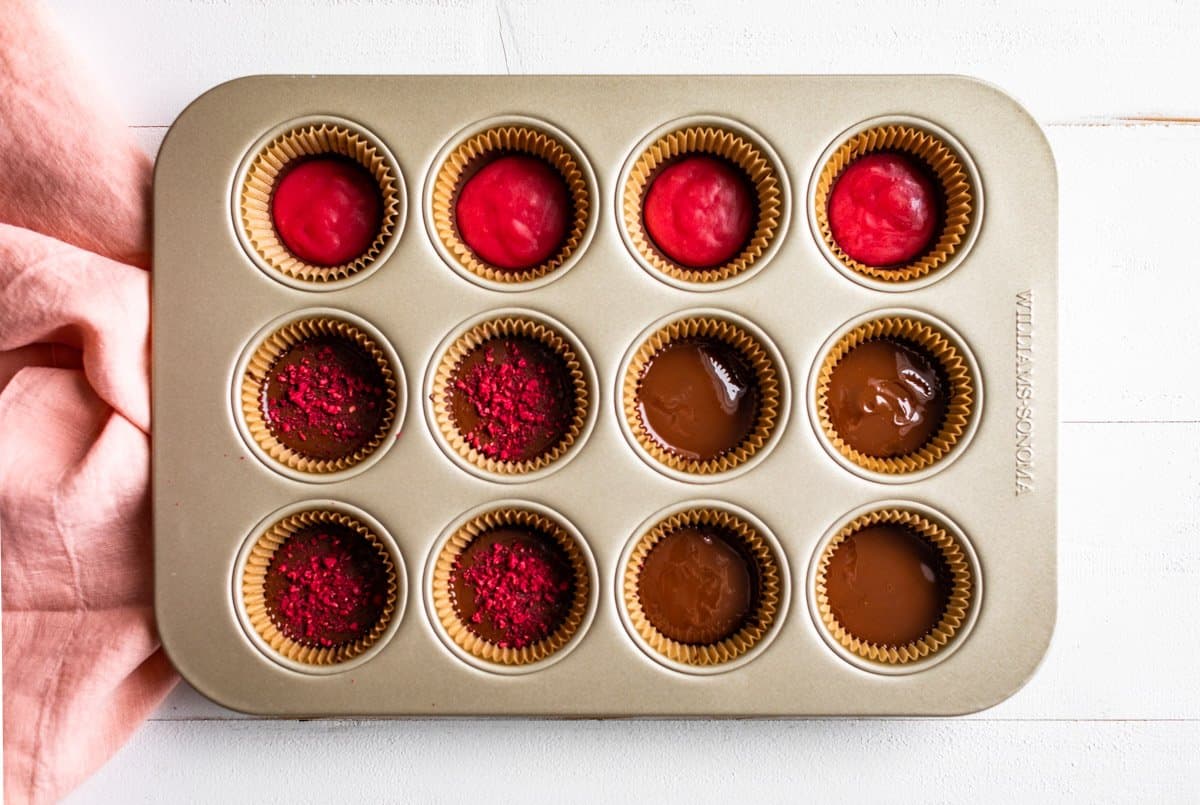 Step 6: Then add the filling to each muffin cup liner, and top with the remaining chocolate, tilting the cups to evenly coat the tops. Sprinkle the top of each chocolate with a pinch of crushed freeze dried raspberries.
Finally chill again until thoroughly set, 2-3 hours, then remove the paper wrappers and place into a sealed container.
Ways to serve this Chocolate Raspberry Candy
Try them as a Valentine's Day dessert after my Cheese Board Date for 2.
Serve these as 'after dinner chocolates' for any dinner party.
Pick one of my 15 Easy and Affordable Date Nights and take these for dessert if you have something fun in nature planned. Or have them for dessert if you cook dinner together. They're the perfect date night option because they're make ahead!
FAQ's
Can I use dark chocolate or milk chocolate instead?
I don't recommend either because dark chocolate is too tricky to work with in this case. It can easily become grainy, and it's texture is too hard in relation to the creamy raspberry filling.
Can I use milk chocolate here?
Again I don't recommend it simply because it's a bit too soft. You would need less coconut oil for sure, but I have tested amounts. The semi-sweet chocolate chips are the perfect pairing for the raspberry filling.
Storing leftovers
To store – place the candies into an airtight sealed container in the fridge for up to 1 week. These cannot be stored at room temperature because of the fruit filling, but you can bring them up to room temperature 1-2 hours before serving.
To freeze – place the candies into a sealed container and freeze for up to 3 months.
Tips & Tricks
Be very careful not to overheat the chocolate. It will become grainy and is ruined if this happens. I don't know of any way to fix it, so a few minutes of attention while constantly stirring is worth it!
As I mentioned above, don't worry about the super thick gloppy texture of the filling! This will change as it's blended and chilled. The final result is silky smooth and creamy just like the photos.
More Chocolate Raspberry Recipe Inspiration
I really hope you enjoy this Chocolate Raspberry Candy! If you do get a chance to make this recipe, I'd love to hear from you in the comments.
Print
Chocolate Raspberry Candy
---
Author:

Kari Peters

Total Time:

1 hour

Yield:

16

candy cups

1

x

Diet:

Gluten Free
Description
This recipe for Chocolate Raspberry Candy is simple and can be made ahead of time as well.A creamy raspberry filling is sandwiched between two layers of semi-sweet chocolate with a sprinkling of freeze dried raspberries on top for an extra flavor hit. It's definitely decadent, but it's also made healthier with whole food ingredients. It's gluten free, dairy free, vegan, and paleo friendly as well.
---
Raspberry Cream Filling:
1/4 cup maple syrup, Grade A amber for lightest flavor
1 Tablespoon tapioca starch
1 1/2 cups frozen raspberries, 5 ounces
1/2 Teaspoon almond extract
1 Teaspoon vanilla extract
1/2 cup room temperature coconut oil
Chocolate Candy Cup Shells:
2 cups semi-sweet chocolate chips, I use the Enjoy Life brand which is free of most allergens
1 Tablespoon room temperature coconut oil
Optional: 2 Tablespoons crushed freeze dried raspberries for topping
---
Instructions
In a medium sized saucepan, whisk together the maple syrup and tapioca starch until no lumps remain. Then add the frozen raspberries, and place the saucepan over medium high heat.
Cook, stirring constantly until the sauce has thickened. Then remove the raspberry sauce from the heat and whisk in the almond extract and vanilla extract. Carefully whisk in the oil, but don't worry if it doesn't completely combine.
Strain the raspberry sauce through a fine mesh sieve, and let the seedless raspberry sauce cool until it's barely warm, or at room temperature. Then place the sauce in a high powered blender. Blend starting on low and working up to higher speeds using the tamper to keep the mixture moving in the blender. Blend until the sauce is completely smooth and silky in texture.
It's important to blend the sauce to make sure the coconut oil is completely emulsified. You will have about 1 cup finished filling. From here you can refrigerate the finished raspberry cream filling until the next day, or place it in the fridge and begin assembling the candy cups right away.
For the chocolate candy cup shells, melt the chocolate and coconut oil together in a double boiler over low heat, stirring as the chocolate melts. It's very important not to overheat the chocolate which will cause it to be grainy in texture.
Next set out 14-16 paper muffin liners. When the chocolate is smooth, spoon a small amount into the muffin liners, one at a time. Tilt the papers to swirl the chocolate to cover the bottom, and come up the sides about 1/2″.
When all 16 liners have been coated, place them on a flat tray or in a muffin tin, and refrigerate until the chocolate hardens, about 10 minutes.
Then spoon about 1 tablespoon of raspberry cream filling onto the center of each chocolate cup. Finally use the remaining chocolate to carefully spoon over the top of the raspberry cream filling to cover the top of the candy cup. Tilt each chocolate cup to cover the raspverry filling.
As you top each candy cup with the chocolate, sprinkle a small amount of the crushed freeze dried raspberries over the top for decoration if desired.
When you've finished the candy cups, refrigerate until completely set, about 2-3 hours.
Notes
These can be made ahead and refrigerated for up to 1 week, or frozen for up to 3 months..
Prep Time:

45 mins

Cook Time:

15 mins

Category:

Dessert

Method:

Stove Top

Cuisine:

American
Keywords: Raspberry Chocolates, Raspberry Chocolates Recipe, Raspberry Cream Chocolates Recipe
This recipe was originally published in 2018, but has been updated with new information, photos, and nutritional information.