This no bake Healthy Chocolate Tart is my most requested recipe because it's so decadent with deep chocolate flavor. It's also super easy to make and naturally gluten free, dairy free, vegan, and paleo!
Envision a sticky, chocolatey crust with a satin smooth chocolate filling. I just finished a piece of this tart, and already I want another. You know how there's that "be good" voice saying "probably better not".
Well, she has nothing to say because this chocolate tart is pretty healthy as far as desserts go! Plus, one bite brings on a chocolate induced silence. Nothing but pure bliss here.
I'm just here to say… this could happen to you too! I mean… just look at that filling. It looks amazingly fudge-y, and it's everything you might think. Silky mousse-like deliciousness. The word luscious comes to mind.
We've made this chocolate tart countless times over the last 7 years. So I knew it was time to give you an update. Not only did this recipe really deserve some better photos. But I've changed a couple of things to make this even easier to make!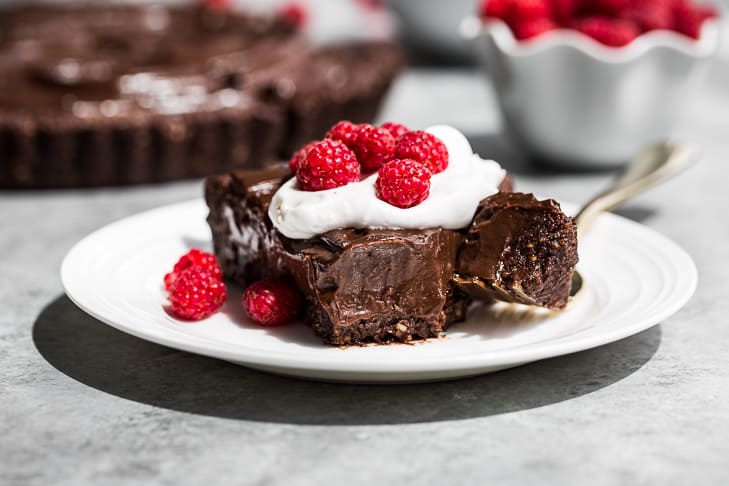 Let's get started by talking about the ingredients for this Healthy Chocolate Tart:
Pecans – I use pecans specifically because they're a great flavor pairing with chocolate. But you can use cashews in place of this or try unsweetened coconut flakes instead. I've also had readers write in to say they're had success with sunflower seeds as well.
Cocoa Powder – this is what brings all the deep chocolate flavor! I've been using Nativas and Dagoba which both have great flavor.
Maple Syrup – I love using Grade A amber pure maple syrup because it has a lighter maple syrup flavor which is perfect in this chocolate tart.
Avocado – This is what makes up the base of the chocolate tart filling. And don't worry about 'avocado flavor' in the final product. I've fed this tart to avocado haters and they've never known there was avocado in this!
Vanilla Extract – I add vanilla to the crust and the filling because it enhances the chocolate flavor.
Coconut Oil – This is essential to the silky texture of the filling, and it adds to the flavor of the filling so perfectly.
Now let's jump right in and make this!
For this recipe, we are going to make the filling first and set it aside. This means you don't have to wash the food processor in between which is a bonus!
After the filling, refit the bowl back on the base and process the nuts and cocoa for the crust. Check out the above photo for the texture you want to see before adding the maple syrup to the crust.
After lining the tart pan with plastic wrap, pat the crust evenly into the pan.
Then spread the filling over the crust and voila, chocolate decadence.
Tip: Not that you want to wait, but this is really best refrigerated overnight.
One other thing, this tart is amazing for breakfast. Not sure how I know that either?
Just a few final tips:
If you want to cut down the sweetener in this tart, cut back in the crust. If the crust isn't coming together with less sweetener, add just a touch of water until it like cookie dough.
You can sub in dates for the syrup in the crust. I've used medjool dates for the crust sweetener with great results. And dates really are a great variation because they add a caramel like flavor to the crust.
I wouldn't cut back the sweetener in the filling because you really don't want to taste the avocado – just the sweet chocolatey-ness!
I really hope you enjoy this chocolate tart. It's become a family classic over the last 7 years, and I know it will be a hit for you too! If you do make this tart, I hope you'll leave me a comment/rating below. I always love hearing from you here. And over on Instagram where you can tag me at #getinspiredeveryday with your photos.
Print
Healthy Chocolate Tart
---
Description
This Chocolate Tart is the perfect easy dessert that everyone will ask for during the holidays and for birthdays!
---
Chocolate Filling:
2 barely ripe avocados, at room temperature
1/2 cup cocoa powder
3/4 cup maple syrup
1 tablespoon vanilla extract
pinch of sea salt
2 tablespoons coconut oil, room temperature
Tart Crust:
4 cups pecans
1/2 cup cocoa powder
1 tablespoon vanilla extract
1/4 teaspoon sea salt
1/2 cup maple syrup
---
Instructions
Line a 9" removable bottom tart pan with saran wrap.
Place the ingredients for chocolate filling in a food processor fitted with chopping blade and process until smooth. Scrape the filling into a bowl and set it aside.
Fit the bowl and blade back onto the food processor (no need to clean the bowl in between). Place all ingredients for tart crust except maple syrup into food processor.
Process until fine textured with small bits of pecans. Measure out a 1/4 cup of the crumbs and sprinkle them across the bottom of the tart pan. Add the maple syrup to the remaining crumbs and process 1-2 minutes until the tart crust becomes as thick as cookie dough. Pat crust into tart pan.
Spread the chocolate filling over the crust, cover and refrigerate overnight.
Serve with Homemade Coconut Whipped Cream and fresh berries.
Notes
This tart is very rich, so 8 servings would be on the very generous side and it would serve up to 16 after a meal. I cut my tart into 12 slices and the nutritional information is calculated for that.
For dessert recipes I use Grade A maple syrup, it has a much lighter maple flavor. Regular pancake kind of syrup is Grade B and is darker and richer in maple flavor.
Prep Time:

30 mins

Category:

Dessert

Method:

Food Processor

Cuisine:

American
Keywords: Vegan Chocolate Tart, Paleo Chocolate Tart, No Bake Chocolate Tart