I first started making these on a whim one day when we lived in Calgary. I had just bought an exorbitantly priced pint, (produce is pricey in the north – think $8 per pint) of raspberries. They're Tyler's favorite berries, and I wanted to make them into a simple dessert. Since I love chocolate, the natural progression was to add the 2 together – of course!
They were such a hit, I've been making them ever since! They're easier to make than actual truffles – you get the same creamy smooth chocolate filling, but it's encased with a raspberry instead of more chocolate.
The truffle filling comes together in just a couple of minutes. And in case you're wondering about the feasibility of filling little tiny raspberries with chocolate – let me tell you, it's not too bad. Even so, there have been plenty of times where there's no way that's happening, and I just drizzle the filling over the top of the a plate of raspberries. (This little cheater method cuts the prep time in half, and you can make this in just 10 minutes that way!)
These can be a real show stopper dessert, even when you drizzle the filling over the top. You can also drizzle the filling over any berry you'd like, chocolate goes with them all!
I used unsweetened chocolate chips and added my own sweetener. But you can use any sweetened chocolate chip that's your favorite, and just omit the sweetener in the recipe.
It's best to melt the filling together in a double boiler to avoid overcooking the chocolate. This also helps to keep the truffle filling warm while you fill the raspberries. The chocolate thickens as it cools which makes it almost impossible to stuff into little raspberries, if it's not kept warm.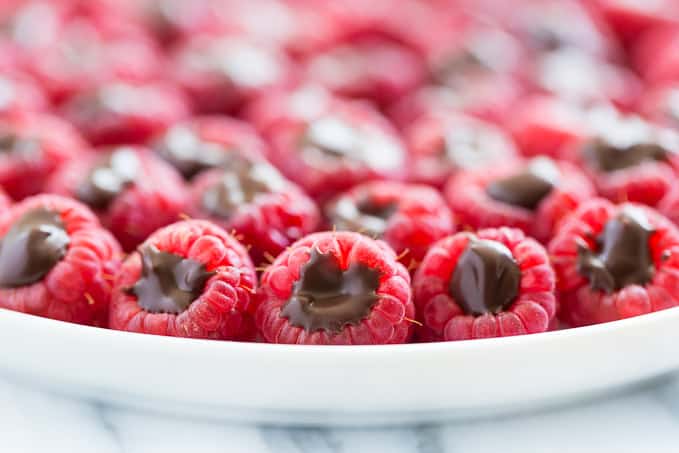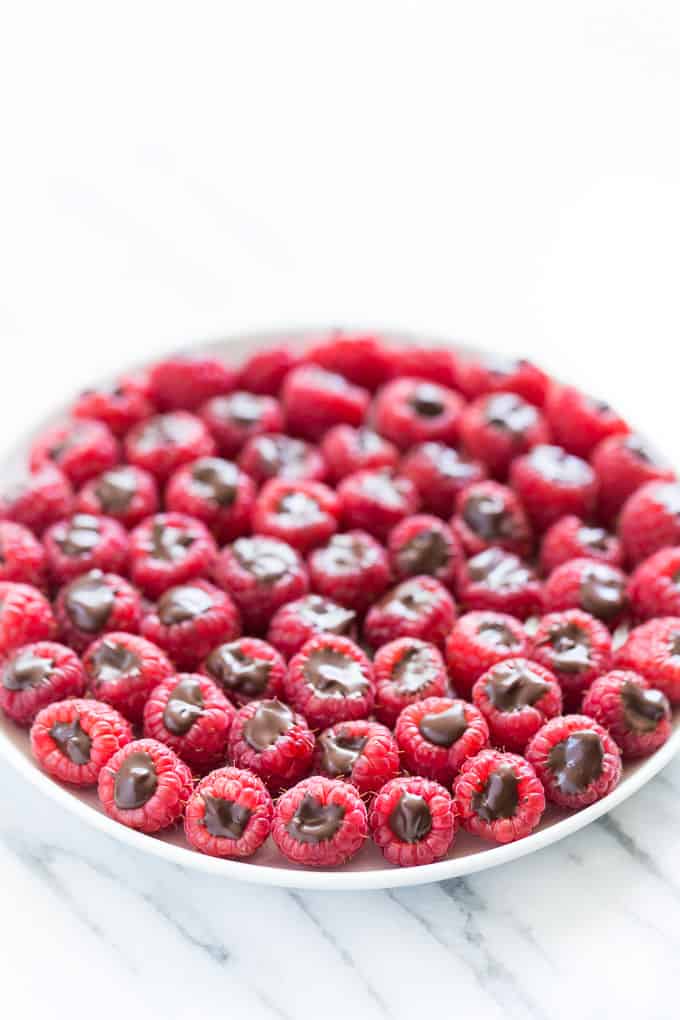 Another thing I love about these is you can make them 8 hours before you'll need them. They're great for entertaining because they're finger food, and everyone loves this flavor combination. If you're having lots of people over, (8 or more) you might want to forego stuffing the raspberries and just drizzle the filling over the top. It only takes 20 minutes or so to make raspberries for 4, but making them for a crowd would be a labor of love!
Print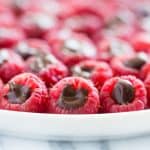 Chocolate Truffle Raspberries
---
1

–

12

ounce container raspberries

1/2 cup

unsweetened chocolate chips

3 Tablespoons

coconut cream

3 Tablespoons

maple syrup

1 Teaspoon

vanilla extract
pinch of sea salt
---
Instructions
Carefully wash the raspberries and pat them dry. Let them sit at room temperature for about an hour to thoroughly dry them. This might sounds weird, but I don't wash my raspberries when I know that I picked them and they keep better in the fridge that way.
In a double boiler, melt together the rest of the ingredients until smooth. Turn off the heat, and keep the chocolate mixture warm by keeping the pan in the warm water bath.
Using a spoon, drizzle just enough chocolate into each raspberry to fill it.
Set each raspberry on a serving plate, and when you've filled all the raspberries, place them in the fridge to let the truffle filling set up, about 30 minutes.
Serve within 8 hours, after that the washed berries start to break down and become mushy.
Notes
You can also use regular sweetened chocolate chips, (I like the Enjoy Life brand) just omit the maple syrup.
Prep Time:

20 mins

Cook Time:

5 mins