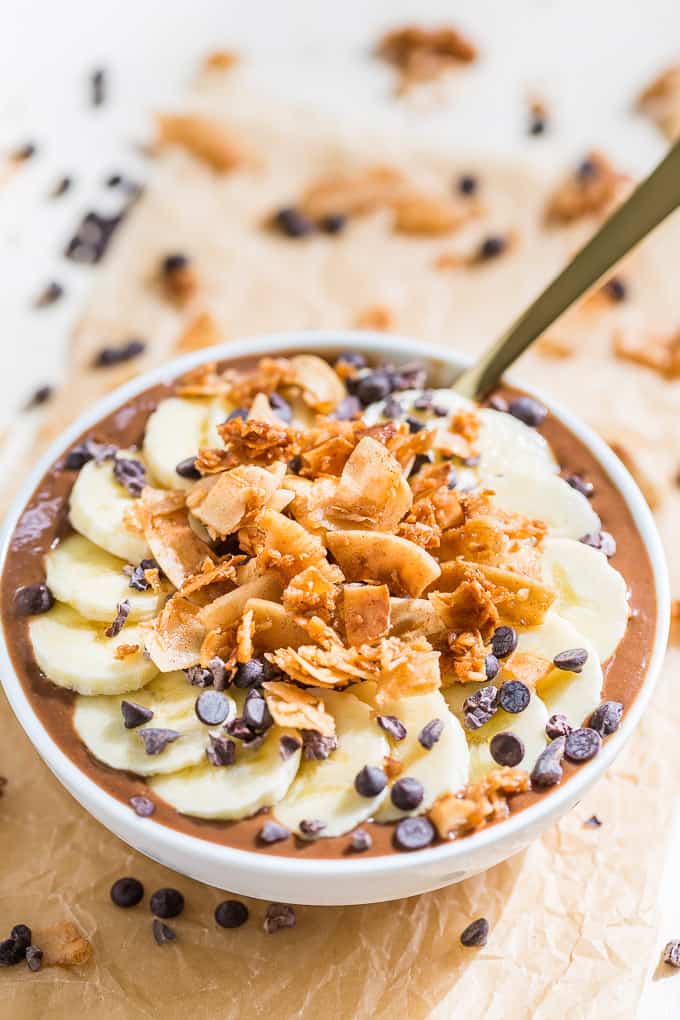 You want to know the secret for really beautiful smoothie bowls? The answer is so simple – just be messy! I don't know why I've always tried to arrange perfect rows or fruit, or make the toppings look just right, (maybe it's all those pretty pictures on Instagram or something).
But these smoothie bowls are the first ones I haven't worked hard on, and I think they're the prettiest I've made so far. The only thing I arranged was the banana slices around the edges, and then I just piled on the toppings. Nothing fancy, yet so eye catching. Plus we're eating chocolate for breakfast here, so you kinda want it to look mouthwatering!
Whenever I've done smoothie bowl recipes for the blog, I always do my best to make them look good for the pictures. But part of that feels silly because whenever I make them for myself, you can bet there aren't any perfectly arranged rows of fruit. Reality is a lot more haphazard than that, (for me anyways). So I've finally made a breakfast bowl that matches my style, (or lack of patience… however you want to look at it). Simply pile on the toppings, and start enjoying right away!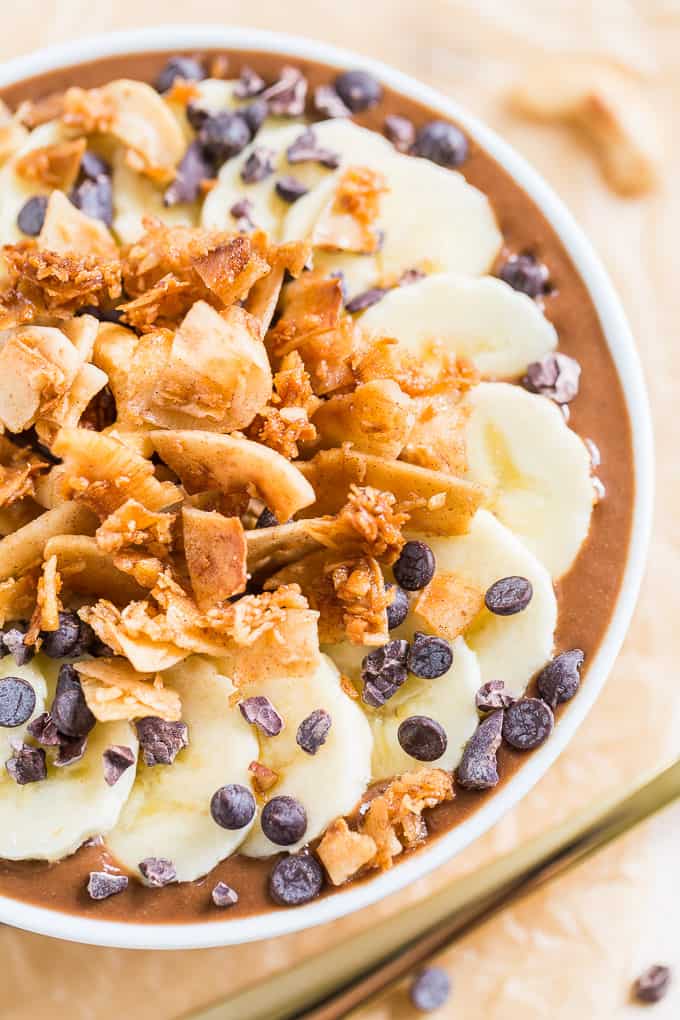 I may have even gone a little overboard sprinkling on the toppings because I found quite a few chocolate chips that had been ground underfoot on the floor later, so that was fun….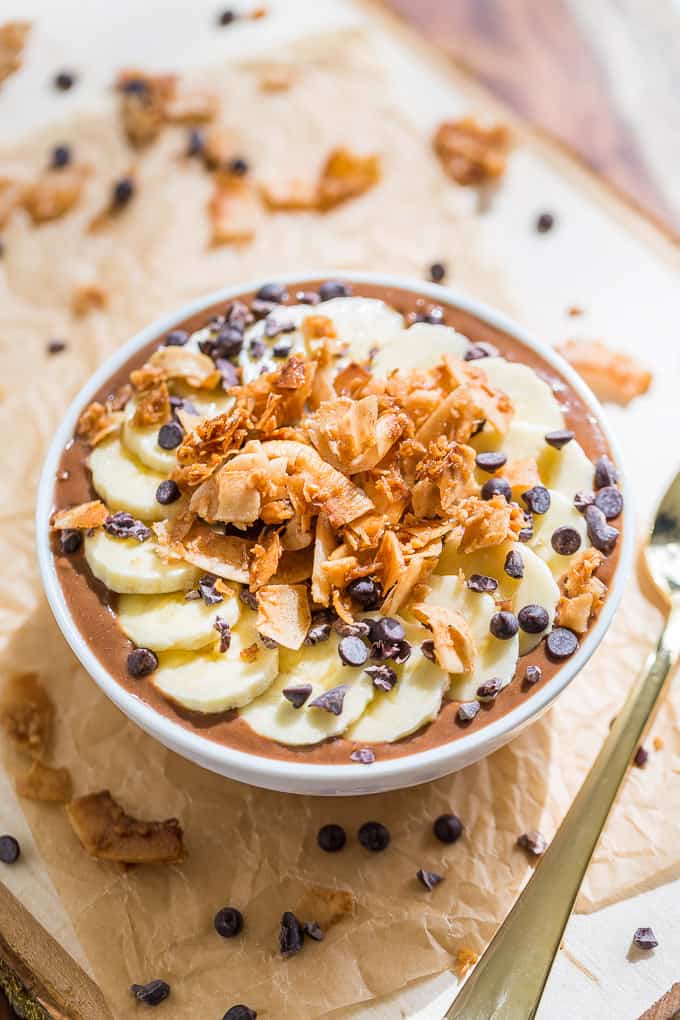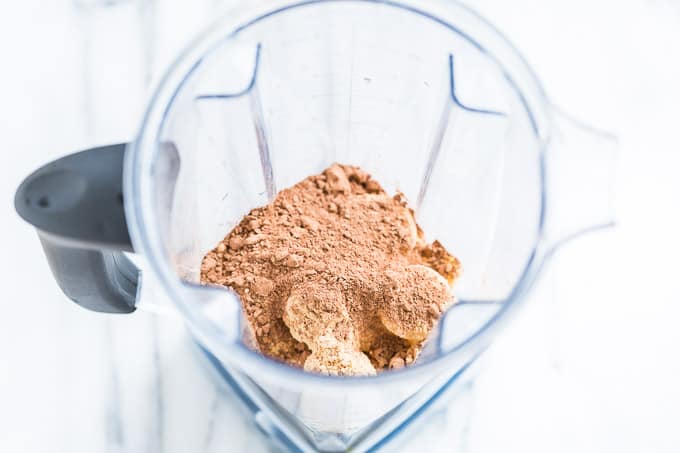 The idea for this smoothie bowl came from my Healthy Chunky Monkey Ice Cream, (which is a nice cream made from frozen bananas). I figured that frosty concoction would make a fantastic smoothie bowl with a few tweaks. Instead of peanut butter, I used peanut butter powder which is higher in protein and lower in fat than peanut butter. You can use either one, both are fantastic.
Then I added just a touch of coconut water to make it slightly softer than a nice cream.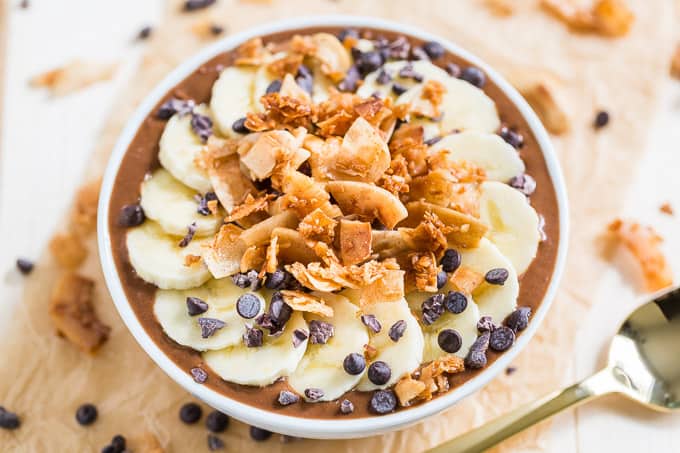 And finally since a smoothie bowl is all about the toppings, I added as many as I could fit into the bowl, (plus anything Chunky Monkey should have chunks, right!?!).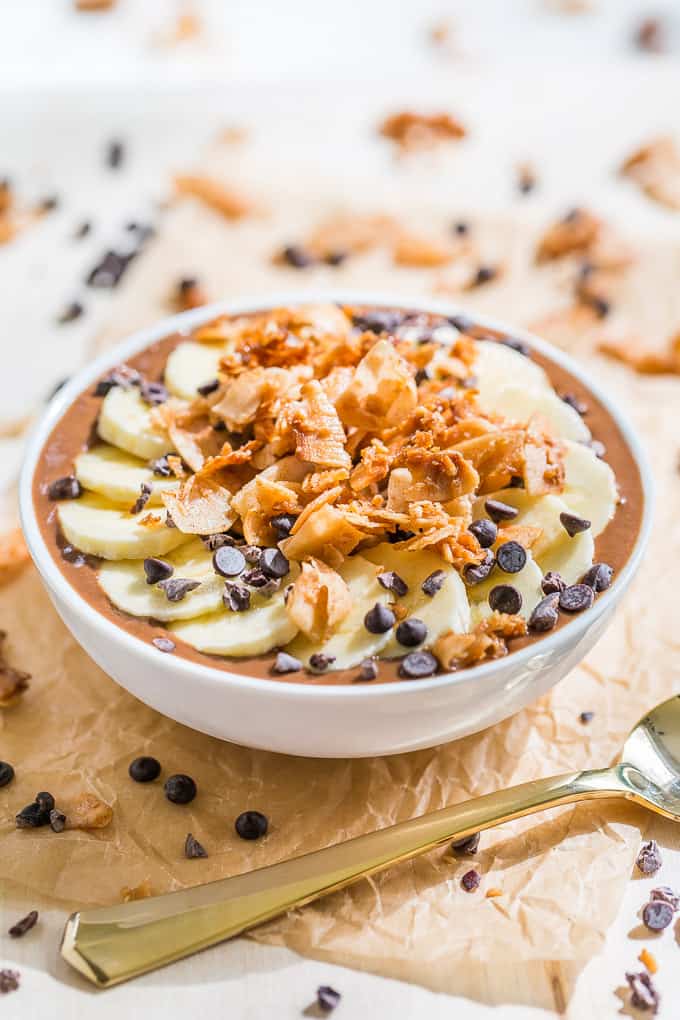 I prefer my Maple Cinnamon Granola on this smoothie bowl because I feel like it really highlights the chocolate/peanut butter flavors of the smoothie base. But if you're a chocolate on chocolate kind of person, you might like this with my Chocolate Granola.
Note: And speaking of peanut butter, I know so many can't have peanuts these days, but you can easily sub in almond or cashew butter in this recipe.
Print
Chunky Monkey Smoothie Bowls
---
Smoothie Base:
2

medium bananas, peeled, sliced, and frozen

1/4 cup

peanut butter powder, or

2 Tablespoons

peanut butter

1 Teaspoon

vanilla extract

2 Tablespoons

cocoa powder

2

–

3

Tablespoons coconut water
Toppings:
1

banana, peeled and sliced

1/2 cup

Maple Cinnamon Granola

2 Teaspoons

cacao nibs

2 Teaspoons

hemp seeds
optional

2 Teaspoons

mini chocolate chips, I use Enjoy Life
---
Instructions
Place the smoothie bowl ingredients into a high powered blender or food processor in the order listed.
Blend starting on low and working up to speed 4-5 on a Vitamix, using the tamper to keep the mixture moving.
If you're using a food processor, process until the mixture gets stuck before stopping to break it apart and scrape down the sides. Continue this process until the mixture is smooth.
Divide the smoothie base into 2 bowls, and top with your choice of toppings.
Serve immediately.