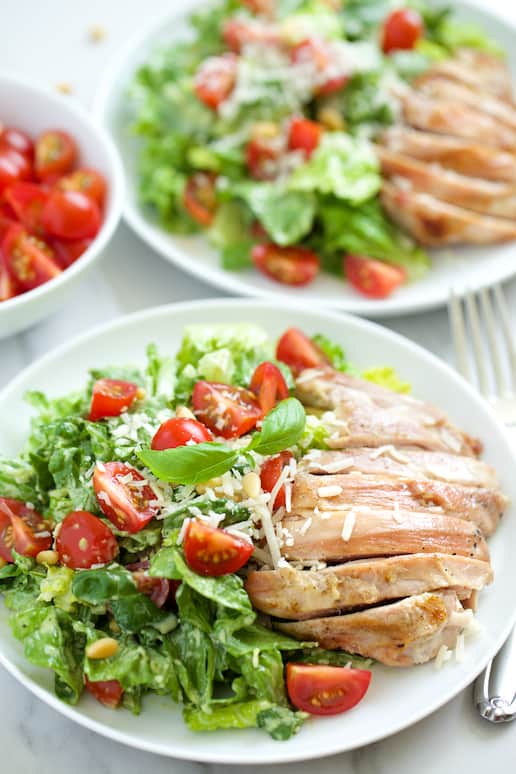 We're breaking all the rules today… you see, I really don't like my Caesar Salad messed with – I'm hooked on the classic! But, every once in a while we mix it up to walk on the "wild side" – don't think you'll catch me adding weird things to my Caesar too often though!
Caesar Salad is one of my husband's all time favorite meals, in fact I think we eat it every week. So, when I handed him a plate of this salad, I was a little nervous about whether or not it was going to pass the test (especially since I'd already had some and loved it)! Well he was hooked at first bite, and since it's in the regular rotation now, I thought you might like the recipe as well!
It all started with the best looking basil from our local Farmer's Market, it was so fragrant my entire car smelled like pesto by the time I got home. I was making my Grilled Italian Sausage Platter, but I was craving something creamy instead of the usual vinaigrette. A few minutes later I was adding basil by the handful to my favorite Caesar dressing recipe, and we loved it so much the next night I created this salad with the same creamy basil dressing.
Even though I'm not crazy about Caesar variations, basil is a natural if you think about it. A Caesar dressing has similar ingredients to pesto, and there are definite pesto flavors going on here! The fresh chopped tomatoes snuck in because it's summer, and vine ripe tomatoes should be in everything!
Start by chopping the romaine into bite sized pieces, then wash and spin dry.
Quarter the cherry tomatoes, or if you're using another kind of tomato chop them into bite-sized pieces. For the dressing, combine everything in a blender and blend until smooth and creamy. Don't let the lemon juice sit in the blender with the egg for more than a minute or two because the egg will begin to break down and the dressing won't be as creamy.
I toast my pine nuts in a cast iron pan over low heat. It takes a bit longer, but the flavor is better when toasted over low, (they're also really easy to burn over medium heat).
For another variation, try my Bacon Kale Caesar Salad.
I love summer produce so much! It's so vibrant, and it tastes so much better than anything I've ever bought in the store! Speaking of which, I bought so much of it last night at Farmer's Market, I was staggering under the weight on my way back to the car, (too much good food = a Farmer's Market win)! Who can resist vine ripe tomatoes, local cherries, or the quintessential Montana summer treat – huckleberries!
Print
Creamy Basil Chicken Caesar Salad
---
2

heads romaine, weighing 2 pounds

1 1/2

pounds boneless, skinless chicken thighs

1/2 cup

pine nuts, toasted to golden brown

1/2 cup

freshly grated parmesan cheese

10 ounces

cherry tomatoes, quartered
Dressing:
1

large farm fresh egg

2

cloves garlic, minced

1 Teaspoon

sea salt

1/4 Teaspoon

freshly ground black pepper

1 Teaspoon

Dijon mustard

1/2 cup

freshly grated parmesan cheese

1/4 cup

freshly squeezed lemon juice

1 cup

extra virgin olive oil

1 1/2 cup

loosely pack fresh basil, weighing 1.5 ounces
---
Instructions
Cut the romaine into bite-sized pieces, wash and spin dry.
Preheat the grill over high heat.
While the grill is heating, prepare the dressing by placing everything into a blender and blend until smooth. It's important not to leave the lemon juice sit with the egg in the blender without finishing the dressing because the acid breaks down the egg causing the dressing to be less creamy.
Evenly space the chicken thighs across the grill and immediately lower the heat to medium. Cook for about 5-8 minutes per side, the timing will depend on the size of your chicken. Remove the chicken from the grill when there is no longer any pink in the center, but the chicken should still be juicy.
Let the chicken cool on a cutting board while you assemble the lettuce, tomatoes, parmesan, and pine nuts together in a serving bowl.
Chop the chicken into bite-sized pieces to toss with the salad, or you can cut it into strips to place alongside the salad like you see in the photos.
Pour the dressing over the salad and toss to combine.
Serve immediately.
If you have leftovers, place them in containers for lunch the next day. It's a bit wilted the second day, but we both liked it anyways.
Notes
This recipe does contain raw egg, and if this is of concern you'll want to find a different Caesar dressing recipe. You can add the basil to your dressing of choice for a similar result.
Prep Time:

30 mins

Cook Time:

15 mins