Healthy ice cream treats are the best, and this creamy Banana Nice Cream recipe doesn't disappoint! It's very popular with kids and it's the perfect healthy dessert because there's no added sugar. It's made from 3 simple ingredients and is oh so creamy. You may come to love this one so much you'll always have frozen bananas on hand to make this in minutes. It's the texture of soft serve and so good just as it is. Or you can jazz it up with any of the toppings listed. As a bonus it's dairy free and vegan as well!
We're huge ice cream fans around here, so it's nice to have some extra healthy options on hand for when the craving strikes! This nice cream gets a boost from coconut cream and vanilla giving it wonderful flavor and a dreamy soft serve texture.
Like any nice cream, it's completely fruit based and there's no added sugar. It's simply frozen bananas turned into the most creamy concoction with the help of a little coconut cream.
If you find yourself a little skeptical about nice cream, you're not alone! The first time I tried it with just bananas I was underwhelmed. But as it turns out, it's really delicious with just 1-2 extra ingredients. And you'll find all our fruit-based nice creams, plus our favorite dairy-free ice creams linked below for more inspiration.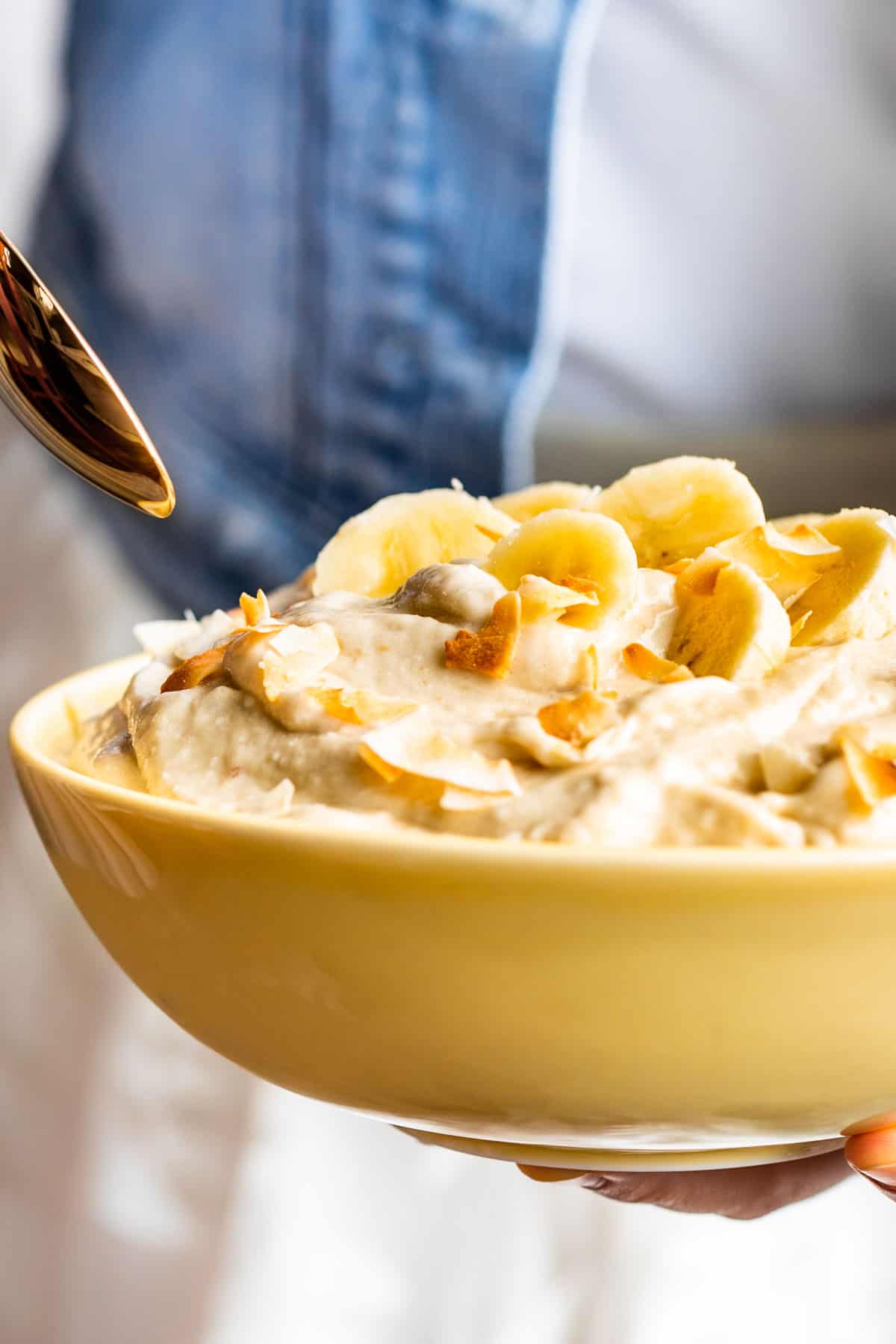 Ingredients & Substitutions
Bananas – you want bananas that are just ripe for this recipe like the ones pictured above. They should be mostly yellow with some brown spots.
Coconut cream – you can buy cans of coconut cream at the store, (be sure to buy unsweetened). Or you can refrigerate a can of coconut milk and scoop the hardened cream from the surface.
Vanilla extract – is everything in this recipe, it adds so much flavor and rounds everything out. Go for a good quality vanilla here, and save imitation or vanilla flavorings for another recipe.
Sea salt – a large pinch really brings everything together in this recipe and adds depth as well. Salt is key in desserts to bring out the sweetness and keep them from tasting 'flat'.
How to make this recipe step by step
Step 1: Start by peeling and slicing the bananas into 1″ pieces.
Step 2: Spread the sliced bananas out onto a parchment-lined baking sheet and freeze until firm for 2-3 hours. If you have a large bag you're going to store them in, skip this step, add them straight to the bag, and freeze them in a single layer.
Step 3: Once the bananas are frozen, place them into a sealed container and freeze them for up to 1 week before making your nice cream. Bananas will progressively turn brown over time in the freezer, so they are best used within a couple of days for this recipe.
If you're bananas have turned brown, try my Chunky Monkey Nice Cream where you won't notice the discoloration.
Step 4: Place the frozen bananas into a food processor with the coconut cream, vanilla, and sea salt. Process until smooth and it's the texture of soft serve, stopping the machine as necessary to break up chunks.
You can also make this nice cream in a high-powered blender. Blend at low speeds, using the tamper to keep the mixture moving. I prefer not to use my blender because I've had it overheat a few times. Luckily it turns itself off to save the motor, but I'd rather use my much cheaper food processor in this case.
I've been making nice creams for years in the same food processor and it's still going like a champ. I figure it's better not to accidentally wreck my expensive blender!
Ways to serve this
Serve this nice cream right away as a soft serve with more sliced bananas and toasted coconut.
Or try it with melted chocolate or chocolate sauce, Coconut Caramel Sauce, or fresh berries.
FAQ's
What is nice cream?
It's a fruit-based 'ice cream' that's made from fruit and it's gluten-free, dairy-free, and vegan. It's blended or processed into a creamy soft serve texture and is sugar-free, completely sweetened only with fruit. Sometimes a touch of natural sweetener or other ingredients are added for flavor combinations.
I don't like bananas or I'm allergic to bananas, how can I make nice cream?
Try another fruit, both my Peach Nice Cream and my Mango Nice Creams are the perfect place to start. They're both super creamy and incredibly tasty if banana isn't an option for you.
Storing leftovers
To store – place any leftovers into a sealed container and freeze for up to 2 weeks. Nice cream will freeze rock hard with an icy texture. You can soften it on the counter or in the refrigerator to eat or see repurpose below. It will also progressively turn browner as it sits in the freezer so it's best eaten as soon as possible.
Repurpose – nice cream is rock hard and icy in the freezer, so to get back that soft serve texture defrost on the counter until you can just break it up with a knife. Place the broken-up chunks into the food processor and process back to creamy smoothness.
Tips & Tricks
You don't want the bananas to be too green or they won't be sweet enough. And if they're too brown, try making my Gluten Free Banana Bread or Almond Flour Banana Muffins instead. Overly ripe bananas don't taste great in this recipe, they just taste overwhelming.
The nice cream almost always sticks at some point in the processing, simply stop the machine, break up any large chunks that have formed, and continue processing until smooth.
More nice cream and ice cream recipe inspiration
I really hope you enjoy this creamy Banana Nice Cream recipe! If you do get a chance to make this recipe, please leave a rating, I'd love to hear from you in the comments.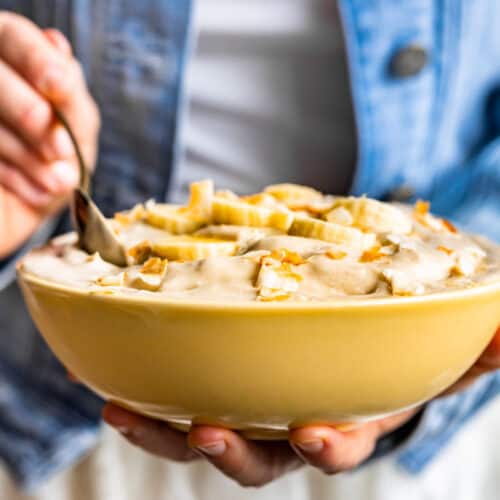 INGREDIENTS
4

ripe bananas

-

peeled and sliced 1″ thick and frozen

1/3

cup

coconut cream

-

see notes

1

tbsp

vanilla extract

pinch

of sea salt
Toppings:
sliced bananas

toasted coconut flakes

chocolate chips

cacao nibs
INSTRUCTIONS
Place the frozen banana slices into a heavy duty food processor or high powered blender. Add the coconut cream, vanilla extract, and pinch of sea salt.

Process until smooth, stopping the machine as needed to break up any chunks of banana that form. If you're using a blender, blend at low speeds using the tamper to keep the mixture moving.

When the nice cream is the texture of soft serve, serve it immediately with your choice of toppings. Or you can freeze it for 3-4 hours for a firmer texture, although nice cream will become icier as it sits in the freezer.
Bonus Step
If you made this recipe, please leave a rating/comment. Ratings really help us continue to bring you high-quality free recipes. Rate This Recipe!
NOTES
For coconut cream you can buy unsweetened cans of coconut cream. Or refrigerate a can of full fat unsweetened coconut milk and scoop 1/3 cup of hardened coconut cream from the surface of the can.
The nutrition facts were calculated without optional toppings.
nutrition facts
Calories:
128
kcal
|
Carbohydrates:
29
g
|
Protein:
1
g
|
Fat:
0.4
g
|
Saturated Fat:
0.1
g
|
Polyunsaturated Fat:
0.1
g
|
Monounsaturated Fat:
0.04
g
|
Sodium:
1
mg
|
Potassium:
427
mg
|
Fiber:
3
g
|
Sugar:
16
g
|
Vitamin A:
76
IU
|
Vitamin C:
10
mg
|
Calcium:
6
mg
|
Iron:
0.3
mg
This recipe was originally published in 2017, but has been updated in 2022 with new photos and lots more information and tips.