This Creamy Dairy Free Clam Chowder is everything you'd except from this classic recipe, but there's no dairy at all! It's also gluten free and Whole30. It's great for healthy dinners and leftovers for lunch. It has the perfect balance of thyme and bay leaf that combines with the bacon to add so much to this comfort food chowder.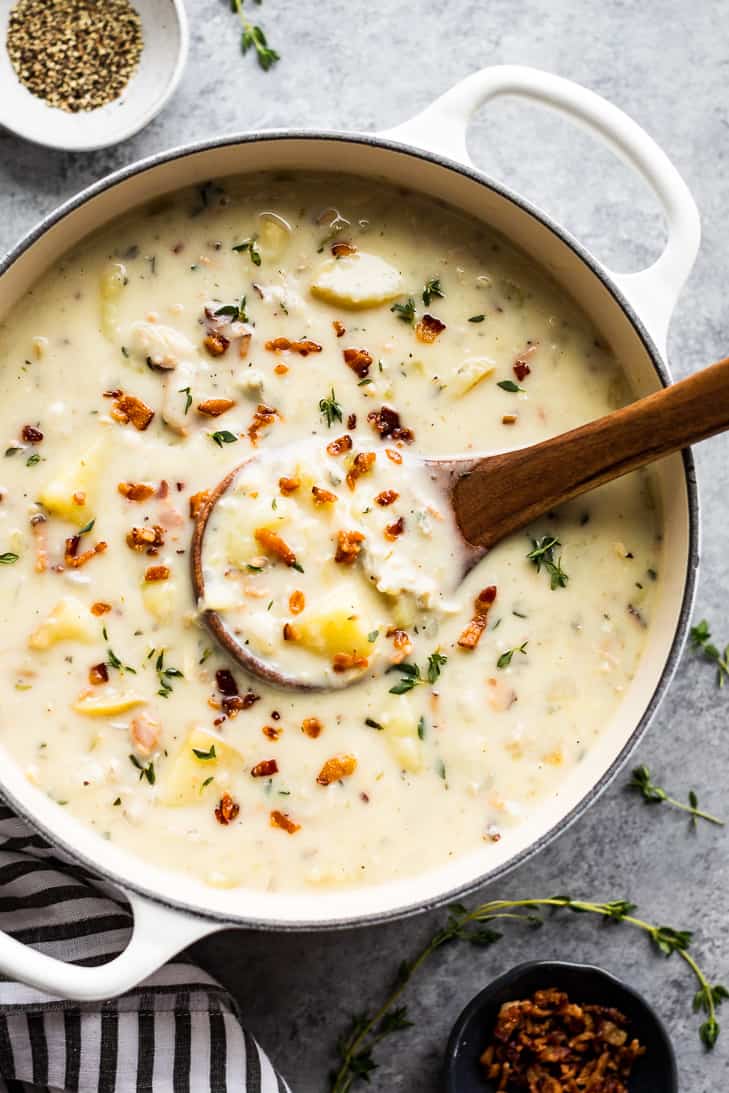 When I got a request for a dairy free clam chowder recipe, my first thought was 'I don't know about this, that may well be beyond my abilities!'. But I shouldn't have worried it wasn't possible, because here we are with the tastiest clam chowder. It's perfectly creamy, and just the right amount of thickness you'd expect from a chowder.
My main concern in creating a dairy free chowder was how to make it super creamy. If you add too much of the usual ingredients, (like cashew cream or coconut cream) they just take over with their strong flavor. But I finally settled on a super easy trick that solved everything!
And here's the secret: I blended a bit of unsweetened coconut cream with some of the cooked potatoes. This created a ultra creamy dairy free chowder that's also naturally gluten free!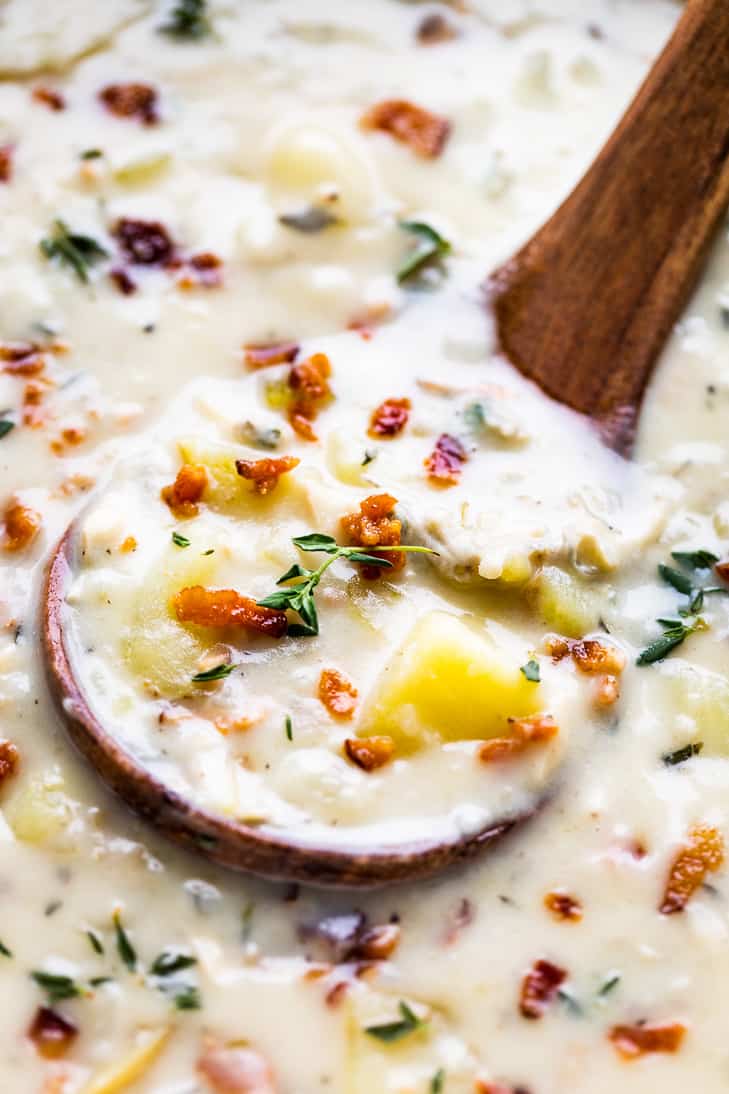 From there this creamy mixture is poured back into the clam chowder, and that's where the magic happens! The other bonus with blending up part of the potatoes is they also thicken the chowder. This means this recipe is gluten free as well as dairy free – so really it's a win win all around!
Watch how to make this Dairy Free Clam Chowder
Ingredients & Substitutions
Bacon – I believe every good chowder starts with a bit of sautéed bacon. And I know you'll love the flavor it adds to the mix here!
Onions, garlic, & celery – These 3 make up your chowder soup base and provide a lot of flavor.
Thyme & bay leaf – A bit of thyme really adds a lot here, and if you have fresh definitely use it. The bay leaf is a classic and adds a touch of flavor you don't want to miss.
Clams – I don't want to get into any super intense arguments about fresh vs. canned, (just joking but opinions run strong on this!) but I went with canned. There's 2 reasons for this, and the first and main reason is canned is so much easier and faster. The second reason is that we live in a land locked state where fresh clams aren't just hanging around on the regular. If you want to start from scratch great fresh clams, by all means go ahead and do so! I'm always of the belief that starting from scratch always yields better results. But for the purposes of this recipe, we're keeping it simple.
Clam juice & chicken stock or broth – If you don't have clam juice on hand, you can just add a bit more chicken stock. I also add the reserved clam juice from the canned clams to the chowder. And between the 2 you get pretty great flavor. I like to add the chicken stock because like the bacon, it rounds out these flavors.
Potatoes – The potatoes do triple duty here in this chowder. Of course there's lots of chunks of potatoes like any good chowder. But they're also are part of the thickener and the creaminess as well!
Coconut cream – You can either refrigerate coconut milk and scoop the cream from the top. Or buy cans of coconut cream if you have them available. The coconut cream provides a lot of creaminess in combination with the potatoes. But don't worry you don't notice the coconut flavor here. Coconut cream is just 1 ingredients – coconut and shouldn't be confused with cream of coconut which is a sweetened product for desserts.
Now let's make this recipe step by step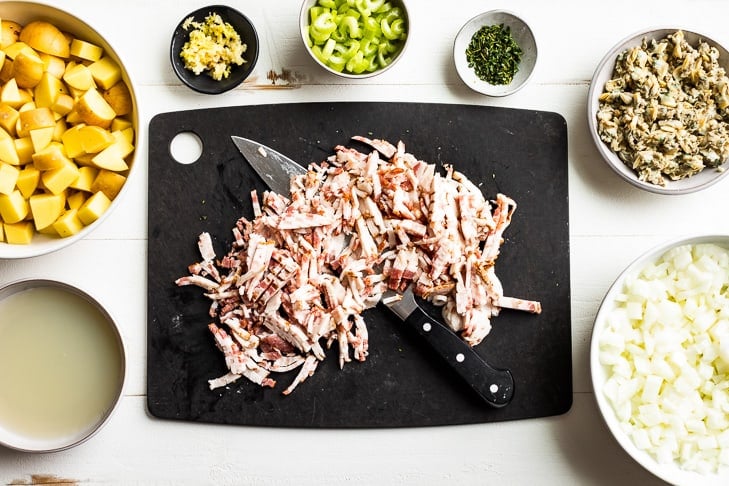 Step1: The first thing we're going to do is prep all the ingredients. The 'hands on' part of this recipe is quick, then it's mostly just simmering after that.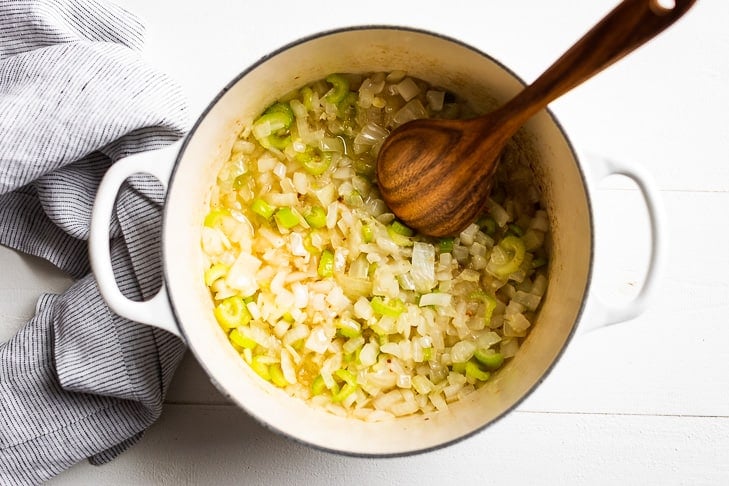 Step 2: Once the ingredients are prepped, sauté the bacon until it's crispy, then remove it from the pan. From there you're going to sauté the onion, celery, and garlic mixture until it's translucent and soft.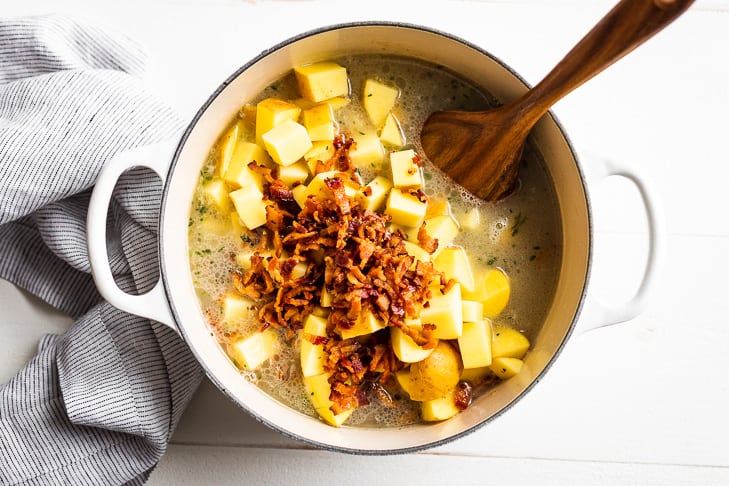 Step 3: Then it's time to add the herbs along with the liquids, potatoes and those bacon bits.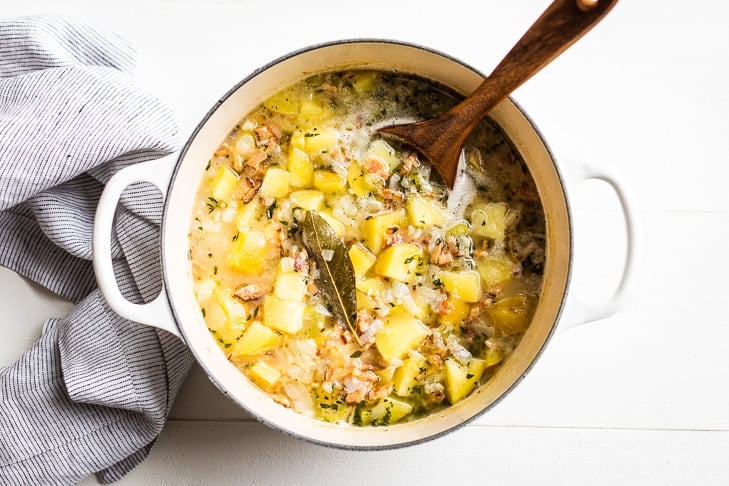 Step 4: Next simmer the chowder until the potatoes are soft. Then finally we're going to spoon out some of the potatoes to blend with the coconut cream. Pour that mixture back into the chowder and stir to combine.
Tip: Don't worry about spooning out only potatoes for the blending step. You will definitely end up spooning out some of the onion and bacon bits too. But since we're blending on low speeds, this is no big deal. The potatoes will blend with the coconut cream and the bacon bits stay in tack – so no need to worry!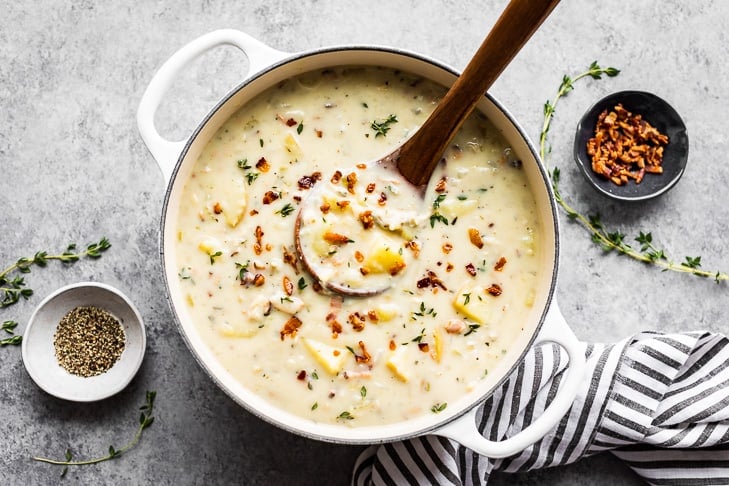 Step 5: Once you've stirred in the potato/coconut cream mixture, turn off the heat and add the clams.
Step 6: And the final step is to season to taste with sea salt and pepper. This is going to vary depending on what ingredients you use. Some chicken stocks and clam juices have more salt than other, so it's best to season the chowder to taste at the end.
FAQ's
What can you substitute for clams in clam chowder?
I have subbed in baby scallops and baby shrimp for a seafood chowder. If you don't like seafood, try making this a chicken chowder by using sautéed chopped chicken thighs.
What is chowder made of?
The main ingredient you always find in chowder is potatoes and something to make it creamy. In this recipe we're using coconut cream and blended potatoes to keep it dairy free. From there you can make seafood chowder, chicken chowder, ham chowder, etc.
Are white potatoes paleo?
Yes they are considered both paleo and Whole30.
More Dairy Free Soup Recipe Inspiration
Dairy free comfort food recipes
For even more recipe inspiration, head over to the dairy free section in our recipe index! I sure hope you get a chance to make this Creamy Dairy Free Clam Chowder soon. And if you do, I hope you'll leave me a comment/star rating below.
I always love hearing from you here in the comments. And also over on Instagram where you can tag me at #getinspiredeveryday with your photos!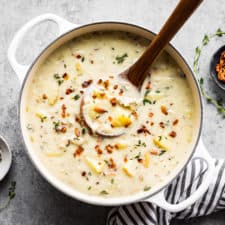 Creamy Dairy Free Clam Chowder
---
Yield:
4
servings or 7 cups of chowder
INGREDIENTS
4

strips of bacon

-

5 ounces, thinly sliced

1

cup

diced onion

-

1/4", 1/2 medium onion

1

clove

garlic

-

minced

1

cup

thinly sliced celery

-

2 stalks

1

tablespoon

chopped fresh thyme

-

or 1 teaspoon dried

1

bay leaf

1 - 10

ounce

can clams

-

juices drained and reserved

1 - 8

ounce

bottle clam juice

1

cup

chicken stock

- I used my homemade unsalted recipe

5

cups

cubed potatoes 1"

-

1 1/2 pounds

1

cup

coconut cream

-

see notes

Sea salt and pepper to taste

-

see notes
INSTRUCTIONS
Place a large pot over medium heat, and when the pan is hot, add the bacon. Sauté until the bacon renders it's fat and is crispy.

Scoop out the bacon bits and set them aside. Pour out some of the bacon fat if there's too much, you'll need around 2-3 tablespoons in the pan.

Add the onion, garlic, and celery to the pan. Sauté over medium low temperature until the onion begins to turn translucent and is soft.

Add the thyme, stir to combine, then add the bay leaf, reserved juice from the clams, the bottle of clam juice, and the chicken stock.

Stir to combine again, then add the potatoes and bacon bits. Bring to a boil, then lower the heat to maintain a simmer. Cook until the potatoes are tender, 15-20 minutes. When the potatoes are done, remove the bay leaf.

Then using a ladle, scoop out 2 cups of the cooked potatoes, draining off excess liquid, and add them to a blender. Don't worry about spooning out the other ingredients with the potatoes, this won't matter.

Add the coconut cream to the blender with the potatoes, then blend on low speed just until the potatoes are mostly smooth.

Add the potato/coconut cream mixture back to the chowder and stir to combine. Turn the heat off and add the clams. Stir again, then season to taste with salt and pepper.

Serve immediately. Any leftovers reheat well on the stove top. This soup doesn't freeze super well because the potatoes tend to come out with a mushy texture.
Bonus Step
If you made this recipe, please leave a rating/comment. Ratings really help us continue to bring you high-quality free recipes. Rate This Recipe!
NOTES
For the coconut cream you can scoop the hardened cream from the top of a refrigerated can of coconut milk. Or you can buy cans of coconut cream and use that. Coconut cream should have just coconut in it, it comes unsweetened.
The amount of salt you'll need here will vary greatly depending on the chicken stock, clams, and clam juice you use. So it's best to season to taste at the end of the cooking time.
To ensure this recipe is Whole30, definitely check your labels for compliant ingredients.