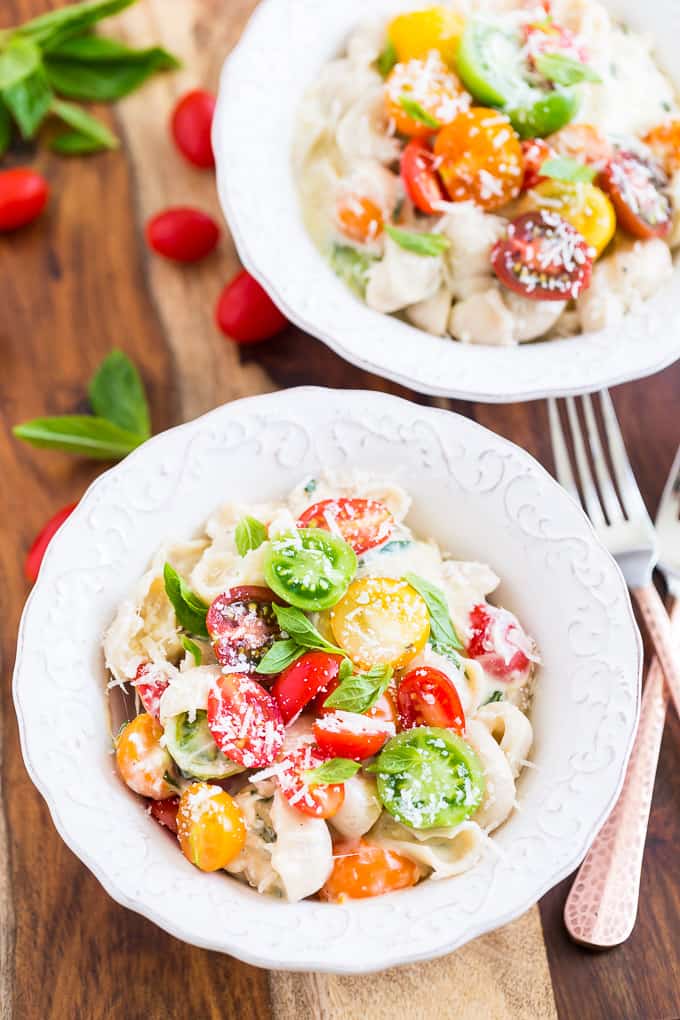 I know everything is about to go all pumpkin, but right now I just can't get over the abundance of sun ripened tomatoes! I promise there's some fall recipes heading your way, but let's just hang on to summer a little longer shall we?
This pasta is super easy and oh so indulgent. It's all made right in one pot with the sauce and pasta cooking together. Then for the final touches you add mozzarella, juicy tomatoes, and tons of fragrant basil for an ultra creamy yet fresh tasting bowl of goodness.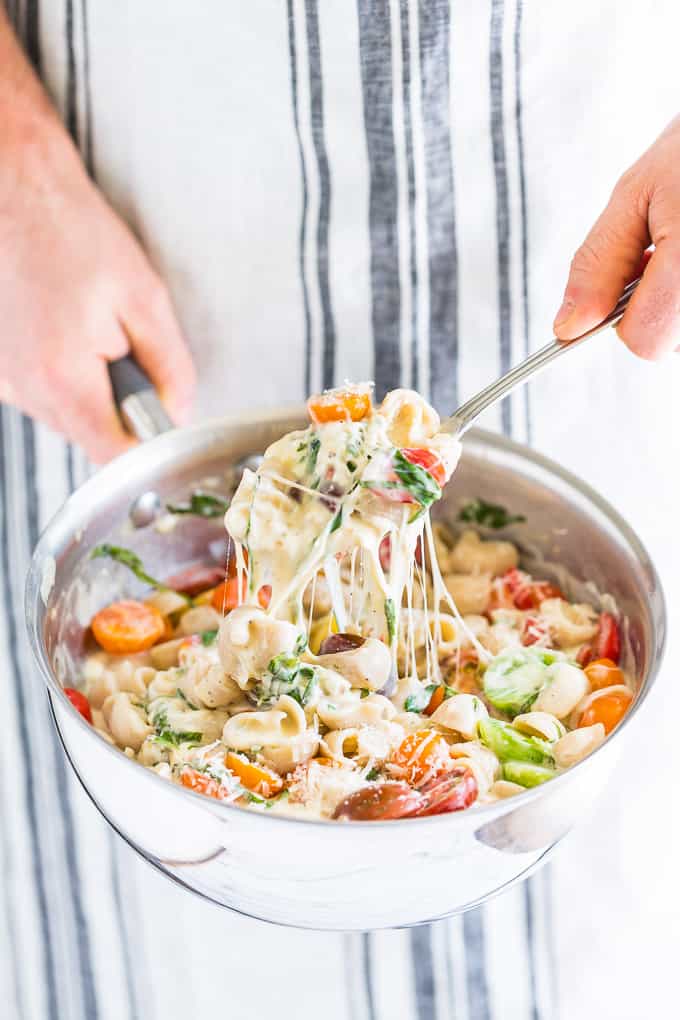 Since this pasta is sort of like a summertime mac 'n' cheese, I love to use shells to help capture the sauce in every bite. My favorite gluten free shells are the 100% brown rice pasta from Delallo (not sponsored). Their gluten free pasta is the best I've come across so far, and no one ever guesses that it's gluten free. Another bonus to this pasta is that it's a whole food, (being made from brown rice) so it's really a win all the way around!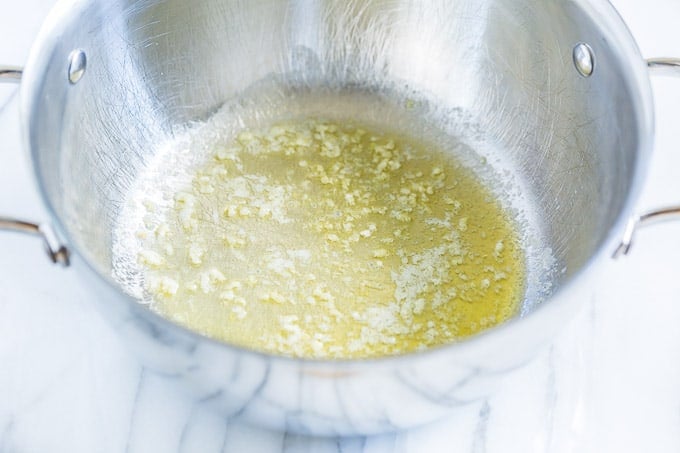 To add a little savory background flavor to this dish, you start by sautéing a little garlic in butter.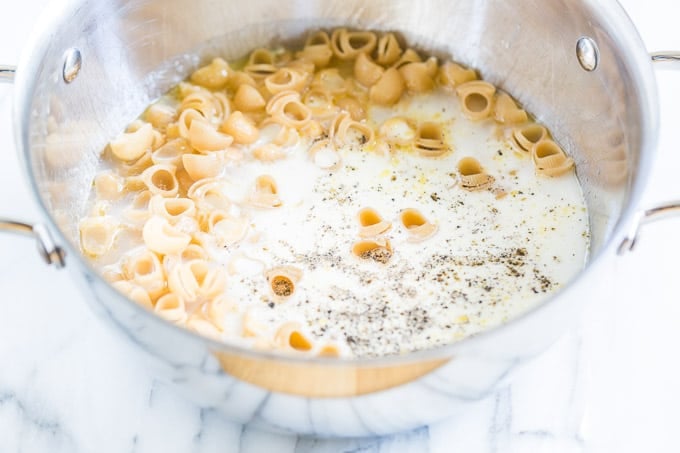 Next you add the pasta, water, sea salt and pepper, and a little heavy cream.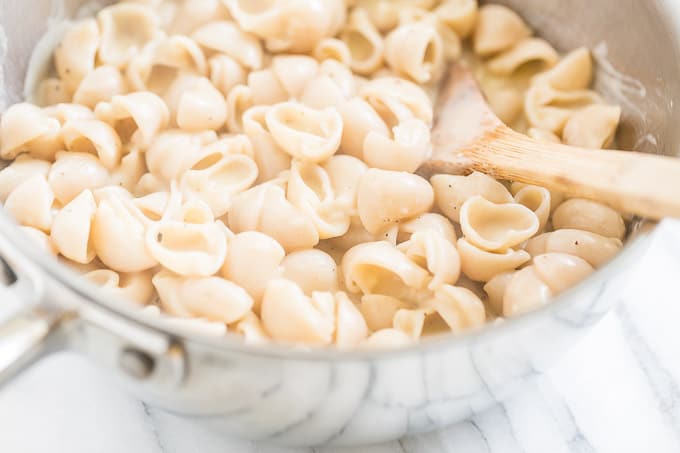 Then the pasta and sauce cook together until just barely tender and creamy.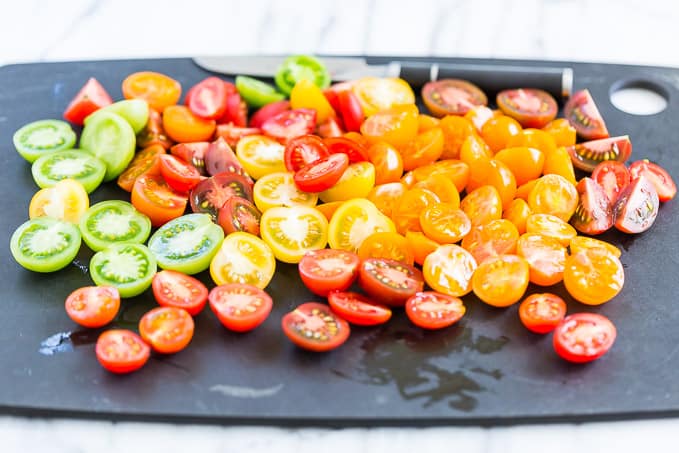 While the pasta cooks, you make sure you have all the finishing ingredients ready…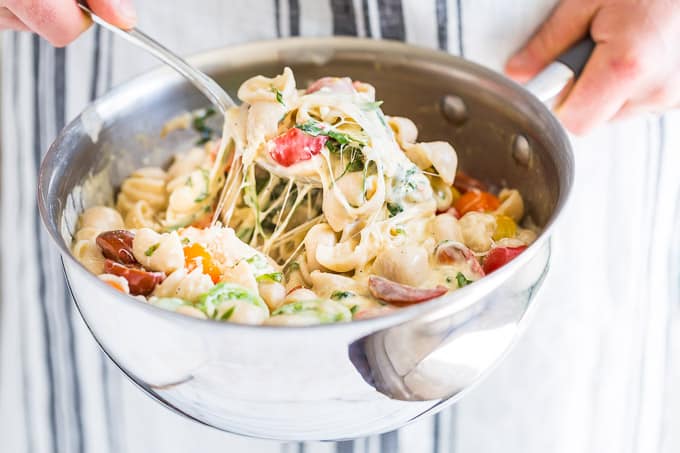 … and when the pasta is done, you stir in the caprese ingredients, (mozzarella, tomatoes, and basil).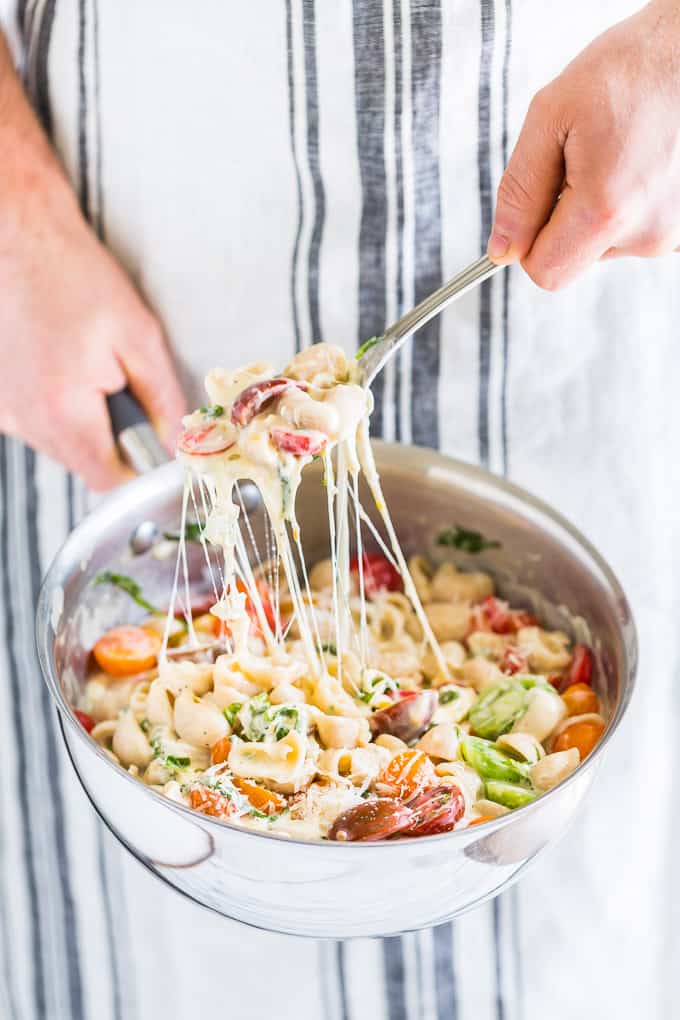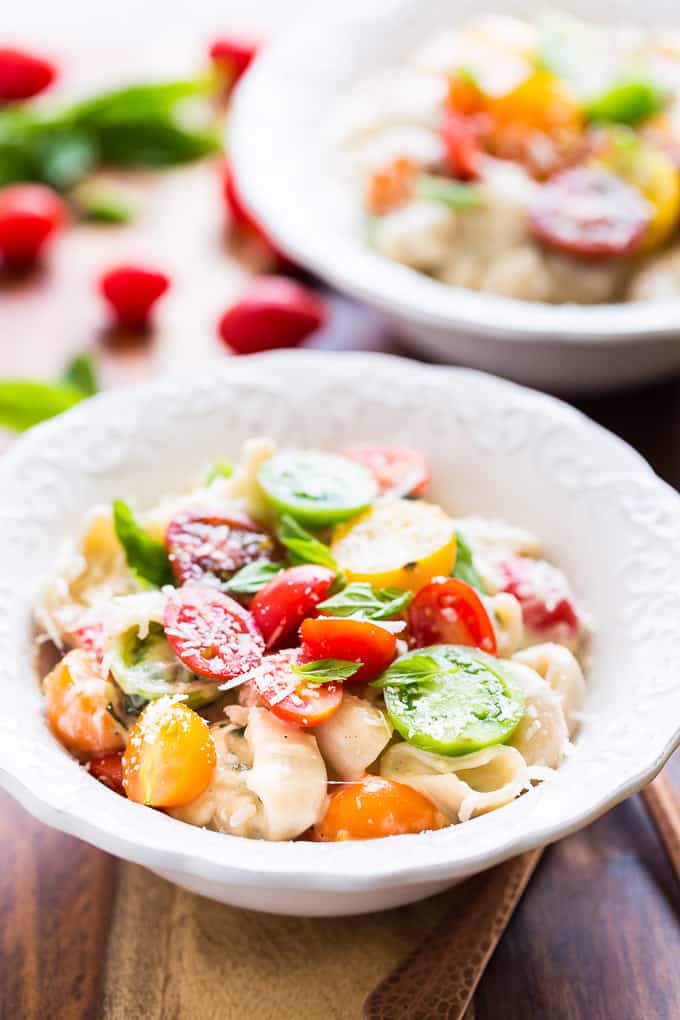 Topping this dish off with even more summertime tomatoes and freshly grated parmesan is my favorite way to eat this. And finally, if you do have any leftovers, they're great reheated briefly in a skillet with a small amount of water until it's all creamy again.
Normally I'm not that fond of leftover pasta because it's always a little too mushy when reheated. But there's something about this dish that has me craving even the leftovers. I've made it 3 times in the last 2 weeks, and each time I can't wait to dive into the leftovers for breakfast!
Print
Creamy One Pot Caprese Pasta
---
2 Tablespoons

salted butter

1

clove garlic, minced

1

–

12

ounce package gluten free shells, I used Delallo

1/2 cup

heavy cream

3 cups

water

1 Teaspoon

sea salt, or to your taste

1/2 Teaspoon

freshly ground black pepper
Finishing Touches:
1

ball fresh mozzarella, cubed, 1 1/2 cups or

6 ounces

1/2 cup

heavy cream

4 cups

tomatoes, cut into bite sized pieces, 1 pound, I used cherry tomatoes

2/3 cup

packed basil leaves, chopped, 1 ounce

1 cup

freshly grated parmesan
extra tomatoes and parmesan for serving
---
Instructions
Place a large pot, about 12″ diameter, over medium heat. Add the butter and garlic, and sauté just until fragrant but not browned, 30 seconds. Then add the pasta, cream, water, sea salt, and pepper. Bring the pasta to a boil, stirring 2-3 times.
When the pasta has come to a boil, turn the heat down to medium, and cover the pot with a lid. Continue to cook over medium heat stirring occasionally until the liquid has been absorbed by the pasta, and it's just tender with a little bite in the middle, about 10-12 minutes.
Then turn the heat up to medium high, and add the mozzarella and additional cream. Cook stirring constantly until the mozzarella begins to melt, 2-3 minutes. Reduce the heat to low, and stir in the tomatoes, basil and grated parmesan to combine. Taste the pasta and adjust the seasonings, adding more salt and pepper if needed.
Serve immediately with extra tomatoes and parmesan if desired.
Prep Time:

10 mins

Cook Time:

20 mins