This creamy Tuscan Chicken is the perfect healthy dinner option that's great for everything from family dinners to date nights in! It's a flavor-loaded dish with sun-dried tomatoes and herbs, and some extra veggies in there as well. It's classic comfort food made easy and healthy too. You can make this dish like the classic with heavy cream, or you can use either of my dairy-free options below. This dinner is the perfect solution for dairy-free comfort food.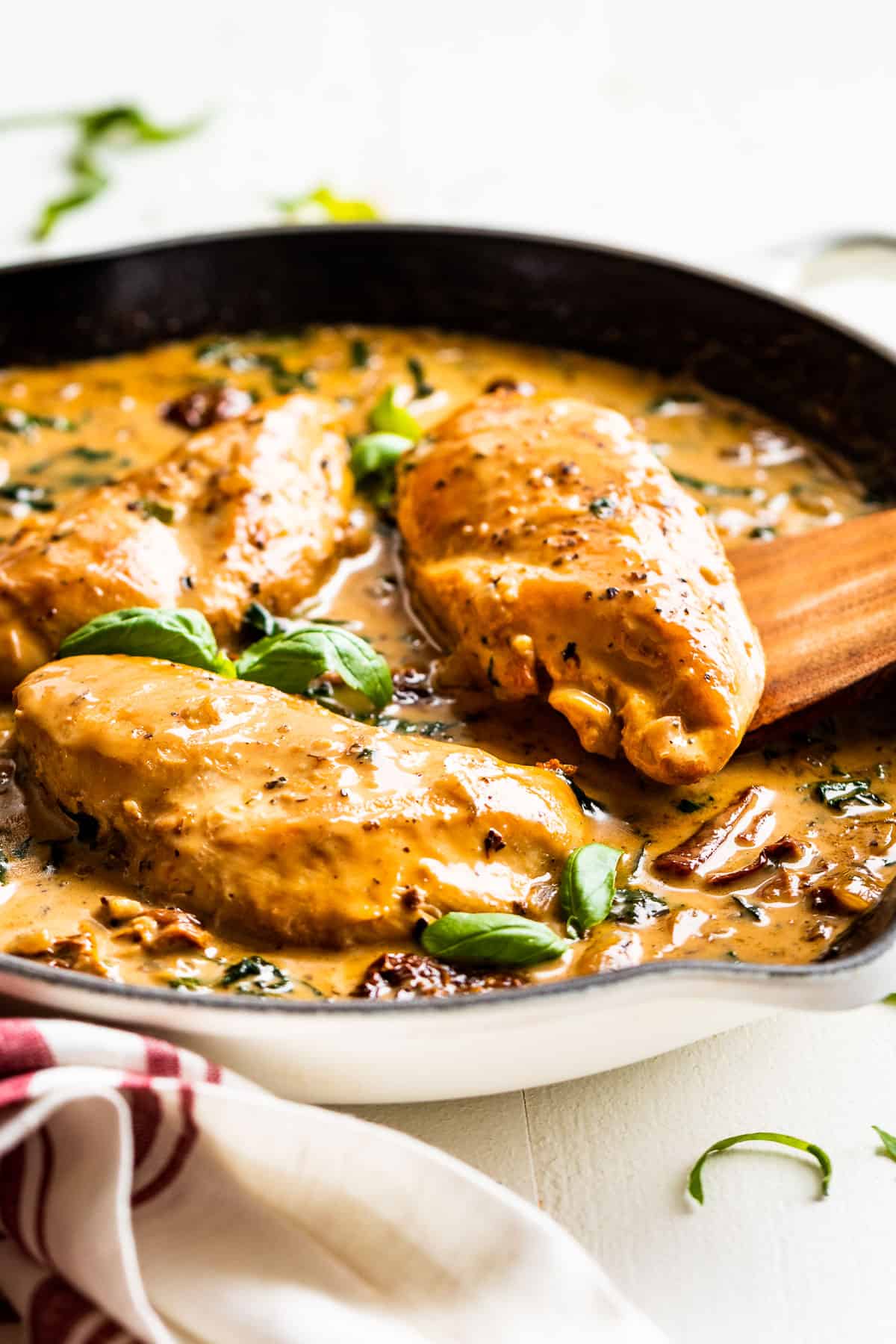 Do you love creamy sauces? I sure do! This ultra-creamy Tuscan Chicken is sometimes called 'Marry Me Chicken' because it's just that good.
Tuscan chicken is enveloped in a creamy sauce with sun-dried tomatoes, herbs, and spinach. It's incredible comfort food that's also really easy to make.
It's typically made with heavy whipping cream and you'll find that listed below in the recipe. But for anyone who is dairy-free, this recipe also comes with 2 dairy-free options.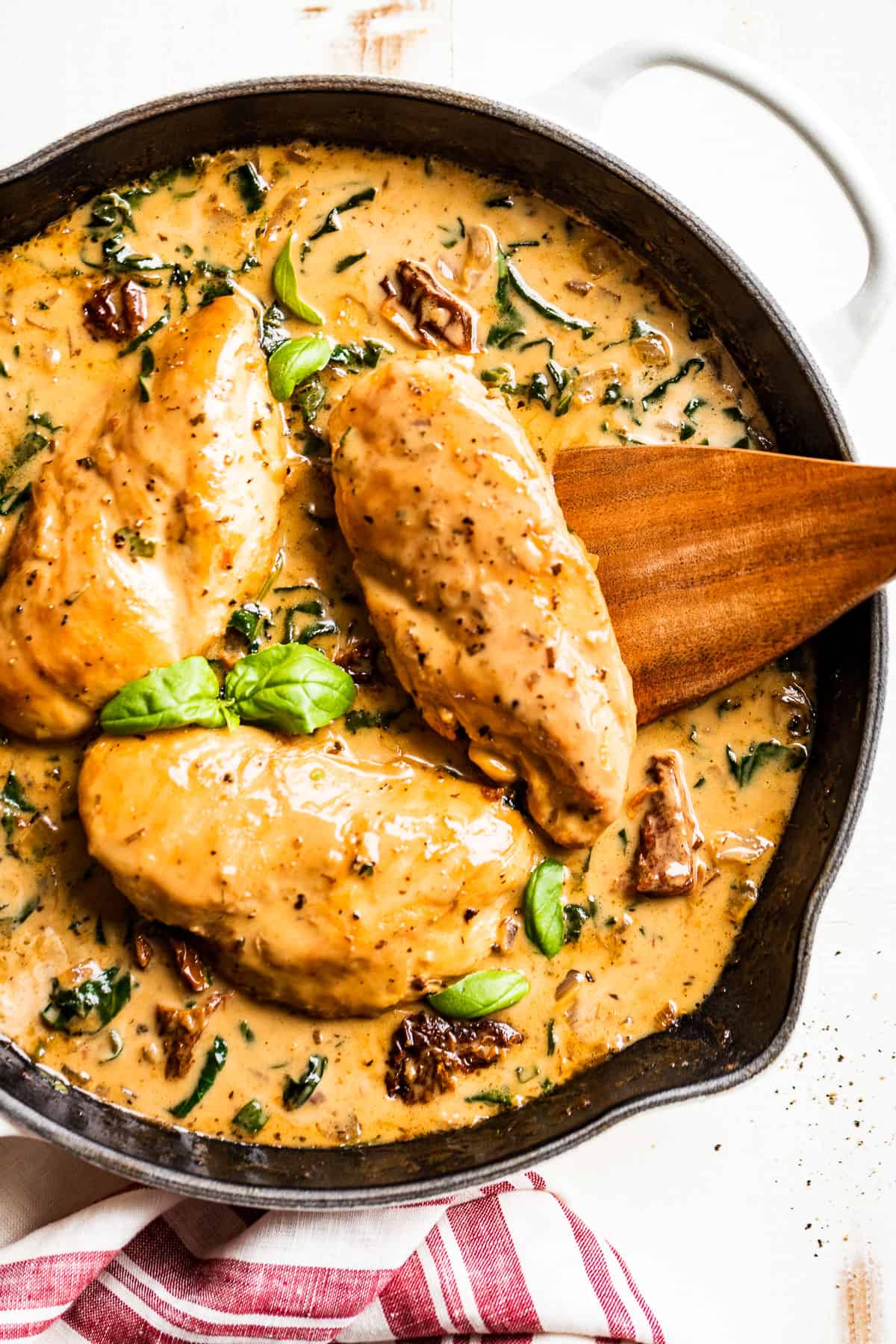 I personally like the coconut cream option the best. It makes a super creamy sauce that doesn't taste like coconut thanks to the sun-dried tomatoes and Italian seasoning.
But bring on the heavy cream if you can have dairy because it really is the most decadent and rich option for this dish!
Ingredients & Substitutions
Chicken – I used chicken breasts in this recipe, but you can use chicken thighs as well. The chicken breasts are simmered in the sauce for 10-15 minutes until they're completely done. Chicken thighs take about 5 minutes to finish cooking in the sauce. This will vary a bit depending on the thickness. Just simmer down the sauce for about 10 minutes, then add the chicken thighs in the last 5 minutes or so of the cooking time.
Onion & garlic – These 2 make up the base of the flavor, and add a lot of savory flavor to the sauce. Also, each of the ingredients listed here that adds flavor is what keeps this sauce from tasting like coconut for dairy-free.
Italian seasoning – is a good pairing with sun-dried tomatoes. But you can also mix it up with Herbs d' Provence as well. The Italian seasoning I use doesn't contain anything but herbs. But some mixes have all sorts of extras from salt and sugar to powdered milk in Italian seasoning, be sure to check your labels.
Sun-dried tomatoes – these add so much wonderful flavor to the sauce. They are also part of any classic Tuscan Chicken I've ever been served in restaurants. Be sure to check your labels for any unwanted ingredients. I've had good luck buying my sun-dried tomatoes from health food stores. The brands I've seen there haven't had any 'extras' in them.
Chicken stock – Homemade chicken stock always tastes the best. But store-bought chicken broth works perfectly here with so many other flavors, just look for low sodium so you can add salt to your taste.
Heavy cream or Coconut cream – heavy whipping cream makes the most decadent sauce. If you're dairy-free, I find that coconut cream makes the best substitute for heavy cream. You can buy cans of coconut cream, or refrigerate cans of coconut milk and scoop the hardened cream from the top. Also, you can 1:1 replace the coconut cream with my Cashew Cream or regular heavy cream if you're looking for a nice treat!
Spinach – is the perfect way to add another veggie to your plate. It also adds a nice pop of color and some extra nutrition too!
Make this recipe step by step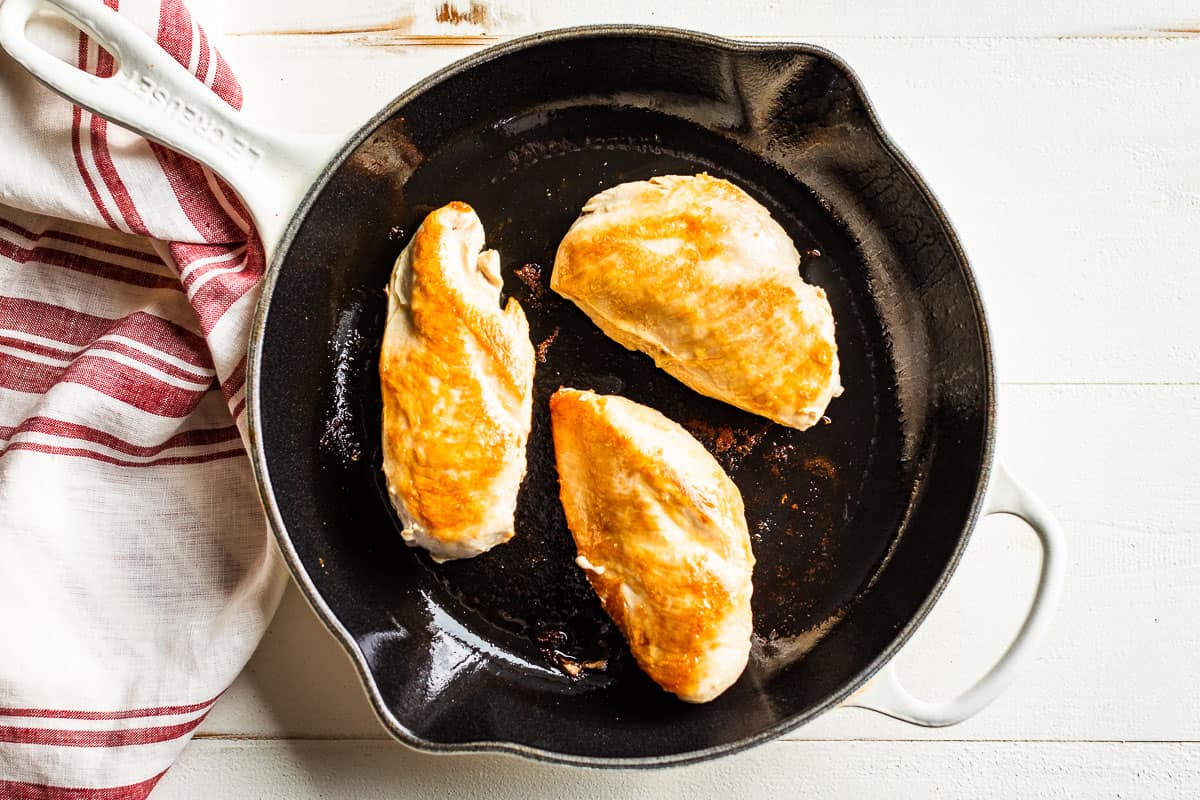 Step 1: Start by prepping all of your ingredients. Then preheat a large skillet over high heat until hot but not smoking. Add the oil and sear the chicken breasts until golden brown on each side. This takes about 3 minutes per side.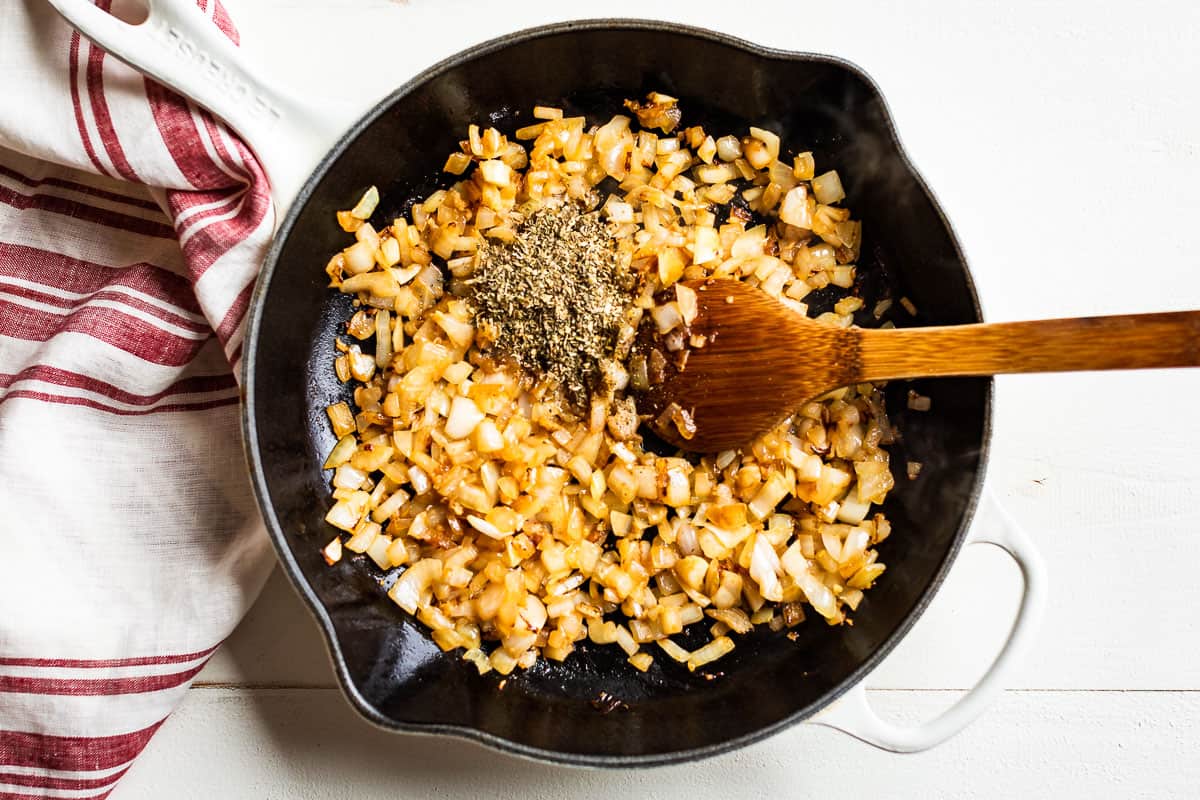 Step 2: Next cook the onions and garlic together until the onions are softened and browned.
Step 3: Then we'll add all the sauce ingredients along with the chicken. Finally, bring the sauce to a simmer and cook together with the chicken until the chicken is done in the center.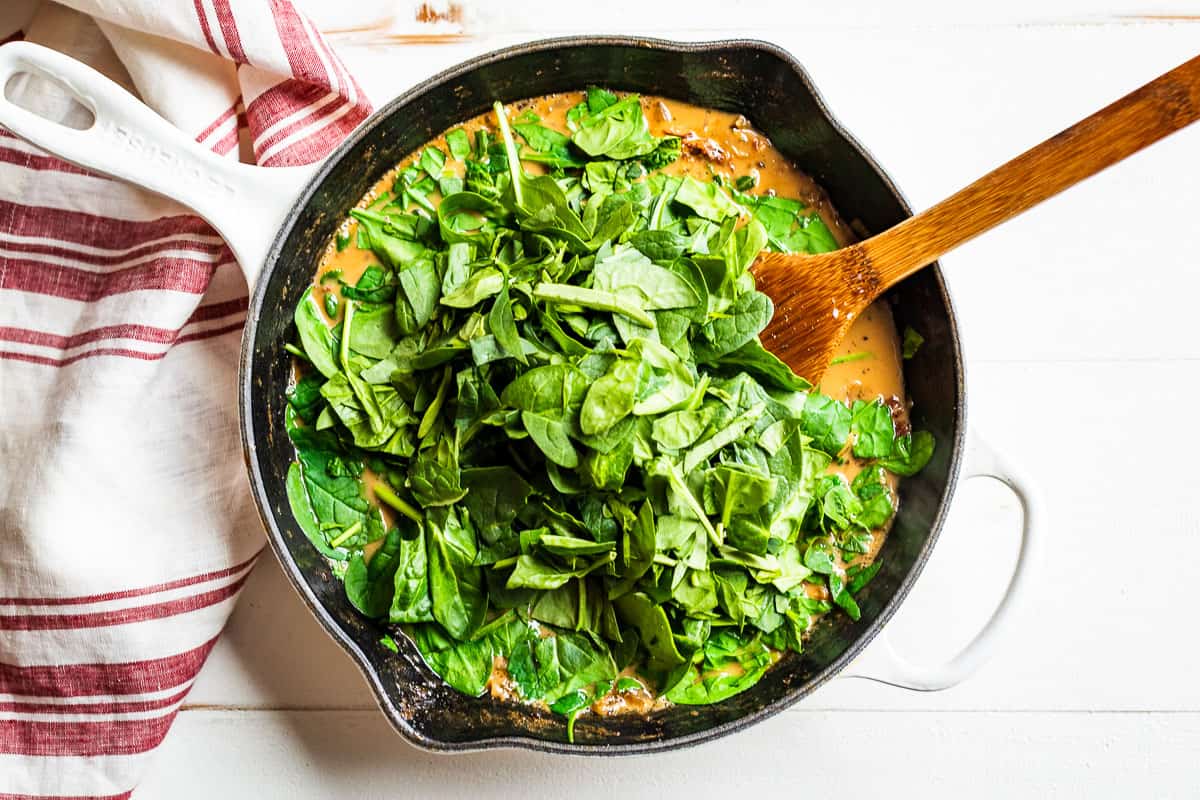 Step 5: Next add the chopped fresh spinach across the top of the skillet. It will look like a lot, but remember spinach melts down into almost nothing. Let it sit for a minute or so to wilt a bit.
Then carefully mix it in and allow it to just wilt for about 1 more minute. If your pan is too small, try removing the chicken breasts while you wilt the spinach before adding them back in.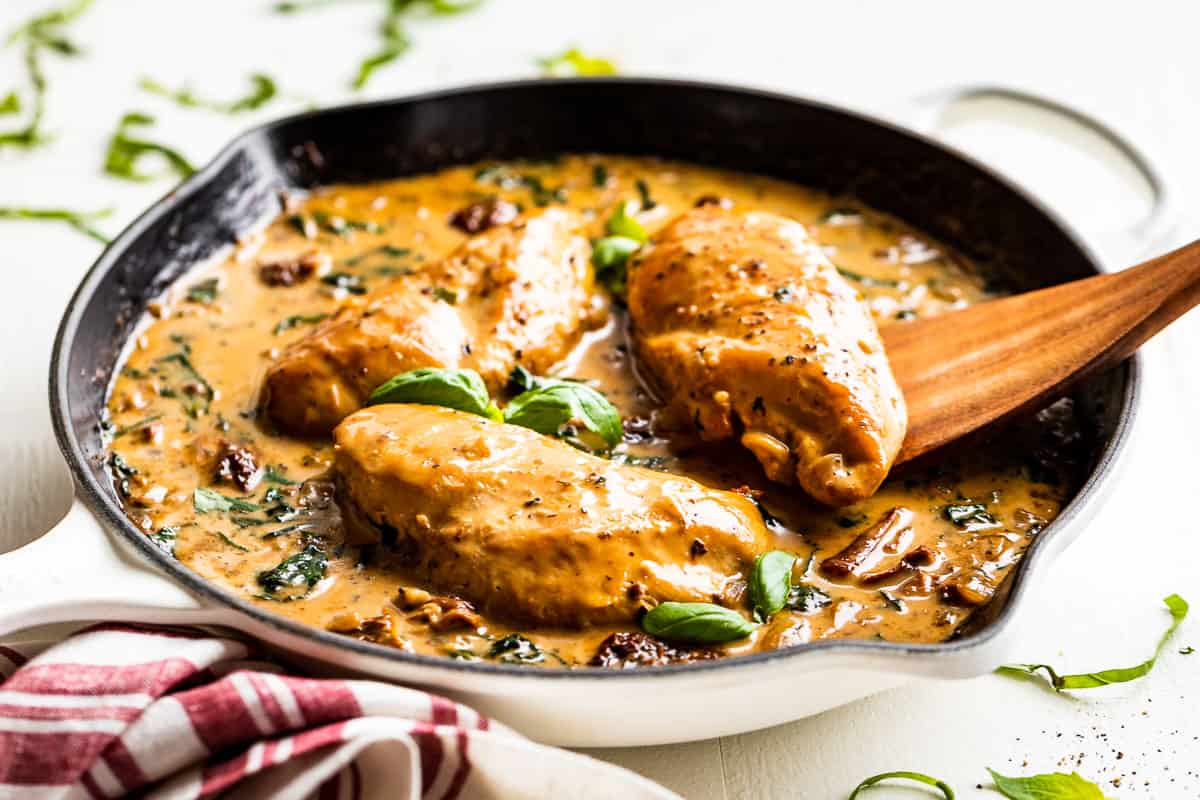 Step 6: The final step is to add some optional fresh basil and serve it with your choice of side dishes!
Ways to serve this
FAQ's
What is Tuscan Chicken?
There's not a straight answer for where this dish came from, but when a recipe is called 'Tuscan' it usually has a cream sauce flavored with herbs, sun-dried tomatoes, and spinach. This dish was made incredibly popular due to Olive Garden's take on it with their Tuscan Garlic Chicken served over fettuccine.
What does Tuscan Chicken go with?
Serve this creamy chicken recipe with simple vegetable side dishes. Mashed potatoes, pan-fried potatoes, freshly cooked pasta, crusty bread, roasted garlic or roasted carrots are all great options.
Storing leftovers
To store – place any leftovers into an airtight container and store them in the fridge for up to 4 days.
Make ahead – this dish is best made fresh so the chicken doesn't become dry. But you can make it ahead and reheat it, just be very careful not to overcook the chicken.
Reheating – place any leftovers into a skillet and heat over medium until heated through. It helps if you can cover it while it simmers. Also if the sauce breaks, add a touch of water and mix to combine it back together. I've never had this happen with coconut cream. However, it is a bit more common with heavy cream. The only reason a cream sauce will break is that there's not enough liquid-to-fat ratio for simmering the sauce down too far. Adding water or more heavy cream will bring it back together.
To freeze – you can freeze this Tuscan Chicken in an airtight container for up to 3 months. Thaw in the refrigerator overnight before reheating as directed above.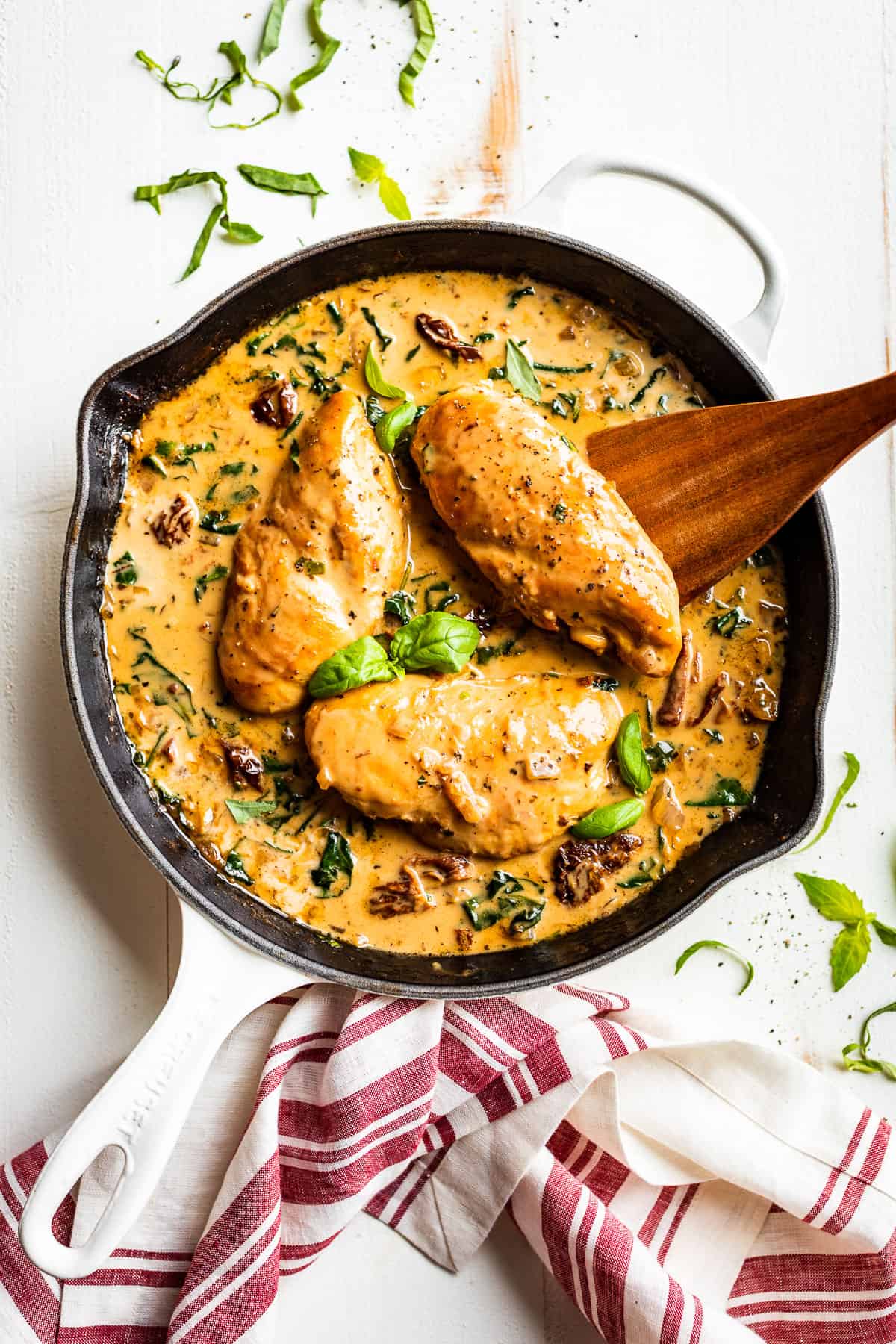 Tips & Tricks
There's no need to feel like you might be missing out if you go with the dairy-free options in this recipe. Tuscan Chicken is the ultimate dairy-free comfort food recipe. And it's the way we make this recipe the most often.
However, if you do eat dairy, this recipe makes a great treat for entertaining or date nights made with heavy whipping cream. If you go the cream route, be sure to sprinkle some freshly grated parmesan over the top, so good!
If you simmer the sauce down too far, it will break and oil will appear. I haven't had this happen with coconut cream, but it's common with heavy creamy when you reheat the sauce. This happens because there's not enough liquid left for the sauce to stay emulsified.
To fix a broken cream sauce, add liquid. It's best if you can add a bit more coconut cream or milk, or a touch more heavy cream and stir well until the sauce emulsifies again. You can also add a touch of broth or water until the sauce comes back together.
Dietary Options & Substitutions
Dairy Free – use coconut cream or cashew cream to make the creamy sauce. We both prefer the coconut cream overall but try both to see what you like best. This Tuscan Chicken is the ultimate gluten-free dairy-free chicken recipe because the flavors of the sauce perfectly cover any flavor of coconut cream.
Paleo & Whole30 – use coconut cream or my cashew cream recipe for dairy-free. This recipe is also the perfect Whole30 chicken recipe because it's all comfort food flavor but it's a healthy recipe too.
More Creamy Comfort Food Recipes
I sure hope you enjoy this Creamy Tuscan Chicken. And if you do get a chance to make it, I hope you'll leave me a comment/rating below. I absolutely love hearing from you here!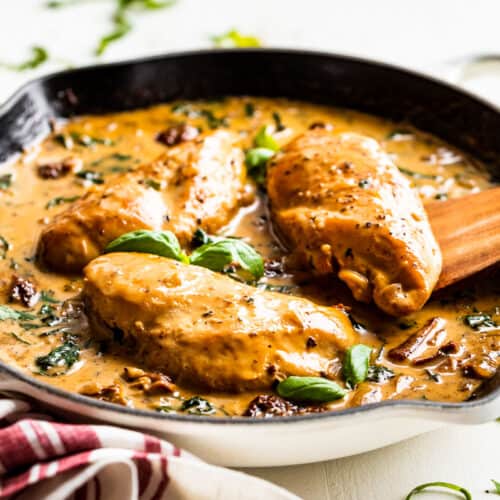 INGREDIENTS
1 1/2

pounds

boneless skinless chicken breasts

-

3-4, see notes

2

tbsp

olive oil

-

or reserved oil from the sun-dried tomatoes

1

onion

-

finely diced, 3 cups

2

cloves

garlic

-

minced

2

tsp

Italian seasoning

-

no salt or sugar added

1/2

cup

chopped sun-dried tomatoes

-

oil packed and drained, about 1/2 of an 8 oz jar

1

cup

chicken stock

- low sodium, I used this Homemade unsalted chicken stock

1

cup

heavy whipping cream

-

cashew cream or coconut cream, see notes

4

cups

chopped baby spinach

-

4 ounces

1

tsp

sea salt

-

or to taste, see notes

1/2

tsp

freshly ground black pepper

-

to taste

Optional: chopped fresh basil or parsley & grated parmesan
INSTRUCTIONS
Prep all the ingredients before you begin to cook. Then preheat a 10-12″ skillet over medium high heat. When the pan is hot but not smoking add 1 tablespoon of the oil and swirl to coat the bottom of the pan.

Brown the chicken breasts 3-4 minutes per side before removing them from the pan.

Add the remaining tablespoon of oil along with the onions and garlic. Lower the heat to medium and cook until the onions are browned and softened, 5 minutes.

Add the Italian seasoning, sun-dried tomatoes, chicken stock, and heavy cream or coconut cream.

Bring the sauce to a boil scraping up the browned bits from the bottom of the skillet. Add the chicken back to the pan and reduce the heat to maintain a simmer.

Cook to reduce the sauce and turn the chicken once, after about 5 minutes for even cooking. When the chicken is done, 10-15 minutes, add the spinach in an even layer across the skillet. Or you can remove the chicken from the pan, add the spinach, then add the chicken back in after it's wilted.

Let the spinach sit over the simmering sauce for about 1 minute to help it wilt. Then carefully mix it in. Season to taste with sea salt and pepper. Then serve with the optional fresh basil.
Bonus Step
If you made this recipe, please leave a rating/comment. Ratings really help us continue to bring you high-quality free recipes. Rate This Recipe!
NOTES
My package of chicken had 3 chicken breasts in it weighing 1.5 pounds. I sautéed them whole and then cut them in half to serve 6. You can also cut them in half to create 6 thinner chicken breasts before you cook them and reduce the cooking time for the chicken by 5-8 minutes.
The amount of salt will vary depending on the ingredients you use, try to find low-sodium chicken broth and add salt to your taste.
For the coconut cream, you can use cans of coconut cream. Or refrigerate a can of coconut milk, then scoop out the hardened cream from the top which measures about 1 cup of coconut cream per can of coconut milk. Refrigeration is needed to make the cream easier to scoop out. You can also use 1 cup of coconut milk from the can but the sauce won't be quite as creamy.
For dairy-free, paleo, & whole30 be sure to use the coconut cream and omit the optional parmesan. Also, check over the labels closely for your ingredients to make sure they're compliant.
nutrition facts
Calories:
355
kcal
|
Carbohydrates:
8
g
|
Protein:
28
g
|
Fat:
24
g
|
Saturated Fat:
11
g
|
Polyunsaturated Fat:
2
g
|
Monounsaturated Fat:
9
g
|
Trans Fat:
0.01
g
|
Cholesterol:
119
mg
|
Sodium:
628
mg
|
Potassium:
796
mg
|
Fiber:
2
g
|
Sugar:
3
g
|
Vitamin A:
2624
IU
|
Vitamin C:
18
mg
|
Calcium:
75
mg
|
Iron:
2
mg
This recipe was originally published in 2021 but has been updated in 2023 with more tips, substitutions, and nutritional information.