Creamy Tuscan Sausage Pasta makes the ultimate comfort food meal. It's perfect for family dinners, at home date nights, and for entertaining as well. The combination of sun-dried tomatoes, sausage, and parmesan enveloped in a creamy sauce is always a crowd-pleaser. This recipe is made with gluten-free pasta, but you can use regular pasta too. And if you can't have dairy, no worries because there's a dairy-free option as well!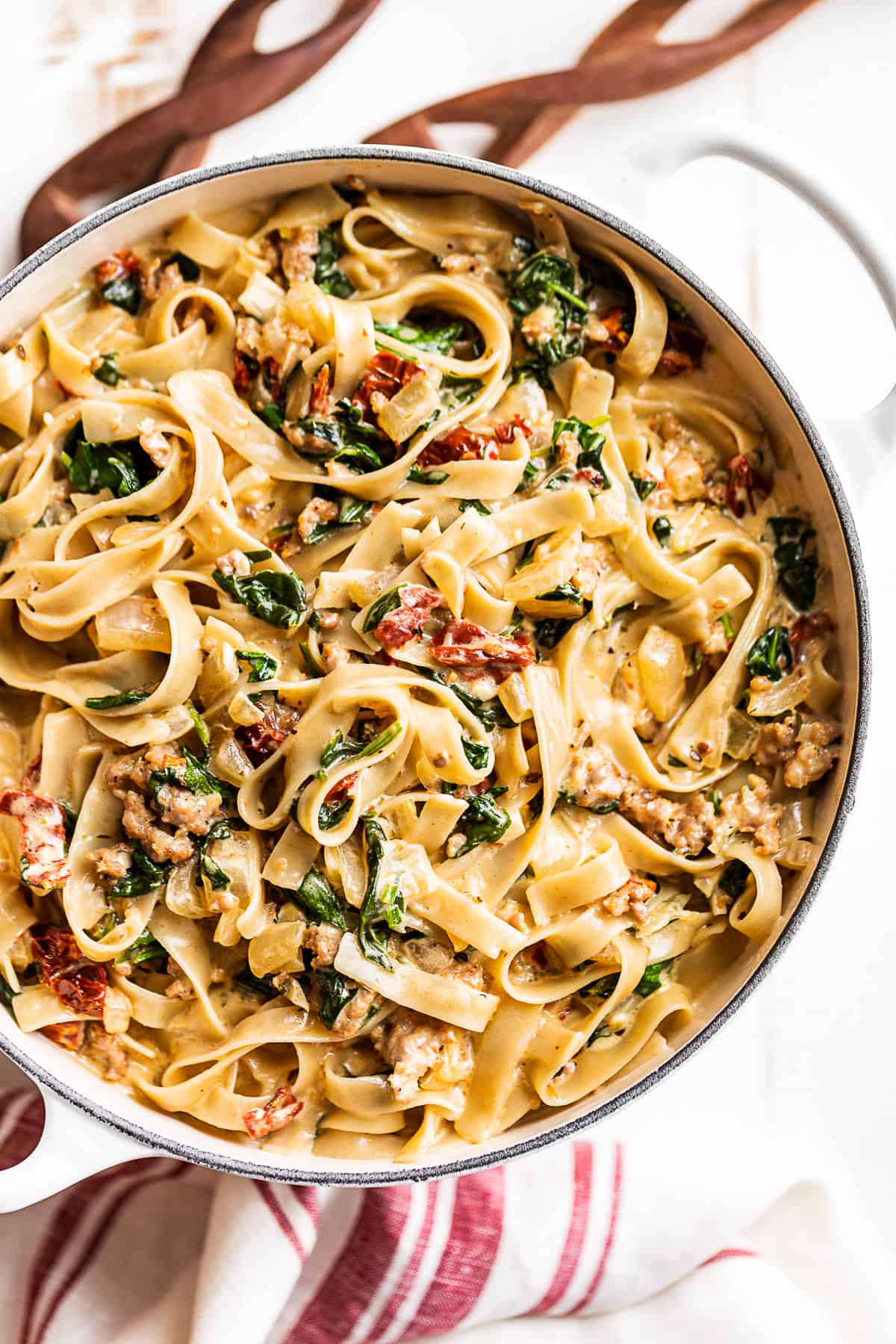 I've been making some version of this pasta for well over 10 years now, and we never get tired of it! It's the perfect date night kind of recipe because it's indulgent, yet still super easy to make. This means it's also great for any kind of entertaining as well. (You'll find a simple menu below above the recipe to make this for a dinner party.)
This pasta dish is well suited to all kinds of pasta shapes. You'll see both tagliatelle and penne here in the photos. It's so versatile I can't think of any type of pasta that doesn't work here, so the sky is the limit! We make this the most often with penne and bowties, or with noodle shapes like tagliatelle or fettuccini.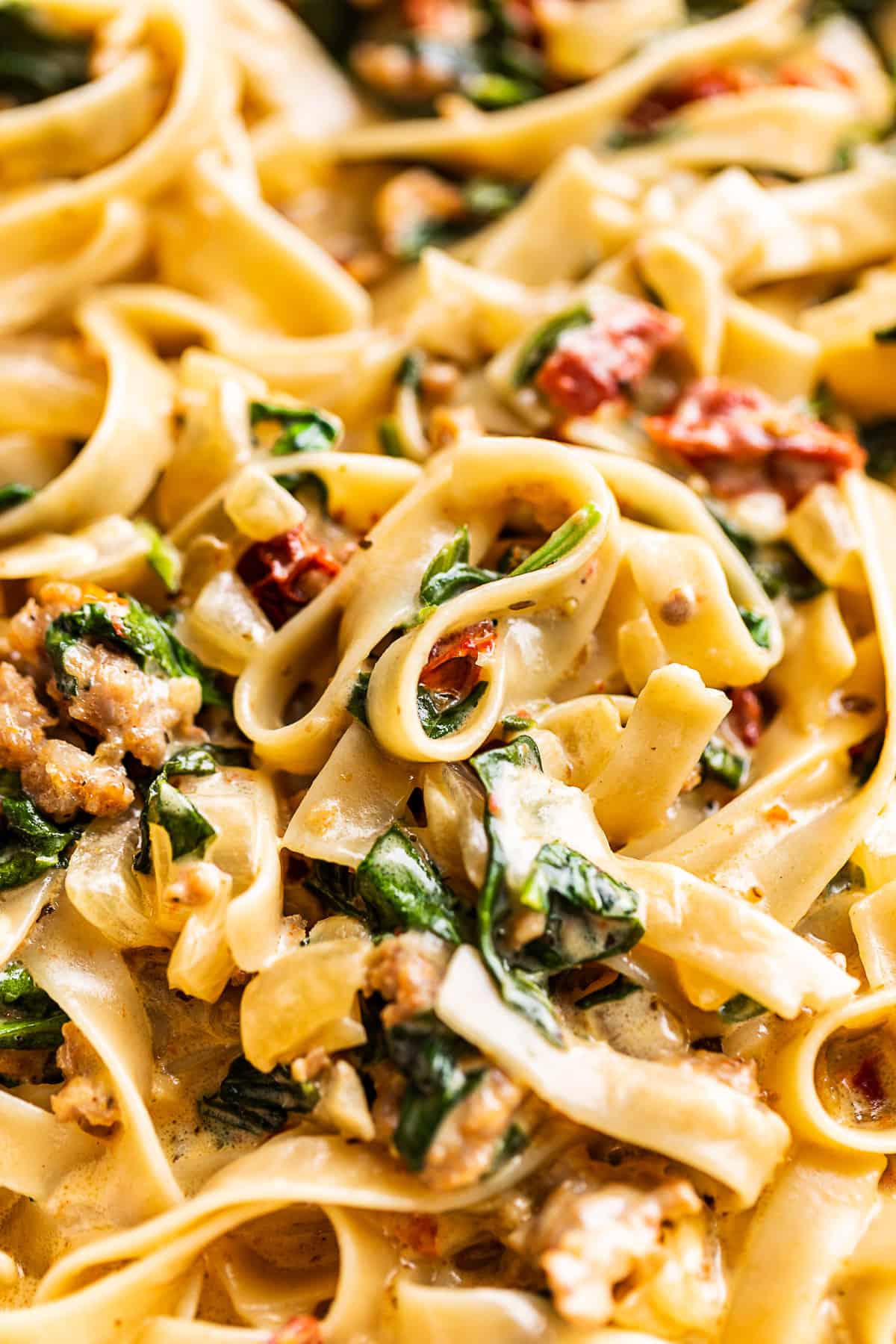 And like I mentioned it's an indulgent kind of recipe made with heavy cream. You'll see some suggestions below if you don't want to use heavy cream. But it's really the best made all out with no substitutions if possible!
However no worries if you're dairy free because you can make this with coconut cream from refrigerated cans of coconut milk. It's not quite as rich, but it's still really tasty. My Creamy Tuscan Chicken recipe is made with coconut cream, and it's so good!
Watch how to make this Tuscan Sausage Pasta
Ingredients & Substitutions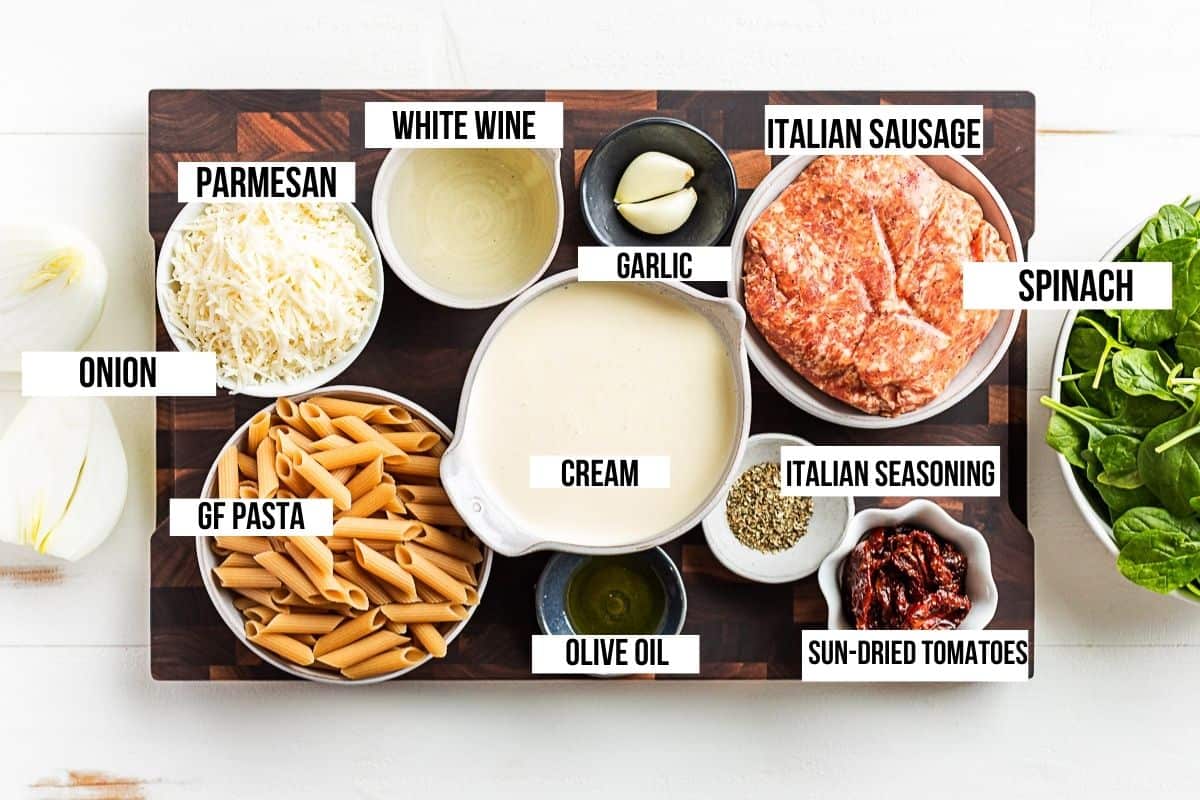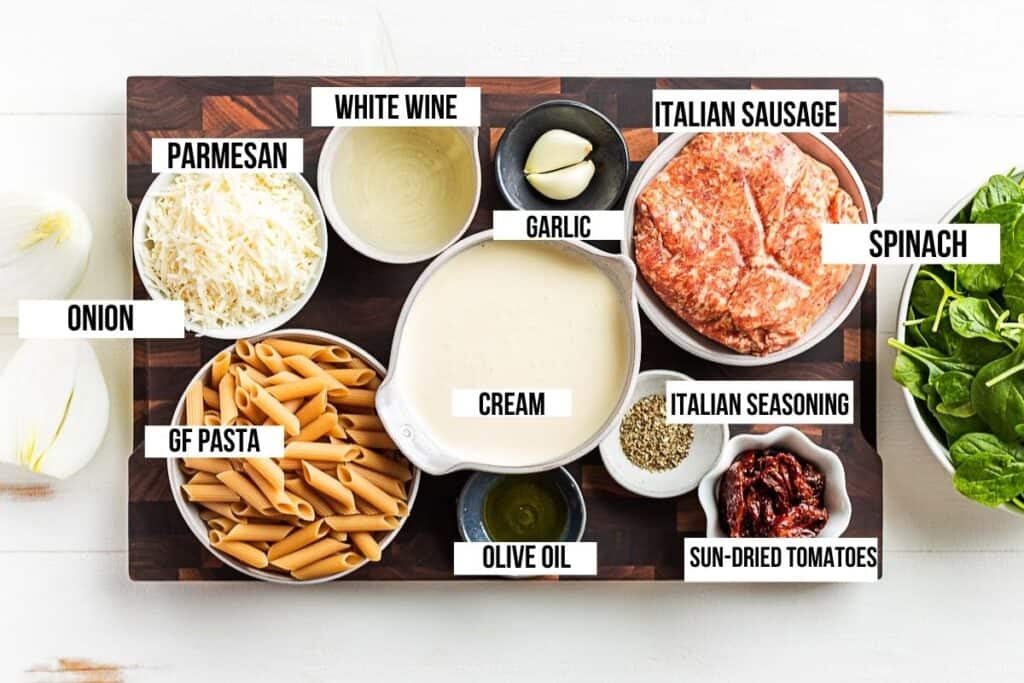 Gluten free pasta – you'll see both penne and tagliatelle in these photos because pretty much any shape works well in this recipe. Try farfalle (bowties), fusilli, fettucini, or linguine here to mix it up.
Italian sausage – I like to use mild sausage here because it pairs well with the other flavors, but spicy sausage can be a fun variation.
Onion & garlic – add a lot of depth to the sauce. But if you're in a hurry, you can skip the onion and just use garlic. I do this sometimes to save on time, but if you can, definitely take a few minutes to brown the onion.
Olive oil – is what I use to cook the onion and garlic in along with the sausage fat in the pan. If you have a lot of grease leftover from cooking the sausage that will be enough without any extra olive oil.
Italian seasoning – adds a lot of flavor to the sauce, but in the summer try omitting it and adding 1 cup of chopped basil at the end of the cooking time instead.
Heavy cream – makes up the cream sauce here, but you can also use coconut cream skimmed from the top of refrigerated cans of coconut milk. You'll find it makes a great sauce with these flavors.
White wine – adds a bright and lighter flavor note to the cream sauce, but it can be omitted. You can also add a teaspoon or two of freshly squeezed lemon juice to 'brighten' the flavor of the sauce instead.
Sun-dried tomatoes – the kind packed in oil is what you're looking for here. Diced up they add so much flavor to this sauce.
Spinach – adds a pop of color as well as another serving of veggies. It's the perfect way to add more veggies because it doesn't have a strong flavor and works well with this pasta dish. I don't recommend subbing in kale because it's too tough for this dish.
How to make this recipe step by step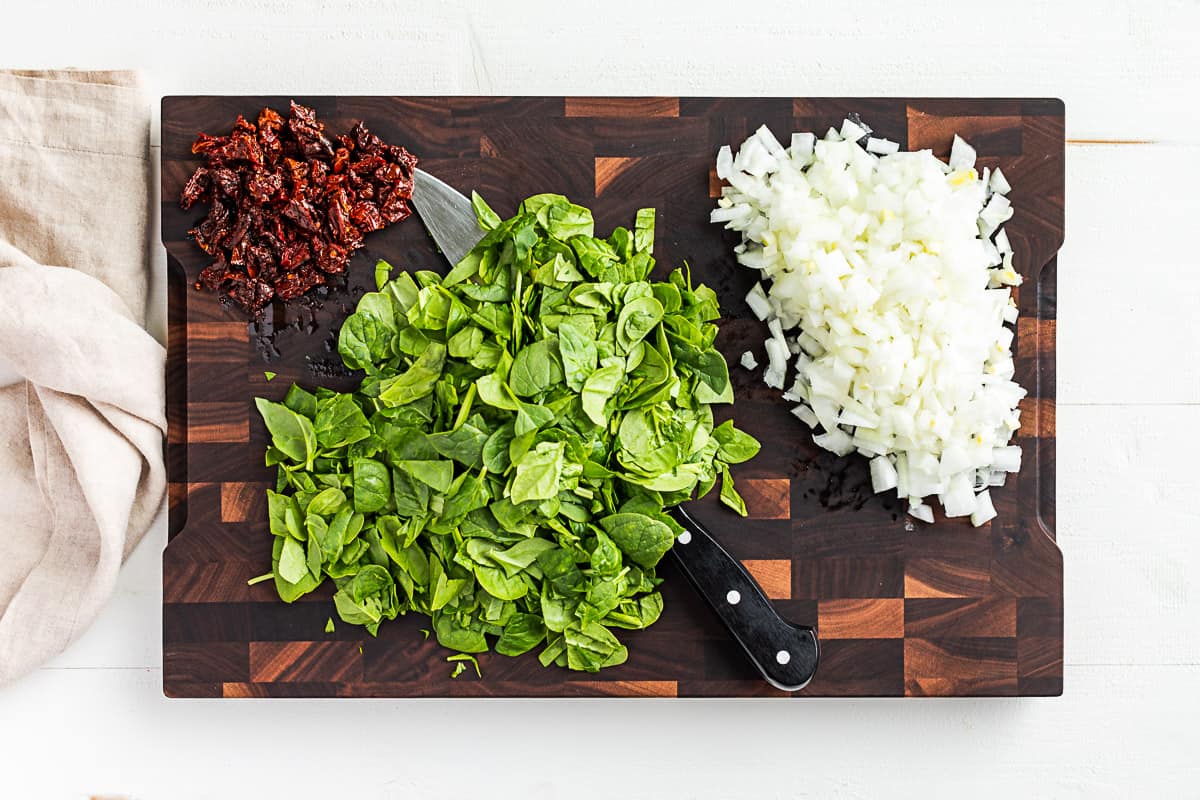 Step 1: Start by dicing up the onion, mincing the garlic, dicing the sun-dried tomatoes, and roughly chopping the spinach. Once everything is prepped, you're ready to start cooking.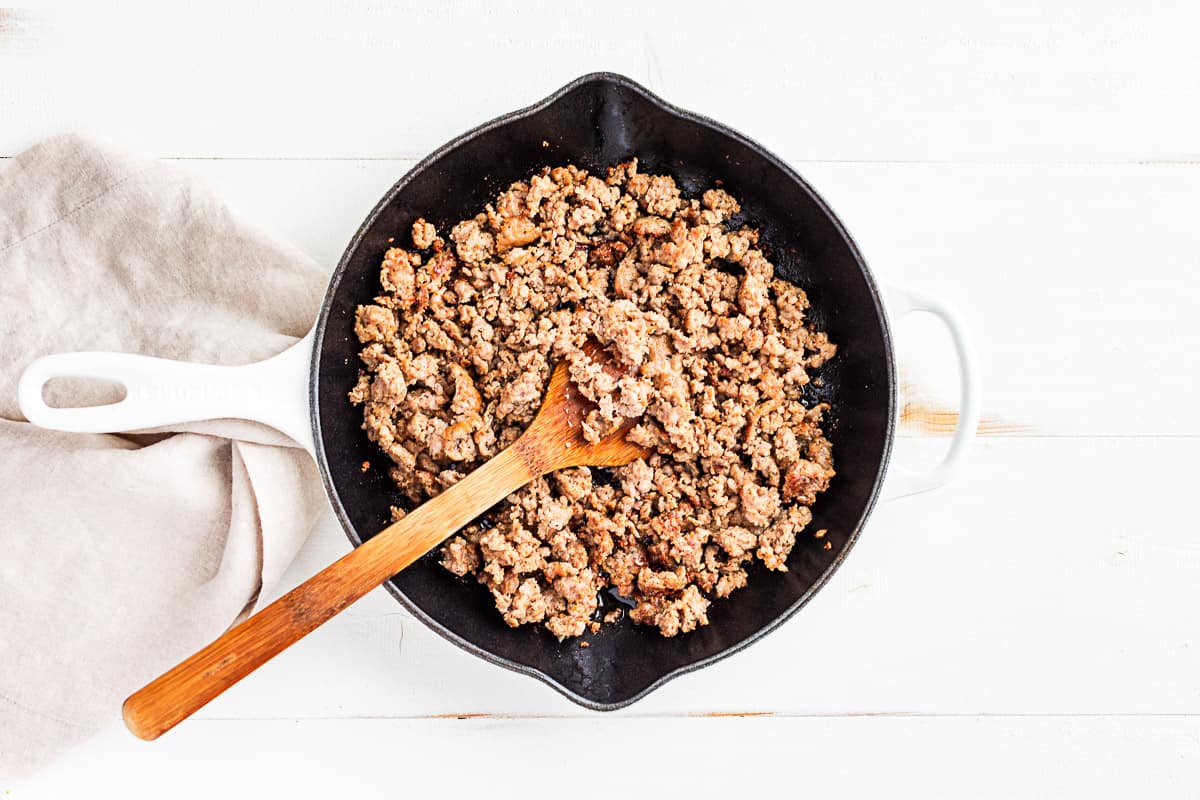 Step 2: Start a large pot of water to boil for the pasta. Then place a large skillet over medium-high heat and when the skillet is hot, add the sausage. Break the sausage up and cook until just done and browned. Remove the sausage from the skillet and set it aside.
Tip: The recipe calls for 8 ounces of sausage, but I cook a full 1 pound package, and then freeze half for another batch of pasta later.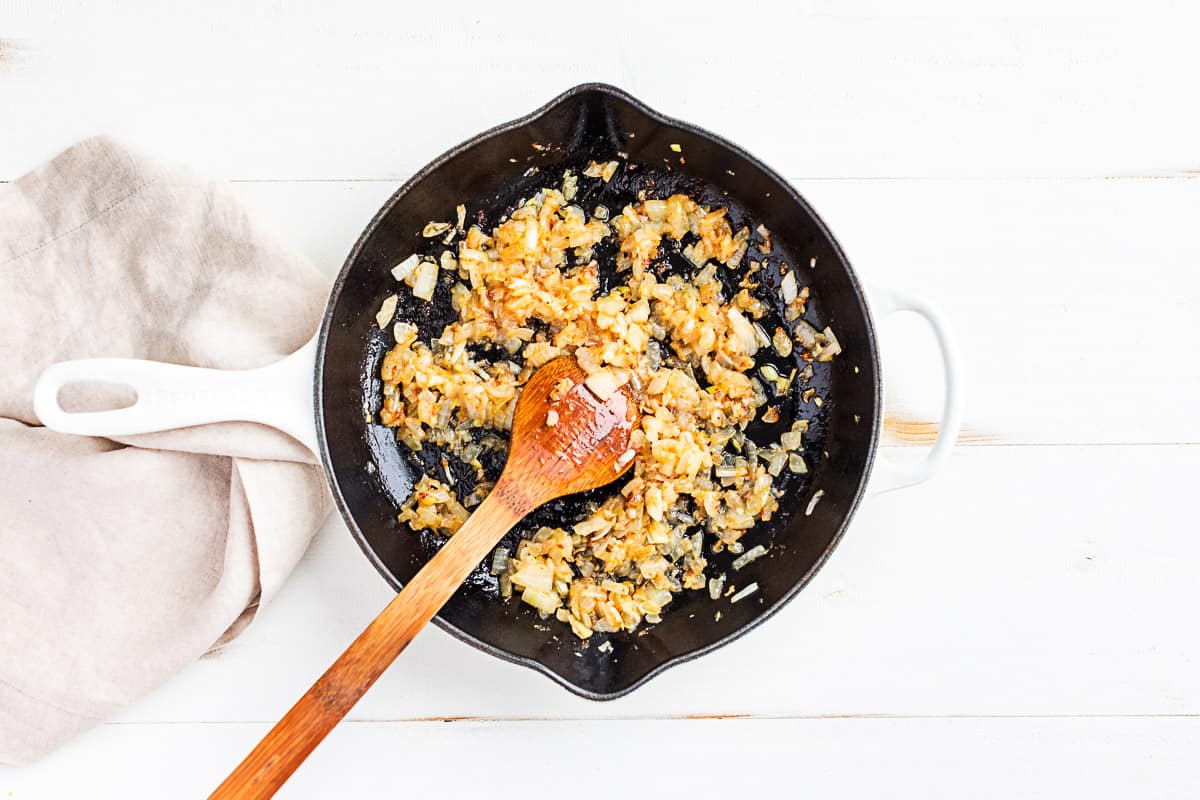 Step 3: Add the olive oil if there isn't enough sausage grease in the pan and sauté the onion and garlic together over medium heat until golden brown.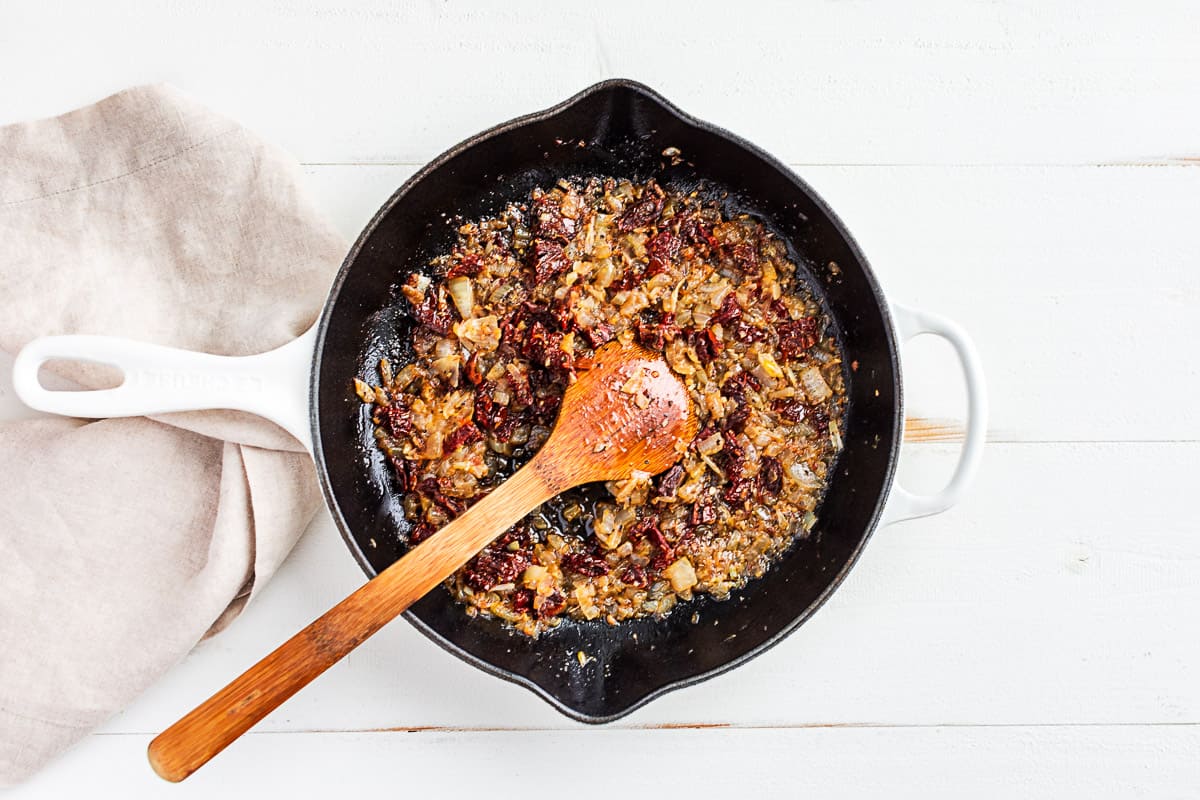 Step 4: Next add the sun-dried tomatoes and Italian seasoning to the pan. Briefly sauté stirring to combine and bring out the flavor of the Italian seasoning. Then add the Dijon mustard and white wine (if using) and reduce until just a small amount is left in the pan before adding the heavy cream.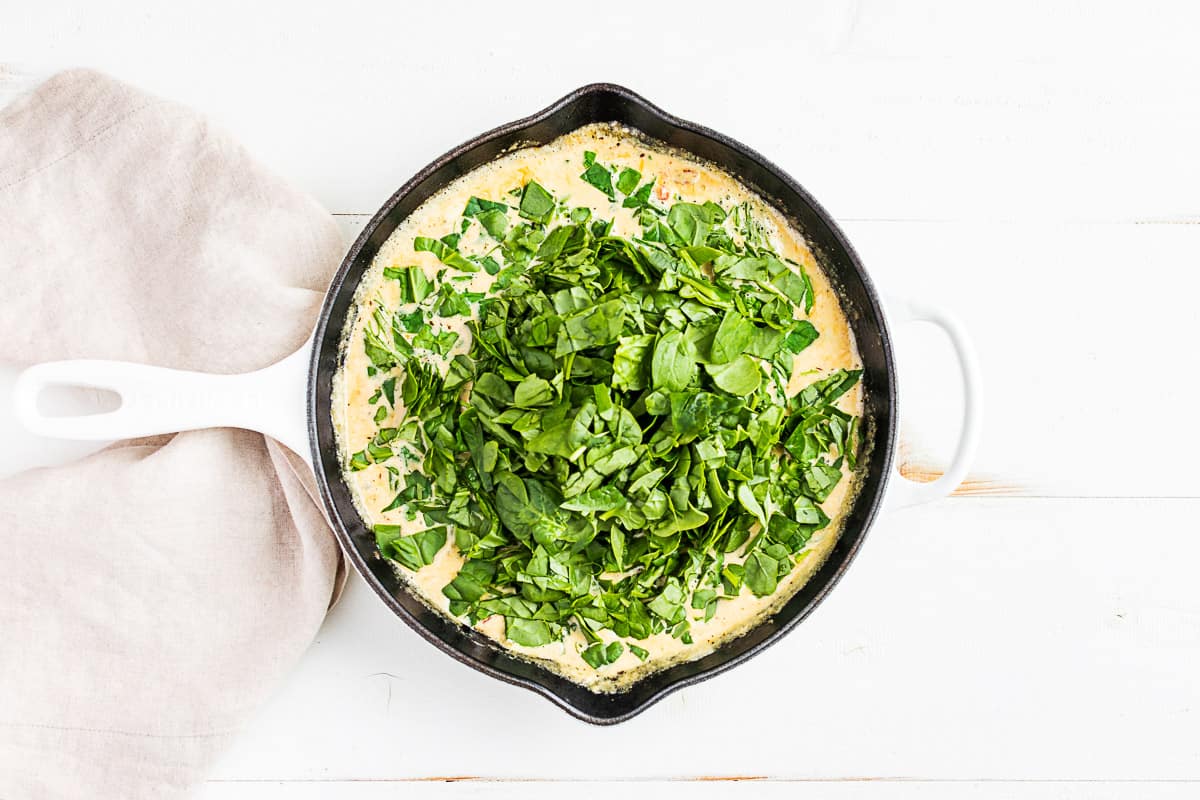 Step 5: Bring the cream to a boil, then reduce the heat to maintain a simmer. Cook the pasta while the sauce simmers. When the sauce is lightly thickened, add the spinach to the pan and cook just until barely wilted.
Important Note! Cream sauces will boil over very easily, so keep your eye on the pan! You want to bring it to a boil, then control the heat to make sure it's just simmering, rather than boiling right out of the pan.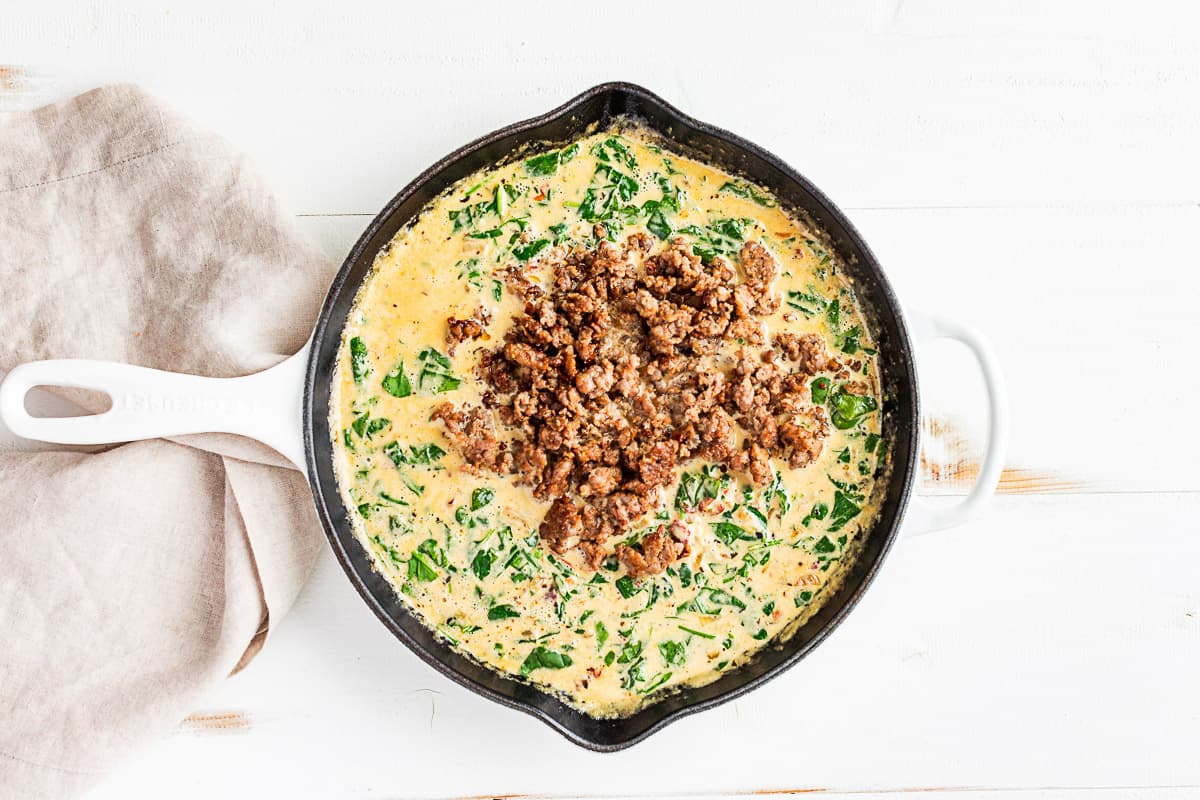 Step 6: Once the spinach is barely wilted, add the browned sausage back to the pan.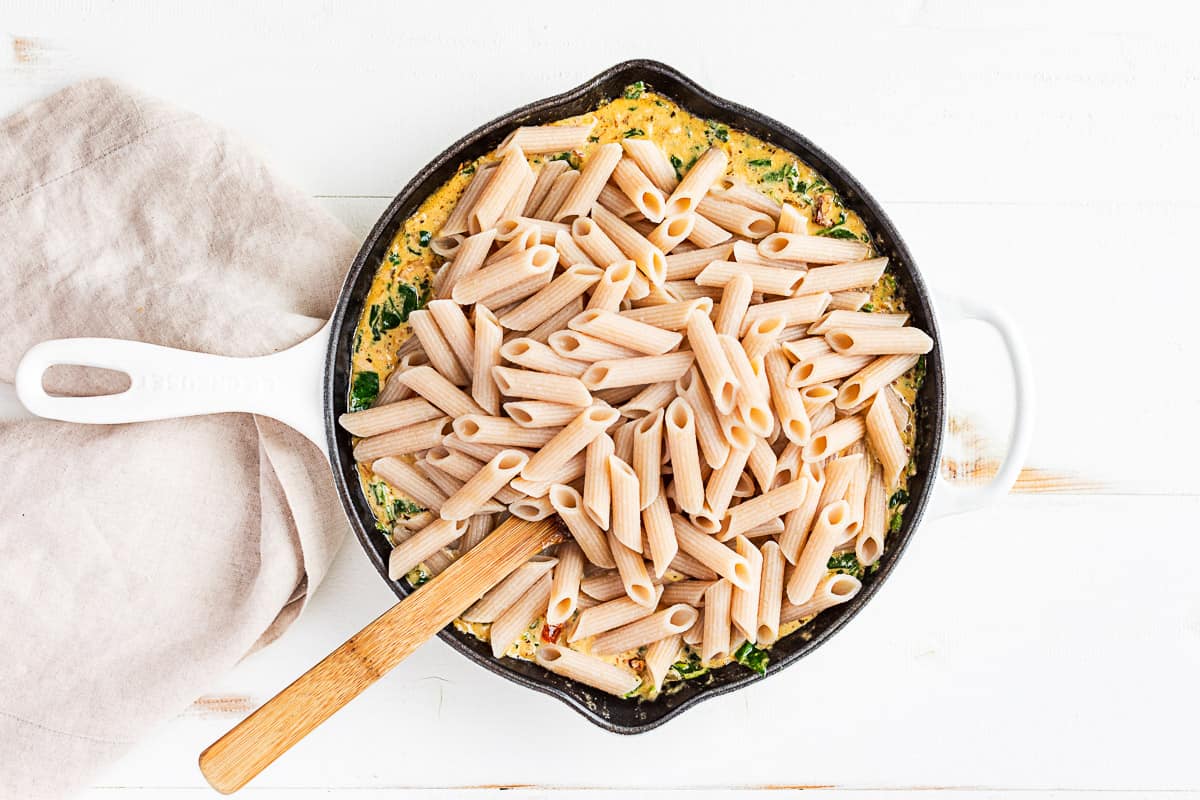 Step 7: Finally add the freshly cooked pasta to the sauce and simmer for 1-2 minutes to help the sauce properly coat the pasta. During this time season to taste with sea salt and pepper. Add the parmesan and optional basil and serve right away.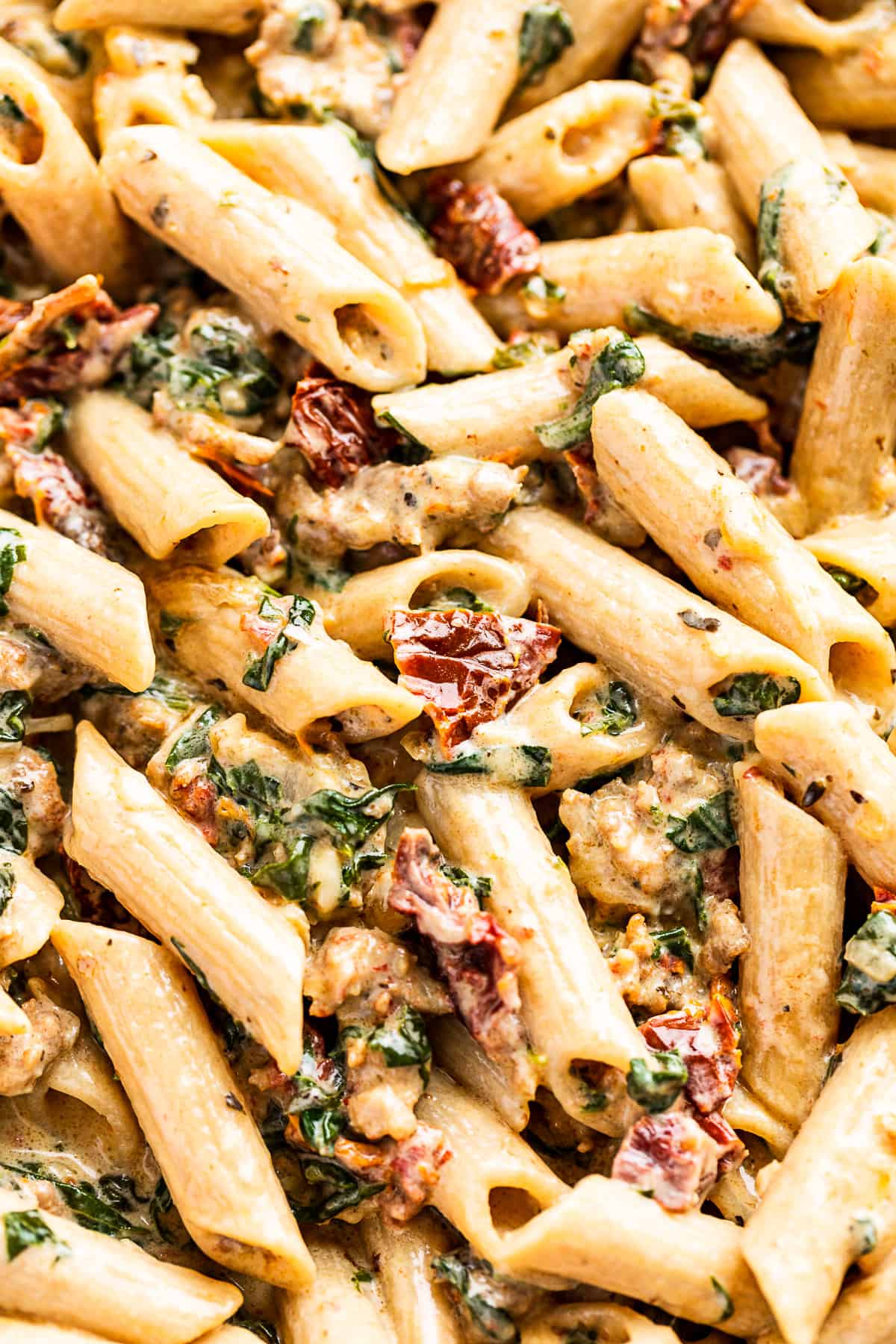 FAQ's
Can I use half and half instead of heavy cream?
Yes, but you will need to thicken it just before you add the spinach. 1-2 teaspoons of cornstarch mixed together with some water should do the trick. Half and half isn't as creamy, but it will work. Milk will also work here, but I wouldn't go with anything less than whole milk. Heavy cream is the best here and makes a wonderful treat!
Can I use regular pasta in place of gluten-free pasta?
Yes, just be aware that regular pasta comes in 1-pound or 16-ounce packages, and gluten-free comes in 12-ounce packages. You can see my recommendations below in the recipe.
Storing leftovers
To store – place any leftovers into a sealed container and refrigerate for 4-5 days.
Reheat – add the leftovers to a skillet along with a tablespoon or 2 of water. Cook over medium heat until the pasta has softened and is heated through, adding water as necessary. Cream sauces will 'break' when heated without water and leave you with an unappealing bowl of noodles and 'grease'. By adding a bit of water it keeps the sauce emulsified as it heats through again.
To freeze – I don't recommend freezing gluten-free pasta because it tends to be extra soft and even grainy after it thaws.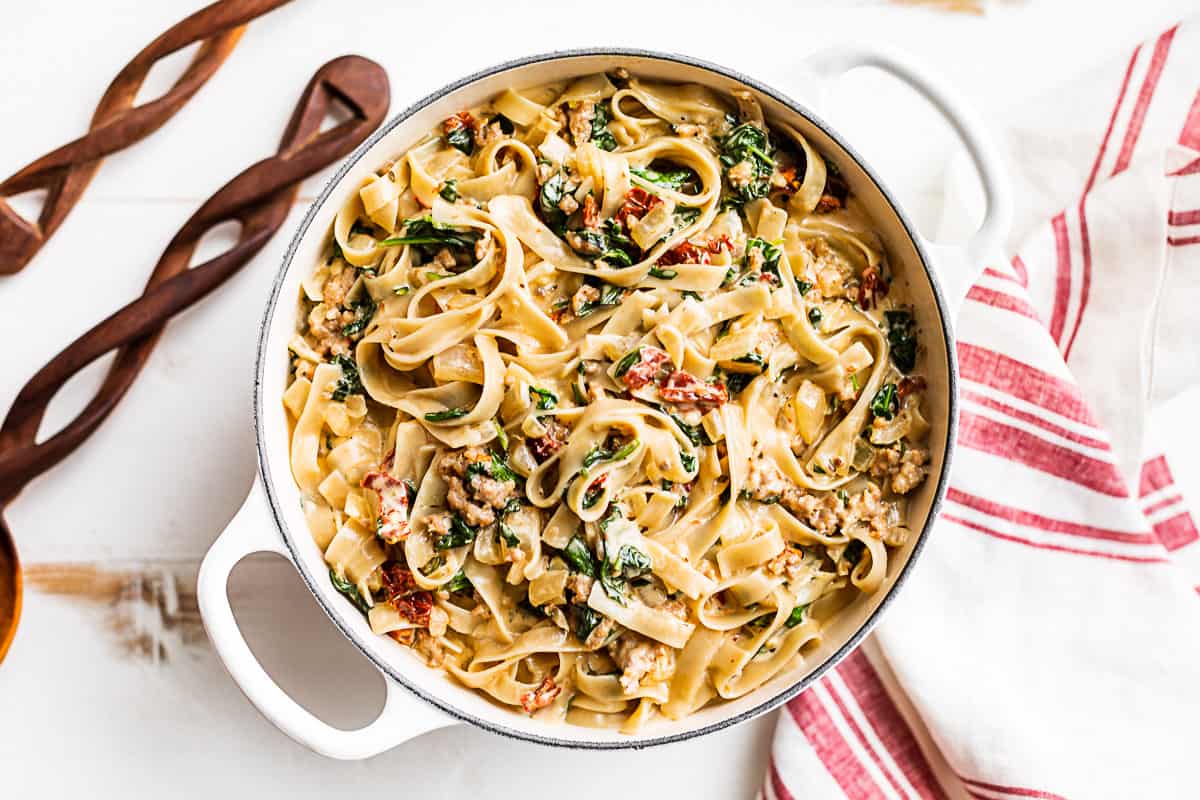 Tips & Tricks
Try all sorts of pasta shapes here, seriously whatever you're in the mood for works in this recipe! Our go-to favorites are penne, tagliatelle, bowties, and fettuccine.
If the sauce is too thick when you toss it with the pasta, try adding a tablespoon or 2 of water or a splash of white wine if you're using it.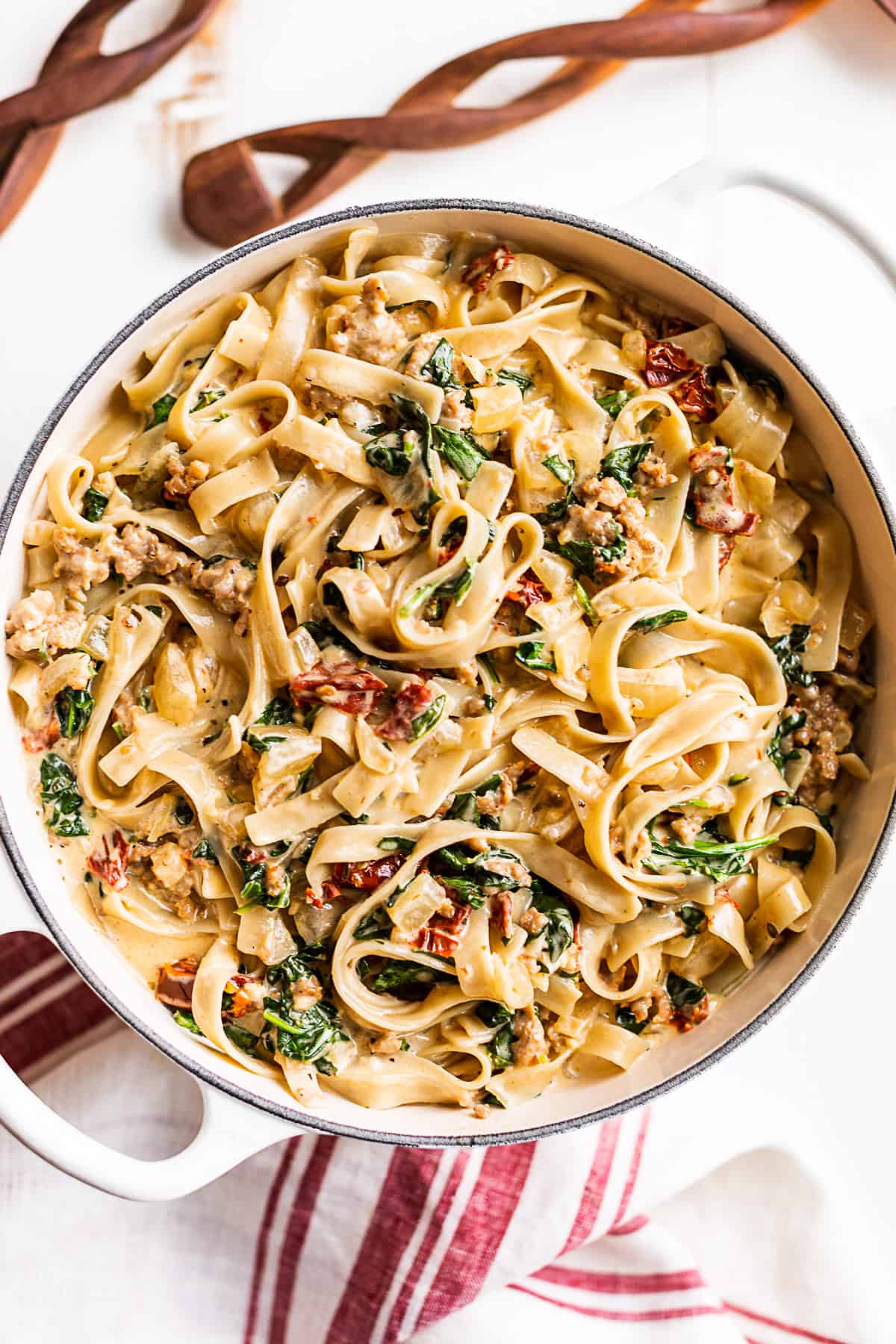 Tuscan Sausage Pasta dinner party inspiration
I really hope you enjoy this Tuscan Sausage Pasta! If you do get a chance to make this recipe or have any questions, I'd love to hear from you in the comments.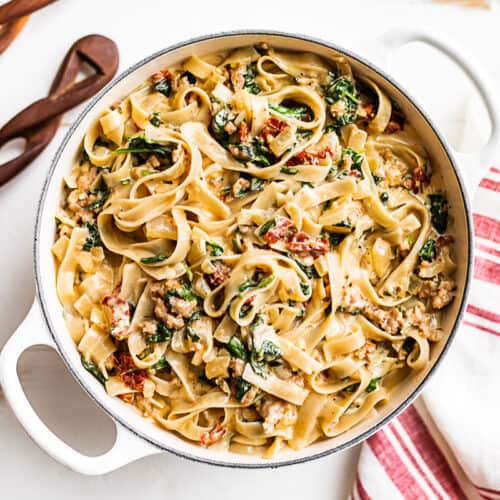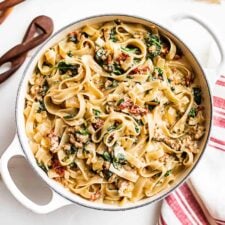 INGREDIENTS
8

ounces

mild bulk Italian sausage

-

see notes

1

tbsp

olive oil

-

see notes

2

cups

1/4″ diced onion

-

from 1

2

cloves

garlic

-

minced

1

tsp

Italian seasoning

1/2

cup

chopped sun-dried tomatoes

-

see notes

1/2

cup

white wine

-

or 1/2 cup chicken broth with 1-2 teaspoons fresh lemon juice

1

tsp

Dijon mustard

2

cups

heavy cream

-

see notes for dairy free

12

ounces

gluten free pasta

-

penne, fettuccini, etc. I use 100% brown rice from Jovial

4

cups

baby spinach

-

4 ounces, roughly chopped

1

cup

freshly grated parmesan cheese

-

plus more for serving, or dairy free substitute of choice

1/2

tsp

sea salt

-

more or less to taste depending on ingredients used

1/4

tsp

black pepper

Optional: 1/2 cup chopped fresh basil
INSTRUCTIONS
Place a large 9-10″ skillet over medium high heat. When the pan is hot add the sausage, and using a wooden spoon or metal utensil if appropriate, break apart the sausage and brown it. When the sausage is done, remove it from the pan and set it aside.

Bring a large pot of water to a boil for the pasta while you continue on with the sauce.

Add the olive oil to the pan with the sausage grease if needed along with the onion and garlic. Sauté over medium heat stirring frequently until the onion is golden brown. Add the Italian seasoning, sun-dried tomatoes, white wine, and Dijon mustard. Briskly simmer until the wine is almost gone.

Next add the pasta to the boiling water and cook according to the package directions for al dente. I like to remove the pasta a couple minutes early so it can finish in the sauce.

While the pasta cooks, add the heavy cream to the pan with the sun-dried tomato mixture. Bring the sauce to a boil, then reduce the heat to maintain a light simmer. Be careful not to let it boil over so there's no mess!

Simmer the sauce until it's lightly thickened 6-8 minutes. Next add the roughly chopped spinach and stir to combine and wilt the spinach, then add the sausage back to the pan. If your pan is too small, add the spinach to the drained pasta in it's pot along with the sauce and simmer in that instead.

Drain the pasta, then add it to the pan along with the sausage and simmer 1-2 minutes stirring constantly to help the sauce adhere to the pasta.

Finally add the grated parmesan, season to taste with sea salt and black pepper. Stir in the optional basil leaving some to sprinkle as a garnish, and serve immediately with more grated parmesan.
Bonus Step
If you made this recipe, please leave a rating/comment. Ratings really help us continue to bring you high-quality free recipes. Rate This Recipe!
NOTES
I like to cook the full 1 pound package of the Italian sausage, then place half of it into a sealed container to freeze for another batch of pasta later.
You may not need the additional olive oil depending on the amount in the pan after you've cooked the sausage. You can also use some of the olive oil from the jar of sun-dried tomatoes for even more flavor.
Make sure you buy the oil packed sun-dried tomatoes for this recipe. You don't want dried tomatoes because they will be too hard and won't rehydrate properly here.
For dairy free, I like to use 1 cup coconut cream scooped from the top of a refrigerated can of coconut milk plus 1 cup chicken broth.
1-12 ounce package of gluten free penne measures out at 4 cups. Regular pasta usually comes in 1 pound packages, so you'll need to use a bit less. You can also use the the full 1 pound package pasta with 1 pound of sausage but there will be a bit less sauce. Just add a splash of wine or a few tablespoons of water if it's too thick.
nutrition facts
Calories:
747
kcal
|
Carbohydrates:
53
g
|
Protein:
21
g
|
Fat:
50
g
|
Saturated Fat:
26
g
|
Polyunsaturated Fat:
3
g
|
Monounsaturated Fat:
16
g
|
Cholesterol:
130
mg
|
Sodium:
843
mg
|
Potassium:
544
mg
|
Fiber:
3
g
|
Sugar:
5
g
|
Vitamin A:
3298
IU
|
Vitamin C:
20
mg
|
Calcium:
303
mg
|
Iron:
3
mg
This post was originally published in 2015 but has been updated to be easier with new tips, information, new photos, and nutritional information in 2022.