I love the way the house smells when I have Rosemary Chicken with Butternut Squash in the crockpot. I think it's the rosemary in particular that really gets me, because it has a certain savory smell with a hint of gourmet sophistication. There's enough vegetables in there for this to be a one pot meal, but Caesar Salad with Pine Nuts makes a great companion. If you're having company, add Chocolate Fudge Skillet Cake and you've got a simple, crowd-pleasing menu. It's fancy enough to be a company kind of dish, but easy enough to make for a weeknight.
I'm trying to develop most of my crockpot recipes for an 8 hour cooking time, so that dinner is ready when you get home from work. That being said,there are a number of tricks to cooking chicken for 8 hours without it becoming stringy.
1. Use the biggest chicken thighs you can find (about 5-6 chicken thighs in 1 1/2 pounds).
2. You can also use a bone-in chicken thighs if yours are on the smaller side.
I like to cut the squash into fairly big cubes around 1 1/2 inches. With the 8 hour cooking cooking time, I don't want the squash to get mushy right away.
Cut both the ends off the onion, peel it, and cut it in half. Make cuts across the onion halves not quite cutting through the end.
Cut across the strips you made to make a medium dice.
Remove the rosemary leaves from the wooden stems.
Coarsely chop the rosemary.
Place the onions and butternut squash in first, then layer the chicken thighs over the top. Pour the Homemade Cream of Chicken Soup over the top and sprinkle with rosemary and sea salt. Place the lid on the slow cooker and turn it to low for 8 hours.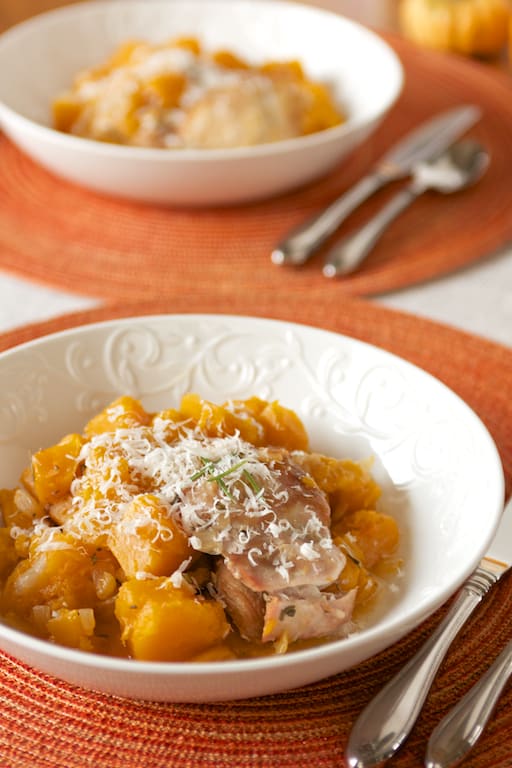 This has been a smash hit in our house and we've been loving this taste of fall!
Print
Crockpot Rosemary Chicken with Butternut Squash
---
3

pounds butternut squash, peeled and seeded

1 1/2

pounds chicken thighs, browned (opt step), see notes

1 Tablespoon

olive oil, for browning

1

medium onion, small dice

1 Tablespoon

rosemary, minced

1 Tablespoon

coarse Celtic sea salt, or to taste – the amount of salt will vary depending on your ingredients and type of sea salt used
Grated Parmesan for serving if desired
---
Instructions
Cube the squash into 1 1/2 inch cubes and place a 4-qt crockpot. Cut the onion into small dice and place it in with the squash.
If you're browning the chicken, place a cast iron skillet over medium-high heat. When the pan is hot, add the olive oil and the chicken thighs. Brown for just a minute on each side. Transfer the chicken to the crockpot.
Pour the Homemade Cream of Chicken soup over the top and sprinkle with sea salt and rosemary.
Place the lid on the crockpot and turn to low for 8 hours.
The cooking time will vary depending on the size of the chicken thighs and your individual crockpot. I like to try a new crockpot recipe on the weekend when I'm home to see how it works for me the first time!
Notes
To make this completely dairy free, be sure to use a non-dairy Cream of Chicken Soup.
Browning the chicken adds extra flavor, but it's not necessary if time is short. I've made it both ways and they were both really good.
I've used both boneless skinless chicken thighs and bone + skin on as well. If you use bone in and skin on, pan sear them skin side down first to create a browned skin. If you use boneless skinless, try and go for the biggest ones available, or just shorten the cooking time.
Prep Time:

15 mins

Cook Time:

8 hours