Just a few minutes of prep work to have healthy Adult Lunchables ready to go! You'll find all my tips for how to keep ingredients around so you're always just minutes away from having a healthy lunch. And these lunches are perfect for everything from work to weekend fun. These are our favorite combinations of 'adult' Lunchables, but these are also very popular with kids as well. These are all naturally gluten-free and there are some dairy-free options too.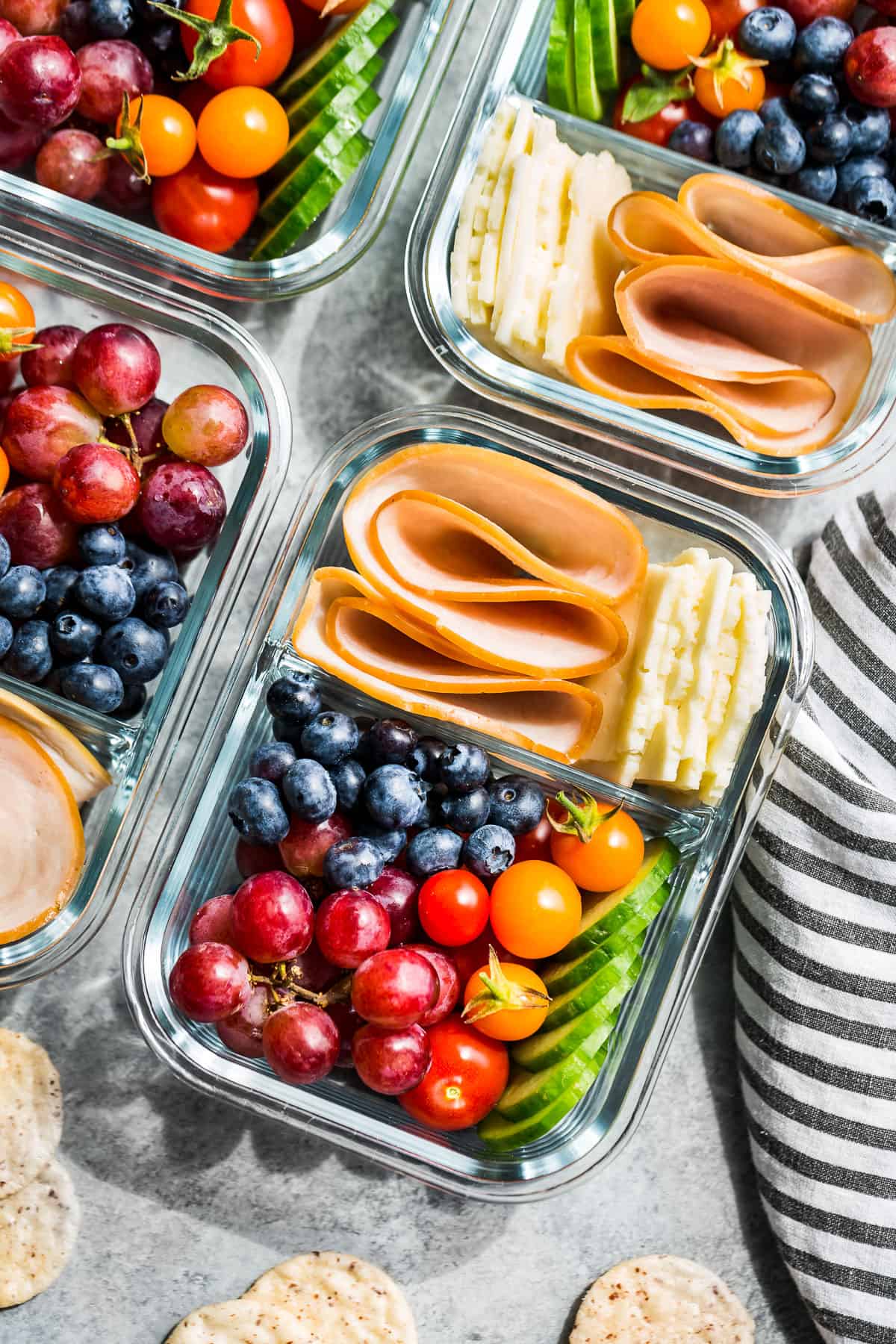 These easy homemade & healthy Adult Lunchables have been going with us everywhere for the last couple of years! We take them to work, and along with us in our backpacks on weekend adventures. The key is they're extra easy to make, and they're satisfying as well.
If you're looking for the ultimate no-cook easy lunch, I've got you covered with these Lunchables! Whether you're packing a lunch for school, work, or a weekend adventure, 'easy' is always nice.
I started making these Lunchables when I was in a panic one Monday morning. We get up at 5 am and I'm really not awake at that time. So peering into the fridge and realizing there really wasn't much in there, that's when the panic started. How could I have let this happen again?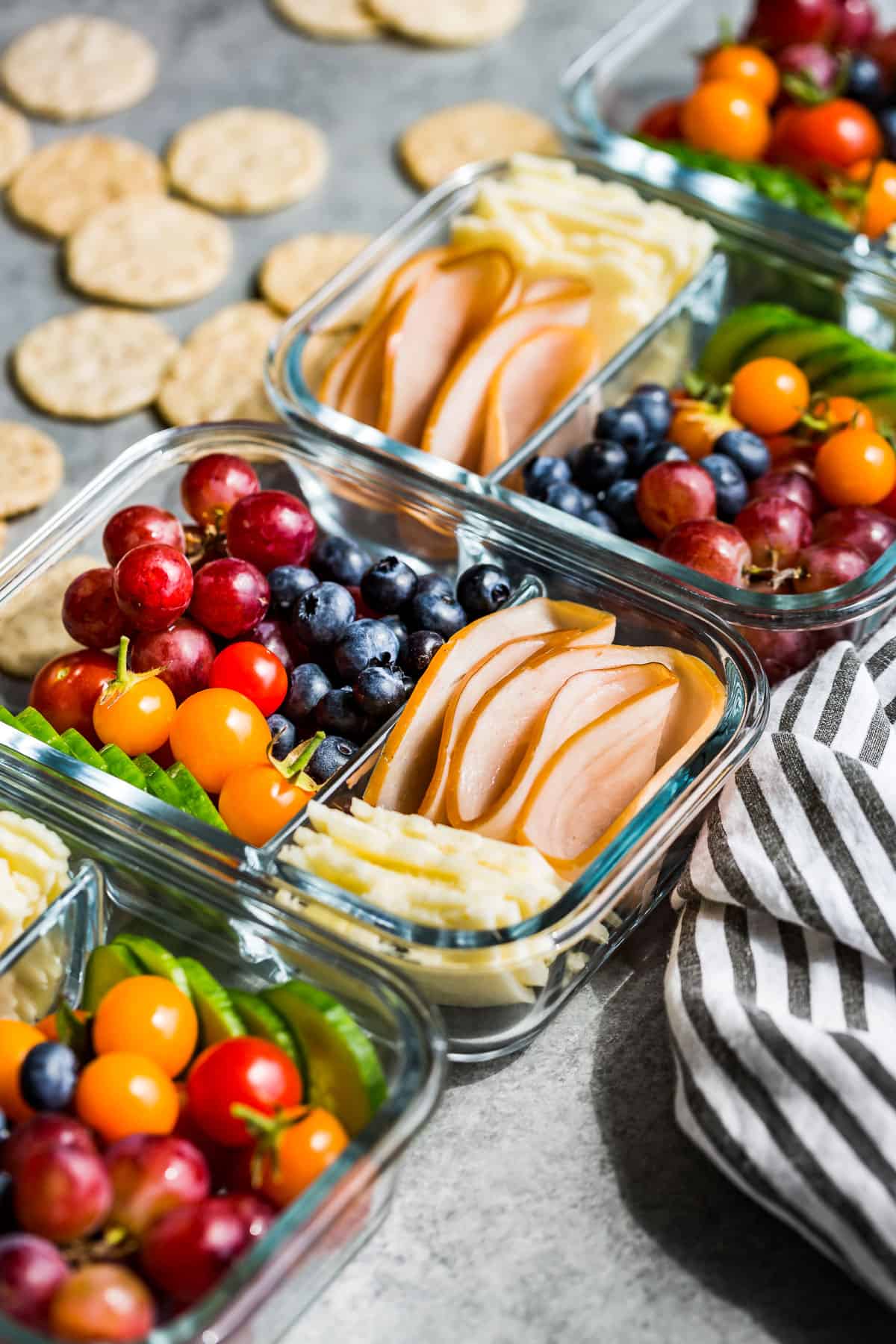 And that's when it occurred to me I had a package of lunchmeat in the freezer, and we always have cheese in the fridge. So I got the lunchmeat out to thaw while I assembled some cheese and crackers. And from that day on… Lunchables have been rescuing me every time I don't have something prepped ahead!
As a kid I absolutely loved Lunchables! We rarely had them because prepackaged food used to be more expensive than it is now. And it was most certainly more expensive than peanut butter sandwiches. So I guess Lunchables have always been a 'treat' in my mind.
Ingredients & Substitutions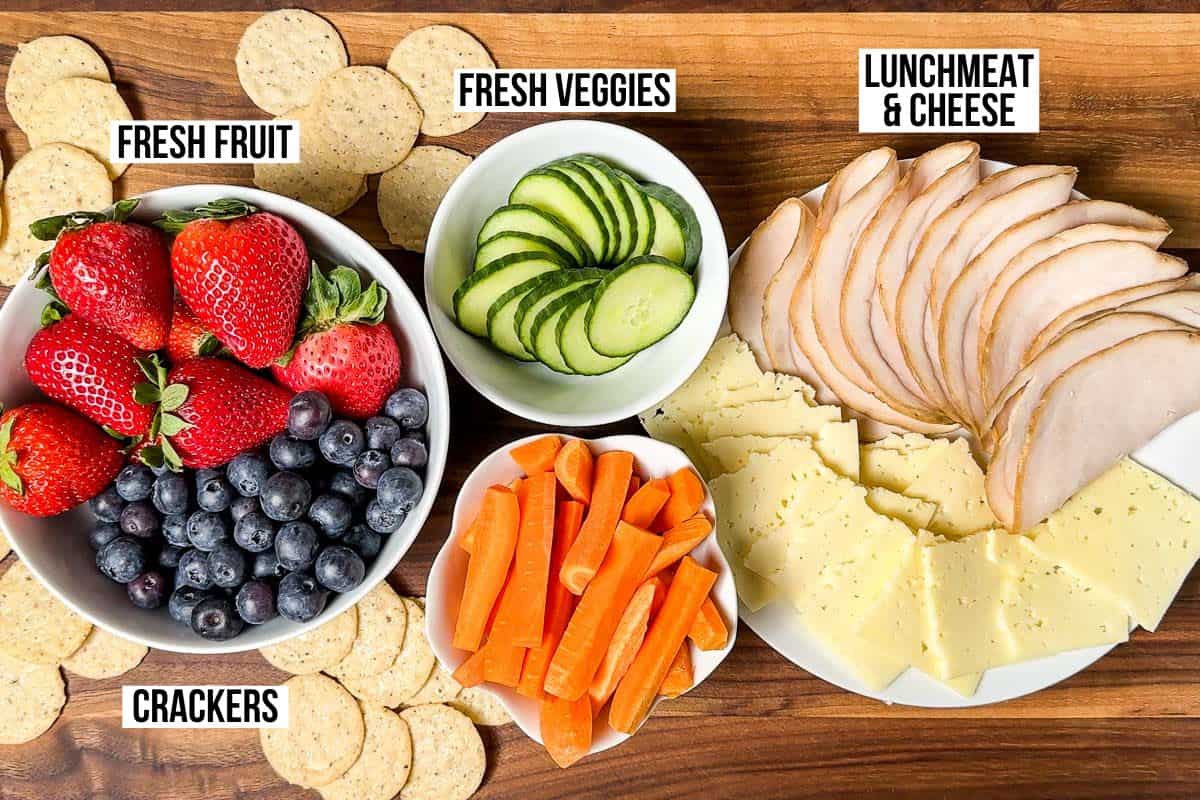 Lunchmeat – choose any flavor you'd like or any leftover cooked meat you might have from dinner. We like the brands Diestel and Mary's Organic for store-bought. But I also love making 4x of my Smoked Chicken Breasts recipe to freeze for easy lunches and salads.
Cheese – any cheese you like works here or omit it for dairy free. You'll find our favorite combos below. When we're pressed for time or on a road trip, I always buy pre-sliced cheese to speed things up.
Veggies – any veggies you like can be added to your Lunchables. Carrots sticks are a classic that lasts really well for days.
Fruit – fresh berries or grapes are our favorites in the summer, and apples or Mandarin oranges for the colder months.
Crackers – we use the Blue Diamond gluten-free crackers, but any cracker you like works here. Another favorite we like to add is potato chips, see the flavor combos below. You can also use tortilla chips, pita bread, or whole grain crackers.
How to make this recipe step by step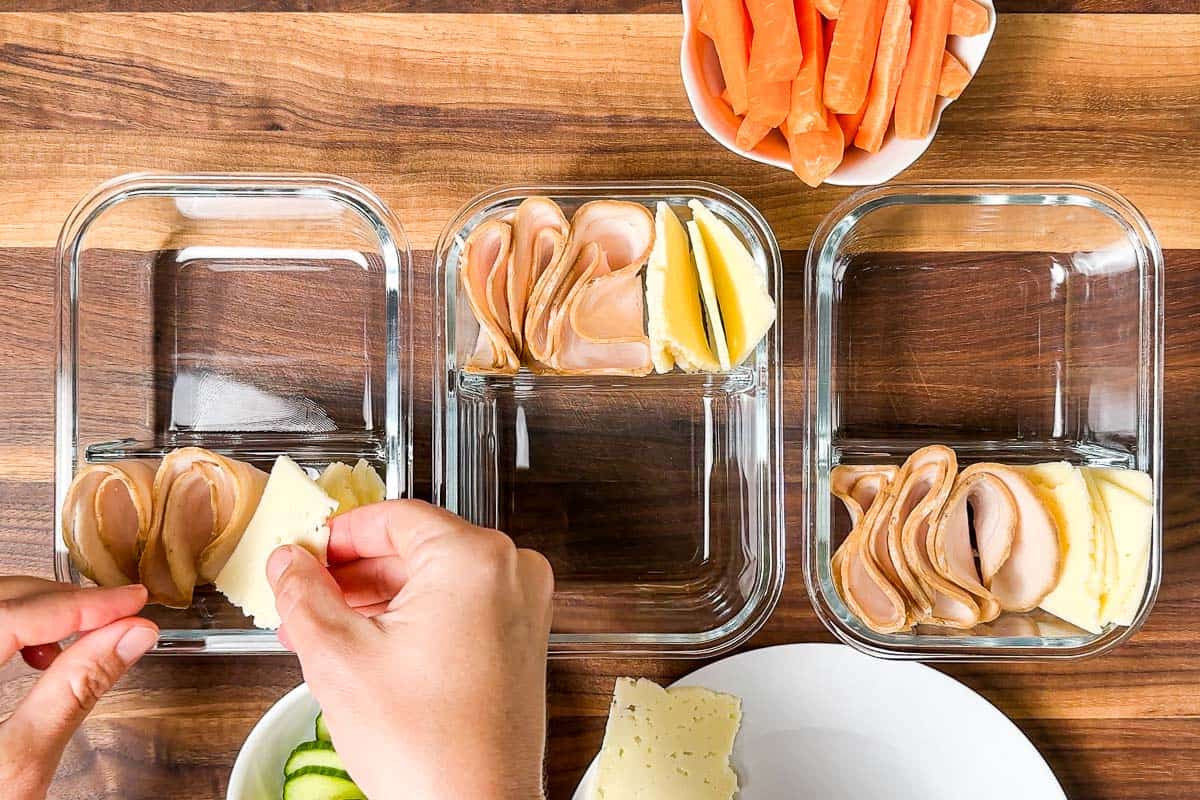 Step 1: To prep this recipe for lunches, start by adding the lunchmeat and cheese to one side of a container.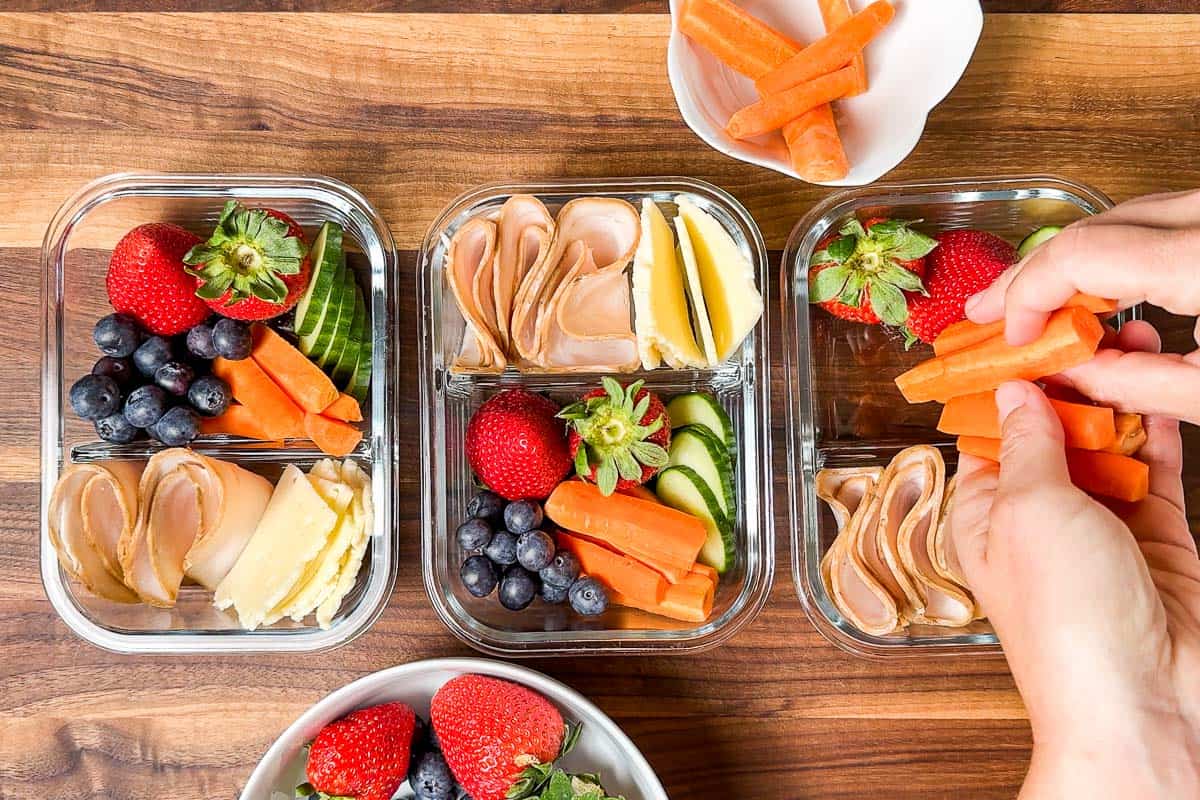 Step 2: On the other side add the fresh fruits and veggies of your choice.
You'll find seasonal options and 15 flavor combinations below.
Step 3: Try to keep anything juicy like sliced cucumbers from touching the berries so they keep well.
You can also use containers with more separators, or inserts to keep everything separated.
Step 4: Portion out your crackers in a separate container so they stay crisp.
I use the 1/4 cup Mason jars that perfectly fit our favorite crackers.
Step 4: Add the lids to your Lunchable containers and refrigerate for 3-4 days. These are so quick and easy to make you can easily assemble them fresh daily.
Our Favorite Adult Lunchables Ideas
Ham & Cheddar – shocking I know… but this classic combination is truly delicious in lunchable form! Try pairing this one with Honey Dijon or Sour Cream and onion chips for something different than crackers.
Smoked Turkey & Havarti – this is our absolute favorite, and you'll see it on Insta Stories anytime we're hiking. Gouda works really well with smoked turkey too.
Roast Beef & Jalapeno Jack – we love to throw this one in every so often because it's different and has a more assertive flavor than the others. It's probably the least kid-friendly combination, but sub in cheddar for the jalapeno jack cheese which is also a very good combo.
The 'Cubano' – Black Forest ham paired with Swiss cheese and pickle chips. We love this one while hiking, (see the lower left corner of the outdoor Lunchable photos). But you can pack crackers and pickles with some mustard for work lunches.
Summer Sausage & Cheese – we love summer sausage paired with spicy cheese like jalapeno jack, but Havarti, cheddar, and Swiss cheese are all tasty too.
Roast Beef + Prosciutto + Havarti – adding any kind of cured meat makes yummy 'fancy' Lunchables. We discovered this combo in Norway with their classic sliced cheese, but Havariti or even Swiss cheese would work instead.
Pizza Lunchables – Pepperoni + sliced white cheese + crackers and a small container of pizza sauce for dipping.
Hummus – protein of choice + hummus + crackers and veggies for dipping. This one is perfect if you're dairy free. This concept also works with any other kinds of dips you like.
Chicken Salad – buy or make Homemade Chicken Salad and pair it with crackers + fruit + veggies.
Tuna Salad – you can whip up tuna salad in less than 10 minutes. Pair it with crackers + fruit + veggies.
Hard-boiled eggs + Cheese – hardboiled eggs keep in the fridge unpeeled for up to a week. This is a super convenient way to have everything on hand to assemble a Lunchable fresh each day. If you peel the eggs, they will keep refrigerated for 2 days.
Ants on a log – spread peanut butter or nut butter on celery sticks topped with raisins and add this to whatever meat and cheese you have on hand.
Starbucks-Inspired Egg & Cheddar – hardboiled eggs + cheddar cheese + apple + grapes + crackers
Fruit and Yogurt Box – refer to my Fruit & Yogurt Parfait recipe to make these. But basically, you can add Greek yogurt (or yogurt of choice) to a container topped with fruit and Granola for a sweet but super fast lunchbox.
Lunch Antipasto (or Charcuterie)- lunchmeat + salami + cheese + jarred veggies (red pepper, pepperoncini, olives, pickled asparagus etc.). Refer to my Antipasto Plater or Summer Antipasto Platter for more ideas and inspiration.
FAQ's
Are Lunchables healthy?
Homemade Lunchables are healthy when you make them from healthy ingredients. Choose good quality lunchmeat options or you can use any cooked meat you have leftover from other meals. Homemade lunchables are also healthy because you get to pack fruits and veggies to go with them.
How long do homemade Lunchables keep in the fridge?
Homemade Lunchables keep up to 3 days on average, but they're quick and easy to make fresh daily for work lunches.
Storing leftovers
To store – store your lunchables in the refrigerator for up to 3 days in an airtight container.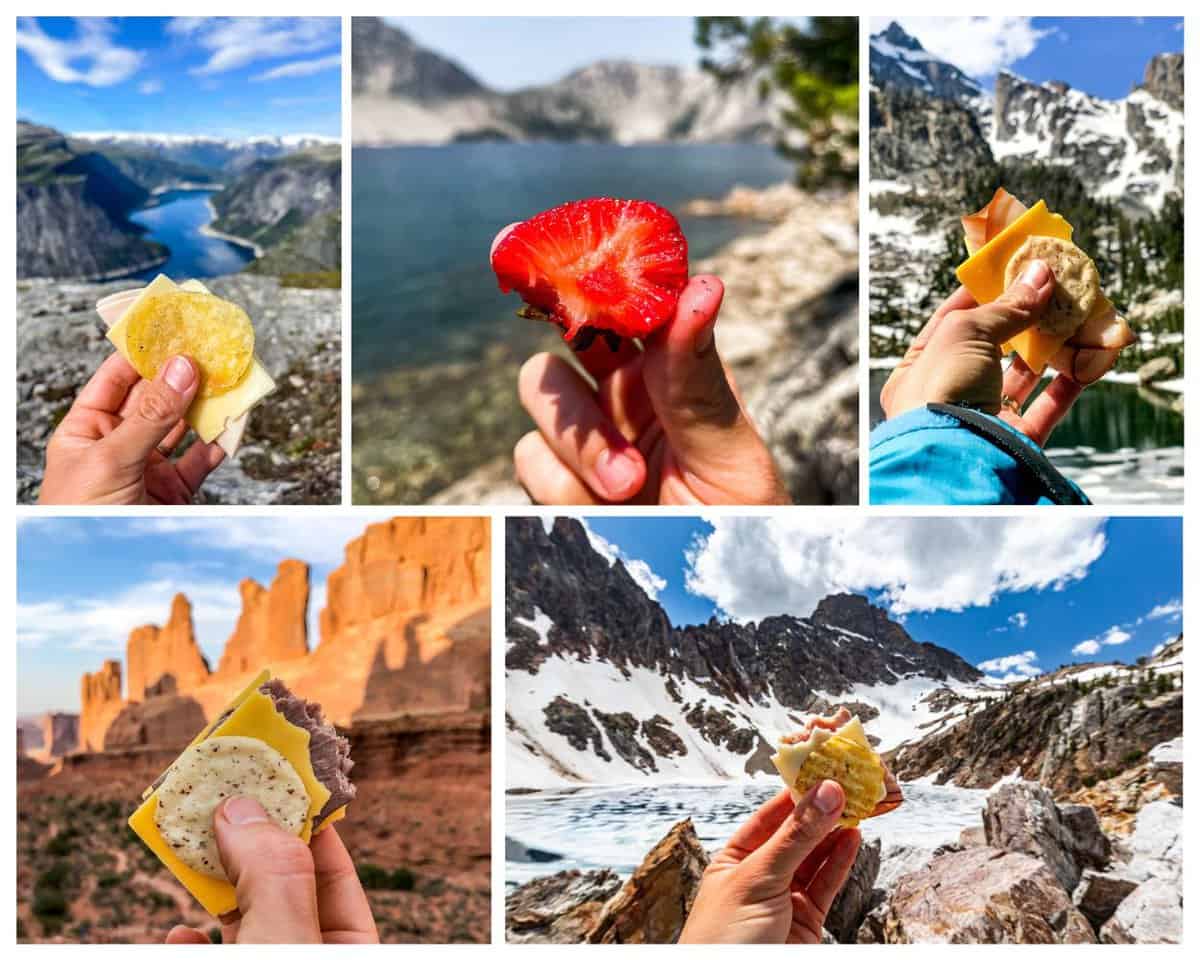 Tips & Tricks
Buy extra packages of lunchmeat when it's on sale and store the extras in the freezer. I learned this tip from my mom, and it's a great budget-friendly tip.
Cook your own protein – rather than using deli meat, you can either meal prep by cooking up some chicken breasts/hard-boiled eggs, etc. and slice them to pack into Lunchables. Or another thing I like to do is use leftover meat from whatever we had for dinner. You can always cook more than you know you'll need for dinner, then use it to pack for lunches. It's much more affordable to cook your own meat than to buy brands of healthier lunchmeat. But I almost always have some packages in the freezer for convenience's sake.
Make small portions of any combination to be a snack size.
Pack a few squares of dark chocolate or a peanut butter cup for a sweet treat.
Any container with compartments works best for these DIY Lunchables or even a bento box.
How to pack seasonal Lunchables
Spring – berries and the end of the winter citrus are good options for fruit. Broccoli and cucumbers are usually affordable at this time, along with the usual 'carrot and celery sticks' option.
Summer – the sky's the limit in the summer as you can see from these photos. Grapes are especially nice since they keep well, and cherry tomatoes too. Blueberries and cherries also keep well for a couple of days if you're making these ahead. I love to pack cucumber slices and cherry tomatoes for veggies, but whatever you have that you like to eat fresh works. Bell pepper slices are also really good with cherry tomatoes. We love adding strawberries, but they usually only keep 2 days.
Fall – end-of-the-season grapes, the first of the season's apples, and blackberries are all good options. Fall is when I usually switch over to carrot sticks and celery sticks, or baby carrots. But if you have any roasted vegetables in your fridge, that works great too.
Winter – I usually rely on citrus and apple slices for winter fruits, but I have packed cut-up pineapple, or half of a banana before. For veggies, my go-to is carrot and celery sticks, but as mentioned above roasted veggies work well especially root veggies.
How to pack healthy Adult Lunchables
Buy the healthiest brand of lunchmeat you can. We love Applegate Farms, Diestel, True Story, and Mary's Organic. Natural lunchmeat definitely costs more so we buy it on sale and freeze it as mentioned above. You can also cook your own meat or hard-boiled eggs to save on cost as well as being healthier.
Add fruits and veggies whenever possible. Sometimes if I don't have anything fresh on hand, I make my Fruit and Yogurt Parfaits without the granola and top the yogurt with fresh fruit and a drizzle of maple syrup.
Make your own crackers with almond flour. My Paleo Rosemary Crackers go really well with Lunchables and have healthier ingredients than most anything packaged. For store-bought crackers, we like to get gluten-free from Blue Diamond almond crackers or Simple Mills.
I really hope you enjoy these healthy Adult Lunchables, and of course, they're great for kid lunches too! If you do get a chance to make this recipe, I'd love to hear from you in the comments.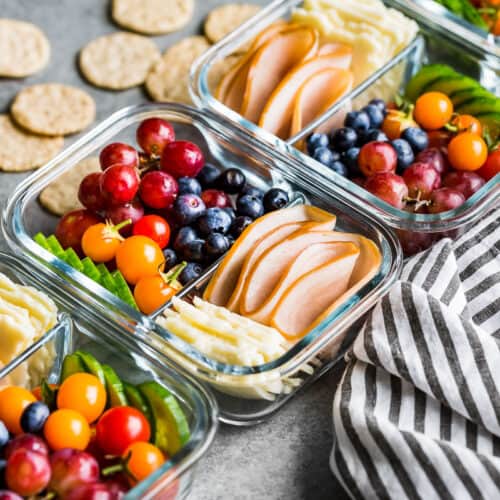 INGREDIENTS
8

ounces

lunch meat

-

or meat of choice

6

ounces

sliced cheese

-

of choice
Fruit & Veggies:
1

cucumber

-

thinly sliced, about 20 slices

20

small cherry tomatoes

2

cups

of fruit

-

1 used 1/4 cup each per container, grapes and blueberries in the photos

4.25

ounces

crackers

-

1 box, we love the gluten free almond crackers from Blue Diamond
INSTRUCTIONS
Portion out the meat and cheese into 1 side of your 4 containers of choice.

Equally portion out the fruits and veggies of you choice on the opposite side of your container. If you don't have a divider, be mindful of what you put next to the meat and cheese.

Seal each of the containers, and place them in the fridge. Eat within 2 days for the best results. Lunchmeat doesn't keep long in the fridge once it's out of the sealed package.

Pack the crackers in a separate sealed container, about 10-12 per serving, depending on the crackers you choose. Store the crackers at room temperature, and pack them with your lunchable to go.
Bonus Step
If you made this recipe, please leave a rating/comment. Ratings really help us continue to bring you high-quality free recipes. Rate This Recipe!
NOTES
The nutritional facts are the best estimation, the numbers will vary a bit depending on what you use.
nutrition facts
Calories:
577
kcal
|
Carbohydrates:
41
g
|
Protein:
21
g
|
Fat:
37
g
|
Saturated Fat:
16
g
|
Polyunsaturated Fat:
5
g
|
Monounsaturated Fat:
13
g
|
Trans Fat:
0.3
g
|
Cholesterol:
83
mg
|
Sodium:
1356
mg
|
Potassium:
732
mg
|
Fiber:
2
g
|
Sugar:
17
g
|
Vitamin A:
946
IU
|
Vitamin C:
24
mg
|
Calcium:
374
mg
|
Iron:
3
mg
This recipe was originally published in 2020 but has been updated in 2023 with more tips, information, and more Lunchable combinations we've tried!