Less than 10 minutes to mix together a big batch of this Easy Homemade Taco Seasoning and so much yummy flavor! You'll also be rewarded with your own delicious seasoning blend, with no strange artificial ingredients you can't pronounce and no added sugar either. This taco seasoning recipe is mild, but you can make it spicy if desired. You'll find a whole list below of taco-inspired recipes to use this seasoning. And of course, you can use this to make the all-American style taco as well.
What's in those taco seasoning packets anyways? Well… as it would turn out, quite a few ingredients you might not want to eat.
And here's the thing, mixing up your own taco seasoning is so easy you can mix up a batch in minutes! It's an extra bonus that making your own seasoning is also budget-friendly.
I buy my spices in the bulk section at our local health food stores. From there you measure out 5 spices, add the optional salt, and you're ready to go. Best of all, this easy recipe tastes better than store-bought taco seasoning.
Ingredients & Substitutions
Cumin – is one of the main flavors you taste in taco seasoning along with chili powder.
Chili powder – look for chili powder that's mild and there's no salt added. Of course, you can use hot chili powder, but your seasoning would be really spicy.
Chipotle powder – ground chipotle powder adds depth and a touch of smoky flavor to this taco seasoning. It's definitely worth a place in your spice drawer! This seasoning is created to be mild, so you can always add more chipotle for a kick. Or you can sub in smoked paprika so your seasoning has absolutely no heat at all. You could also add cayenne pepper to taste if you love spicy food.
Granulated garlic & onion – you can see from the photo that granulated garlic is like garlic powder, but with more texture. You want to look for any brand that doesn't have salt in it. Both granulated garlic and onion have a wonderful lightly 'toasty' flavor that really makes this taco seasoning.
Sea salt – is totally optional in this seasoning recipe. I like to add just a touch to be more like the store-bought packets. Plus that way I don't have to season my recipes so much. But you can omit it and season whatever recipe you use this seasoning in to taste.
Note: most taco seasoning mixes also use a bit of oregano, but we find we like taco seasoning more without it.
How to make this recipe step by step
Step 1: Start by measuring out all your spices.
Step 2: Next add them all to a small bowl.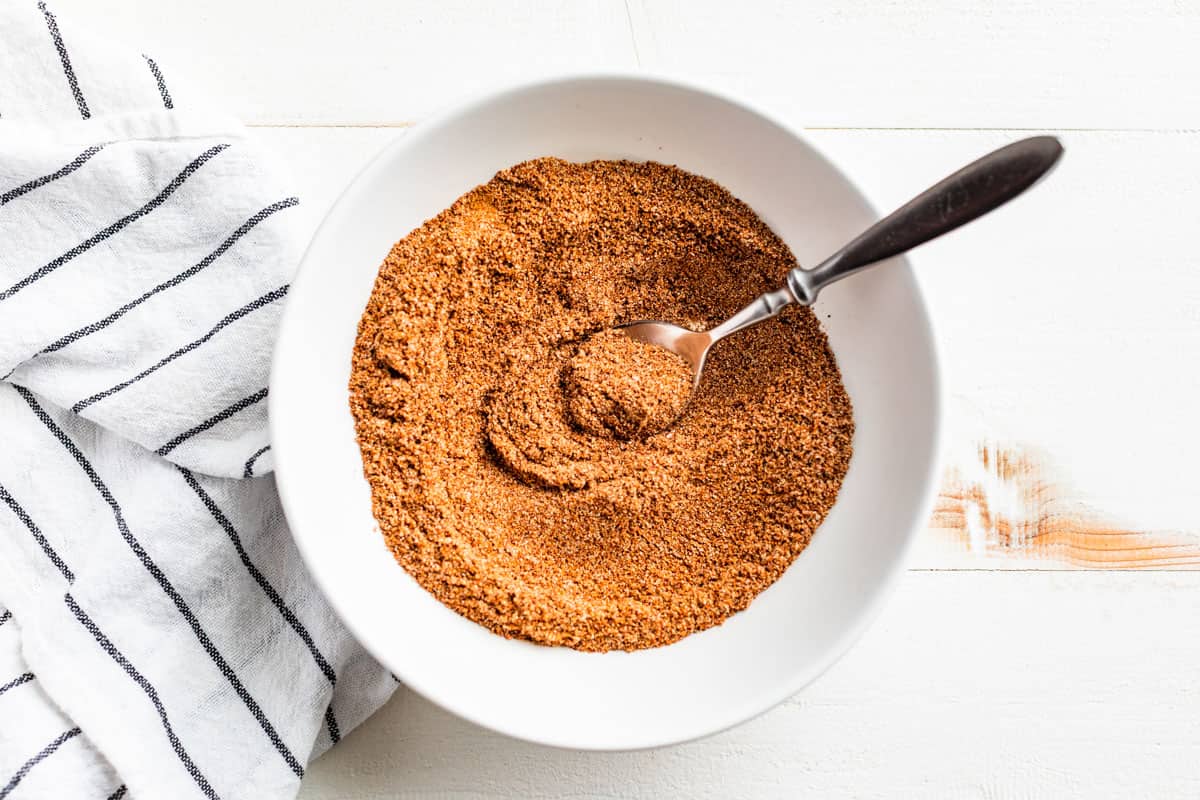 Step 3: Then stir the spices together to combine breaking up any clumps.
Step 4: Transfer your taco seasoning to an airtight sealed container and use it within 1 year for the best freshness!
Quick Tip: 2 tbsp of this homemade Taco Seasoning is the perfect amount for 1 pound of ground beef.
Ways to serve this
Use this seasoning as you would to make classic American-style tacos. Use 2 tbsp for 1 pound of ground beef and serve with tortillas, grated cheese, tomatoes, lettuce, and sour cream.
2 tbsp of this seasoning is the perfect amount to replace 1 seasoning packet, so you can use this seasoning in any taco-inspired recipe you'd like.
FAQ's
Do you season taco meat before or after cooking?
You want to season your taco meat after it's mostly cooked and you've broken it up into small bits. When the ground beef is almost fully cooked, add 2 tablespoons of taco seasoning and cook just until the beef is done but still juicy.
How much taco seasoning do I use with 1 pound of ground beef?
2 tbsp of taco seasoning is a perfect ratio with 1 pound of meat. You can use taco seasoning with chicken, ground beef, ground pork, ground turkey, or pretty much any tender cut of meat.
Do you drain off ground beef before adding taco seasoning?
Yes, but only if there's excess grease pooling in the bottom of the pan. If you use lean ground beef, you won't need to drain the ground beef before adding the taco seasoning. If you drain the ground beef, it's sometimes helpful to add a bit of water to the pan along with the taco seasoning so the beef doesn't dry out while the spices have a change to get combined.
Storing leftovers
To store – place your homemade taco seasoning into an airtight container and store it in a dark place like your pantry or spice drawer for up to 1 year for the best freshness. A small mason jar with a tight-fitting lid also works really well for storage.
Make ahead – make a double or triple batch of you make tacos often and you'll always have homemade taco seasoning ready to go.
Tips & Tricks
Look for bulk spices wherever you can get the best deal. I buy mine in the bulk section at Natural Grocers and it makes it really budget friendly/affordable to make your own seasoning mixes.
Add 1 tsp of smoked paprika for an extra smoky flavor, it's one of our favorite flavor variations.
It really is worth buying granulated garlic and granulated onion rather than garlic powder/onion powder. The flavor is better (in my opinion) and you can use any leftovers you have in place of garlic/onion powder in your other recipes.
Recipe Inspiration
I really hope you enjoy this Easy Homemade Taco Seasoning recipe! If you do get a chance to make this recipe, I'd love to hear from you in the comments. Also if you love making your own seasoning, you might enjoy my Fajita Seasoning recipe as well.
Easy Homemade Taco Seasoning
---
INGREDIENTS
2

tbsp

ground cumin

3

tbsp

chili powder

-

mild, unsalted

1

tsp

chipotle chili powder

-

or smoked paprika

2

tbsp

granulated onion

-

no salt

1

tbsp

granulated garlic

-

no salt

1

tbsp

sea salt

-

or to your taste
INSTRUCTIONS
Measure out the spices, then mix together all the ingredients until thoroughly combined.

Transfer the finished taco seasoning to an airtight container and store in a cool dark place up to 1 year.

Use 2 tbsp taco seasoning for every 1 pound ground beef or your choice of meat.
Bonus Step
If you made this recipe, please leave a rating/comment. Ratings really help us continue to bring you high-quality free recipes. Rate This Recipe!
NOTES
This recipe makes about 8 tbsp taco seasoning which is enough for 4 pounds of meat. The nutrition info was calculated for 1 of 16 servings.
Since my original recipe, I've added a touch more granulated garlic to make this just a smidge better. This recipe is very mild, but you can use the smoked paprika for no heat at all.
nutrition facts
Calories:
12
kcal
|
Carbohydrates:
2
g
|
Protein:
1
g
|
Fat:
0.4
g
|
Saturated Fat:
0.1
g
|
Polyunsaturated Fat:
0.2
g
|
Monounsaturated Fat:
0.2
g
|
Sodium:
465
mg
|
Potassium:
58
mg
|
Fiber:
1
g
|
Sugar:
0.2
g
|
Vitamin A:
491
IU
|
Vitamin C:
0.3
mg
|
Calcium:
16
mg
|
Iron:
1
mg