Do you ever get a preconceived notion in your head before you've even tried something? Well for some reason I've always steered clear of putting steak in a salad until now. My underlying thought being that why on earth would you waste something as delectable as steak by putting it in a salad? Not that I don't love a good salad, but a perfectly seared juicy steak, fresh off the grill seems to demand center stage!
However steak has truly met it's match in this salad with fresh flavors exploding in every bite, perfectly accenting the flavors of the beef. It's one of those unique combinations that tastes as light as summer, but somehow still retains a hearty comforting factor. It also highlights all my favorite summer ingredients: vine ripe tomatoes, tons of fresh herbs, and farmer's market lettuce so sweet you forget your winter produce blues!
It only took making this salad once to be completely hooked on it. The only real problem with this dish is the cost of beef these days!!! But not to worry, these flavors also go perfectly with grilled chicken or shrimp as well. Around here we don't worry too much about perfect authenticity, and just go for ultimate flavor, ease of preparation, with a little budget friendly thrown in whenever possible.
And speaking of budget friendly, if you don't happen to have an overflowing herb garden with loads of cilantro, mint, and basil – just pick 1 fresh herb and go with that. You can also find fresh herbs at farmer's market for quite a bargain, so that's another way to make this more affordable. It really is best with all 3 herbs, so I'd definitely encourage you to try it that way at least once
To prep the veggies for this salad, you just want to make sure they're all in bite sized pieces. This recipe also calls for thinly sliced red onions which I know aren't for everyone. They add a lot to this salad, but if you hate raw onions just sub in thinly sliced green onions, or grill the red onions with the steak before thinly slicing them.
Roughly chopped herbs are perfect in this salad because that way you get extra bursts of flavor.
The dressing is super simple, just a few ingredients mixed together. However it does contain fish sauce, which if you've never used it can be off putting to say the least. Just don't lean in close and smell it, I promise it works magic in your finished salad even if it doesn't smell great!
You can use whatever tender steak you love best in this salad. Ribeye is my favorite treat and it works well here, but so does New York Strip. I wouldn't use a filet mignon because they lack the depth of beefy flavor you're looking for here. Couple that with the fact that they're extremely expensive, and you're going to want to save filet for another time.
One of my all time favorite steaks is a Flat Iron, it's one of the cheapest steaks, has incredible flavor, and it's also very tender. However just a word of warning, the Flat Iron can also be my least favorite steak depending on who's butchering it. We have a local butcher that really know how to cut meat, and his Flat Iron steaks are beyond description. But I've had them from other sources, and they were so tough they were practically inedible.
Tip:

You always want to slice across the grain with steak, which makes it even more tender.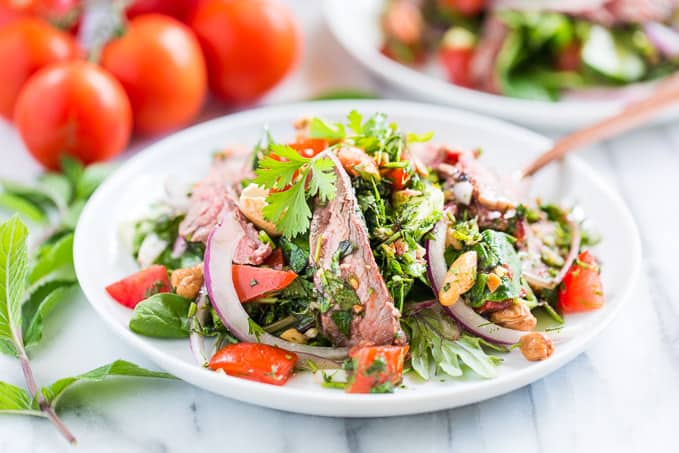 I added toasted cashews to this salad instead of the classic peanuts because I love the buttery dimension they add here. (But by all means feel free to keep it classic!) As far as greens go, I've used everything from baby kale and spinach to butter lettuce and romaine. They're all delicious, so I'd just go with whatever is your favorite, or you have on hand.
Print
Easy Thai Beef Salad
---
Salad Dressing:
1 Teaspoon

minced red chili, or sambal oelek chili paste

2

cloves garlic, minced

1 Tablespoon

maple syrup, or coconut sugar

2 Tablespoons

fish sauce

3 Tablespoons

freshly squeezed lime juice

1 Tablespoon

avocado oil
Salad Ingredients:
4 cups

mixed greens

6

–

7

small tomatoes, diced, 1 pound

1/2

red onion, thinly sliced, 6 ounces

1

large cucumber, quartered and thinly sliced, 14 ounces

1/2 cup

chopped cilantro

1/4 cup

chopped basil

1/4 cup

chopped mint

1 cup

toasted cashew pieces

1

–

8

ounce ribeye steak, or your steak of choice
---
Instructions
Mix together all the ingredients for the dressing, and set it aside.
Prepare the mixed greens, tomatoes, red onion, cucumber, and chopped fresh herbs. Toss them together in a large bowl.
Preheat a grill over high heat. When the temperature has reached 450ºF – 500ºF place the steak on the heated grill and grill 4-6 minutes. Turn the steak and grill another 4-6 minutes for medium rare. The timing will depend on what type of steak you use and how thick it's cut. If you're unsure if it's done, use a thermometer. For medium rare, remove the steak at 140ºF and let it rest on a cutting board until it hits 145ºF. For medium, remove the steak at 155ºF and let it rest until it hits 160ºF.
When the steak is done to your liking, remove it from the grill and let it sit for 5-10 minutes on a cutting board. This helps the meat to be juicier, and it makes it easier to slice when it's not piping hot.
Slice the steak as thinly as possible across the grain, and add the strips to the salad. You can also cut the strips into smaller pieces to make it easier to eat.
Drizzle the dressing over the top of the salad and sprinkle in the cashews. Toss to combine and serve immediately.
Prep Time:

20 mins

Cook Time:

10 mins