Fragrant with ginger, garlic, and lime, this easy-to-make Thai Green Curry is a crowd-pleaser. It's perfect with green veggies ranging from broccoli to snow peas and asparagus. Pair this with freshly steamed rice for a simple dinner that's better than takeout and made in 30 minutes. We're using store-bought curry paste to keep things easy, but you won't be disappointed in the flavor. This dish is packed with protein and veggies, and it's naturally gluten-free and dairy-free as well.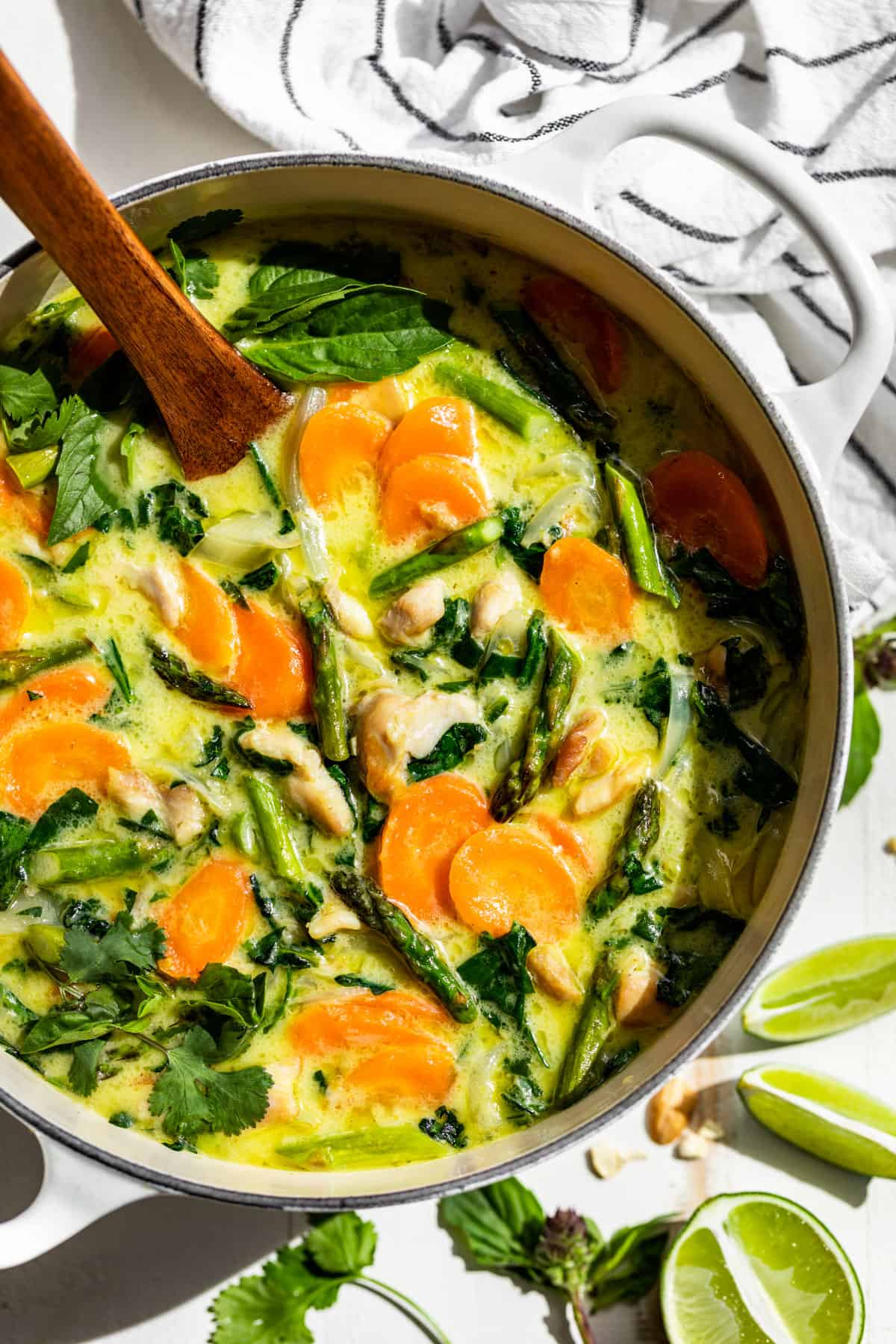 We absolutely love all kinds of curries, and you'll find some more recipe inspiration below. But today we're talking all things, Thai Green Curry. It's one of the spiciest Thai curries, but you can always dial back the curry paste if needed.
You'll find lots of lime flavor in green curry and plenty of fresh cilantro. This curry is my favorite for all sorts of green veggies, especially for spring vegetables like asparagus, sugar snap peas, snow peas, or even baby bok choy. Of course, it also works with the readily available broccoli, so feel free to mix it up according to what's in season and at a good price.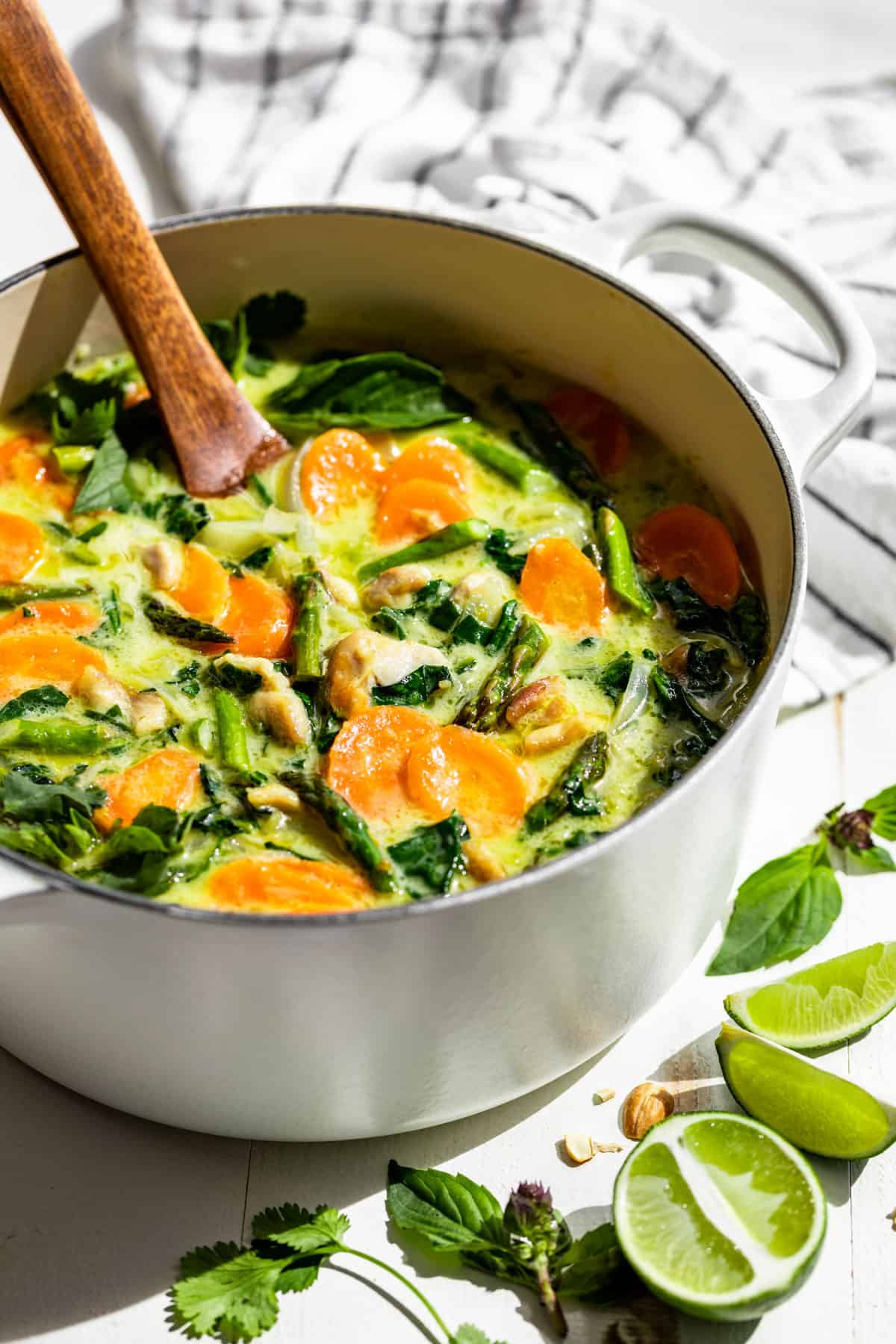 Watch how to make Easy Thai Green Curry
Ingredients & Substitutions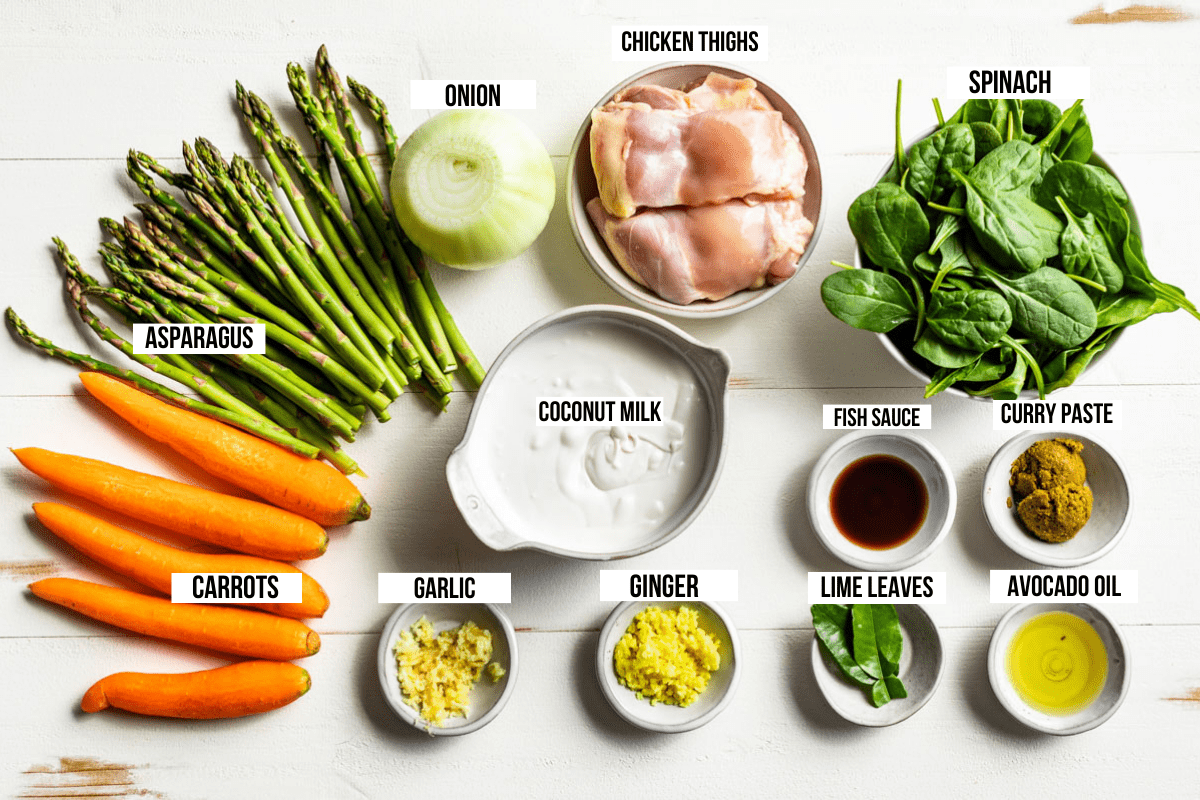 Chicken thighs – are my favorite for curries because they stay perfectly juicy, but you can use chicken breasts as well. I've also used ground pork which is not authentic by any means, but it was quite tasty.
Curry paste – I use the Mae Ploy brand which has the best store-bought flavor. As I mentioned the green curry paste is a bit spicier than the others, but this curry is still just medium. So feel free to dial up or down the amount of curry paste. If you use a different brand, be aware that some are very spicy!
Garlic & ginger – make up a flavor base for this curry. You can use the ginger from the tube, but fresh does pay dividends here. I use a shortcut to peel, mince, and then freeze a large batch of ginger in 1-tablespoon portions. That way you can grab a bit out of your freezer and you're ready to go.
Kaffir Lime leaves – will give you the best flavor, but when I don't have them available I use the zest of 1 lime which is different but still good. Lime leaves also freeze well, so you can always stock up. I have to go to a different grocery store for mine and always buy several packages for my freezer.
Vegetables – I use a mix of onion for flavor along with carrots, asparagus, and spinach. Broccoli works well in this curry, and either small & tender sugar snap peas or snow peas are both awesome in green curry. Baby bok choy also works well, but I would cut back a bit on the spinach since bok choy comes with leafy green tops. I recommend keeping the carrots in if possible because they add a pop of color and a nice sweetness that pairs well with the lightly spicy curry. You can also use zucchini here, but be careful not to overcook it as it will turn to mush.
How to make this recipe step by step
Step 1: First start by slicing up the onions, then peel and slice up the carrots.
Step 3: Next, sauté the chicken before removing it from the pan. Then sauté the curry paste before adding the garlic, ginger, carrots, onions, and lime leaves. (I forgot to add the curry paste 1st in the above photo, but it can be added and sautéed with the carrots and onions.)
Flavor tip: You want to briefly cook the curry paste before adding the coconut milk. This is a classic and authentic technique that helps to draw out more flavors from the curry paste. Normally the curry paste is fried in oil. But I've found it works well to sauté it with the veggies just before adding the coconut milk.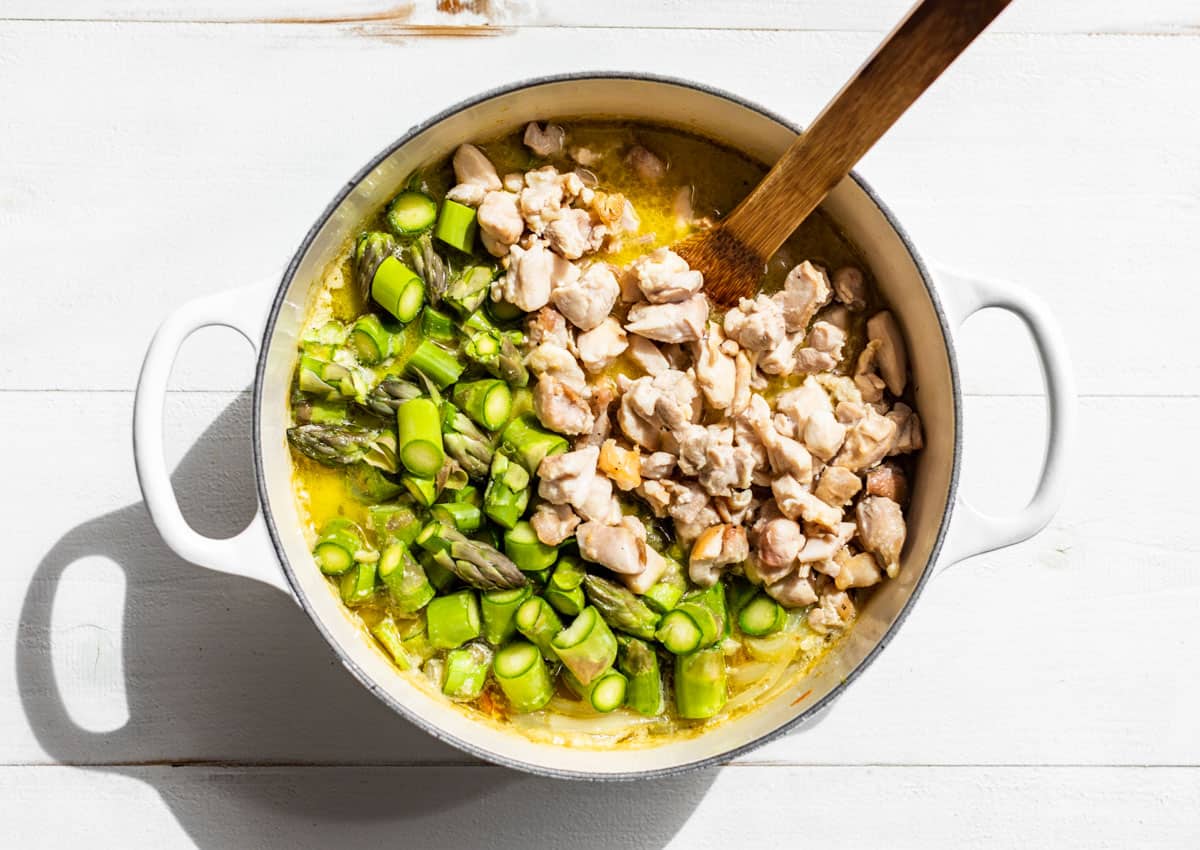 Step 4: Simmer the carrots and onions with the coconut milk until just tender before adding the chicken back to the pan/pot along with the asparagus.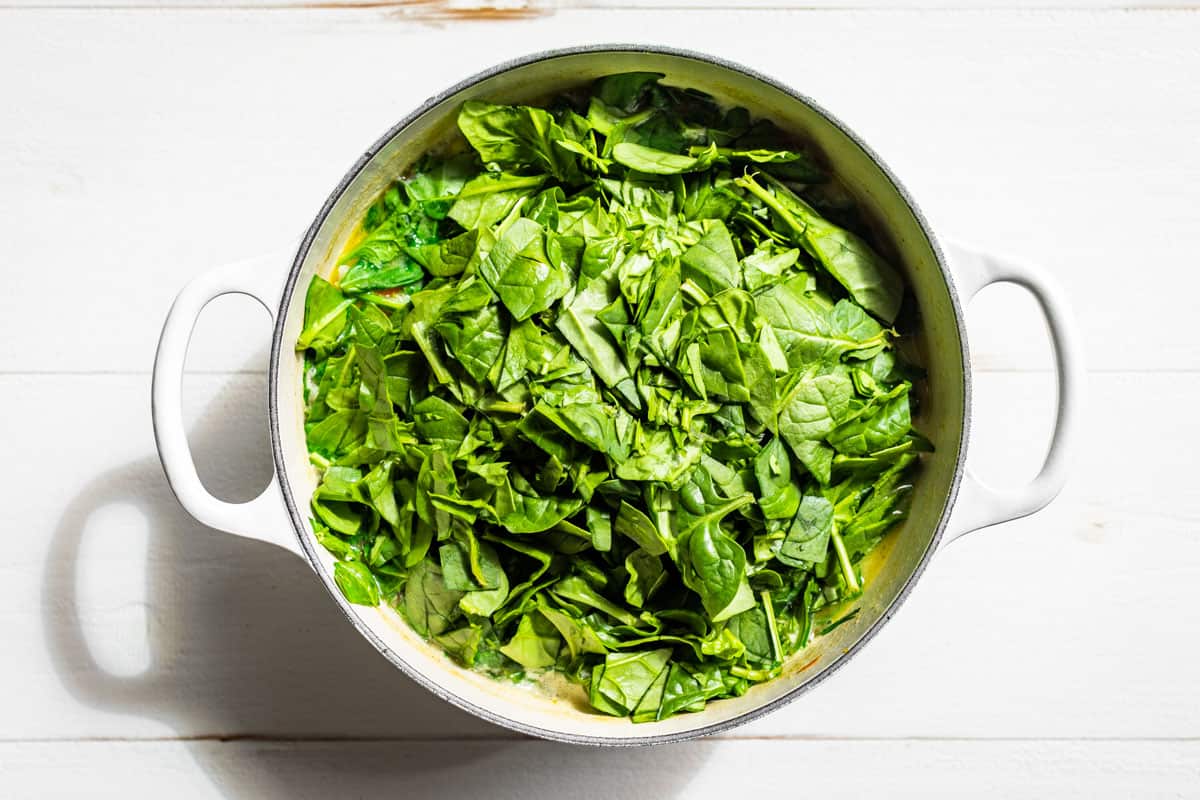 Step 5: Cook until the asparagus is almost done, then add the spinach and stir it in to wilt.
Season to taste with sea salt, fresh lime juice, and fish sauce before serving right away.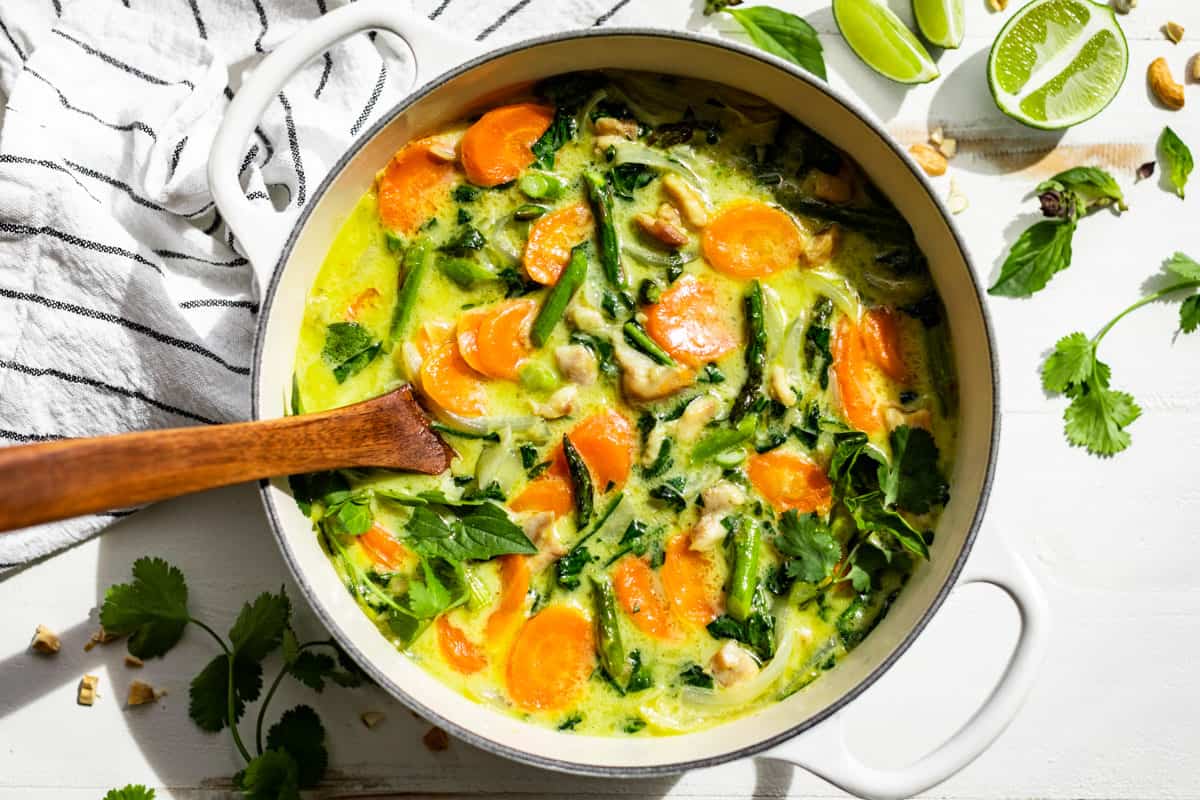 FAQ's
How would you describe green curry?
Fresh and fragrant with plenty of savory flavors and a bit spicier than the other Thai curries. It's usually made with chicken, but beef is sometimes used as well and shrimp is a tasty variation. It has plenty of flavor from lime leaves as well as fresh cilantro and Thai basil if you can find it in the grocery store is a nice addition.
What flavors are in green curry?
Most of the flavors come from the green curry paste, so buy a really good one like Mae Ploy! There are coriander seeds, cilantro, ginger, garlic, lemongrass, and often shrimp paste, and some fish sauce as well. If you're looking to make a vegan green curry, read the labels carefully.
Can I make this Thai Green Curry recipe vegetarian or vegan?
Yes but be sure to check the labels on your choice of curry paste because they sometimes contain shrimp paste etc. Also, omit the fish sauce called for and use soy sauce or tamari instead. For protein, you can use sautéed tofu or drained and rinsed chickpeas work nicely in curry.
Storing leftovers
To store – place any leftovers into a sealed airtight container and refrigerate for up to 5 days.
To reheat – warm over low heat until hot in a skillet or microwave.
Freeze – I don't recommend freezing this one because the carrots and asparagus are mushy when thawed.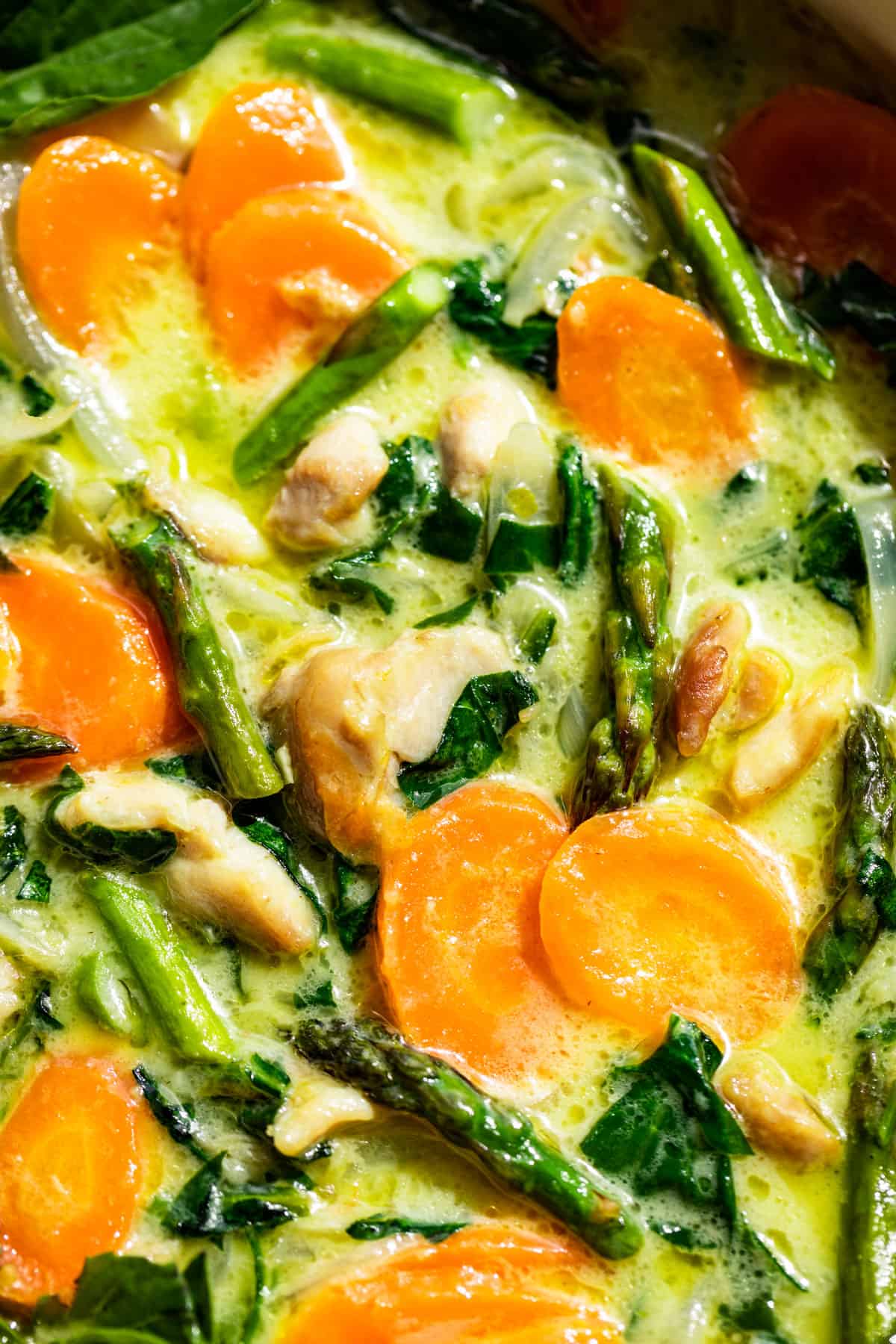 Tips & Tricks
Use full-fat coconut milk or even coconut cream, (unsweetened) for the best curry.
Mae Ploy green curry paste really makes all the difference in this recipe, so it's worth an online order if you don't have it locally!
Customize this curry according to whatever you're used to ordering from your local Thai restaurant. Use the same veggies you're used to, dial back the curry paste, or add some more for extra heat.
Also, you can customize the salty-sweet-sour elements of this curry to your taste. Add a touch more fish sauce for salty umami flavor, or a squeeze of fresh lime juice over the top of your bowl, or mix in a touch of coconut sugar/Grade A maple syrup for a hint of sweetness.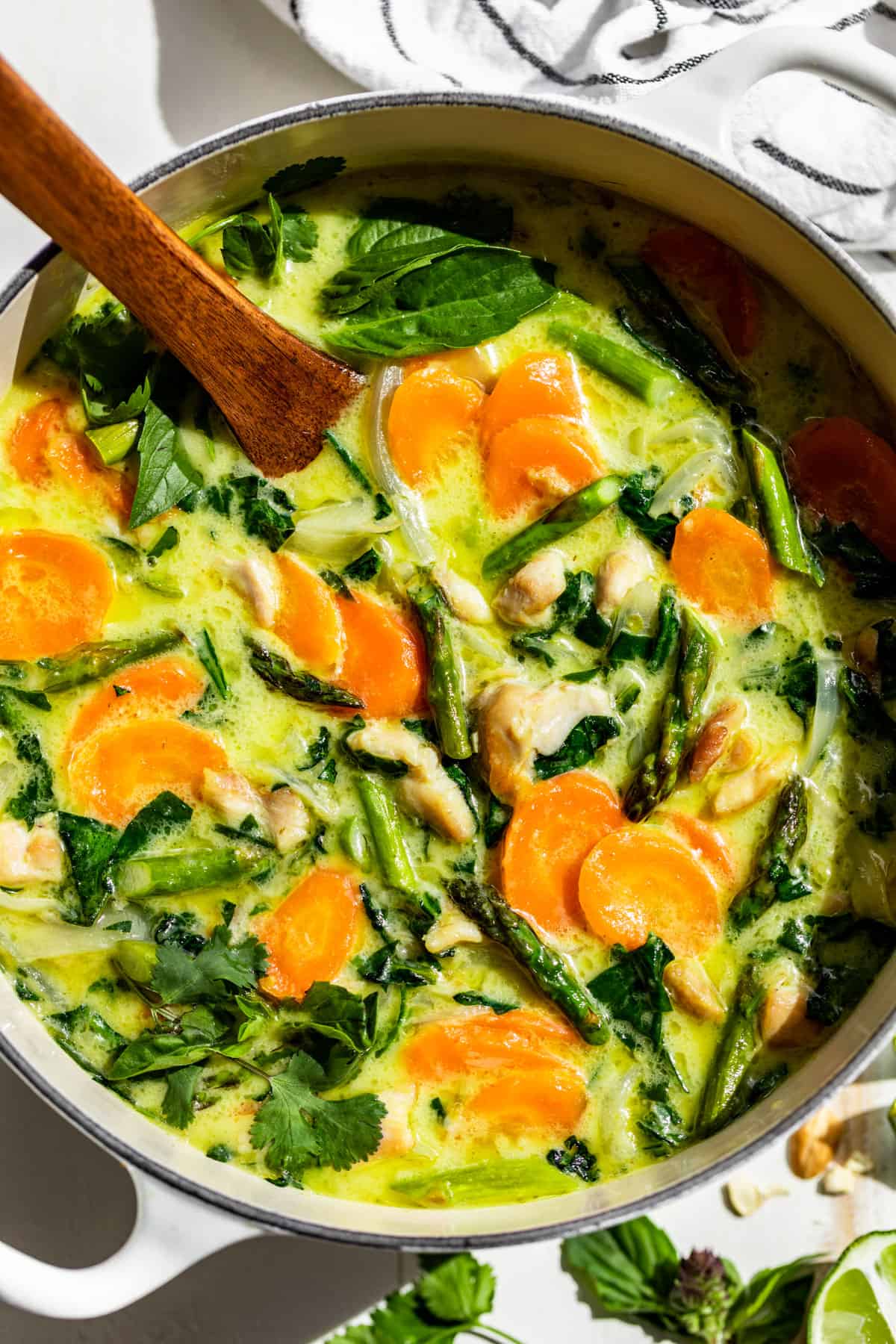 Coconut Curry Recipe inspiration
I really hope you enjoy this Thai Green Curry! If you do get a chance to make this recipe, please leave a rating below, I'd love to hear from you in the comments.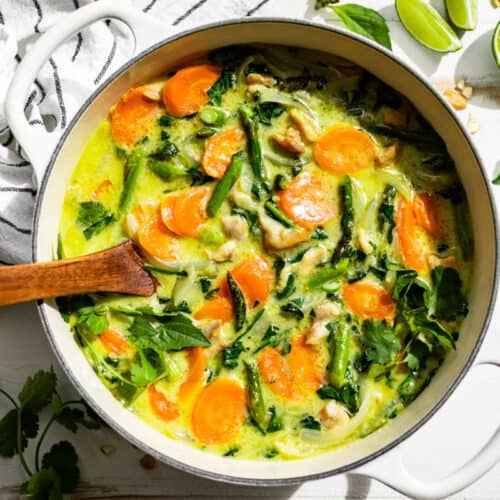 INGREDIENTS
1

pound

boneless skinless chicken thighs

-

cubed into 1″ pieces

2

tbsp

avocado or olive oil

2

tbsp

green curry paste

-

see notes

1

tbsp

minced ginger

2

cloves

garlic

-

minced

1

yellow onion

-

1 pound, cut into half-moon slices

2

cups

thinly sliced carrots

-

about 6 or 12 ounces

2-3

Kaffir lime leaves

-

or 2 teaspoons lime zest

2

cans

coconut milk

8

ounces

asparagus

-

trimmed and sliced into 1″ pieces, 2 cups

1

tbsp

fish sauce

4

cups

roughly chopped mixed greens

-

6 ounces, see notes

Sea salt to taste
Toppings:
Lime wedges

Chopped cilantro

Chopped toasted cashews
INSTRUCTIONS
Start by prepping all the ingredients.

Place a large 15″ skillet or medium sized pot over medium high heat. When the pan is hot but not smoking, add 1 tablespoon of the oil along with the cubed chicken.

Sauté until browned and just done, then remove the chicken from the pan, and set it aside.

Return the pan to the heat, and add the remaining tablespoon of avocado oil, curry paste, garlic, and ginger. Sauté just until fragrant while breaking up the curry paste with a cooking utensil, about 1 minute.

Next add the onions and carrots. Cook over medium heat stirring often for 3-4 minutes. When the veggies are just beginning to soften, add the lime leaves and coconut milk.

Bring the curry up to a boil. Then lower the heat to maintain a simmer, and cook until the veggies have softened and the curry has started to thicken, about 10 minutes.

Next add the asparagus and chicken. Simmer for 3-4 minutes until the asparagus has turned bright green, and is crisp tender.

Remove the pan from the heat and stir in the fish sauce and chopped spinach. Let the mixture set for 2-3 minutes stirring occasionally, or until the greens have just wilted.

Season to taste with sea salt, then serve the curry with your choice of toppings.
Bonus Step
If you made this recipe, please leave a rating/comment. Ratings really help us continue to bring you high-quality free recipes. Rate This Recipe!
NOTES
For the curry paste, I love the Mae Ploy brand for its incredible flavor. It also doesn't have any additives or food dyes in it. If you can't find it locally I buy my green curry paste online.
Sometimes I sub in snow peas or baby sugar snap peas for half or all of the asparagus.
nutrition facts
Calories:
428
kcal
|
Carbohydrates:
13
g
|
Protein:
19
g
|
Fat:
36
g
|
Saturated Fat:
26
g
|
Polyunsaturated Fat:
2
g
|
Monounsaturated Fat:
6
g
|
Trans Fat:
0.01
g
|
Cholesterol:
72
mg
|
Sodium:
366
mg
|
Potassium:
834
mg
|
Fiber:
3
g
|
Sugar:
4
g
|
Vitamin A:
10096
IU
|
Vitamin C:
14
mg
|
Calcium:
87
mg
|
Iron:
7
mg
This post was originally published in 2018. It has been updated in 2022 with new photos, more helpful tips and information as well as nutritional fact.