Bursting with flavor, this Vegetarian Breakfast Casserole is easy to make for breakfast that's also great for meal prepping. Packed with veggies and protein, this casserole is like a crustless quiche. Enjoy the combination of zucchini, onion, tomatoes, and basil with 2 kinds of optional cheeses to add in as well. We love meal prepping this for quick grab-and-go breakfasts. But it's simply gorgeous for slow weekend breakfasts and brunches too.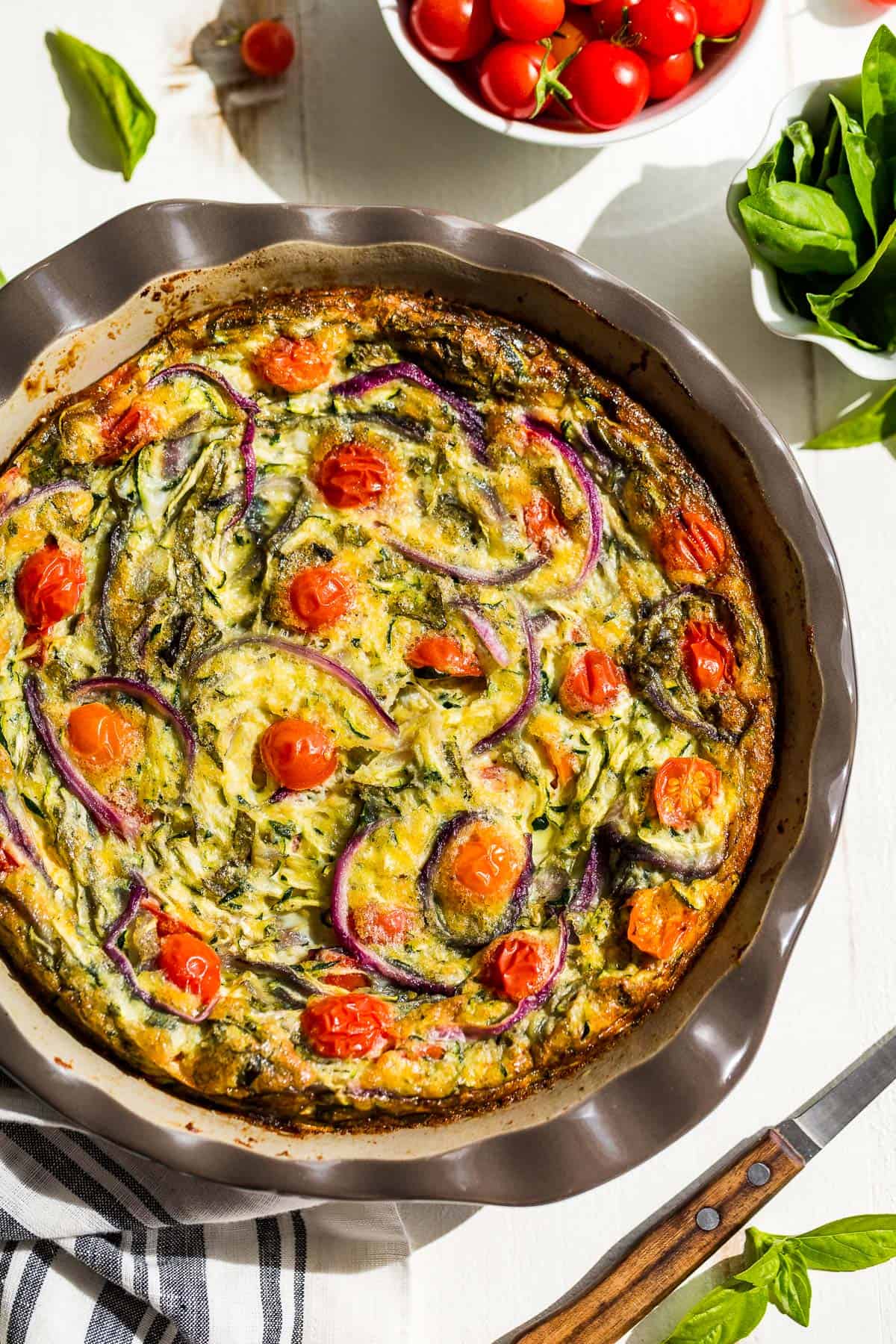 Loaded with veggie goodness, this breakfast casserole is like an easy crustless quiche that's naturally gluten-free. It's a favorite in our house for entertaining because it's colorfully appealing. But it also makes a great quick breakfast straight out of the fridge.
The combination of veggies in this breakfast casserole keeps it perfectly moist and adds so much flavor as well. It can be served on its own, or paired with my other favorite breakfast recipes listed below.
So the next time you need a showstopper to serve guests, this casserole is the answer. But it's also easy enough to throw together for meal-prepped breakfasts too.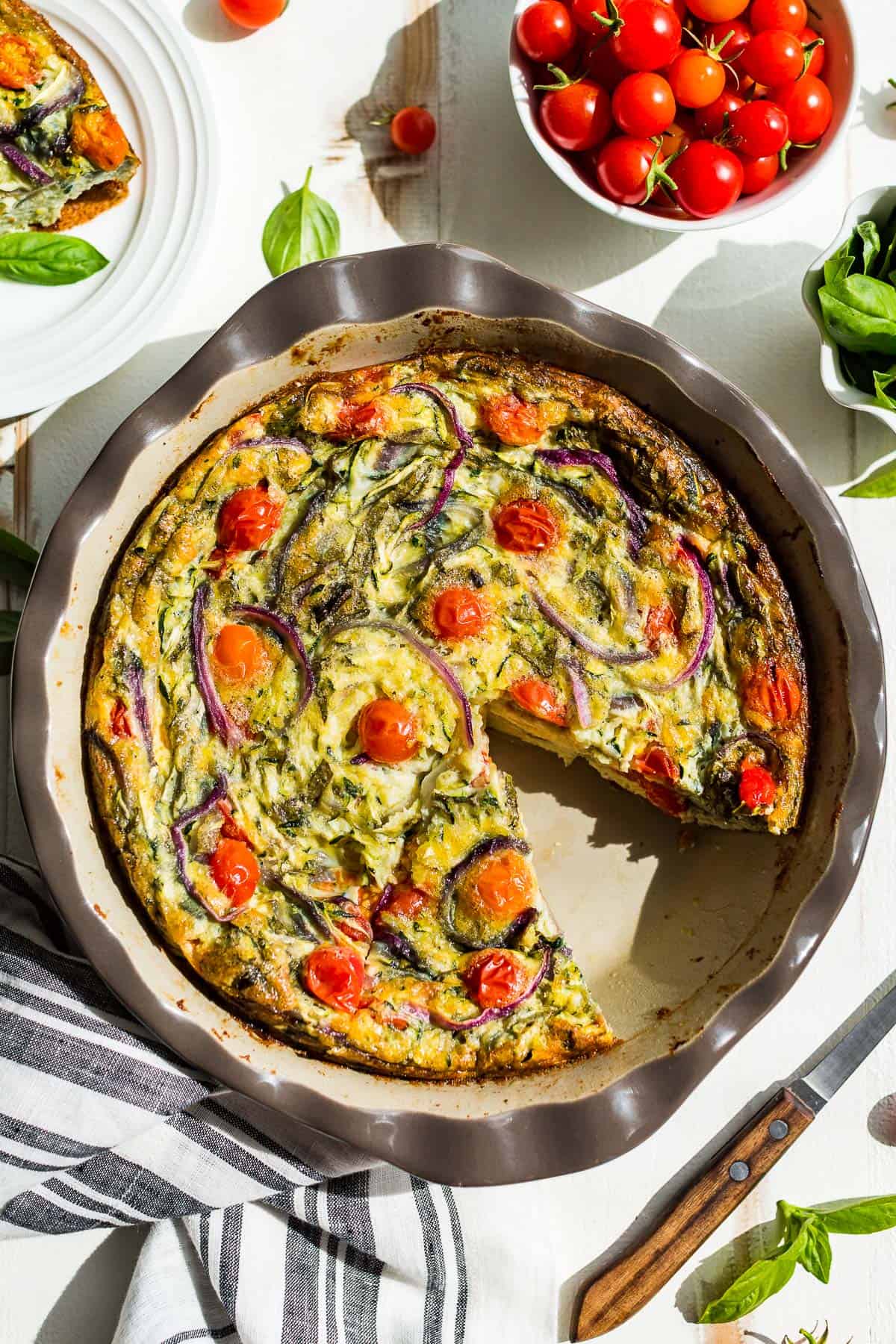 Ingredients & Substitutions
Eggs – provide the bulk structure of this breakfast casserole and there isn't a good substitute for them in this egg-based casserole.
Butter – I like to use salted butter or ghee in this casserole but olive oil works well too.
Zucchini – adds so much texture and the perfect amount of moisture. I recommend some caution when subbing in other vegetables here because it's a bit tricky. But if you do want to use something else like broccoli etc. you'll need to make sure they're cooked before adding them to this casserole. There's not enough baking time for firmer veggies to get cooked, so they need to be pre-cooked if you want to sub in something else. A few veggies that would be easy to sub in would be mushrooms or diced red bell peppers which you could cook briefly with the onions. Or add 2 cups roughly chopped spinach to the pan with the onions just until barely wilted in place of the zucchini.
Onion – I like to use red onion because it's visually appealing but you can use any other kind of onion including shallots and green onions. If you use green onions, there's no need to cook them first.
Tomatoes – cherry tomatoes work best in this casserole because they tend to hold their shape better than diced larger tomatoes. I used a mix of Sungold and red cherry tomatoes, but any cherry tomato works.
Basil – is our favorite fresh herb and it works really well with these veggie flavors. You could also use dill or parsley here.
Salt & pepper – you can adjust this to your taste if desired. But be aware it's hard to season an egg casserole after it's baked. For the best results, the salt and pepper need to be added in so the whole casserole is properly seasoned. Otherwise, you may find it to be bland.
How to make this Vegetarian Breakfast Casserole recipe step by step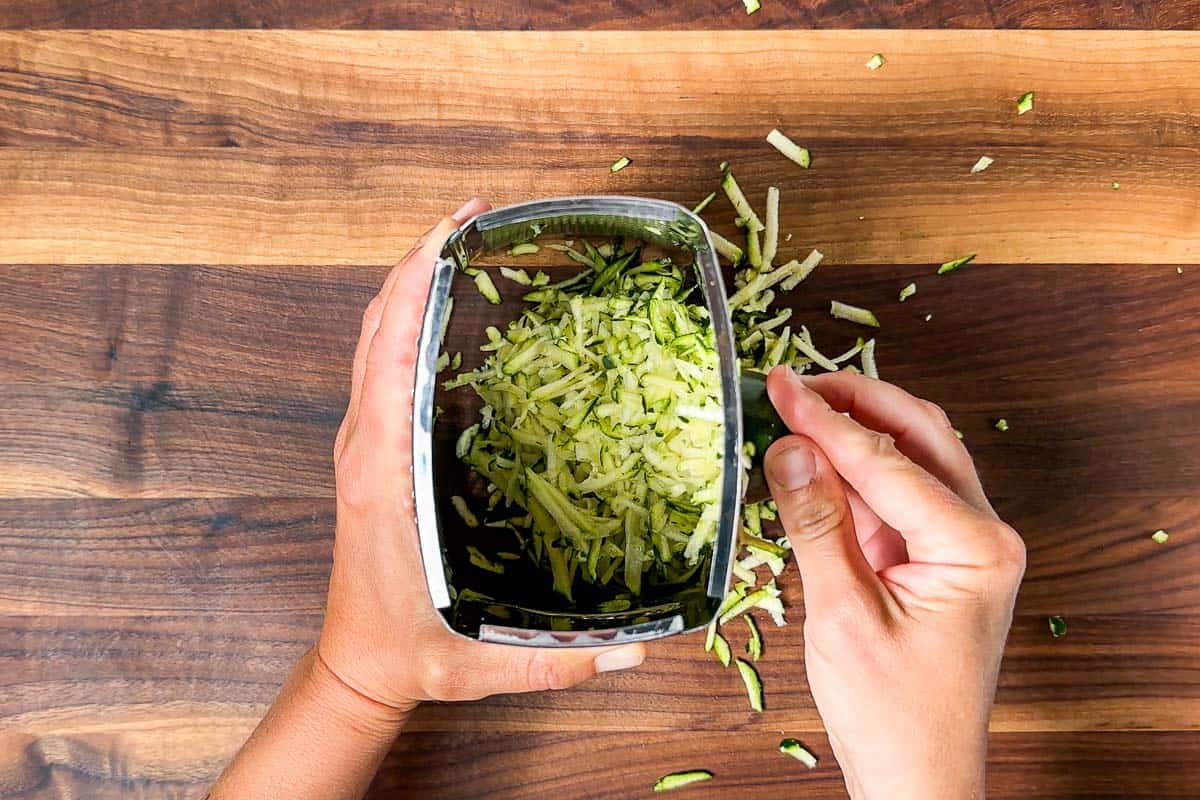 Step 1: Start by preheating the oven, then grate the zucchini and set it aside.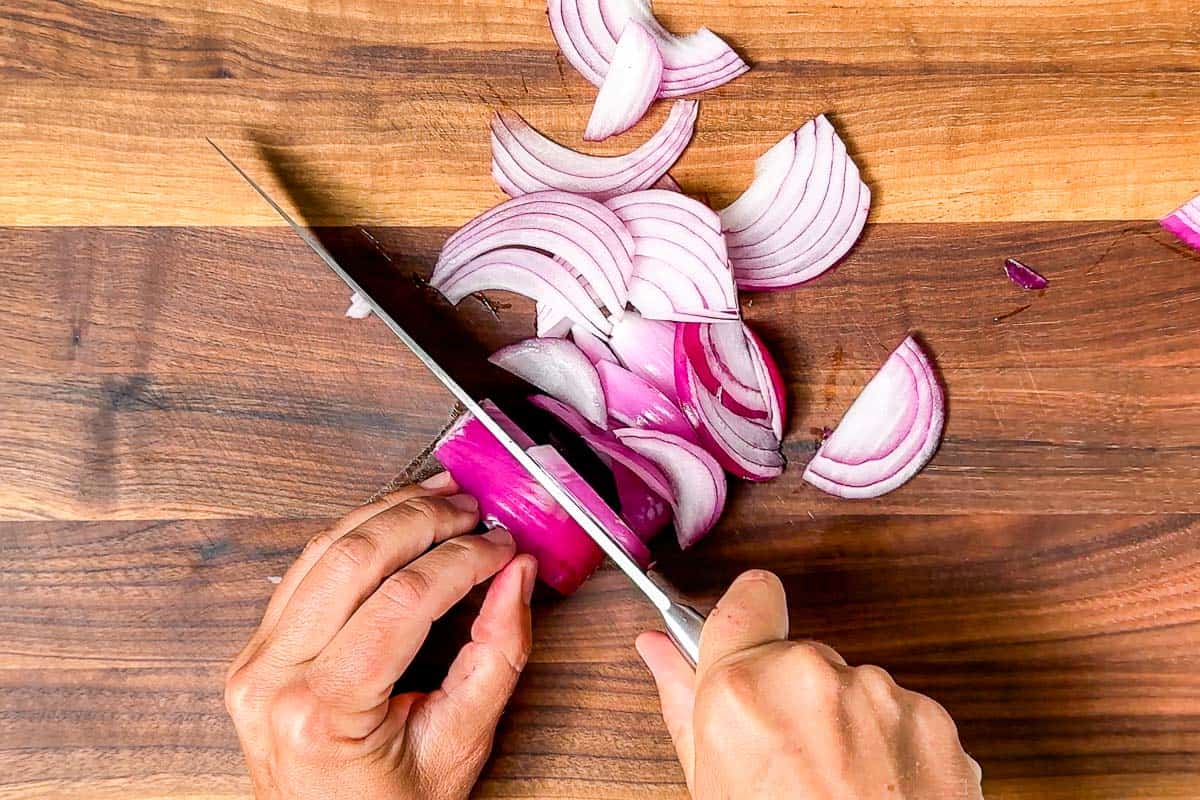 Step 2: Slice onion into half-moon slices.
To do this start by slicing off both ends of the onion and peeling away the outer layer. Then slice the onion in half from the top to the bottom. Lay 1/2 of the onion flat side down on the cutting board and cut across the rounded top to create half-moon slices.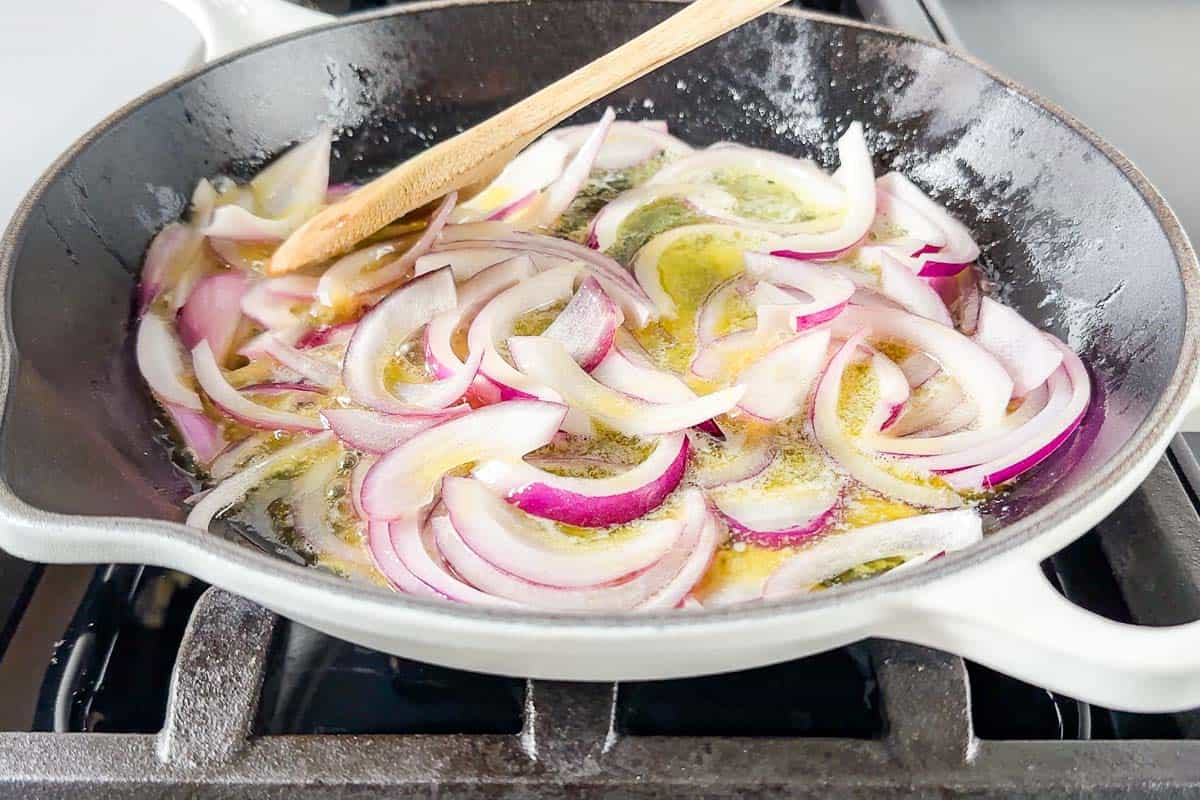 Step 3: Then briefly cook it in butter in a large skillet (9″) over medium heat. This is essential to take the raw onion edge off because the baking time isn't quite enough.
You can eliminate this step if you use thinly sliced green onions which can be added straight to the egg mixture.
Also if you have a very well-seasoned cast iron skillet, you can bake the egg mixture right in the same pan you use to cook the onions. (Note: I don't recommend cooking egg-based casseroles in enameled cast iron skillets because they stick.)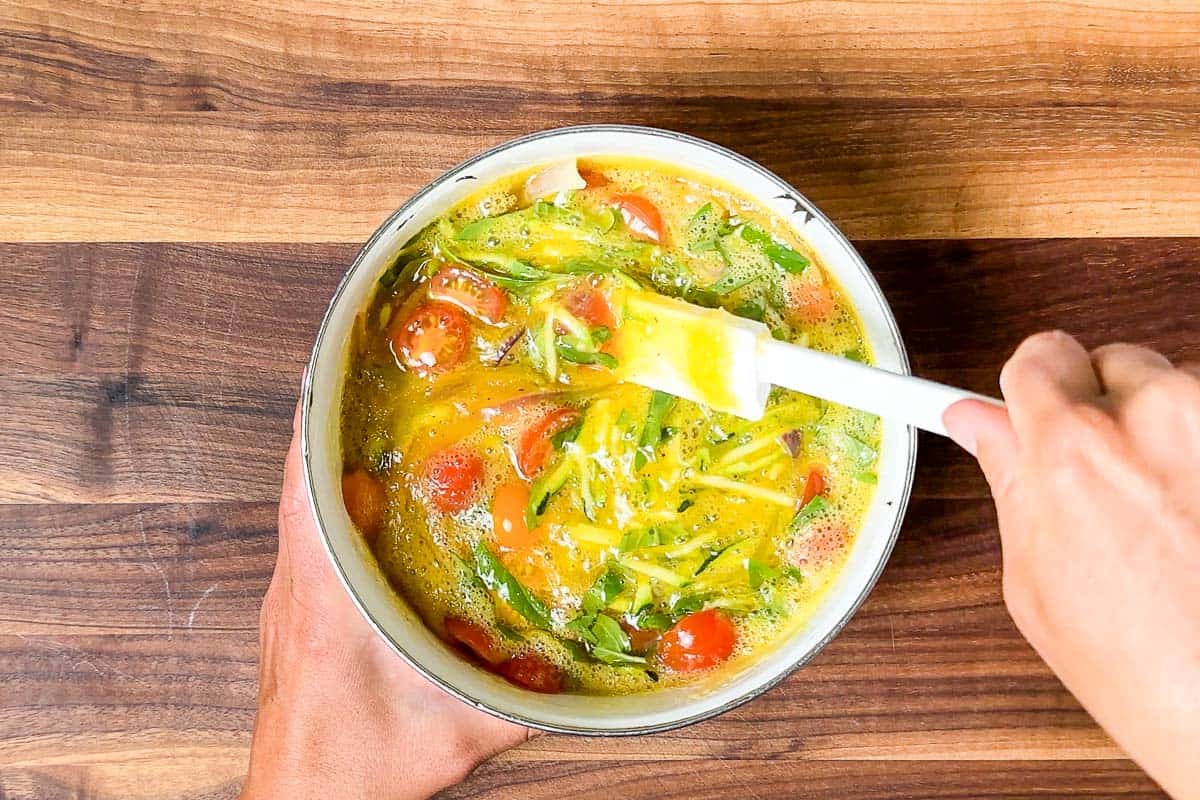 Step 4: Next whisk the eggs together well with the salt and pepper in a large bowl. Then stir in the veggies and chopped basil.
If desired reserve some of the cherry tomatoes to place by hand on top of the egg bake for presentation.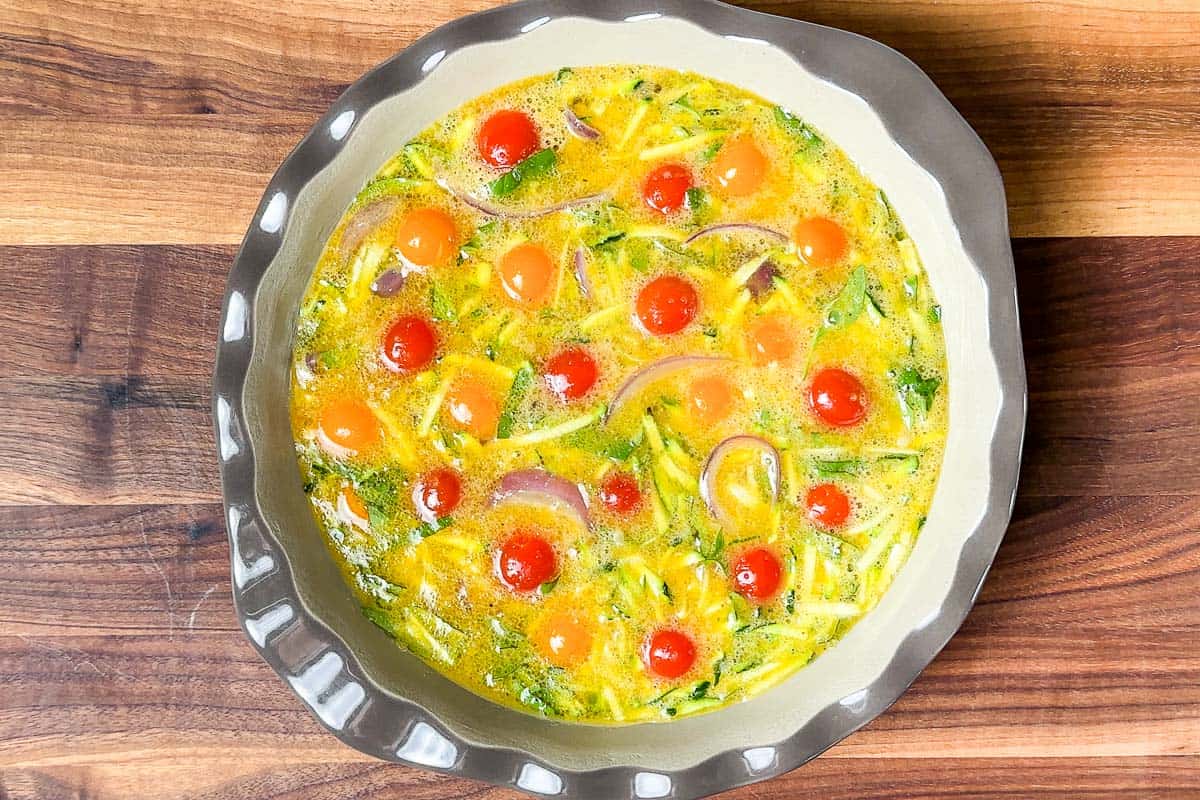 Step 5: Pour the veggie egg mixture into a well-buttered pie plate or similar-sized baking dish. If you're using the optional cheese, you can sprinkle it over the top or mix it in.
Top with the cherry tomatoes for presentation if you reserved them. This isn't necessary by any means, it's only for appearance!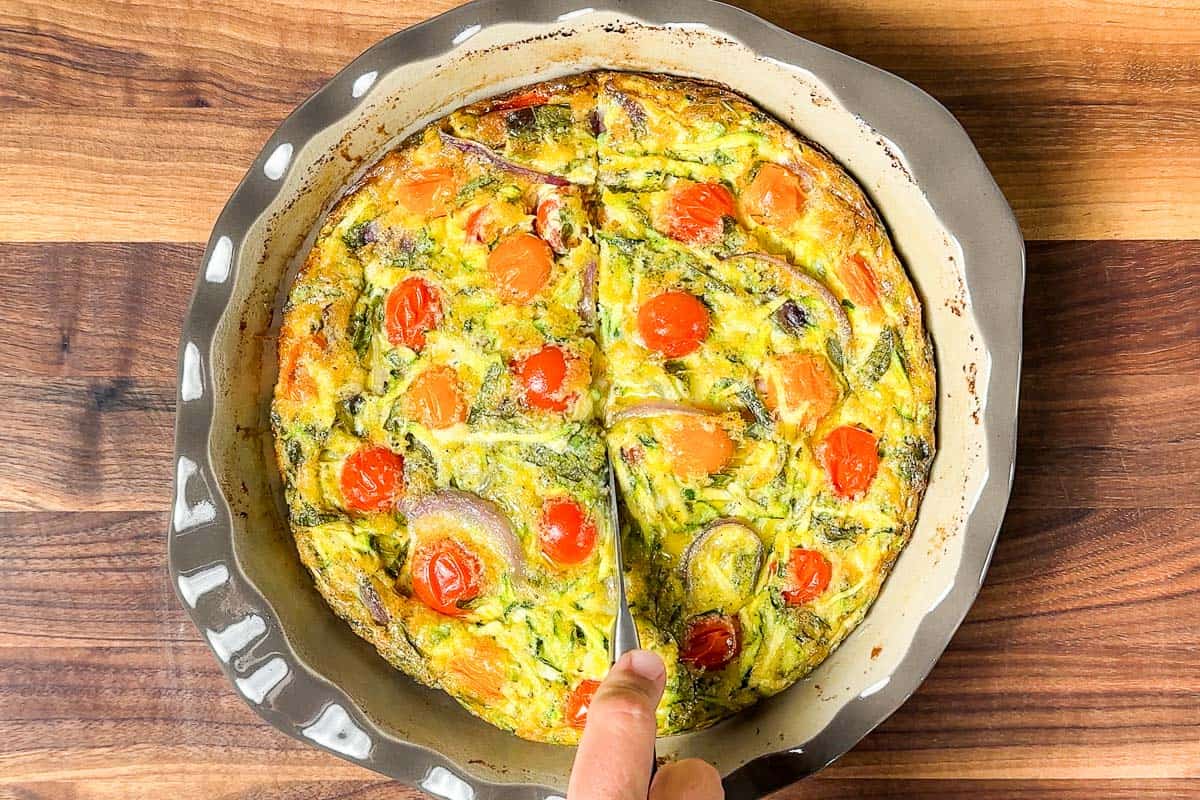 Step 6: Bake the egg casserole until puffed in the center and done.
Serve hot out of the oven, or at room temperature. Let the casserole cool to just warm if you want to portion it out for meal prep.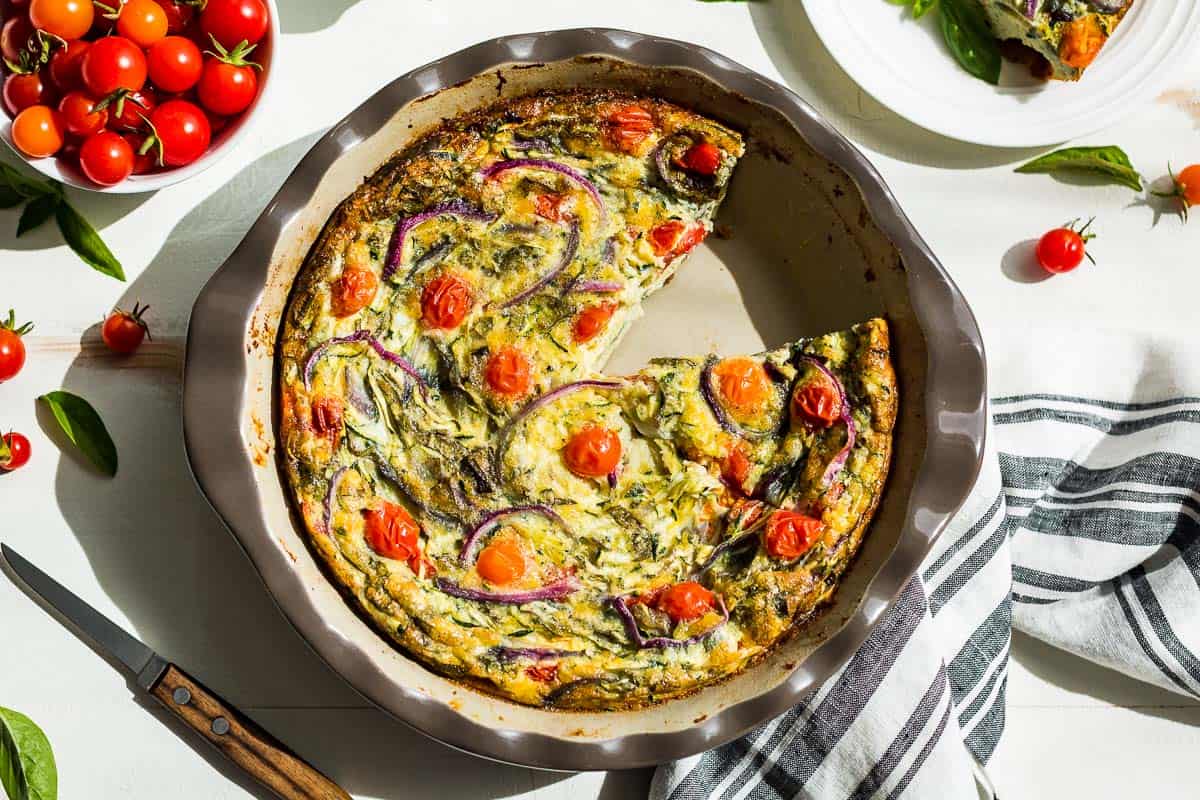 Ways to Serve this Vegetarian Breakfast Casserole
FAQ's
Is frittata an egg casserole?
A frittata is very similar to an egg casserole in that they're both baked egg dishes. The difference is a frittata is cooked briefly on the stovetop before being finished in the oven. Egg casseroles are usually cooked just in the oven.
Is there another word for egg casserole?
Yes! Egg casseroles are sometimes called egg bakes.
Why is my breakfast casserole runny in the middle?
If your breakfast casserole is runny in the middle it means it needs more baking time. An egg-based breakfast casserole will puff up starting with the edges and working into the center. From there, you want to make sure nothing is runny before you take it out of the oven. If for some reason your egg casserole isn't quite cooked, you can always slice and pan-fry it to make sure the egg is fully done before consuming it.
Storing leftovers
To store – place any leftovers into an airtight container and store them in the refrigerator for 4-5 days.
Make ahead – this recipe keeps well in the fridge and can be made ahead for meal prep.
Reheating – egg casseroles are tricky to reheat. The microwave is the easiest. But you can also add a slice to a nonstick skillet along with 1-2 tbsp of water. Cover and simmer on low until the casserole is heated through and the water has evaporated. Once the slice of casserole is almost heated through, I like to add a slice of cheese on top and cook covered just until the cheese melts.
To freeze – this casserole doesn't hold up in the freezer well because of the veggies. I would try my Sausage Hash Brown Breakfast Casserole instead which freezes pretty well. Egg casseroles are never quite as good after they've been frozen.
Tips & Tricks
Try adding some grated aged cheddar cheese or crumbled feta cheese from the recipe notes for a fun variation. If you can't have dairy, no worries there's plenty of flavor without any cheese. You could also add any other flavorful cheese like provolone, havarti, or pepper jack. I would stay away from blander cheeses like mozzarella.
Omit the basil and try serving this with a dollop of pesto if you have it on hand. We have some local farmers that sell pesto at the farmers market and it's so good you want to drizzle it on everything. To make your own try the pesto listed in my Eggplant Stacks recipe.
Dietary Options & Substitutions
Dairy-free – use olive oil or dairy-free butter. Don't use the optional cheese, and I personally don't recommend vegan cheese in this casserole.
Paleo – use ghee or olive oil.
Vegetarian – use olive oil or vegan butter.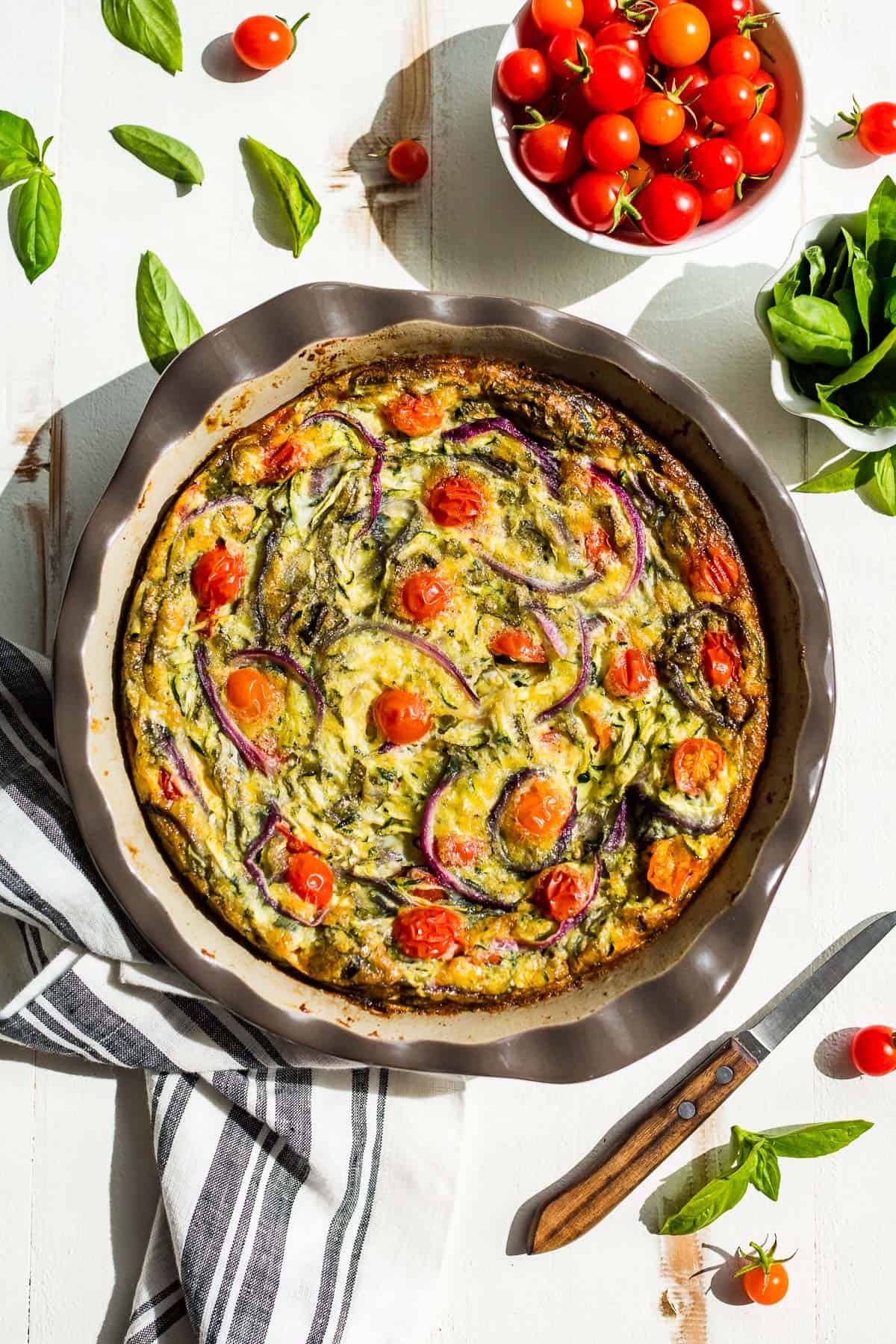 More Egg Breakfast Recipe Inspiration
I really hope you enjoy this Vegetarian Breakfast Casserole! For more savory breakfasts, check out our breakfast page for all recipes. If you do get a chance to make this recipe, I'd love to hear from you in the comments.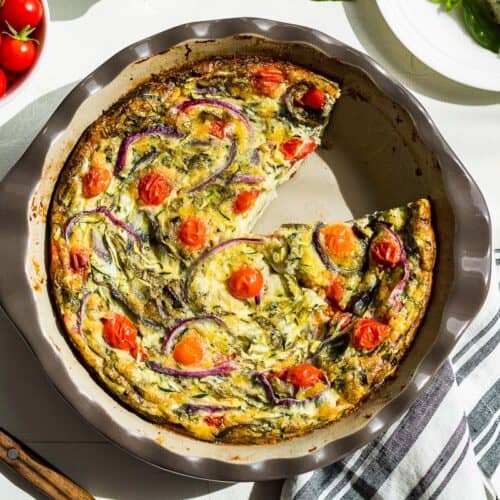 Vegetarian Breakfast Casserole
---
INGREDIENTS
1

cup

grated zucchini

1/2

cup

thinly slivered red onion

-

or thinly sliced green onion

1

cup

halved cherry tomatoes

1/4

cup

chopped basil

-

or 1/2 Teaspoon Italian seasoning

4

tbsp

salted butter

-

ghee, or olive oil

10

eggs

1

tsp

sea salt

-

or to your taste

1/2

tsp

ground black pepper
INSTRUCTIONS
Preheat the oven to 350ºF and grease a deep dish 9″ pie plate well.

Prep all the veggies, and set them aside.

Whisk together the eggs, sea salt, and black pepper until completely combined.

In a small skillet heat the butter/ghee/olive oil over medium heat and sauté the red onion for 2-3 minutes until it's just starting to soften.

Remove them from the heat, then stir them into the egg mixture with the other veggies and basil. (You can hold back some of the cherry tomatoes to place on top for a nicer appearance if desired.)

Stir together to completely combine, then pour the egg/veggie mixture into the pie plate. If you held back some cherry tomatoes place them evenly over the top.

Bake until the egg bake is puffed in the middle, and no longer runny in the center, about 40-45 minutes.

Remove the egg casserole and place it on a cooling rack.

Serve immediately, or cool to room temperature and portion it out to refrigerate for future breakfasts.
Bonus Step
If you made this recipe, please leave a rating/comment. Ratings really help us continue to bring you high-quality free recipes. Rate This Recipe!
NOTES
Optional: 1/3 crumbled feta cheese or grated aged cheddar.
This casserole will serve more or less depending on what you serve with it. It can serve 4 easily on its own. Or 6-8 if you serve it with extras like sausages, potatoes, or muffins.
nutrition facts
Calories:
186
kcal
|
Carbohydrates:
4
g
|
Protein:
10
g
|
Fat:
15
g
|
Saturated Fat:
7
g
|
Polyunsaturated Fat:
2
g
|
Monounsaturated Fat:
5
g
|
Trans Fat:
0.3
g
|
Cholesterol:
293
mg
|
Sodium:
557
mg
|
Potassium:
236
mg
|
Fiber:
1
g
|
Sugar:
2
g
|
Vitamin A:
846
IU
|
Vitamin C:
11
mg
|
Calcium:
55
mg
|
Iron:
2
mg
This recipe was originally published in 2020 and updated in 2023 with more tips and information.