Easy to mix together in less than 5 minutes, this Fajita Seasoning recipe is perfect for any fajita recipe. You can use it my Shrimp Fajitas, (coming soon) or my Sheet Pan Chicken Fajitas. I also love to use it sprinkled into the filling of quesadillas and in Mexican inspired soups as well. It's simple to make with no added sugar or filler ingredients. It's an all natural healthy spice mix that's budget friendly as well. Try mixing up a large batch to keep around for months of yummy fajitas.
Chili mixed together with smoky paprika, plenty of onion and garlic along with some earthy cumin and you have a fajita seasoning that can't be beat! While I have nothing against the store bought mixes for their awesome convenience. They often have filler ingredients I'd rather not eat, and they're not exactly budget friendly either
I buy bulk spices from our local health food store, and that makes it easy to stir up large batches of my favorite spice mixes. You'll always find my Taco Seasoning and this Fajita Seasoning on hand in my pantry for quick and easy meals.
It's even better that there's no fillers like maltodextrin or rice concentrate whatever that is. Just pure simple spices and all flavor here! So let's stir up and batch and get cooking!
Ingredients & Substitutions
Chili powder – regular mild chili powder is what I use here. I prefer not to use hot chili powder because it gets overwhelming in these quantities. Instead we'll add some heat with the chipotle powder. Be sure to buy unsalted chili powder as well!
Onion granules – which is sometimes mislabeled as onion powder, but as you can see in the photo it's a granular texture not powder.
Garlic granules – again the same as the onion granules you will sometimes find this called garlic powder. But what you're truly looking for is the granules and you can see the texture above.
Cumin – is a staple in just about any Mexican inspired seasoning and fajita seasoning is no exception.
Smoked paprika – is an unconventional spice to add to fajita seasoning, but it adds incredible flavor with a hint of smokiness without any additional heat. It's more than worth adding to your shopping list because you can use it in just about any Mexican recipe you love.
Chipotle powder – adds a touch of smokiness like the paprika but with a bit of heat as well. The amount called for in the recipe is for a mild fajita mix. But feel free to leave it out altogether if you / your family doesn't like any spice at all.
Oregano – is also traditional in fajita spice mixes and adds great flavor.
Salt – can also be omitted. I like to add it to my spice mix to make dinnertime easier. But you can leave it out and add salt to your taste in whatever you are making.
How to make this recipe step by step
Step 1: Start by measuring out all the spices. Feel free to double or even quadruple the recipe so you have lots leftover.
Step 2: Pour all the spices into a small bowl and stir together until combined.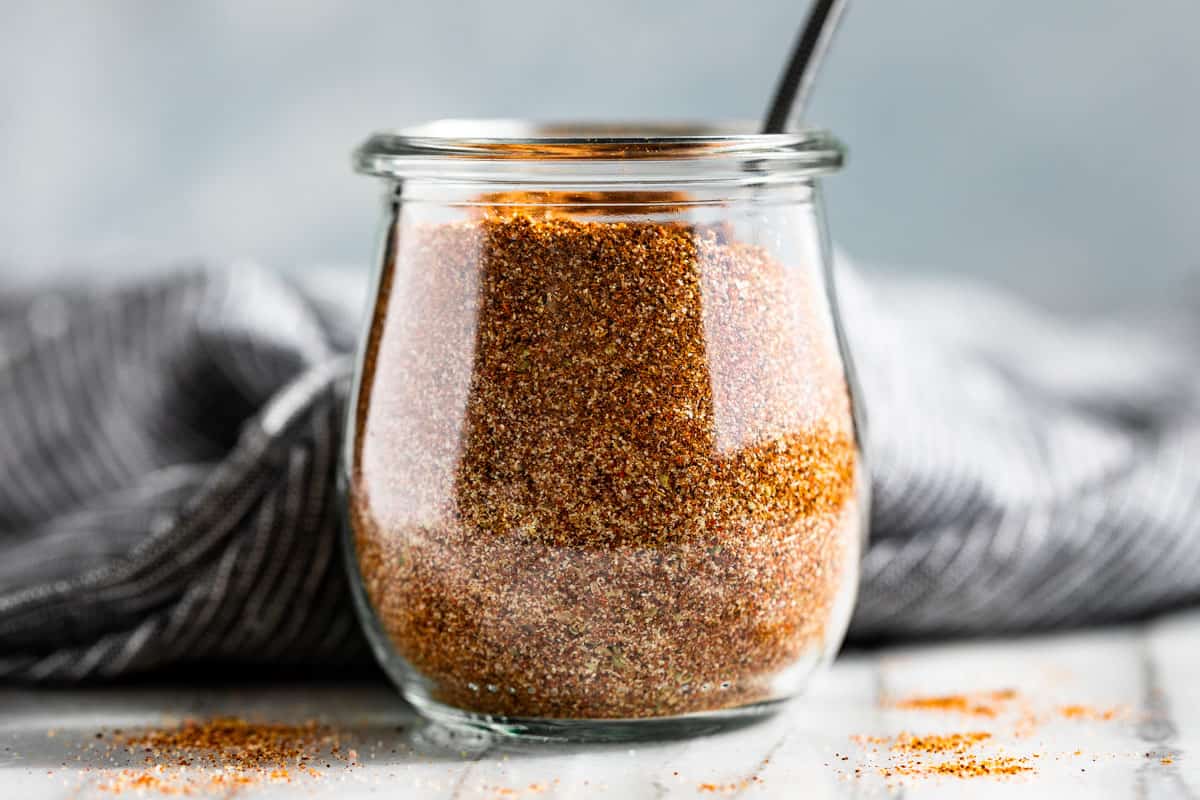 Step 3: Transfer the spice mix to a sealed container and store in a dark place like a drawer or your pantry for up to 6 months.
Ways to serve this
Try this seasoning with my Shrimp Fajitas, (coming soon) or with my Healthy Chicken Sheet Pan Fajitas.
You can also use this seasoning in place of the spices for any fajita recipe you'd like.
We also love using this seasoning sprinkled into the filling for quesadillas or in Mexican inspired soups.
FAQ's
What is the difference between taco seasoning and fajita seasoning?
They use many of the same spices but in different ratios. Also fajitas always have the zesty fresh lime juice squeezed in at the end.
Can I use taco seasoning in place of fajita seasoning?
Yes you can but the flavor will be different. Taco seasoning generally has more chili powder in it and it's just a bit different overall from fajita seasoning. But you can use what you have, just add that fresh lime in at the end of the cooking time for your fajitas.
Storing leftovers
Store – place the leftover fajita seasoning into an airtight sealed container and store in a room temperature place away from light. Your pantry or a spice drawer / shelf is the perfect place to store this spice mix. You want to avoid sunlight so the spice mix stays fresh.
Use – I use a ratio of 2 tbsp fajita seasoning to 1 pound of meat. You can use more or less to your taste.
Tips & Tricks
Try buying your spices in bulk at a health food store to save money. I use a funnel to refill my glass spice jars at home with my bulk spices. This is especially useful for things you use a lot of like garlic granules or Italian seasoning.
Be sure all your spices are salt free, you want just plain spices. If too many of the spices contain salt, your spice mix will be very salty. Better to add the salt to taste instead!
Fajita toppings & sides recipe inspiration
I really hope you enjoy this Fajita Seasoning recipe! If you do get a chance to make this recipe, I'd love to hear from you in the comments.
INGREDIENTS
1/4

cup

chili powder

-

mild, no salt added

3

tbsp

ground cumin

1

tbsp

smoked paprika

2

tbsp

garlic granules

2

tbsp

onion granules

1

tbsp

sea salt

-

can be omitted

1

tbsp

chipotle powder

1

tbsp

dried oregano
INSTRUCTIONS
Stir together all the spices listed until completely combined.

Transfer the spice mix into an airtight container and store in a dark area like a cupboard, drawer, or pantry for up to 6 months.

To use this Fajita Seasoning, measure out 2 tablespoons and add it as you cook 1 pound of chicken, shrimp, or beef. This also works for vegetarian fajitas with a mix of peppers, onions, and mushrooms.
Bonus Step
If you made this recipe, please leave a rating/comment. Ratings really help us continue to bring you high-quality free recipes. Rate This Recipe!
NOTES
This recipe makes 1 cup of seasoning or enough to use 2 tbsp in 8 meals with 1 pound of meat in each meal.
nutrition facts
Serving:
2
tbsp
|
Calories:
49
kcal
|
Carbohydrates:
9
g
|
Protein:
2
g
|
Fat:
2
g
|
Saturated Fat:
0.3
g
|
Polyunsaturated Fat:
1
g
|
Monounsaturated Fat:
1
g
|
Sodium:
1017
mg
|
Potassium:
273
mg
|
Fiber:
4
g
|
Sugar:
1
g
|
Vitamin A:
2959
IU
|
Vitamin C:
1
mg
|
Calcium:
69
mg
|
Iron:
4
mg