These Fish Taco Lettuce Wraps with Mango Salsa are a fresh and healthy take on tacos you just can't get enough of. The combination of salmon with the mango salsa is irresistible along with the creamy avocado crema.
Fish tacos… most beloved of foods – second only to pizza for me. Every vacation near the ocean is centered around where I'm going to get the best fish taco for lunch (really, I'm not exaggerating)! But, these aren't just any fish tacos, although I really do like them all. My favorite combination consists of fresh grilled salmon, mango salsa, and avocado cream.
This particular recipe today has been in the makings for a decade now, and it's underwent several innovations! I started with homemade flour tortillas, moved to deep fried corn tortillas, and eventually I settled into lettuce wraps as my shell.
So, why lettuce instead of regular taco shells?
1. They are the easiest (and fastest) shells to make at home – they only require a quick wash in the salad spinner
2. They're healthier (which came about more as a side benefit, and weirdly enough I prefer the healthier option in this case).
Let's talk about ingredients for these Fish Taco Lettuce Wraps with Mango Salsa:
Fish – I love using salmon, but any fish you love in fish tacos is perfect here from cod to halibut.
Lettuce – I call for Butterhead which has a wonderful softness to it that pair well with the fish. However it does tear easier, and so green leaf or red leaf lettuce works well too.
Mango – The ripest mango is always the best, but if you do happen to see Champagne mangos at the store, definitely scoop them up. You'll recognize them by their yellow skins. Their flavor is incredible, and I've found the texture to be less fibrous. But really any ripe mango is great here.
Avocado – To make this recipe even easier, you can skip the avocado crema and just slice up a ripe avocado instead.
Salsa Ingredients – For the cilantro, jalapeno, onion, lime juice etc. freshness is key. While it's tempting to opt for pre-done convenience, you'll definitely notice in the final salsa.
Now… let's jump in and make these wraps!
First up prep the ingredients for the mango salsa.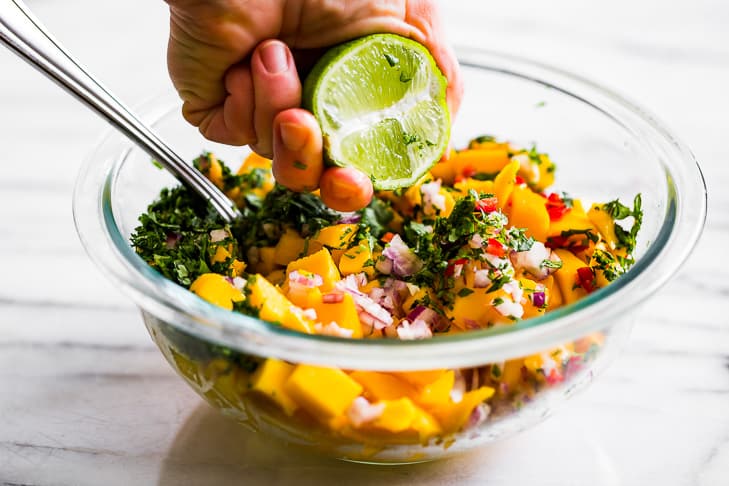 Then mix the salsa together and set it aside to let the flavors meld.
For the avocado cream, blend everything together in a blender until smooth, scraping down the sides once. Transfer the avocado cream to a serving dish.
If it's not a fancy dinner, I usually put my salsa and avocado cream into a pyrex container. If there's any leftovers, I can just place a lid over the container and put it in the fridge – no extra dirty dishes for me – no sir!
Next prepare your salmon for the grill. Lightly drizzle the fillet with avocado or olive oil, and generously sprinkle it with sea salt. Make sure to get some of the oil onto the salmon skin – it keeps it from sticking to the grill. Place the salmon over medium heat and grill for 6-10 minutes.
You'll know it's done when it no longer feels squishy when poked, and there will be some cooked juices appearing at the bottom of the fillet. If you see white cooked juices coming from the top of the fillet – it's overdone. If you're unsure, pull 1 fillet off the grill and test it – better safe than sorry!
Once everything is prepped, serve it all family style. That way each person can assemble their own wraps. For presentation, you can assemble the lettuce wraps and place them on a platter.
And you can even pile all these ingredients into your choice of tortillas. There's even some good paleo tortillas available at the store now that we love with this recipe.
And now for some more taco inspiration:
I hope you enjoy these lettuce wraps as much as we have! If you do make it, I hope you'll leave me a comment/rating below. And I always love hearing from you here, and over on Instagram where you can tag me at #getinspiredeveryday with your photos. And for more recipe inspiration, check out my Pan Fried Rockfish with Broccolini and Rosemary Mushroom Sauce.
Print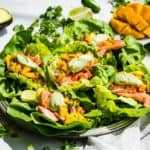 Fish Taco Lettuce Wraps with Mango Salsa
---
Description
A fresh take on tacos that are so tasty you're going to want them on the menu every single week!
---
1 large head butterhead lettuce
1 – 1 pound salmon fillet
2 Teaspoons avocado oil
sea salt
Mango Salsa:
1 mango, weighing 1 pound, peeled and diced
1/4 cup minced red onion
1/4 cup chopped cilantro
2 Tablespoons fresh lime juice
1 Teaspoon minced serrano or jalapeno
Sea salt to taste
Avocado Coconut Cream:
1 ripe avocado, peeled and pitted
1/2 cup coconut milk, from the can
1 Tablespoon fresh lime juice
1/2 Teaspoon sea salt, or to taste
---
Instructions
Mix together all the ingredients for the mango salsa and set it aside to let the flavors meld.
Place all the ingredients for the avocado coconut cream in a blender and blend until smooth. Scoop the cream out of the blender and into a serving dish.
Preheat the grill on high heat.
While the grill is heating up, drizzle the salmon with avocado oil and sprinkle generously with sea salt. Make sure to oil the skin on the bottom of the fillet, it keeps it from sticking to the grill.
Place the salmon on the grill and immediately lower the heat to medium. Cook until the salmon is barely done, just starting to flake but with some softness left and a bit of translucent pink in the middle. This normally takes 8-12 minutes for a 1 pound fillet.
While the salmon is cooking, pull the lettuce apart into individual leaves. Wash and dry it in a salad spinner.
When the salmon is done serve it with the lettuce wraps, mango salsa, and the avocado coconut cream.
Notes
Tip: the reason I like to prepare most of the recipe before grilling the salmon, is so I can keep an eye on it. Fresh, ocean caught fish is expensive so I try to give it my full attention because every time I turn my back it overcooks!
Prep Time:

30 mins

Cook Time:

10 mins

Category:

Dinner

Method:

Grilling

Cuisine:

Mexican
Keywords: Healthy Fish Tacos, Paleo Fish Tacos, Gluten Free Fish Tacos, Lettuce Wrap Tacos