These flavorful Fish Taco Bowls are a veggie-packed version of traditional fish tacos, plus they're extra loaded with all the toppings. They're naturally gluten-free and lower in carbs than regular tacos, but all fresh flavor. There's a hint of spicy, sweet juicy mango, and creaminess from the chipotle aioli. You'll also find our favorite variation in the recipe to add a bit of fresh steamed rice to the mix for a more filling meal.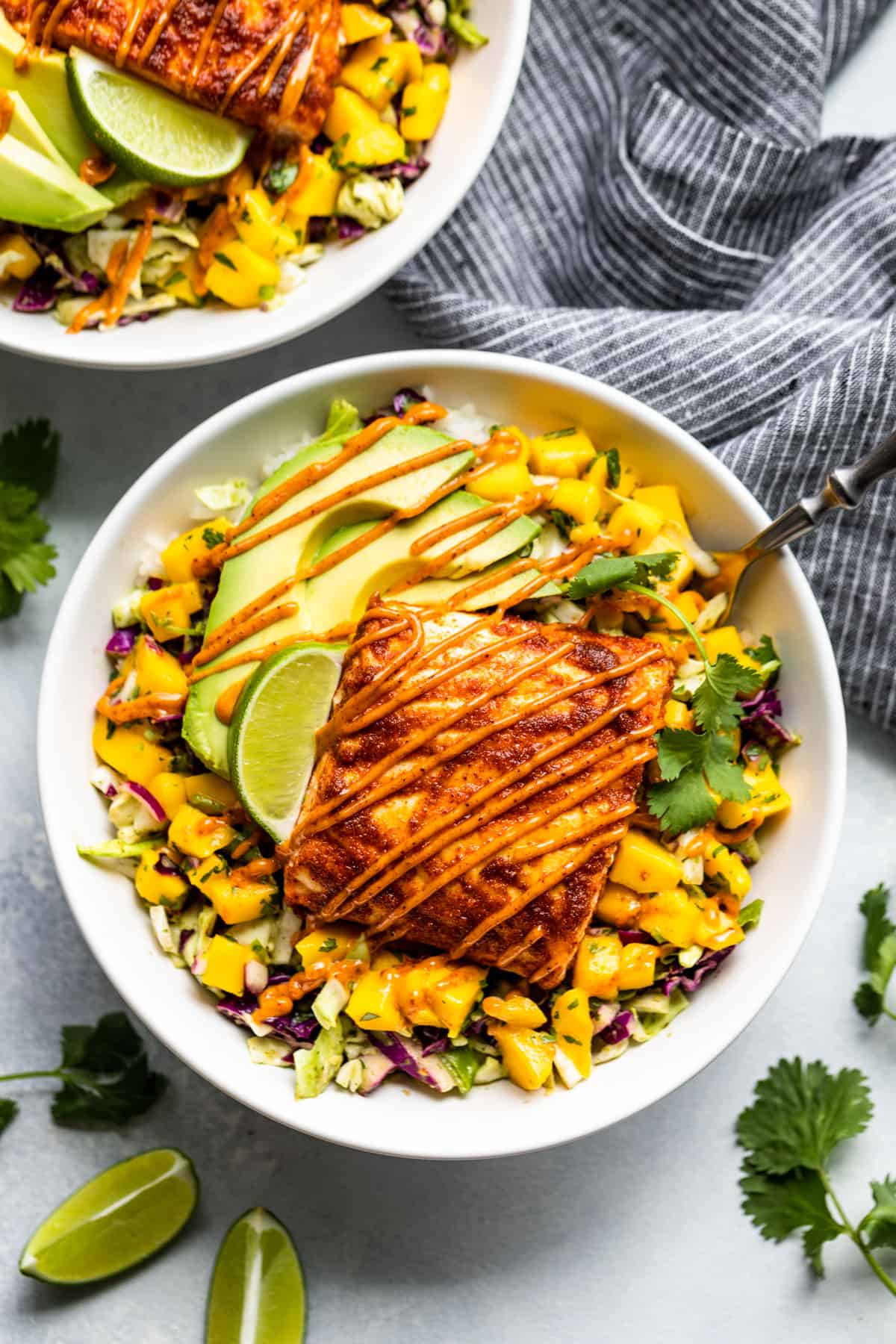 This recipe has been a huge hit since I first published it in 2018, and we've made it countless times ever since! It's one of my go-to's whenever I have company because it's such a crowd-pleaser and everyone can customize their own bowl.
You can also make this with 50/50 chicken and fish for anyone at the table who doesn't care for fish. All in all, it's super easy to customize to your family's taste. And it's absolutely loaded with fresh flavor and veggies. Yet no one ever seems to realize they're eating a healthy dinner with all the yummy flavor!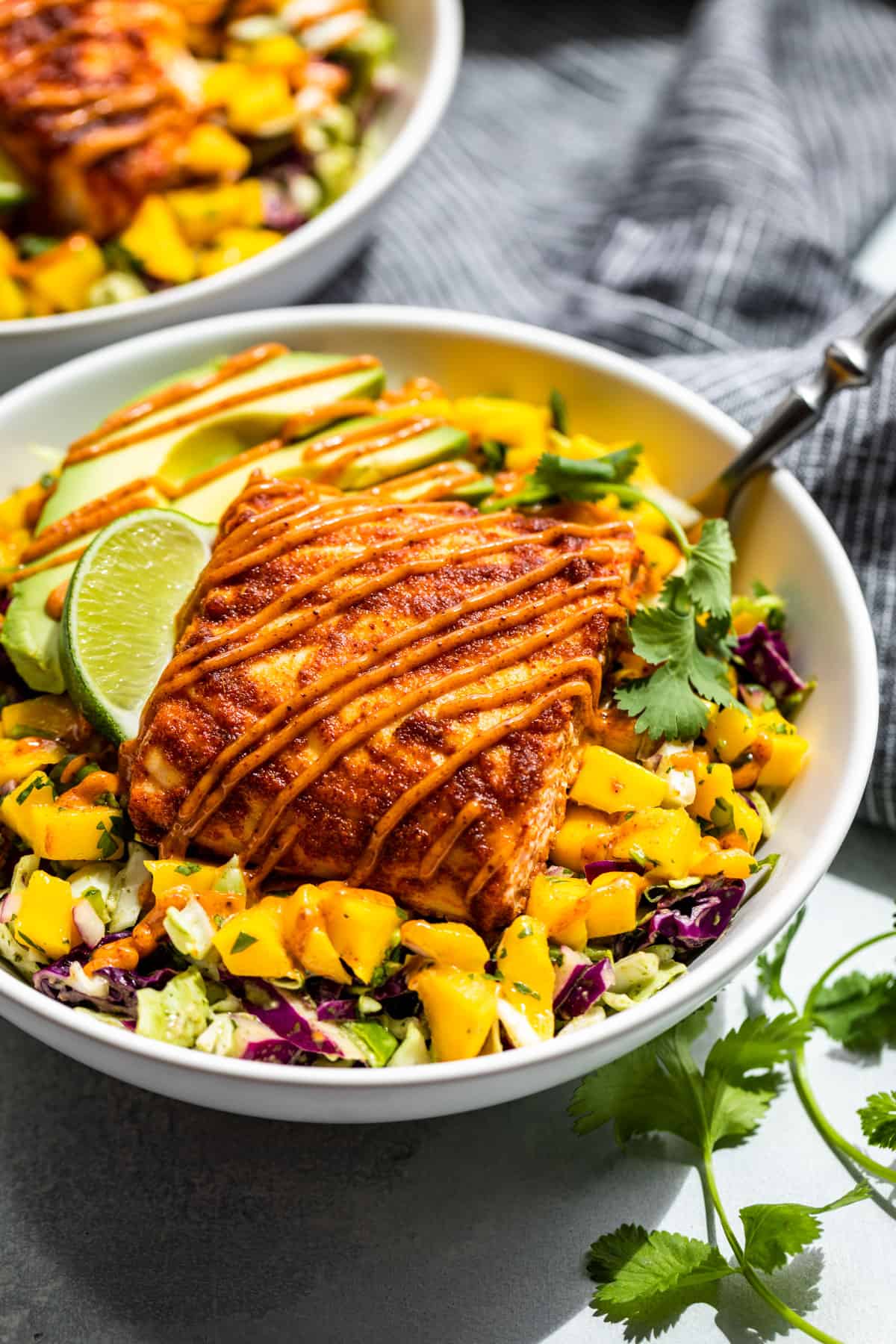 Watch how to make these Fish Taco Bowls
Ingredients & Substitutions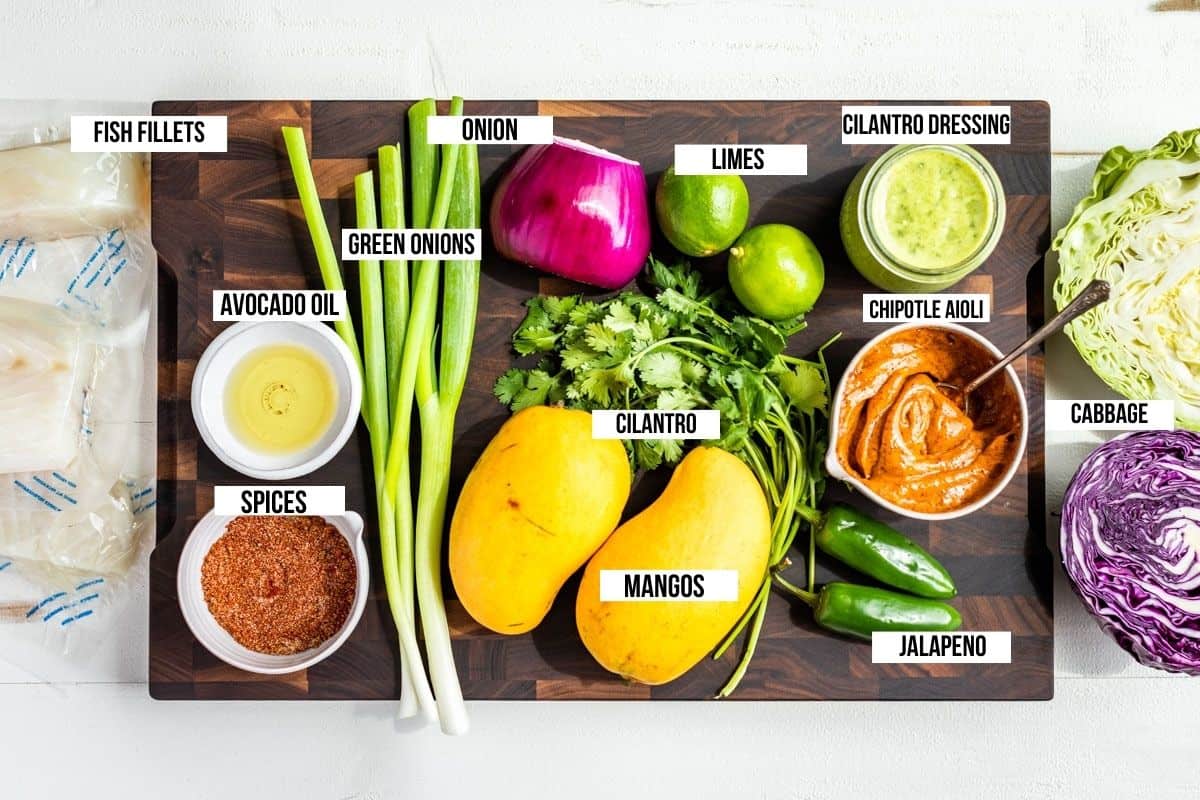 Fish fillets – any white-fleshed fish will work here, I like cod and halibut which are widely available. But I've also enjoyed using Rockfish which is usually an affordable choice. If you don't like fish, or have someone at the table who doesn't like it, try cooking some chicken or pork instead for these bowls. Shrimp also work great with these flavors.
Spices – a little smoked paprika, onion and garlic powders, and cumin add a touch of flavor to the fish fillets and it's perfect for chicken too. If you have truly fresh spectacular fish, try this recipe without any of the spices just sea salt and the oil for grilling to let the fish flavor shine through.
Cabbage – I prefer to use softer cabbage like Napa or Savoy, but regular cabbage works great here as well, it's just a bit crunchier. I often use regular cabbage even though it's my 2nd choice because that's what's available most often.
Mango Salsa – for a shortcut you can use a store-bought mango salsa you love. However, nothing can ever beat fresh! I love using Champagne also called Ataulfo mangos because they have a silky smooth less fibrous texture. You can see them pictured above with the yellow skin. But regular ripe mangos work here as well. If you can't find mangos, try my Caramelized Pineapple Salsa instead.
Cilantro Lime Dressing – comes together quickly in the blender with just a handful of ingredients and makes up all the flavor for the slaw.
Chipotle Aioli – you can shortcut this step as well by using good quality store-bought mayo, or you can make your own by referring to my Curried Mango Chicken Salad which has a homemade mayo recipe in it. You can also use my Sriracha Mayo here in place of the chipotle aioli.
How to make this recipe step by step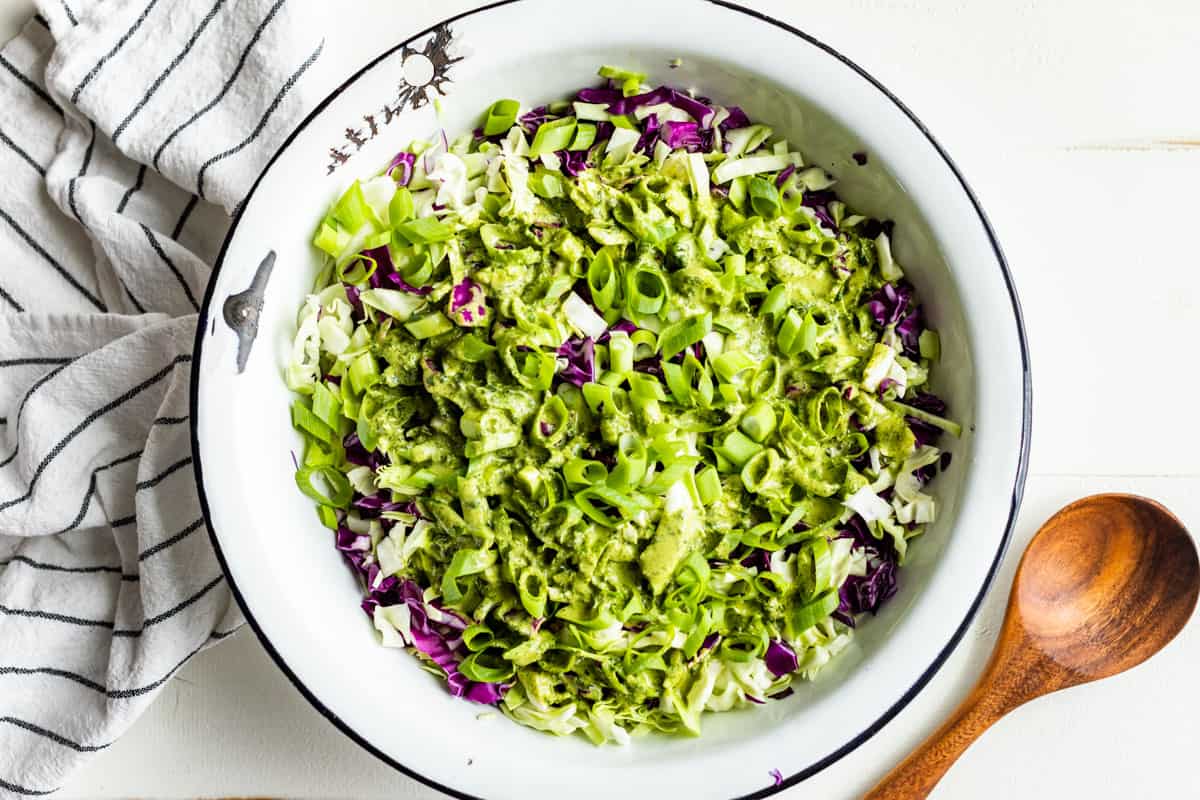 Step 2: Next toss the dressing together with the finely chopped cabbage and green onions. Set the cabbage slaw aside while you finish the recipe. You can also prep the slaw ahead a few hours and refrigerate until dinner time.
Time saver: use a coleslaw mix to avoid chopping!
Notes about cabbage: The recipe calls for Savoy cabbage, but Napa cabbage works well too. Both of these types of cabbages are softer in texture which makes for a nicer slaw. Regular cabbage will work too, but you might find yourself exhausted from all the chewing with normal super crunchy cabbage. But a mix with some red cabbage is nice and colorful.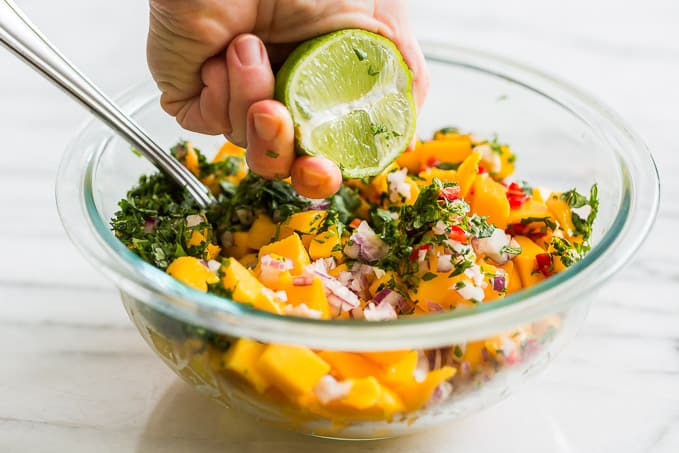 Step 3: Dice/mince all the ingredients for the mango salsa and mix it together. Set the salsa aside to allow the flavors to develop while you finish the recipe.
Save some time by buying your favorite mango salsa!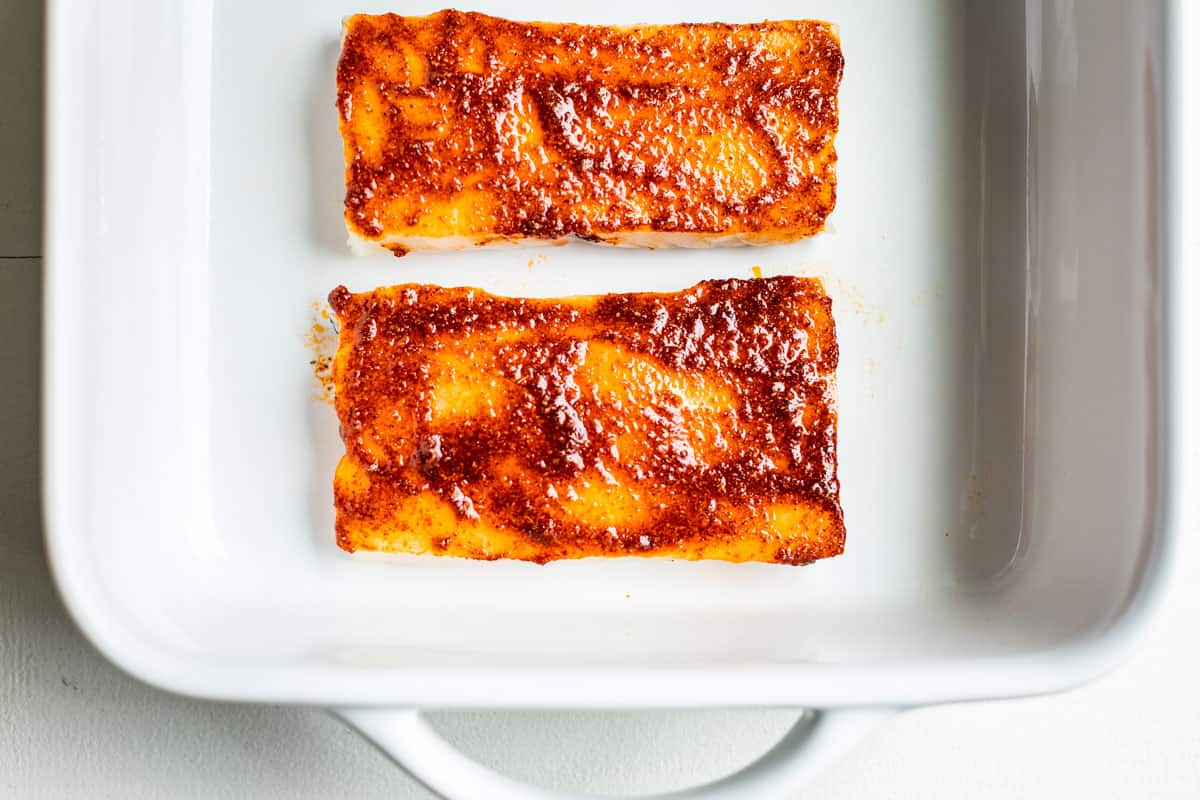 Step 4: When you have everything else prepped, season the fish fillets and bake just until the fish begins to flake apart.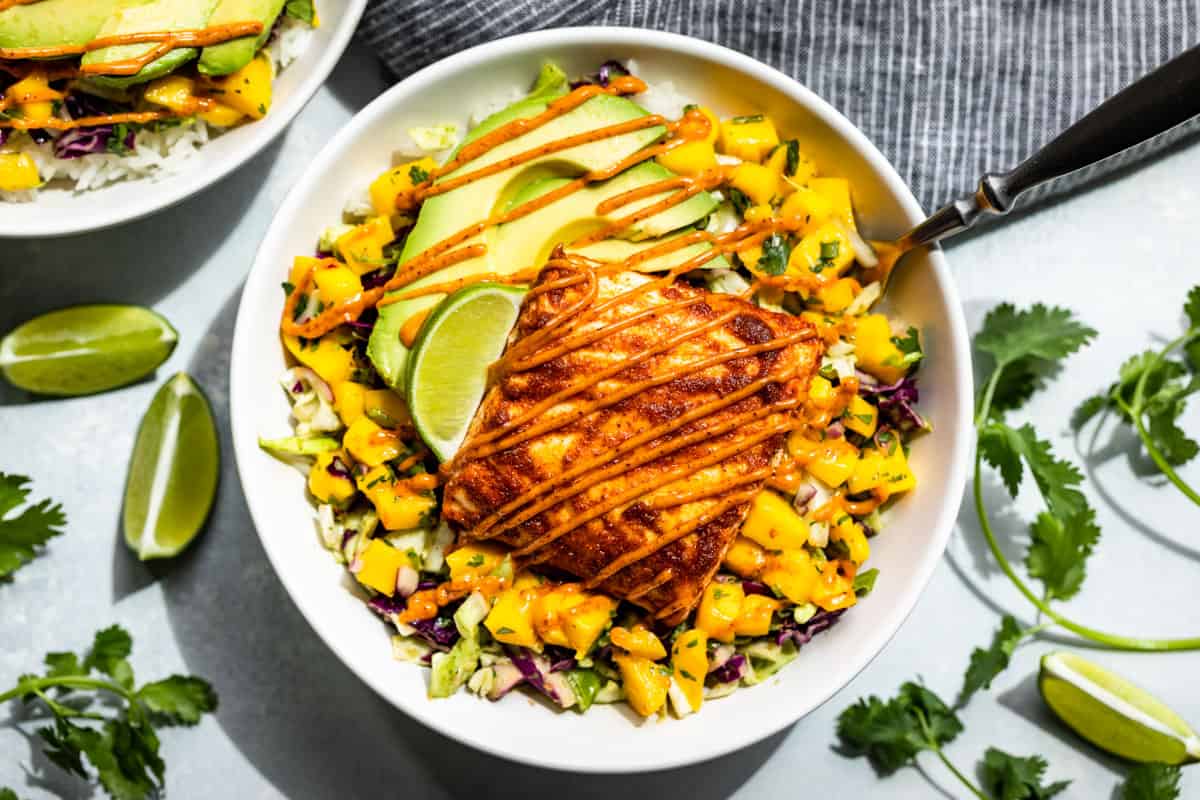 Step 5: Serve everything family style so each person can customize their own taco bowl.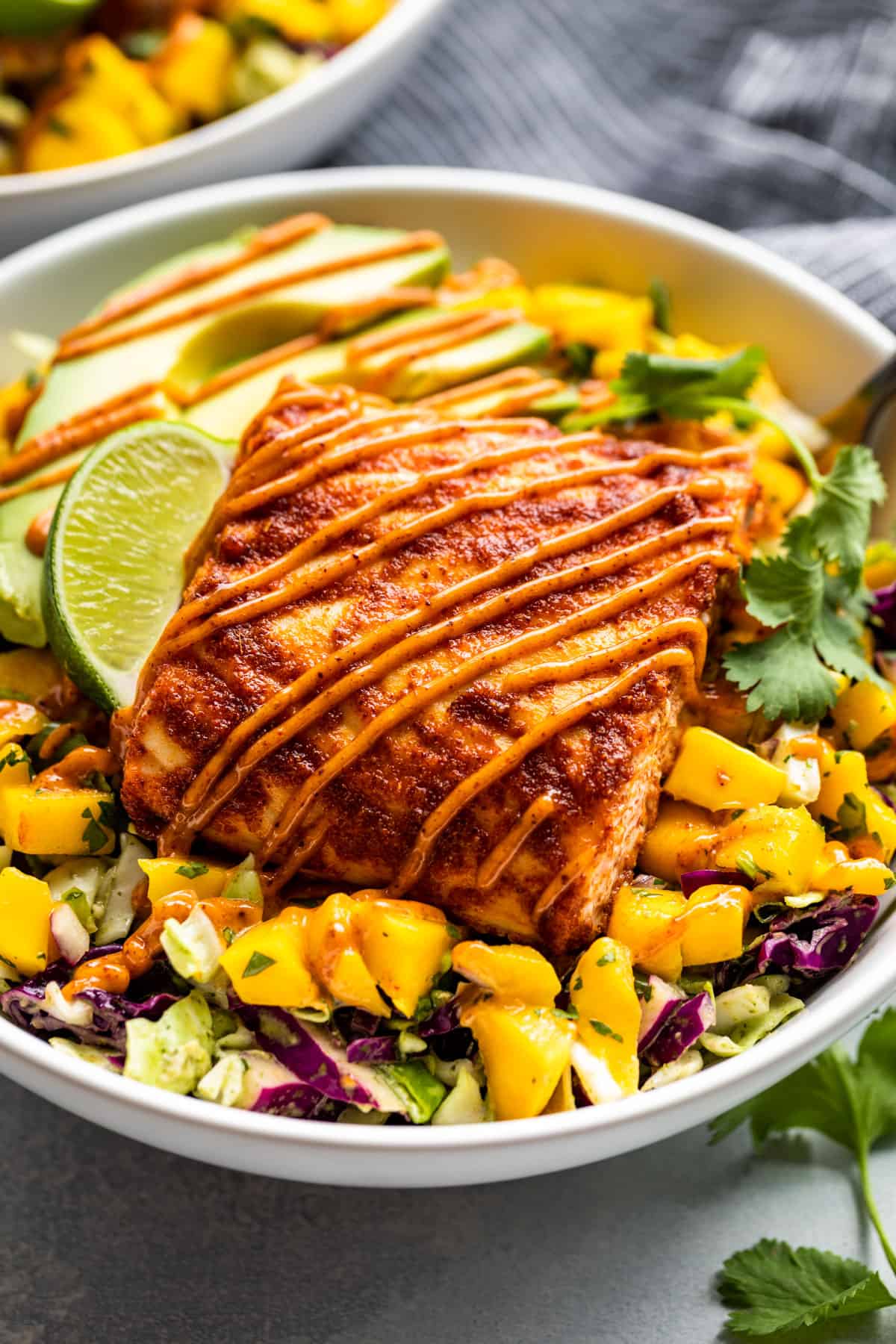 FAQ's
What can I use if I hate fish?
Chicken works perfectly in this recipe, pork and shrimp are also great here as well.
What kind of fish is best in fish taco bowls?
Cod is great for flavor and budget-friendly as well. Rockfish is another budget-friendly option that's super tasty. Halibut is perfect for a treat and Mahi Mahi or any kind of seared tuna could also be subbed in. Another favorite we like to make is to use Salmon. It's an unusual choice to be sure, but very tasty.
How can I speed up this recipe?
You can make the slaw hours or even 1 day ahead of time. You could also pre-chop the cabbage, make the dressing, then refrigerate until you're ready to serve. The same goes for the mango salsa and chipotle aioli. This recipe is all about freshness and requires a bit more prep work than I normally do, but I promise it's worth it! Also as I mentioned in the tips, if you're an experienced cook, you will find most of this recipe can be made without being too careful with the measurements.
Storing leftovers
To store – place any leftovers into separate airtight container and refrigerate for 3-4 days. The slaw gets more watery and softer as it sits, but you can drain off any excess liquid.
Reheat – it's really hard to reheat fish without totally wrecking it, so if I have any leftovers I just flake it over the top of my bowl cold.
Freeze – this recipe is all about freshness and doesn't freeze well.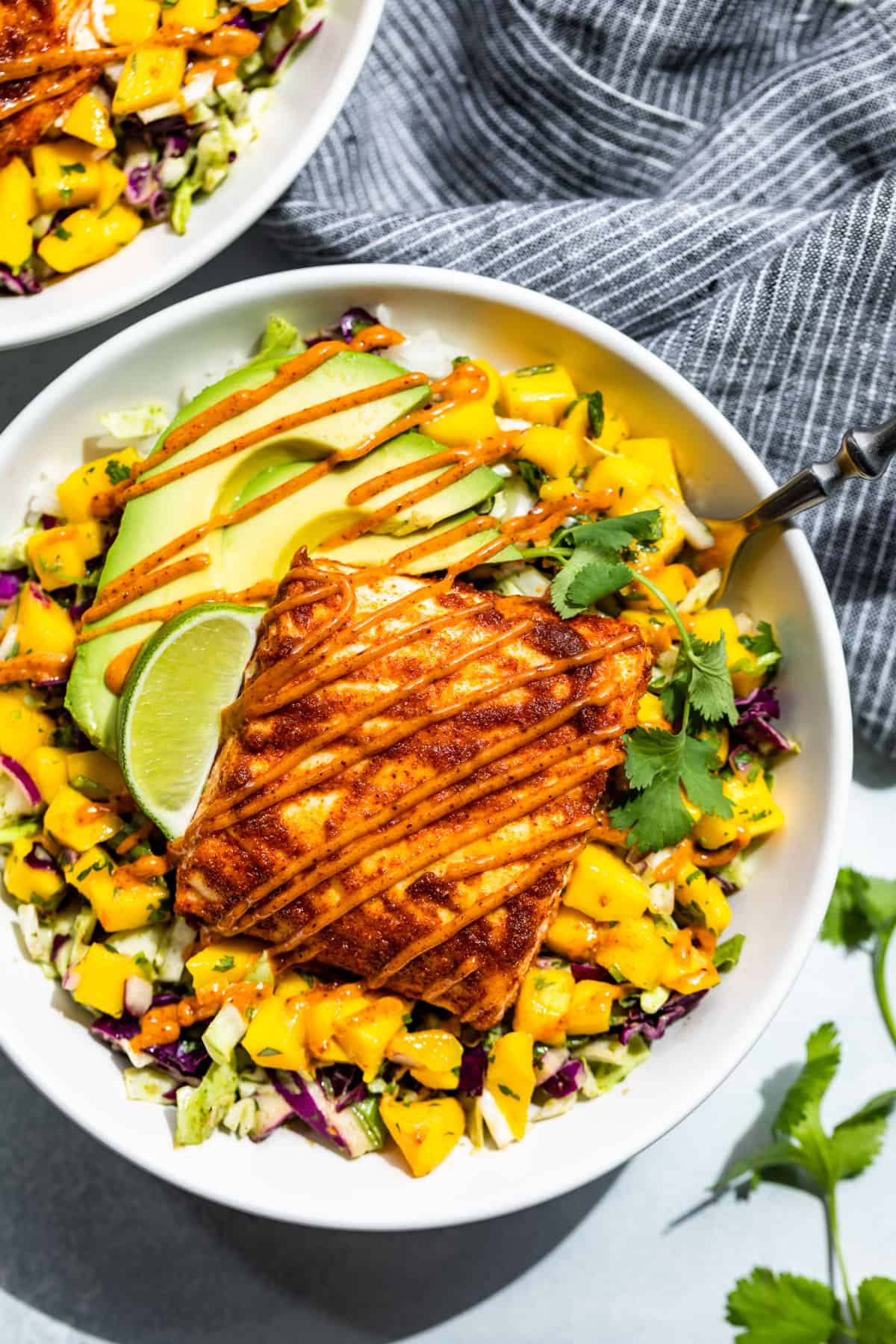 Tips & Tricks
I like to place the Chipotle Aioli in a squeeze bottle so it's easy to serve. It's also how you get the 'neat' and tidy lines across the top of the finished taco bowl.
Our favorite variation of these bowls is to add some freshly steamed rice which is such a good flavor pairing.
This recipe looks long at first glance, but each part is super simple. So simple in fact that if you're used to cooking, you barely need to measure most of it.
And to shortcut things, try chopping the cilantro for both the dressing and the mango salsa at the same time. If you're an experienced cook, you don't need to worry too much about perfect measuring. If you're new to the kitchen, follow the recipe and the measurements will make sure everything turns out just right!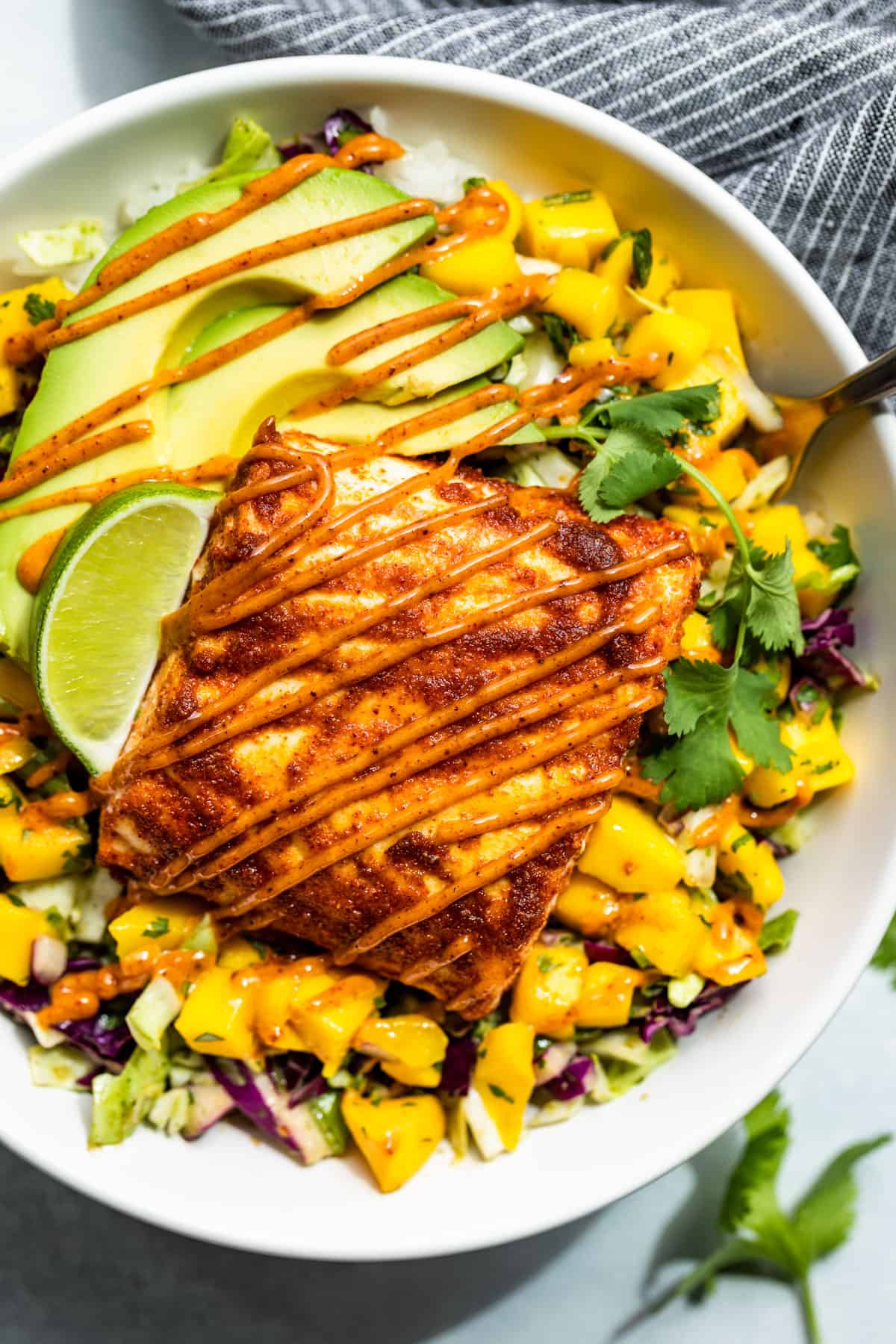 More bowl food dinner recipe inspiration
I really hope you enjoy these Fish Taco Bowls! If you do get a chance to make this recipe, I'd love to hear from you in the comments. And if you're looking for more fresh meals, try my 70 Light Summer Dinner Ideas.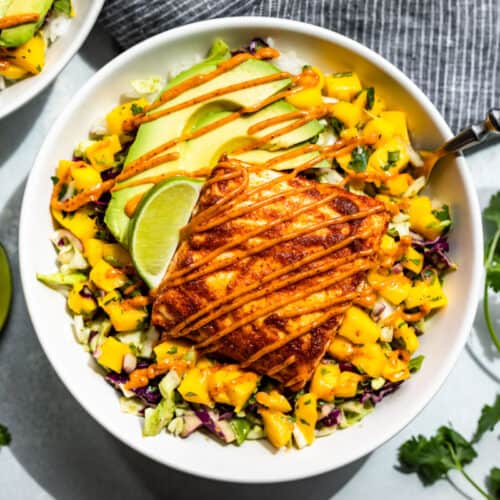 INGREDIENTS
Cilantro Dressing:
1/2

cup

cilantro

-

roughly chopped

1/4

cup

lime juice

-

freshly squeezed

1

clove

garlic

-

minced

1

tsp

sea salt

-

or to taste

2

tsp

ground cumin

1/2

cup

avocado oil

-

or neutral tasting oil of your choice
Slaw:
8

cups

savoy cabbage

-

shredded, 1 pound, or regular cabbage

2

cups

shredded purple cabbage

-

5 ounces

1/2

cup

green onions

-

thinly sliced
Mango Salsa:
4

cups

mango

-

diced, from 4 Champagne mangos, 2 pounds

1/4

cup

cilantro

-

chopped

1/4

cup

red onion

-

minced

1-3

tsp

jalapeno

-

minced, or to taste

2

tbsp

lime juice

-

freshly squeezed

1/2

tsp

sea salt

-

or to taste
Chipotle Aioli:
1

egg

-

room temperature, see notes

1/2

tsp

sea salt

1

tbsp

lime juice

-

freshly squeezed

2

tsp

chipotle powder

3/4

cup

avocado oil
Grilled Fish:
2

pounds

fish fillets

-

or 6 white fleshed fish, see notes

2

tsp

smoked paprika

1

tsp

onion powder

1/2

tsp

garlic powder

1

tsp

ground cumin

1

tsp

sea salt

-

or to taste

2

tbsp

avocado oil
Toppings:
Lime wedges

1-2

ripe avocados

-

sliced

Extra chopped cilantro
INSTRUCTIONS
For the cilantro dressing, place all the ingredients except the oil in a blender. Blend starting on low and increasing to medium speed as you add the oil. Blend just until the oil has been added and the dressing is emulsified.

Toss the dressing together with all the slaw ingredients, and set the finished slaw aside.

For the mango salsa, stir together all the ingredients until combined. Season to taste with sea salt, and set the salsa aside.

To make the chipotle aioli, place the egg into a blender along with the sea salt, lime juice, and chipotle powder. Start blending on low, and drizzle the avocado oil in a thin steady stream, increasing the speed as you go.

Keep blending while you continue to add the oil until the chipotle aioli has become quite thick. Transfer the aioli from the blender to a container to refrigerate while you finish the recipe. I like to place mine in a squeeze bottle for convenience and for presentation.

Next make sure you have your toppings prepared, and heat the grill over medium high heat until it reaches around 400ºF. Or preheat the oven to 400ºF.

While the grill heats, mix together all the spices for the fish with the avocado oil. Then evenly coat the fish with the spice mixture. When the grill is preheated, place the fish fillets on the grill and lower the heat to medium to maintain a temperature between 350º-400ºF.

Grill just until the fish loosens from the grill before turning. My fillets were about 1/2" on the thin side and 1" on the thickest part. They took 4-5 minutes for the first side, and 2-3 for the second. The cooking time will vary depending on thickness of fillet.

Or you can bake the fish in the oven until it begins to flake on the edges and is just done in the center, about 15 minutes. Timing varies depending on the thickness of the fillets and type of fish chosen.

When the fish is finished cooking, serve with the slaw, mango salsa, chipotle aioli, and toppings of choice.
Bonus Step
If you made this recipe, please leave a rating/comment. Ratings really help us continue to bring you high-quality free recipes. Rate This Recipe!
NOTES
This recipe contains raw egg which is not considered suitable for certain people. If this is of concern to you, use your choice of mayo, about 3/4 cup with the lime juice and chipotle powder mixed in in place of the homemade aioli.
My favorite fish for fish tacos in order are, halibut (awesome but pricey), Alaskan cod, and rockfish. Ono, any type of tuna, and mahi mahi are all great as well.
nutrition facts
Calories:
625
kcal
|
Carbohydrates:
34
g
|
Protein:
30
g
|
Fat:
45
g
|
Saturated Fat:
6
g
|
Polyunsaturated Fat:
6
g
|
Monounsaturated Fat:
30
g
|
Trans Fat:
0.003
g
|
Cholesterol:
77
mg
|
Sodium:
1026
mg
|
Potassium:
1299
mg
|
Fiber:
12
g
|
Sugar:
18
g
|
Vitamin A:
4154
IU
|
Vitamin C:
125
mg
|
Calcium:
140
mg
|
Iron:
3
mg
This recipe was originally published in 2018, but has been update with nutritional information, new photos, more tips and helpful information in 2022.