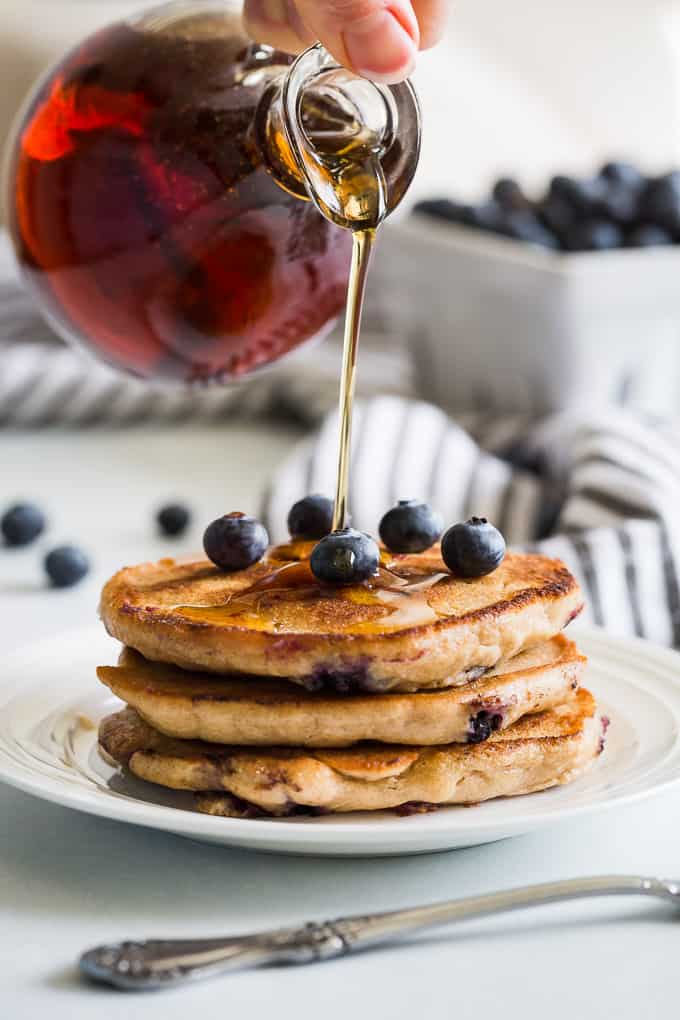 I grew up eating blueberry pancakes as a special 'weekend treat' type of breakfast. Most of the time they were actually huckleberry pancakes since they grow here in Montana. They have a indescribably wild and wonderful flavor since you have to forage them straight from the forest. But a close second is wild blueberries if you can find them in the freezer section at your grocery store.
My absolute favorite was when mom would make them for breakfast on a camping trip. I was only ever excited to pick huckleberries if there was pancakes in my near future. But somehow over time, I just stopped eating pancakes.
I've tried a few gluten free versions, but I've never been that excited about the results. I did come up with 2 great banana pancake recipes, 1 is gluten free made with oats, and the other one is a paleo version. However they taste like banana pancakes, which is great in it's place, but much different than the fluffy blueberry pancakes of my memory.
I didn't get serious about coming up with a good recipe until after our trip to Iceland. Before we left, I picked up a couple bags of a paleo pancake mix for a little variety in our camping breakfasts. However I hadn't yet tried it, so it was a bit of a risk.
They didn't turn out to be all that great on their own, but luckily I had brought along some freeze dried raspberries that helped. Then we topped them with a fruit sweetened raspberry jam and Icelandic yogurt to make them taste better. (You can see them in the 2nd photo down on our Iceland Day 10 post.)
With all the toppings, they were pretty good considering they were mostly toppings at that point. That experience lit a fire under me when we got home to get something worked out that we could take along on weekend adventures, and even travel with. So after a bit of testing, I finally landed on a fluffy paleo pancake that's worthy of all that pure maple syrup.
Everything for this recipe gets mixed together in a bowl.
Then you drop the batter into a heated pan, sprinkle blueberries over the top, and cook just until bubbles begin to appear. I prefer to cook my pancakes in butter or ghee, but if that isn't an option, you can use avocado oil or coconut oil to coat the pan.
You can also use fresh or frozen berries here, both work perfectly. And you don't have to stick to blueberries, raspberries and strawberries are great as well.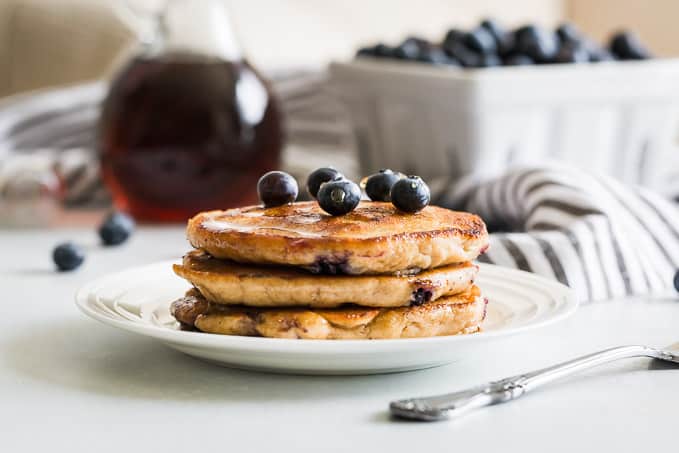 This recipe only has 7 ingredients in it which keeps it super simple. You can even make a mix out of it, leaving out the eggs and liquid, and adding them in when you're ready to make pancakes. It also has a touch of cinnamon which I really love with the berries. But you can easily leave it out if you want a truly plain blank canvas kind of pancake.
My final favorite tip for pancakes, is to make a berry sauce like this Triple Berry Sauce. It's so good over pancakes, and you end up consuming much less maple syrup. However for the ultimate treat, I love to eat these with lots of butter on top, with a drizzle of maple syrup.
Print
Fluffy Paleo Blueberry Pancakes
---
3/4 cup

almond flour

1/2 cup

tapioca starch

1 Teaspoon

ground cinnamon
pinch of sea salt

1 Teaspoon

baking powder, see notes

2

eggs

1/4 cup

almond milk or coconut milk

1/2 cup

wild frozen huckleberries or blueberries, fresh regular blueberries work as well
Maple syrup and optional butter for serving
---
Instructions
Mix together the almond flour, tapioca starch, cinnamon, sea salt, and baking powder together until no lumps remain.
Then mix in the eggs and milk of your choice until a batter forms.
Preheat a pan over medium-low heat. When the pan is hot, add a small amount of butter, ghee, avocado oil, or coconut oil to coat the bottom of the pan.
Drop spoonfuls of batter into the pan to form 4-6″ pancakes. Sprinkle some of the berries over each pancake, and cook until small bubbles appear in the batter.
Then turn the pancakes and cook until they're done in the center.
Serve them immediately as they're cooked, along with maple syrup and the optional butter.
Notes
Baking powder can often have additives which means it's not always gluten free or paleo. To be on the safe side, you can make your own by using 1 part baking soda and 2 parts cream of tartar, and using the mixture right away.
Each batch of pancakes takes about 5 minutes to cook, so depending on how much you make, the time will increase. You can also cook on a large griddle or 2 pans to speed things up.
Prep Time:

10 mins

Cook Time:

15 mins